13 Best Hiking Socks To Keep Your Feet Comfortable & Dry – 2022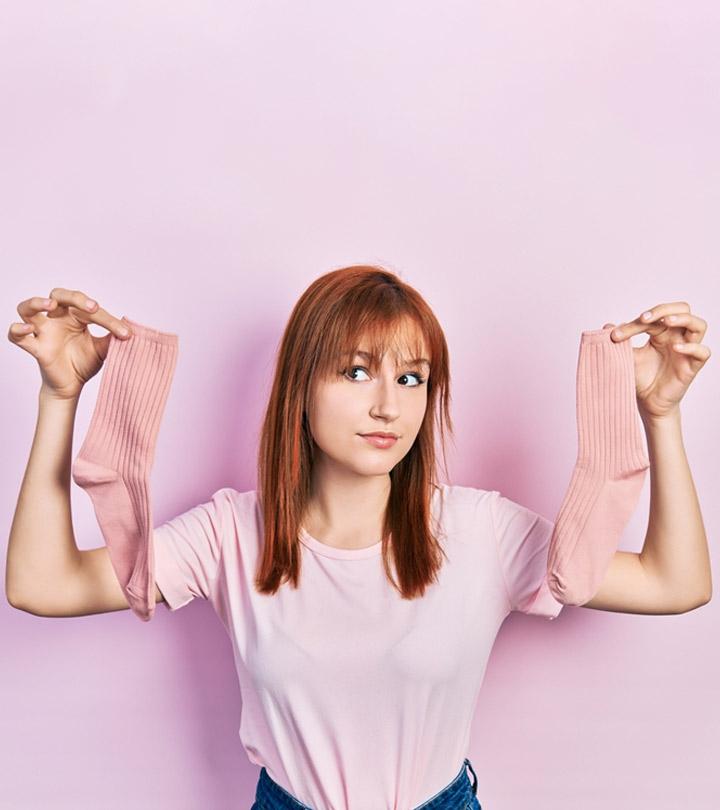 Are you an explorer and adventurer who loves to reach the summit of the peak and enjoy the ethereal view of the landscape? Then probably you are something of a hiker. If you are a hiking enthusiast, then besides wearing the right shoes, you need the best hiking socks for women. For any outdoor activity, be it backpacking or running, you need to be equipped with the right gear to protect you from the unpredictable conditions you may face outdoors. Hiking socks will provide you with an added layer of comfort and protection.
Your feet require soft bedding because you have to walk for long periods. Make your next hiking experience memorable with some of the best hiking socks listed below. These socks are also known to prevent injuries and have arch-supporting qualities. Beginners and athletes also prefer them. You get various lengths, styles, and colors. Read on and make your best pick now!
What Is Special About Hiking Socks?
As your feet need to be up and running on various kinds of terrains during hikes, they may be prone to pains and aches. Your shoes can only offer so much protection as their abrasive nature can irritate the skin, which is when hiking socks come in handy. To protect you from shocks and impact on rocky and uneven surfaces, these socks are padded and cushioned strategically. This isn't just an added layer of softness, but it serves the purpose of keeping you more comfortable on the trail. The fabrics used repel odor and moisture so there is no sweat pooling up, helping you stay dry and fresh the whole time. Wearing a pair with your hiking boots will elevate your level of support while preventing accidents or injuries. Some pairs are also mildly compressive to allow enhanced blood flow and soothe the muscles.
13 Best Hiking Socks To Accompany You On Your Trekking Trips
With Danish Endurance's merino wool hiking socks, women's feet are sure to be blister-free and warm at the end of a long hike. This material is known for its temperature-regulating properties, thereby keeping you cool during the summers and vice versa. Ventilation mesh lanes are placed strategically for constant airflow and to control body odor. The cushioning and padding are targeted to reduce the risk of injuries and help absorb shock for a successful time on the trail.
Pros
Pack of 3 pairs
Odor-controlling
Breathable
Moisture-wicking
Temperature-regulating
Targeted cushioning and ventilation
Cons
Some might find the sock opening slightly tight.
Alvada brings to you women's wool hiking socks featuring merino wool, polyester, nylon, and spandex in the fabric blend. These fibers not only aid in breathability but also work to control moisture, keeping your feet dry in case of sweat or rain. Mesh ventilation channels improve the flow of air, while the reinforced heel and toe work to keep the sock sturdy. For support and stability, you can depend on the arch compression and the full-cushion foot padding sewn in.
Pros
Itch-free
Medium-heavy thickness
Temperature-regulating
Moisture-wicking
Soft brushed inner lining
Pack of 3 pairs
Cons
Might shrink slightly after a wash
The FEIDEER hiking socks for women are all you need to brave unruly and unpredictable terrains. Composed with 78% cotton, 20% polyester, and 2% spandex, they manage moisture like a pro, drying quickly and remaining breathable throughout your journey. The thickened towel bottom adds much-needed cushioning, reduces friction, and keeps blisters at bay. With the elasticized arch brace, you won't need to deal with rotating socks, and their flexibility is bound to keep you as comfortable as you deserve to be.
Pros
Moisture-wicking
Breathable
Quick-drying
Thick cushioning
Elasticized arch brace
Offer arch support
Cons
Might emit a slight chemical odor at first
Made with a combination of cotton, nylon, and spandex, these Innotree women's hiking socks are super-lightweight and easy to wear. They use a fine gauge knitting technology that keeps breathability, stretchability, and comfort at their highest while the medium-heavy thickness and underfoot cushioning provide you with the right amount of support for longer hikes. The socks also do a great job of protecting your toes against the elements and preventing blisters or cuts.
Pros
Pack of 5 pairs
Breathable
Quick-drying
Optimum underfoot cushioning
Medium-heavy thickness
Moisture-wicking
Cons
Might not be resistant to pilling
SEOULSTORY7 offers some of the best women's hiking socks that come in vivid colors to make your hikes even more fun and enjoyable. Blended with cotton, spandex, polyurethane, and a hint of polyester, these socks wick sweat away with ease to keep you fresh. In the ball and heel of the foot, there's medium cushioning to aid in faster recovery in case there's a mishap on your way to the top. The elasticity in these socks helps hold them in place and gives your legs some much-needed compression.
Pros
Pack of 5 pairs
Moisture-wicking
Breathable
Optimally cushioned
Offer compression
Quick-drying
Cons
Toe seams might not be seamless
Premium-quality merino wool is mixed with nylon and spandex to keep NEVSNEV's hiking socks for winter soft and comfortable on your feet. They provide you with the arch support you need to remain stable and perform your best on every trail for a long time. The strategically built and contoured cushioning adds to the softness while minimizing bulkiness. With no itching or odors getting in the way, these socks allow you to actually focus on and enjoy the breathtaking scenery in front of you instead of worrying about blisters.
Pros
Pack of 4 pairs
Offer arch support
Strategically-placed cushioning
Itch-free
Odor-controlling
Breathable
Cons
• Some might find the elastic cuff slightly tight.
KEECOW's women's hiking socks for summer are a great addition to your gear as they are resistant to slipping, bunching, or shrinking. Composed with 45% nylon, 30% polyester, 20% cotton, and 2% spandex, these socks have a ribbed cuff for a snug fit. Cushioning is added to effectively absorb all shock and prevent any abrasion from irritating the skin. The toe is stitched seamlessly for maximum comfort and the quick-drying material works to keep you fresh and dry.
Pros
Breathable
Odor-resistant
Medium cushioning
Shock-absorbing
Quick-drying
Moisture-wicking
Cons
Opening might be slightly constricting
Bringing to you the best of ankle-length women's summer hiking socks, Merrell has designed this gear specifically for all-round feet protection. A mix of 85% polyester, 13% nylon, and 2% spandex helps keep each sock optimally breathable, flexible, and able to repel any sweat. The sole also has a good amount of cushioning to help you tread carefully on rough terrains, while the enhanced arch support wards off fatigue, keeping you active and on the go till the very end.
Pros
Pack of 3 pairs
Moisture-wicking
Breathable
Quick-drying
Enhanced arch support
Well-cushioned
Cons
• Might bunch up slightly
With NinetoFive's wool hiking socks, women's performance on the trail is going to be spectacular. The blend of 80% wool, 13% cotton, and 7% polyester packs a comfortable punch and works hard to keep you toasty without any overheating. In addition to having the kind of softness that is unmatched, the fabric also allows for airflow and wicks away sweat to keep you dry. Thick cushioning is added to reduce aches and pain for a happy hike.
Pros
Pack of 4 pairs
Moisture-wicking
Odor-controlling
Breathable
Thick cushioning
Soft fabric
Cons
Some might find the opening a bit snug.
Heatuff offers hiking socks for sweaty feet that retain no traces of sweat owing to the 90% polyester, 5% spandex, and 5% nylon blend. The medium-heavy thickness is coupled with a fully-cushioned sole to reduce pain and shocks. Fitting the contours of your foot perfectly, these socks stay put with no slippage. The mesh design is added for maximum ventilation in these thin hiking socks, helping women to keep away all moisture from the body.
Pros
Pack of 6 pairs
Moisture-wicking
Breathable
Adapts to foot shape
Quick-drying
Strategically-placed cushioning
Cons
Might stretch out of shape with frequent use
With Thorlos' hiking boot socks, women's gait is fully-supported and their footing secure. Combining polyester, nylon, acrylic, and elastane, the fabric aids with comfort and protection. The unique Thorlo padding is used in the forefoot and heel to help reduce blisters and aches. Cushioned insteps and arches give you a good fit and take the pressure off your muscles, while Thor-lon and Thor-Wick COOL fibers draw moisture away from the skin and the low-profile toe seams don't cause any irritation.
Pros
Available in 3 colors
Breathable
Moisture-wicking
Cushioned instep and arch
Non-irritating toe seams
Padded in heel and forefoot
Cons
Might be slightly thick for some
In this offering by COZIA, merino wool, polyester, nylon, and spandex team up to give you high-performance hiking socks for cold weather. The soft brushed and fuzzy inner lining offers protection against freezing conditions and feels like a cloud against your skin. For additional comfort, the fully cushioned footbed comes into play and the arch support enhances stability. The ankle vents on these hiking socks for wide calf help reduce the bulk and fatigue to make you feel lighter and more energetic.
Pros
Brushed and fuzzy inner lining
Fully cushioned footbed
Lightweight
Reduces fatigue
Itch-free
Breathable
Moisture-controlling
Cons
Might be slightly roomy in the toes
PUQIK's women's hiking socks feature an adaptive elastic welt to keep blood circulation constant in your feet. The heel is stitched the same way to prevent sudden sprains, while their moisture-wicking abilities keep your feet dry all day long. Well-positioned cushioning works like a charm to make blisters a thing of the past while the waveform design absorbs shock. With combed cotton, spandex, rubber, and polyester used in construction, this is a pair of hiking socks for wide feet that you wouldn't want to take off.
Pros
Pack of 5 pairs
Aids blood circulation
Moisture-wicking
Shock-absorbing
Breathable
Well-cushioned
Cons
The toe seam might feel slightly abrasive.
Now that we've gone over some of the best hiking socks for women, let's learn how you can snag an excellent pair for yourself.
How To Choose The Right Hiking Socks For Women
The right sock height is important as it can prevent your skin from abrasion when it comes in contact with your hiking boots. If you're wearing low-cut shoes or trail runners, you can opt for no-show or quarter socks. Even though they are lightweight, they can slip down sometimes or collect debris. The other downside of this length is that your ankles are exposed, which might lead to heel clipping or cuts. Coming up to your mid-calf, crew socks are a warmer choice. They stay up better and don't collect debris while also giving your shins ample protection. Lastly, there are over-the-calf socks that fall below the knees and extend compression to help reduce swelling and fatigue.
Synthetics such as polyester and nylon are not only breathable but wick away moisture and dry quickly, making them solid choices for hikes. They are slightly more durable than fibers that are natural, but they might not be resistant to odors and pilling. Wool is superb at managing sweat, getting rid of odor, and allowing you to stay warm even when wet. When blended with synthetic materials, merino wool is comfortable and soft. Even though cotton socks are good for daily use, they absorb moisture and can lead to blisters.
The durability, warmth, and comfort of a sock depend on the amount of cushioning it has. Ultralight cushioning or sock liners are ideal for low-cut footwear. However, even though they are breathable and quick-drying, they might not score high on the durability factor. They can be used with other socks to help prevent blisters. Light cushioning is thin and allows the skin to breathe while wicking away moisture. Medium-cushioned socks keep you warm in cold weather and can safeguard against impact. Socks that have heavy cushioning are the warmest and thickest of the lot. They can feel way too hot and bulky if not worn in extremely cold and harsh weather conditions.
Hiking enthusiasts know that having the right gear makes it a smooth experience so that you can enjoy the process too. The same goes for hiking socks if you have the right socks on, it will provide you with an added layer of comfort and protection. Many of the socks have arch-supporting qualities that also prevent injuries. High-performance pairs are available in neutral and bright colors too. As your feet getting tired is a common symptom after staying on the trail for too long, these socks are cushioned all around to help you with quicker recovery and reduce fatigue. The added compression encourages blood flow to soothe your muscles, so you can be up and running for your next hike in no time! However, avoid socks that are too tight or might shrink after each wash.
Why Trust StyleCraze?
Priyam Gupta is a style and fashion enthusiast who can help you style your outfit as per your needs and fancies. So when it comes to choosing the best hiking socks, she has done multiple site comparisons and reviewed several customer testimonials before curating this list of the top hiking socks for you. These hiking socks are specially designed with durable skin-friendly material that gives you the right grip and support while conquering those steep trails. These are not only comfortable but take up your style game a notch higher as well.
Frequently Asked Questions
 Are thick or thin socks better for hiking?
Thin socks are great when you are hiking during the summer or when the days are warm, while thicker ones are ideal for winters.
What is the best length for hiking socks?
Crew-length is the ideal height for hiking socks as they stay slightly above your ankle bone to prevent any abrasion on the skin.
Are wool socks better for hiking?
Wool socks are a great option when hiking as they not only provide cushioning but help regulate body temperature and prevent the collection of sweat.
Are bamboo socks good for hiking?
Socks made of bamboo have a superior softness and are also able to wick away moisture. Their ability to resist odors can help keep your feet dry and fresh.
Are wool socks good for hiking in the summer?
Yes, merino wool socks can be used for hiking during the summers as they repel sweat, aid breathability, and keep odors away.
Recommended Articles
The following two tabs change content below.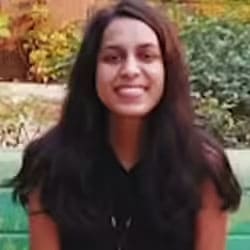 The day Priyam learned that having strong opinions about everyday products can be a full-fledged writing career was the greatest...
more