11 Best Hiking Underwear For Women That Keep you Dry & Comfortable
Travel on any terrain by foot without getting over-sweaty and uncomfortable down there.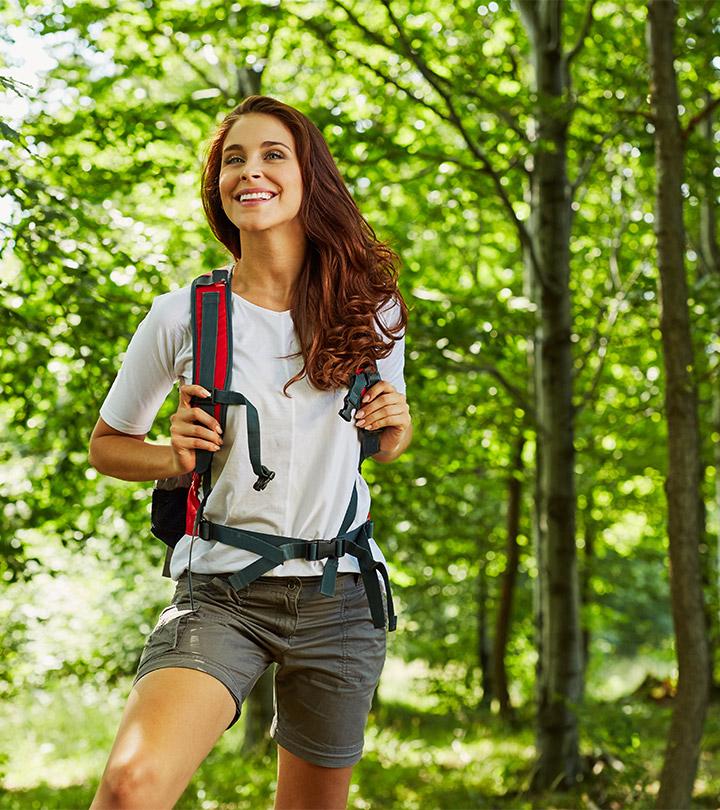 Did you just plan a hiking trip with your buddies? You might be in a hurry to purchase all the things that are going to make your adventurous journey a comfortable one. Finding the best hiking underwear for women might sound like a simple task but it's not always easy to get the right fit, functionality, and comfort in the same product. The range of movement your underwear offers is another factor that's critical if you're intending to use it for hiking. But don't worry since there are quite a few brands that cater to all of these requirements well and provide you a wide range of hiking underwear.
These underwear are often made of multiple blends of fabric and are great for regular use as well. These are easy to care for and are quick-drying and breathable, making them apt for your gym sessions. Most of the designs are also seamless, promising you zero panty lines when you're wearing those workout leggings. You can also find these underwear in a variety of colors and designs and you don't have to stick for something minimal every time. Check out our list to explore some of the best hiking underwear options.
11 Best Hiking Underwears For Women That Are Comfy And Cozy
Say hello to ultimate comfort and bid goodbye to nasty panty lines with this 6-pack collection of stylish hiking knickers designed to keep you cool and dry through even the most intense activity. The lightweight, breathable fabric is made of a blend of soft combed cotton and spandex, while the seamless design ensures your underwear is invisible under whatever clothing you choose, be it leggings, skirts, shorts, or a slinky cocktail dress. And there's more! The flat elastic waistband is stretchable and holds up great after multiple washes, making this cotton underwear for hiking a go-to wardrobe staple for the active young woman. The full-coverage and quick-dry underwear for hiking also remains ravel-free after every wash.
Pros
Lightweight and breathable fabric
Seamless design
Suitable for all-day wear and intense workouts
Available in multiple attractive colors and prints
Cons
Some might find that the sizes of these briefs run a bit small.
Here's the perfect gift for the avid adventurer in your life! Great for weekend getaways, treks, hikes, and long travel days, these moisture-wicking hiking pants are designed to keep you feeling fresh and breezy all day long. Providing medium coverage, these lightweight briefs feature a stretchable waistband, ensuring a great fit and quick-drying fabric for convenience and comfort. It also comes with an odor-reducing treatment with a breathable mesh so that you can enjoy your treks without worry. So toss these great briefs in your carry-on and proceed on your fun-filled travels, being assured that your breathable underwear will not fail you!
Pros
Quick drying and odor-resistant
Breathable, non-wicking fabric
Comfortable fit
Ideal for travel
Machine-washable
Cons
The fit of these hiking underwear might not be best suited for those with curvy hips.
Get into your favorite yoga pose with confidence, knowing that your favorite pair of underwear will not betray you! Designed specifically for the fun, outdoorsy young woman, these seamless hiking underwear are made of a lightweight, breathable blend of nylon and spandex with a stretchy waistband for ultimate all-day comfort. The bamboo hiking underwear features a seamless, quick-drying mesh design with a cotton lining that wicks moisture away to ensure you don't feel stuffy after even the most strenuous summer workout. A bonus; no panty lines under your cute workout gear to ruin your Instagram-worthy photos on your gorgeous hiking trip!
Pros
100% cotton lining
Stretchable elastic waistband for comfortable fit
Thin, breathable fabric
Seamless design
Cons
Some might find that these hiking underwear tend to ride up a bit.
Here's some thoughtfully designed hiking underwear that makes it easy to wash, wear, and go whether you're in the middle of the wilderness or vacationing at a luxury resort spa. Odor-resistant and quick to dry, these high-waist full-cut briefs come with an elastic closure and breathable mesh, making them the ideal companion to keep you feeling fresh through all your travels. Made of a lightweight nylon and spandex blend, these briefs feel weightless against the skin and are ideal under leggings, skirts, and dresses. A hot favorite amongst adventure-loving young women everywhere, these comfortable moisture-wicking hiking underwear are definitely worth a try!
Pros
Lightweight diamond mesh for improved airflow
Quick drying and odor resistant
Easy to wash
Designed for travel
Cons
Some might find the elastic of these underwear a bit tight around the legs.
If you're looking for pretty, colorful hiking underwear that is comfortable and stylish, you're going to love these attractive, silky-soft hipster-style panties. These antimicrobial hiking underwears offer a superior fit, made of a blend of nylon and spandex and featuring a breathable cotton lining. They can be worn all day long without the fear of your underwear riding up or getting bunched up under your clothes. Lightweight and quick-drying with a mesh design, these panties can be easily washed and reused, whether you're on a hiking trip with your girlfriends or a hectic business trip.
Pros
Comfortable, full-coverage design
100% cotton lining
Stretchable elastic waistband
Moisture and sweat-adsorbent
Available in multiple attractive colors
Cons
Some might find the seams of these underwear a bit tight.
Here's the perfect underwear for the nature-lover in you! Made of good-for-you natural fibers, these high-performance underwears offer comfortable support and a soft fit. A combination of light merino wool and lycra ensures temperature control, have moisture-wicking properties and effective odor resistance for underwear ideal for cold weather hiking trips. Durable and versatile, these well-fitting underwear are great for all-day wear and definitely deserve a place in your closet. In addition to these amazing features, these panties minimize chafing and are bulk-free.
Pros
Made of natural merino wool
Helps regulate body temperature
Naturally odor-free
Versatile and easy to care for
Bulk and chafe-free
Cons
Might not be best suited for use in hot, humid weather.
Get your hands on these skin-friendly hipster-style hiking underwear and fall in love with the seamless design, thin and wide waistband, and breathable fabric. Available in a wide range of gorgeous colors, these high-quality underwear are made of a blend of 95% cotton and 5% spandex, making them ideal for both exercise and daily wear. The label-free design ensures your skin remains free of itching and irritation, while the flexible waistband allows for a snug, comfortable fit.
Pros
Made of 95% natural cotton
Comfortable and breathable
Skin-friendly tagless design
Provides full coverage
Cons
Some might find that these panties tend to ride up a bit.
Whether you're camping, hiking, skiing, or hitting the gym, this pretty thong underwear is just what you need for comfort without compromising on style. Featuring a flattering slim fit and forward-set flatlock seams, these thong panties are made of a blend of merino wool, nylon, and elastane to ensure support, flexibility, and warmth. Durable while maintaining a next-to-skin softness, these thong underwear pair perfectly with almost anything in your wardrobe, be it a pair of cute workout shorts or your favorite pair of skin-tight jeans.
Pros
Durable and comfortable
Made with 83% merino wool
Flattering slim fit and bulk-free design
Suitable for both active and daily wear
Cons
Some might find the fabric of these hiking underwear a bit thin.
Whether you're packing for a romantic hiking trip, your much-awaited mountaineering expedition, or a high-energy outdoor vacation, don't forget to toss these sport bikini briefs into your backpack. Made of a breathable, ultra-light mesh fabric, this hiking underwear can dry entirely in less than 4 hours, making them the perfect companion for trips where you have to pack light. And there's more! The comfortable fit allows for a greater range of motion during intense activities without riding up or getting uncomfortably bunched up under your clothes. With ultra-light mesh fabric and Salvador that eliminates odor, you can be sure that these will be your favorite pair.
Pros
Quick-drying, stretchable fabric
Easy tear-away tag to avoid skin irritation
Ergonomic fit
Suitable for all body shapes
Cons
Some might find that the size of these briefs run a bit big.
Here's some high-performance hiking underwear that provides an incredible amount of comfortable stretch and total freedom of movement for the athletic, outdoorsy young woman. The flattering fit and laser-cut seamless edges ensure no unsightly panty lines, while the lightweight fabric with 4-way stretch allows breathability and ultimate comfort. Functional and durable, these panties offer full coverage and are an absolute must-have whether you're striving to lead a more active lifestyle or are just looking for the perfect all-day underwear.
Pros
Smooth, lightweight fabric
Comfortable, athletic fit
Laser cut with seamless edges
Suitable for all-day wear
Cons
Might not be best suited for those with a curvy physique.
Here's a gorgeous silky soft hiking underwear that looks great, is invisible under your clothes, and is sure to feel oh-so-good against your skin. The minimalist design is seamless and offers full coverage, making it perfect to pair with any article of clothing, be it leggings, a slinky skirt, your favorite hot pants, or hiking pants. Available in multiple pretty colors, these panties ensure a snug fit and are suitable for all-day wear. So what are you waiting for? Try them out! You will definitely thank us later!
Pros
Seamless, smooth design
Ensures full coverage
Invisible under clothes
Ideal for all-day wear
Cons
Some might find the fabric of these hiking underwear a bit thin.
Now that we've had a look at our pick of the 11 best hiking underwear for women in 2022, let us look at some things to consider when finding the perfect fit for your unique requirements.
How To Choose Hiking Underwear
Material
Hiking underwear comes in a wide range of materials and fabric blends, and it is crucial to pick one that is both comfortable and functional. While a blend of cotton and spandex is ideal for those looking for a super soft and breathable feel, a mix containing wool might be better suited for those looking to hike in cold and warm weathers. If you're looking to wash your underwear on the go, pick a blend that is easy to care for and quick-drying. However, it is ideal to stay clear of synthetic materials that may irritate your skin.
Cut and style
This depends on a variety of factors, from your personal preference to your unique body shape. If you're looking for hiking underwear that offers full coverage, pick hipster-style briefs that provide good support and flexibility. Bikini-style briefs are ideal for those looking to wear low-cut jeans, whereas thong-style underwear is perfect when you don't want to worry about unsightly panty lines.
Washing care
When it comes to hiking underwear, it is best to pick one that is hassle-free to care for. Hiking underwear that can be easily hand washed and dried quickly is perfect when you want to wear, wash, and go. It also allows you to pack light when you're travelling long distances on foot.
Comfortable seams and stitching
Hiking on strenuous trails means you're on the trek for insane periods. Hence, it is ideal for you to pick up underwear with comfortable seams and stitching so that you can ensure that the seams do not dig into your skin, leaving you feeling uncomfortable. Remember to always select seamless or one with forward-set or laser-cut seams for a pleasurable experience.
Odor-resistance
Nobody wants to hang around a smelly cat on regular days, let alone on hikes! To ensure you stay fresh and odor-free, select underwear with mesh for ventilation, odor-minimizing technology, and lightweight fabric.
Why Trust StyleCraze?
Priyam Gupta, the author of this article, reads about fashion all day long. She believes that functionality and comfort are essential to take your fashion game up a notch. She has conducted methodical research by reading through product reviews online and created this list of the top hiking underwear. They are made from multiple fabrics that are breathable and easy to care for, making your hikes seamless and fun.
Frequently Asked Questions
Is bamboo underwear good for hiking?
Absolutely! Bamboo underwear is naturally breathable and contains moisture-wicking natural fibre, making it the ideal choice when you want to feel cool, dry, and fresh when you're out and about!
Are boxer briefs good for hiking?
Boxer briefs offer both support and coverage, making them a good fit for outdoor activities. Find a pair that is made of a breathable material and get ready to explore the beautiful outdoors.
Should you wear underwear when hiking?
Yes, you should wear underwear when hiking. While hiking it is obvious that you will sweat a lot and sweating in your private region may cause you irritation. A good pair of underwear will keep you dry and chafe-free.
Is microfiber underwear good for hiking?
Yes, microfibres like nylon and polyester are good for making underwear for hiking because they are comfortable and breathable.
Should underwear be tight or loose?
Underwear should fit you snugly. They shouldn't be so tight to leave imprints on the skin or so loose that they fall off your waist.
How often should you change your underwear while hiking?
Change your underwear in 2-3 days while hiking to prevent bacterial growth.
Recommended Articles