7 Best Himalaya Face Washes For 2019 Available in India
Himalaya is a well known cosmetic brand, widely popular for their herbal products. Their face wash consists of all the natural ingredients and are 100% soap free. They are suitable for all skin types and are a perfect solution for various skin problems.
The Top 7 Himalaya Face Washes In India
1. Himalaya Herbals Neem Face Wash:
This is a soap free face wash which is suitable for every skin type. It gently removes the dirt, grease and impurities and prevents pimples form the face. The face wash is enriched with active neem extracts which is known for its anti-bacterial properties, thus fighting off the acne-causing bacteria. It also contains turmeric which controls acne and pimples and adds a natural glow to your complexion. This is a light green face wash, with a pleasant smell and gel like consistency.


[ Read: Best Face Washes in India ]
2. Himalaya Herbals oil Control Lemon Face Wash:
This himalaya face wash is enriched with natural ingredients like lemon which astringent and cooling agent, lightens the skin tone and reduces the appearance of dark spots and pigmentation. It also contains honey which has moisturizing and natural deep cleansing properties. Since this face wash doesn't contain soap, it doesn't make your skin feel dry and stretched. It contains small blue micro-beads, ideal for scrubbing the face gently.  The face wash has gel like consistency and ideal for all skin types.


[ Read: Face Washes for Blackheads ]
3. Himalaya Herbals Clarifying Fairness Face Wash:
Do you desire for that picture-perfect radiant, glowing and fair skin? Saffron gives you the desired glowing skin as it is well known for its skin brightening and complexion enhancing properties. The face wash contains saffron and mint as active ingredients, which also gives you a cooling and soothing effect on the face. It also contains natural extracts such as pomegranate which nourishes the skin and cucumber which provides a refreshing effect. It is suitable for all skin types.


4. Himalaya Gentle Daily Exfoliating Face Wash:
This is a perfect face wash which combines gentle exfoliation, deep cleansing and moisturization for your daily skin care routine. It has a combination of herbal ingredients such as red lentil, which helps in enhancing the skin's complexion and apricot granules which helps in the exfoliation of the dead skin cells. It also contains neem and lemon extracts which deep cleanses and reduces the excess sebum production on the face. The micro-beads enhance the exfoliation and cleansing process effectively.


5. Himalaya Gentle Face Wash Cream:
Dry skinned beauties always have a dilemma about choosing the right face wash as most of the face washes are meant for the oily skin. The Himalaya gentle face wash cream is just right for people with dry skin, as it is enriched with honey, cucumber and aloe vera, known for their moisturizing properties. It provides a cooling effect on the skin which refreshes and hydrates your skin.  This himalaya face wash for dry skin type is absolutely soap free and has a pleasant smell.


6. Himalaya Clarina Anti-acne Face Wash:
This face wash is suitable for acne- prone and oily skin. The face wash has anti-inflammatory, anti-bacterial and antioxidant properties which help fighting off the acne and pimple causing bacteria. It contains aloe vera, neem and turmeric extracts which are known for their anti-bacterial, anti-fungal and anti-septic properties. The face wash also has salicylic acid as an active ingredient and hence is himalaya face wash for pimples is well known for being very effective.


[ Read: Garnier Face Wash For Pimples ]
7. Himalaya Oil Balancing Face Wash:
If you have excess oil and sebum on your face, then it tends to attract the pollution and dust which in turn block your skin pores. This leads to acne, break-outs and blackheads. To get rid of the oily skin problems, try the oil balancing face wash which is enriched with Citron, an astringent and cooling agent and honey which deep cleanses and moisturizes the face effectively all throughout the day.  It has the soap-free formula which doesn't leave the skin dry and stretched. This himalaya face wash for oily skin is as perfect as a face wash for oily skin can possibly get!


[ Read: Best Face Washes For Oily Skin ]
*Subject to Availability
Hope you enjoyed the article. Please leave us a comment.

The following two tabs change content below.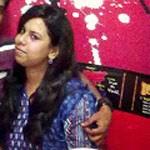 Latest posts by Ankita Biswas (see all)