10 Outfits That Nail The Hipster Look In 2023
Give an unconventional yet stylish spin to your wardrobe with these ideas.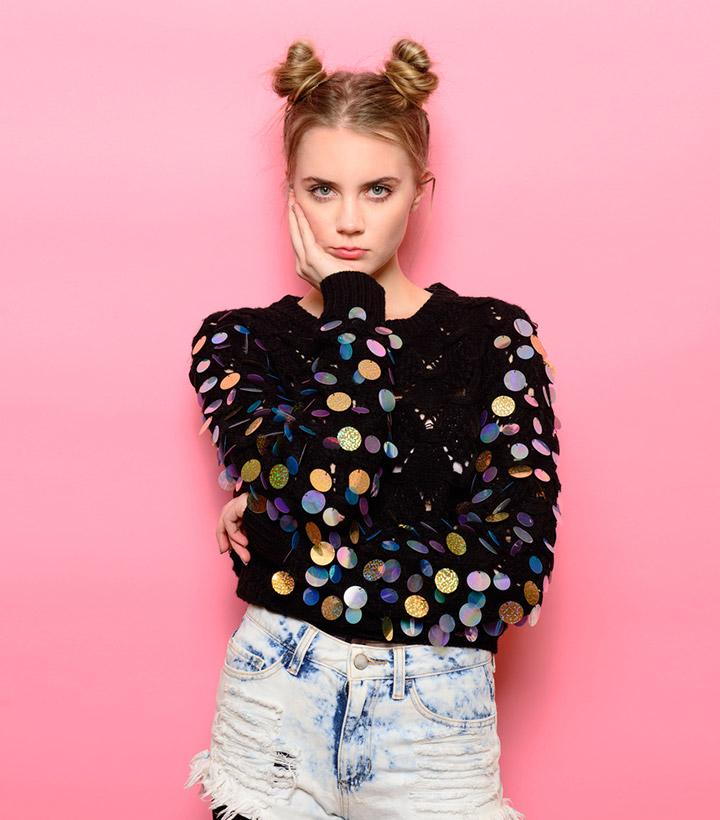 If you are in search of the best hipster outfit ideas, we have got you covered. This trend combines lifestyle choices with fashion to express one's state of mind. Hipster style is distinct and has a touch of vintage and rustic fashion that evolved from pop culture. What began as a desire to break away from the conventions has now entered the mainstream and become famous among the Gen-Z. So, swipe up and explore the 10 ideas we have put together to help you ace that hipster look!


Ace The Look
Hairstyles: Complete your hipster look with a pixie, inverted bob, shaggy bob, half updo, or a colorful mohawk.
Bags: Pop-colored sling bags or backpacks go well with the hipster look.
Nail Colors: Black nail polish, nail art with mismatched contrasting shades, and peppy neon shades can give your nails some extra funk.
Accessories: Nothing complements a hipster look more than piercings. Nose, nail, eyebrow, or the belly button–take your pick!
10 Best Hipster Outfits For Girls
1. Distressed Jeans And Neon Trench Coat
As you can see, mainstream outfits can easily be given a hipster twist. A neon trench coat can take a simple pair of distressed jeans to the next level. And, white ankle boots are an excellent way to break away from the chunky sneakers that are trending everywhere right now. If you want to go for a bold and unique look, don't be afraid to match your pumps or boots with the bright-colored coat
2. Oversized Coat And Combat Boots For Winter
Winters are all about staying warm. But, let's be realistic, we still need to get out and get to work. Throw on a long, oversized jacket that creates a hipster vibe almost instantly, especially when you pair it with chunky combat boots. Pick a boot that has some studs or subtle designs to create an edgier look
3. Hipster Outfits For School
It's that time of the year again – back to school season. Pair your favorite distressed jeans with a rustic plain T-shirt and finish off the look with a sparkly kimono (because who doesn't like glitter?). A denim jumpsuit is another easy way to hack the hipster style. You can wear the same kimono with this outfit too. Boots or black Converse sneakers will look perfect with this look. You can add a fun hat ro complete your look.
4. Casual Hipster Outfit
Keep things cash, as the millennials say, with this hipster outfit that is all about comfort. Wear a cropped white T-shirt under a jumpsuit instead of over distressed jeans and put on some chunky sneakers to create this laid-back look.
5. Vintage Skirt And Hat
We cannot talk about hipster outfits without mentioning a vintage look. A flowing yellow skirt, white top, nude lipstick, boots, and a wide-brimmed hat to round off this look perfectly. Whether you are attending a concert or catching up with friends, this hipster outfit is good for all occasions. You can also pair your outfit with a simple leather jacket to create a fun, cool, and edgy look.


Quick Tip
You can also wear different hipster skirts with tie dye, ragged pixie hem, denim, floral printed, or patchwork styles to enhance the hipster look.
6. Hipster Party Outfit
If you are known for your hipster fashion choices, your friends probably know what you are going to show up in, no matter what the theme of the party is. But, you can surprise them a little bit without getting too much out of your comfort zone. A bright animal print top adds character to any outfit. Throw on a pink duster coat, OTK boots, and a tan clutch to rock that party look.
7. Plaid Shirt And Distressed Jeans
Of course, a plaid shirt needs to be on this list. A plaid shirt in fall with frayed jeans is probably the easiest way to create a hipster look. Style your hair in beachy waves, throw on some delicate rose gold jewelry, and put on a floppy hat. You can never go wrong with this outfit. For a more luxurious and hipster look, you can add a pair of pumps to your outfit.
8. Black And White Hipster Outfit
Hipster outfits don't always need to be loose and flowing. They can be form-fitting and stylish as well. A white A-line skirt with a black turtleneck top can teleport you to the '60s, which is the era most hipsters take fashion inspiration from. You can also put on some black leggings to stay warm. Cat-ear buns add the perfect finishing touch to this look.
9. Fit And Flair Hipster Outfit
If you think you can never pull off anything feminine because you have a purely hipster style, think again. Go for a boho-hipster vibe with a striped maxi skirt and a simple tank top. You can go all floral with accessories, put on some boots, or wear some tribal jewelry with this outfit to make it truly your own. By interchanging the top with a nice shirt, you can untuck it to create a more relaxed, hip effortless look.


Quick Tip
Alternatively, you can also wear tie-dyed tops or long-sleeved peasant blouses instead of a simple tank top to get the perfect hipster look.
10. Denim Shirt And Checked Pants
Hit it out of the park with this hipster outfit. The plaid pants, denim shirt, and chunky boots are all classy vintage pieces that come together to complete this hipster outfit. But, the cherry on top of this outfit is definitely the bandana that finishes it off perfectly.
Infographic: Hipster Style: 5 Staples To Pull Off the Look
The point of dressing like a hipster is to go against what's trending to look effortlessly cool. It usually involves dressing quirky with pieces that have either been thrifted or handed down to you. The right clothes paired with a laid-back attitude can help you pull off the hipster look. Check out the infographic below for quick tips to dress like a hipster the right way.

Ditch the regular, retro, urban, or indie outfits for a fashionable hipster look! A pop-culture emergent, hipster style is the blend of fashion and lifestyle that has taken Gen Z by the storm. The best hipster outfit ideas can seamlessly bring together grunge, vintage, and punk ideas to express one's state of mind. It is an alternative rustic look with a modern, funky spin. Distressed jeans, ankle boots, neon colors, bold prints, hats, denim, and plaid are commonly found elements in hipster outfits. Of course, you cannot go wrong with a plaid shirt over distressed jeans styled with a hat and chunky ankle boots, but why stick to just one hipster outfit idea when you can amp it up with all the ideas shared in this article? It's time to flaunt your eclectic fashion side that is more chic, contemporary, and avant-garde!
Frequently Asked Questions
What kind of shirts do hipsters wear?
Faded, plaid, denim or vintage t-shirts are common types of t-shirts worn in hipster fashion.
Is Bohemian the same as hippie?
No, there is a difference between bohemian and hipster styles. Hipster style started out as a political movement and statement to make changes in people's lives. The bohemian style does not have roots in politics but is driven by aesthetics and artistry.
What are some essential accessories to complete a hipster outfit?
Hats, printed scarves, sunglasses, handmade and colorful jewelry bags, and chunky boots are essential hipster accessories to complete an outfit.
Can I personalize my hipster outfit with DIY or handmade elements?
Yes, handmade jewelry, bags, headbands, hats, and accessories pair really well with hipster outfits. You can make your own bags, studded with beads and tassels to get that hipster look.
Are there any specific footwear choices that complement a hipster style?
Oxfords, ankle boots, high-top sneakers, and loafers are common in this style.
Can I wear glasses or sunglasses as part of a hipster outfit?
Yes, they are seen as a crucial part of the hipster look and can be flaunted as a statement piece. You can experiment with classic shapes such as wayfarers, aviators, or thick-rimmed round frames.
What hairstyles or hair accessories are popular in hipster fashion?
Messy hair is one of the mainstays of hipster fashion as are colorful extensions, beanies, headbands, and hairpins.
How can I create a balance between comfort and style in a hipster outfit?
Since hipster fashion features a lot of loose-fitted clothes and a lot of layering, choosing comfortable fabrics for layering is key to balance comfort and style.
Are there any fashion influencers or celebrities known for their hipster style?
Alexa Chung, Zoe Kravitz, Florence Wench, and Harry Styles are a few celebrities that rock it effortlessly.
Can I combine hipster fashion with other styles or influences for a unique look?
Yes, you can combine it with vintage fashion pieces, streetwear, grunge fashion, and boho styles.
Put your best foot forward into Spring by exploring the hottest hipster outfit ideas in this video. From vibrant prints to stylish dresses, get inspired to rock the latest fashion trends.
Key Takeaways
Hipster style evolved from pop culture and blended vintage, grunge, and punk fashion styles.
This trendy outfit idea expresses one's state of mind by combining fashion with lifestyle choices.
You probably have those outfits in your closet, but what you need is the right ideas to style.
The following two tabs change content below.