7 Best 4-Bike Hitch Racks To Buy Online In 2020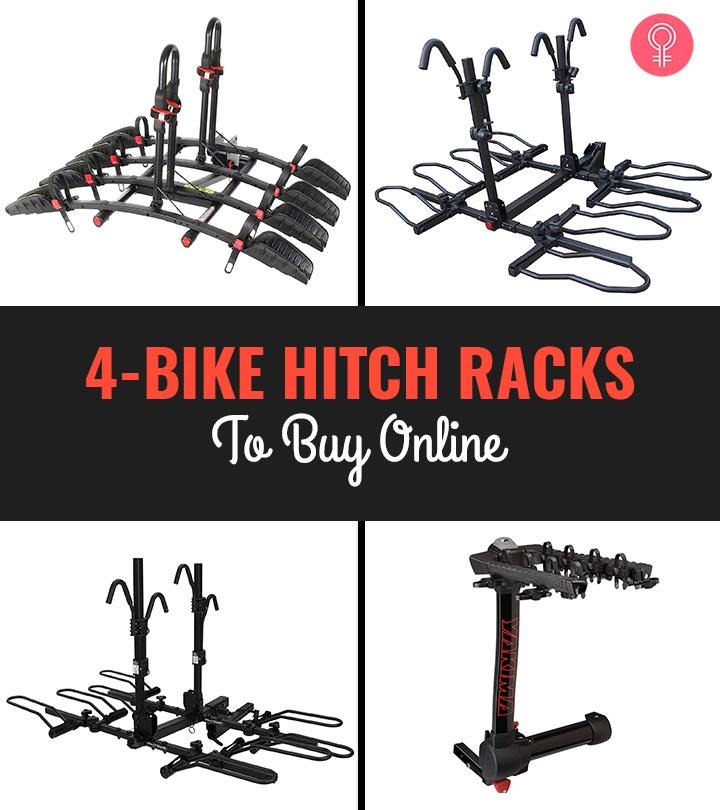 Are you planning to hit the road with your friends on bikes? Then, all you need is a 4-bike hitch rack. These racks hook onto your car and can carry four bikes at a time to make transportation easier. The racks attach securely to the receiver hitch of your vehicle and offer excellent stability. There are plenty of options to choose from, but before making your purchase, you should consider some important points like weight, size, features, design, carrying capacity, and budget. It is important to choose the best bike hitch rack based on your requirements. We have compiled a list of the seven best 4-bike hitch racks available right now along with a buying guide to help you choose the best one. Check them out!
The Deluxe Trunk Mounted Bike Rack from Allen Sports is the best budget option for those who are looking for a hitch-mounted bike rack. It fits on most SUVs, sedans, minivans, and hatchbacks. You can use this bike rack to transport up to four bikes at a time. The tie-down design can protect your bikes from damage. It comes with a locking hitch insert, an extra-wide bottom foot, side straps, and clear arch top and bottom feet to deliver exceptional stability. It is perfect for all your road trips and outdoor adventures.
Key Features
Individual tie-down system
Locking hitch insert
Sturdy construction
Product Specifications
Height: 5.3″
Length: 33.9″
Width: 18.9″
Weight: 18 lbs.
Pros
Secure locking
Easy to assemble
Quick installation process
Lifetime warranty
Affordable
Cons
Not suitable for heavy bicycles
2.
Allen Sports 4-Bike Hitch Rack fits vehicles with a 2-inch hitch. It can carry up to four bicycles on your adventurous road trips or camping excursions. Its 22″ long foldable carry arms can secure bicycles of different sizes and designs. It has a sturdy steel construction with a black powder coat finish. This Allen Sports bike rack also has a no-wobble bolt to keep the rack from moving inside the hitch and a tilt-away main mast for lift-gate access.
Key Features
Folding carry arms
Individual tie-down system
Tilt-away main mast
No-wobble hitch installation
Product Specifications
Height: 3.5″
Length: 25″
Width: 13″
Weight: 22.1 lbs.
Pros
Does not wobble or move
Easy to lock
Easy to assemble
Easy to install
Easy to use
Lifetime warranty
Cons
If you are looking for the best hanging bike rack, Yakima Full-Swing Hitch Mount Bike Rack is a good pick. It can fit any bike with traditional geometry and can carry up to four bikes, each weighing a maximum 40 lbs. Some other bikes like a mountain bike or women's and kids' bikes may require a TubeTop adapter. The best feature of this rack is its FullSwing swing-away design that allows access to your car's trunk or hatch with the bikes loaded. Also, its zero-hassle ZipStrips firmly secure your multiple bikes to the rack. The foldable, fully padded arms provide bike protection.
Key Features
FullSwing swing-away hitch design
Fully padded arms
Locking system
Product Specifications
Height: 17.5″
Length: 47.5″
Width: 26″
Rack Weight: 75 lbs.
Pros
Secure locking
Tool-free and easy installation
Provides access to your trunk when fully loaded
Easy to install
Cons
Heavy
Quality control issues
If you are planning a quick bike ride somewhere, the HR1400 Sport Rider bike rack from Hollywood Racks is a great choice for its quick loading and unloading features. This heavy-duty platform-style hitch rack can hold up to four bikes weighing 50 lbs each. It only fits 2″ hitch receivers and features a No Wobble-No Tools hitch tightening system. It comes along with a keyed-alike locking hitch pin with an 8 ft security cable and locking frame hooks. The Sport Rider SE 4-Bike Platform Style Mount Rack is foldable. Its adjustable wheel holders can fit bikes with up to a 60″ wheelbase and 3″ tire width.
Key Features
Adjustable wheel holders
No Wobble-No Tools hitch tightening system
Locking hooks
Product Specifications
Height: 10″
Length: 27″
Width: 36″
Rack Weight: 85 lbs.
Pros
Folds up vertically
High quality
Well-built
Pre-assembled
Secure lock
Cons
Problematic tilt feature
Bulky
Tyger Auto Deluxe 4-Bike Carrier Rack can fit all types of bikes with dual arms on vehicles with 2″ or 1.25″ hitch receivers. It is best for city-to-mountain biking. It can hold four bikes with its handy and sturdy construction. It comes with ratchet buckles, a hitch lock, a security strap, and a cable lock. It provides convenient vehicle access with the tilt-down feature and foldable carry arms. It is also equipped with soft cradles and a protection pad to secure your bikes from damage and protect your bike arms. This handy bike rack also comes with a DIY instruction manual for easy installation.
Key Features
Sturdy construction
Tilt mechanism
Foldable carry arms
OE standard black color E-Coating for rust resistance
Product Specifications
Height: 21″
Length: 61″
Width: 9″
Item Weight: 28.2 lbs.
Pros
1.25-2″ hitch receivers
Easy installation in minutes
Cable and hitch pin lock
Security straps
Foldable arms
Cushioned pads
Cons
If you are looking for a bike rack that can hold four heavyweight bikes (60 lbs/bike capacity), go for Overdrive Sports 4-Bike Hitch Mounted Rack. This hitch-mounted rack is specially designed for standard, fat tire, and electric bicycles. It has an anti-wobble system to safeguard your heavy bikes and a smart tilting feature to fold up the rack when it is not in use. It also features a locking hitch pin to secure your bikes, a rear reflector for enhanced visibility, padded clamps to hold bikes in place, and heavy-duty wheel holders to fit most bikes.
Key Features
Designed for heavy bikes
Anti-wobble system
Smart-tilting feature
Product Specifications
Height: 12″
Length: 36″
Width: 34″
Item Weight: 87 lbs.
Pros
Rear reflector
Locking hitch pin
Easy to install
Padded clamps
Pre-assembled
Cons
Anyone who wants to buy a lightweight and compact hitch mounted bike rack should try this one. Trimax Road-Max Hitch Mount Tray can carry up to four bikes. Its compact design allows the user to easily store it in the car trunk. Its arm can be folded when not in use for gate access. An adjustable padded arm supports the bikes vertically, and the locking system fits any 2″ receiver. It also comes with high-resistance wheel straps with zamack buckles and soft pads to fit all rims and tire sizes.
Key Features
Adjustable padded arm
Locking system
Product Specifications
Height: 9″
Length: 42″
Width: 14.5″
Item Weight: 41.7 lbs.
Pros
Lightweight
Compact
Heavy-duty construction
High-resistance wheel straps
Easy to load
Cons
4-bike hitch racks are great for all your camping and adventure trips. But, there are a few factors that you need to consider before you buy one. Check them out in the buying guide below!
Features to Consider in Good 4-bike Car Racks
While buying a mounted hitch bike rack, you should consider some important features in racks. Those include:
1. Types
Hitch mounted racks are available in two types: hanging racks and platform racks. In platform mounted racks, the bikes rest on a platform with the point of contact being the bike wheels. On the other hand, the bikes are suspended via their frames in hanging racks.
You can also categorize bike racks into swinging racks, folding racks, and static racks. Static racks don't move and are attached to the hitch receiver of your vehicle. Folding and swinging racks can be moved out of the way, even when fully loaded, in order to access your trunk. This feature of folding and swinging racks makes them extremely useful.
Another important factor you should consider here is the type of bikes you plan to transport, e.g., regular bikes, mountain bikes, kids' bikes, etc. Choose your rack based on that.
2. Weight
We have listed the weight of every rack in the above list so that to help you pick one that will be easy for you to install. Don't assume that heavy racks are better than the lighter ones. Check for all specifications of the product while buying.
3. Load Weight
The weight of your bike is a very important factor to consider when buying a bike hitch rack. If your bike's weight exceeds the weight limit of your hitch rack, it can fall off and get damaged. So, always look for a bike rack based on your bike's weight.
4. Stability
Bike hitch racks are made of different materials, and they should be stable when loaded with bikes. However, stability depends on several other factors too, like the shape and size of your bikes, the holding mechanism of the rack, and the spacing between the bikes.
A bike hitch rack should hold the bikes securely, otherwise they can fall down and get damaged. You could also end up losing a bike when you drive over a bump. The spacing between bikes is also a valuable measure because less space may cause the bikes to rub or get scratched against each other.
5. Security
The security of bikes is also essential when they are mounted on the rack. Most of the models in the market are equipped with self-locking mechanisms that keep both the bikes and the rack secure. Some racks have individual lock facilities. However, additional locks are highly recommended.
6. Adjustable
The bike rack you buy should be adjustable. It should be easy to load and unload, be convenient at the gate passing, and easy to fold without giving any trouble to the user.
7. Adaptable
Look for a bike rack that is capable of mounting on any type of vehicle. There are different types of bikes available in the market with specific sizes, shapes, and weights. So, study all these factors and pick your bike hitch rack with the most adaptable features.
8. Budget
It is extremely important to consider your budget when buying a bike hitch rack. Look into the features and style of the rack that you can get in your budget.
That was our list of the best 4-bike hitch racks available right now. We hope this article helps you choose the best hitch bike rack for your adventure activities. Pick one from this list, try it out, and let us know about your experience in the comments section below!