6 Best Hoka Running Shoes For Road Runners (2022 Update)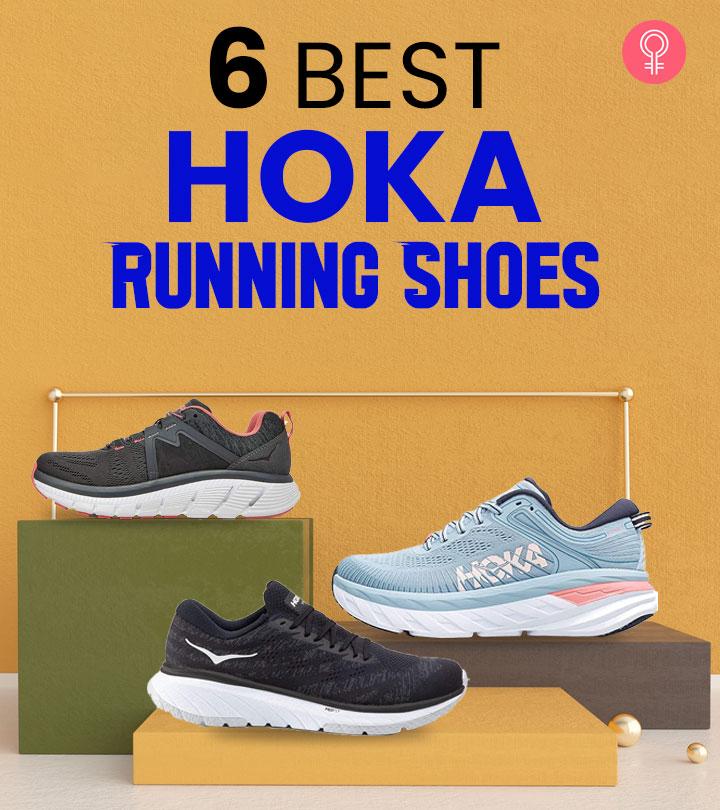 A good pair of running shoes go a long way, not just in making your run comfortably but also in keeping your feet safe. Hoka is one brand that seems to have ticked all the boxes when it comes to running shoes. With a dozen or more shoes in their catalog, we've shortlisted 6 of the best Hoka running shoes that you can try and add to your arsenal of running shoes.
What makes Hoka running shoes so great is that 2 former French runners have designed these! Having endured difficulties with other shoe brands, these runners in 2009 decided to make their shoes using all the insights they have from their experiences. Hence these shoes have been designed to perfection! Lightweight and ultra-comfortable, at the same time super durable! Go check out our list now!
6 Best Hoka Running Shoes Of 2022
The Hoka One One Women's Bondi 7 Running Shoes are the most cushioned option offered by the brand. The shoes promise a balanced and stable run across any distance. They are manufactured with EVA midsole, mesh upper, and Meta-Rocker technology. These running shoes are bestsellers on the market. Their plush collar is made from soft foam that is suitable for narrow heels that accommodate different kinds of ankles. It even cradles the Achilles. The sloped heel design provides a smooth transition and high durability, while the rubber outsole reduces weight and makes you more energetic. The heel counter provides a supportive midsole, and the TPU overlays ensure midfoot support and shape.
Key Features: Open engineered mesh construction, Memory foam collar, TPU overlays, EVA midsole, Meta-Rocker, and Rubber outsole
Pros
Highly-cushioned
Durable
Well-ventilated
Reduces ankle pain
Suitable for arthritis patients
Cons
None
If you are looking for high stability and superior cushioning, the Hoka One One Women's Gaviota 2 Running Shoes are the perfect match. These shoes provide superior support and protection without the use of harsh materials. They are lightweight, and their mesh uppers ensure breathability. Ortholite sock liners make them comfortable and well-fitting, while the Meta-Rocker offers additional stability. The rubberized foam promises durability and support. They also possess a J-frame technology that prevents extreme inward roll and overpronation while keeping your gait intact.
Key Features: J-frame technology, Open engineered mesh, Ortholite sockliner, Meta- Rocker, Heel bevel, Zonal placement of rubber, and Arch lock wings
Pros
High cushioning
Well-ventilated
Lightweight
Durable
Arch support
Great for arthritis
Cons
The Hoka One One Women's Clifton 7 Shoes with signature cushion are designed for running. Their EVA midsole offers superior cushioning. These shoes are soft and light. The open-engineered mesh upper provides breathability while their mesh gussets keep the tongue in place. This model has a streamlined outline and is equipped with a plush collar that relaxes Achilles pressure. There is a pull tab at the heel that makes it easy to wear and take it off. Like the other Hoka models, the sloped heel offers a smooth transition and the Meta-Rocker offers a smooth ride. The shoes are designed with flat geometry and full ground contact, ensuring a stable and smooth ride.
Key Features: Open-engineered mesh, Mesh gusset, Reinforced eyestays, Vertical pull tab, Meta-Rocker, EVA midsole, Heel bevel, Flat geometry, Complete ground contact, and Rubber-zones
Pros
Great cushioning
Soft material
Lightweight
Well-ventilated
Reduces Achilles pressure
Easy to wear and remove
Durable
Cons
None
The Hoka One One Women's Running Shoes are designed with an average bevel heel that allows a smooth transition. They display complete ground contact and ensure a stable and smooth ride. They are equipped with a vertical pull tab that makes them easy to be put on or removed. The open-engineered mesh upper makes them breathable and comfortable. They help in easing leg pain and are perfect for running and walking. Their soft cushions are comfortable to wear. These shoes are wide with enough space for your feet to move inside.
Key Features: Bevel heel, Full ground contact, Open-engineered mesh, and Soft cushions
Pros
Soft cushions
Easy to wear and remove
Well-ventilated
Cons
The Hoka One One Women's Cavu 3 Trainers are every gym junkie's dream come true. They are designed with a mesh upper made of stretchable knit and are breathable, lightweight, and comfortable. The additional perforations provide maximum ventilation, while the rocker profile provides an up-tempo movement. This tongue-less model features a supporting foot frame in the midsole. The PROFLY technology at their midsoles offers cushion and underfoot support. The EVA midsoles and outsoles offer comfort and resiliency. These shoes come with added features to propel you forward, making your movements fast and less strenuous.
Key Features: Stretch knit mesh upper, Zonal perforations, Tongue-less, Rocker-profile, Midsole foot frame, PROFLY midsole, EVA midsole, and EVA outsole
Pros
Durable
Well-ventilated
Lightweight
Provide cushioning
Ease foot pain
Cons
Could be difficult to put on
If you are looking for lightweight running shoes with maximum cushioning, try out the Hoka One One Women's Arahi 5 shoes. These shoes feature mesh at the heel, open mesh at the forefoot, and an ultralight foam upper, making them secure, breathable, and resilient. Their EVA J-frame provides lightweight support and Meta-Rocker ensures a smooth run. Their flat geometry and rubber outsole promise stability and durability. They are equipped with a pull tab for easy wear and removal. Their collar shape eases pressure on the Achilles. These shoes possess a low-key cushion bed that keeps your foot closer to the ground. They also contain a firmer material that offers an efficient bounce.
Key Features: Engineered mesh, Meta-Rocker, EVA J-frame, Flat geometry, Rubber outsole
Pros
Lightweight
Well-ventilated
Durable
Easy to wear and remove
Ease pressure on Achilles
Cons
None
These are the top Hoka running shoes available on the market. These shoes have become a household name. We've put together the greatest features of Hoka shoes that will tell you why.
What's So Great About Hoka Running Shoes?
Superior design with advanced technology make Hoka shoes special. Here are some important reasons one must go for these shoes.
Cushioned Midsole: Cushioned midsole offers protection and comfort to your feet, making your run enjoyable.
Mesh Construction: These allow ample airflow into the shoes and ensure breathability.
Meta-Rocker: Meta-Rocker provides stability to the shoes, thereby improving your performance.
Active Foot Frame: This frame helps cradle the heel and attach the foot to the midsole.
PROFLY: This type of midsole provides a soft foam in the heel, allowing comfortable landing and a firm foam in the toes, ensuring a vigorous toe-off.
J-Frame: This technology offers stability that makes sure that your feet do not roll inwards.
While all Hoka shoes employ high technology and display superior features, you need to pick the most suitable one as per your requirement.
How To Choose the Best Hoka Running Shoes?
Here are a few factors to consider before you pick your favorite pair of Hoka running shoes.
Running Type: A lot depends on the type of running or workout. As a trail runner, you will need more stability, whereas you will look for comfortable cushions if you are a roadrunner.
Ventilation: Long-distance runners need mesh constructions and perforations for better breathability.
Durability: Since running shoes are used on tough terrains, they are susceptible to wear and tear. You must pick a durable pair of shoes that can last you for many months.
Cushioning: While all Hoka shoes are cushioned, the amount of padding may differ. Go for the pair that is the most comfortable for you.
Medical Conditions: If you have foot pain, you should go for a plush ankle make to cradle your Achilles and ease the pain and pressure. Consider any such other medical conditions you may have and choose your pick accordingly.
Reviews: Reviews play a very important role in your selection because they are the voice of the actual Hoka users.
The best pair of shoes is ideal for your workout gear to prevent accidents and unwanted damage to the feet. And Hoka is one such brand that offers great comfort and accessibility. The structure of the shoes enables great mesh construction, allowing airflow to keep you cool. They come with cushioned midsoles that encourage greater performance. Read the reviews above well to understand all the features of each pair of shoes to find your ideal fit.
Why Trust StyleCraze?
The author, Aditi Naskar, has a diploma in health and wellness and loves reviewing fitness-related products. She has shortlisted some of the best Hoka running shoes for this article. She conducted through research and checked user reviews on multiple online forums to shortlist the products. These shoes ensure a balanced and stable run across any distance and terrain. In addition, they are lightweight and provide superior support.
Recommended Articles
The following two tabs change content below.