4 Best Holographic Lipsticks Of 2022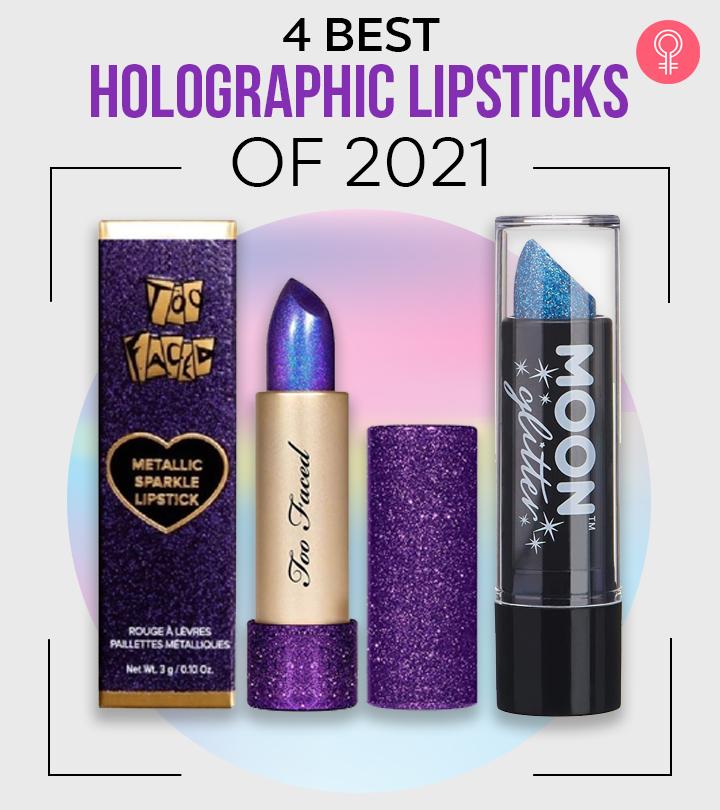 These best holographic lipsticks are dedicated to all the edgy makeup lovers who love bright, unicorn, glossy, and glittery lip shades that help them always stand out from the crowd. While this area is a niche, the scope for experimentation is immense as many people are hopping on this makeup trend for snatched and glam pixie look that is perfect for the gram.
Popularized in the early 2000s by fashion icons like Britney Spears, Beyonce, and Jennifer Lopez, this makeup trend has made its way back to the present. Giving a comeback and how, these lipsticks are here to stay and serve dreamy looks like never before. If you also want to hop on this in-vogue makeup look, then read our list of the best holographic lipsticks. Perfect for any day or night party, you will end up looking stunning with these shades by your side.
What Does Holographic Lipstick Mean?
The term 'holographic' essentially means anything that creates three-dimensional images due to the interference of light beams that reflect real objects. In layman terms, it is a pattern that gives you an illusion of an image by reflecting light. Holographic lipsticks involve a color pattern that reflects light to give an illusion of shimmer and sparkle.
Keep scrolling to check out the best holographic lipsticks you can add to your vanity.
4 Best Holographic Lipsticks For 2022
The Too Faced Metallic Sparkle Lipstick is your key to a metallic and glittery look. It has a creamy and non-drying formula and feels comfortable on the lips, thanks to the presence of avocado oil. It offers full coverage with a multi-reflective glitter finish and a strong color payoff. This Cheers to 20 years range includes 10 shades – from pinks, purples, browns, and maroons.
Pros
Opaque coverage
Non-drying
Highly pigmented
Value for money
Cons
This Too Faced La Creme Mystical Lipstick has an indulgent creamy formula with a unique color changing effect. It is powered by shade-shifting technology that changes color based on your body temperature. This holographic lipstick gently hydrates your skin while providing a soothing effect and is infused with a sweet scent. It can be worn with your favorite lipstick or alone. If you want to know more about the benefits of this product, check out this quick review on YouTube.
Pros
Moisturizing
Long-lasting
Goes on smooth
Highly pigmented
Cons
The Moon Glitter Holographic Glitter Lipstick is a sparkling metallic blue shade that suits a variety of skin tones and can be worn on multiple occasions – from a night at the club to a casual gathering. This lipstick is designed with a soft formula that enables easy application and removal.
Pros
Affordable
Easy to remove
Cruelty-free
Cons
This lipstick is an ideal pick for people with warmer skin tones and can help you create a unique style statement. This shade is great for different occasions – from a festival to a night out with your friends. It features a clean formula that glides smoothly on the lips and offers a sparkling finish.
Pros
Affordable
Smooth finish
Cruelty-free
Cons
Here are a few pointers you need to keep in mind while purchasing the ideal holographic lipstick that fits you to a tee.
How To Choose The Best Holographic Lipsticks
Know The Pigment
Just like regular lipsticks, holographic ones come with different pigments. You should choose the one that complements your skin tone and fulfills your love for sparkles. For those with warm undertones, pinks, browns, and reds are suitable, while for those with cooler undertones, blue and purple shades look flattering.
Glitter Coverage
If you are a beginner to holographic makeup and are just getting acquainted with glitter, choose a lipstick that offers a subtle glitter payoff. Go for the amount of glitter that you feel confident in.
Formula
Opt for a non-drying, nourishing, and hydrating lipstick that will go a long way in ensuring lip care and longevity.
Holographic lipsticks can create a whimsical effect on your lips and give you a shimmery and sparkly finish. These lipsticks have the ability to introduce different stunning colors that look great for a night out or some special occasion. These lipstick finishes look dreamy and are loved by celebrities as well. The reviewed options have a non-drying formula, offer an opaque coverage, are highly pigmented, and are long-lasting. While choosing the best holographic lipsticks, consider the pigment, glitter coverage, and formula of the product.
Why Trust StyleCraze?
Baishali Bhattacharya, the author, is certified in makeup artistry. She loves to review makeup products and stay updated on the latest trends. She curated this list of the best holographic lipsticks on the market after thorough research and reading through numerous user reviews online. The handpicked products on this list are well-formulated and add a definite edge to your look.
Frequently Asked Questions
Which skin tone do holographic lipsticks look good on?
Holographic lipsticks are essentially designed to look good on every skin tone.
Recommended Articles
The following two tabs change content below.