15 Best Holographic Makeup Products That Are Totally Worth A Try – 2023
Add the charm of iridescent hues to your makeup routine to keep shining your brightest!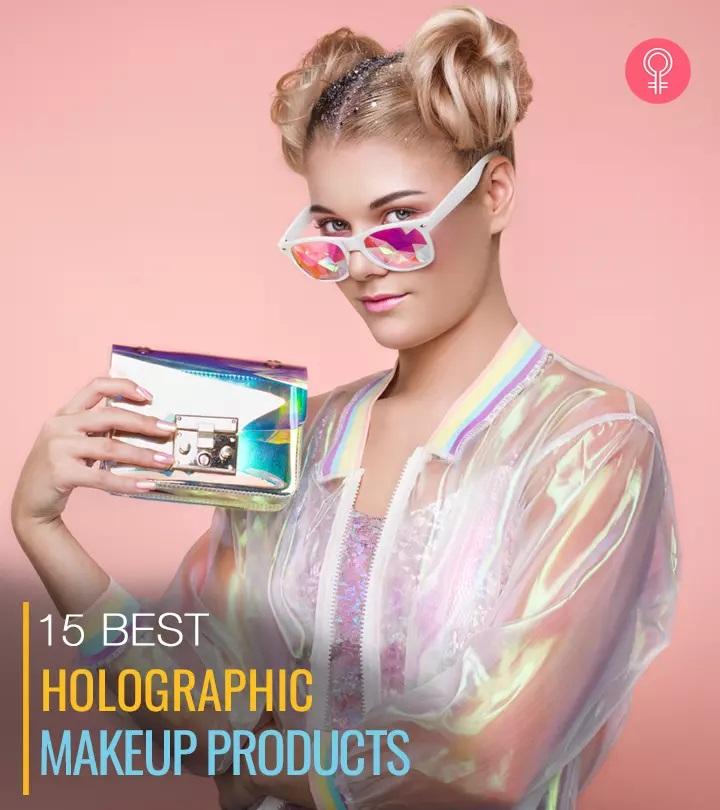 Holographic makeup, aka galaxy makeup, is nothing but flaunting iridescent makeup shades. They offer an illusive 3D effect on your face. Hence, the best holographic makeup products are available for your nails, cheeks, lips, and eyes. These holographic products come with a wide range of shades concentrating with blue or purple hues. Have a look at the list of the 15 best holographic makeup products that will leave you in aww. Keep scrolling!
15 Best Holographic Makeup Products
The ILNP Ultra Holographic Nail Polish is a classy and shimmery holographic nail polish. It is feminine, futuristic, and looks dreamy on the nails. This high-quality boutique nail lacquer is long-lasting and fast-drying. It is opaque and provides a perfect holographic finish without a base coat. It is chip-resistant and adds an intense reflective quality to your holographic manicure. The nail polish glides smoothly as silk with a single stroke and shines like a diamond with no rough texture. It can be removed easily without soaking measures, unlike other sparkle nail polishes. If your holographic makeup is on point, so should be your nails, and this nail polish is a wise pick. Take a look at this video to learn more about the product.
Pros
Opaque
Does not require a base coat
Long-lasting
Chip-resistant
Glides softly
Shiny
Fast-drying
Easy to remove
Vegan
Cons
Price at the time of publication: $10.0
Bring out your inner unicorn spirit with the stunning Unicorn Snot Holographic Makeup Glitter Lip Gloss. This lightweight sparkle lip gloss is vegan and cruelty-free. It is made from an oil-based formula that can be worn as it is for a chic, glossy shine, or over your lipstick as a lipstick topper for an added sparkle. It has an amazing cotton candy scent and comes in five magical holographic shades – pink, purple, blue, silver, and gold.
Pros
Smooth
Lightweight
Moisturizing
Can be used as a lipstick topper
Vegan
Cruelty-free
Long-lasting
Cons
May have a sticky texture.
Price at the time of publication: $6.39
If you love nail powders and want a holographic one in your collection, try the Yuxuan Holographic Powder. A jar contains 1 gram of silver holographic nail powder. It adds a 90s CD-like reflection to the nails that looks stunning under any light. It must be used on top of a gel coating and be sealed with a topcoat. Depending on the base coat, the holographic hue will change. This powder nail polish is easy to apply, durable than acrylic nails, does not crack or fragment, and does not damage the nail beds. It is also environment-friendly.
Pros
Easy to apply
Durable than acrylic nails
Does not crack or fragment
Does not damage the nail beds
Environment-friendly
Affordable
Reusable
Cons
Clear directions are not available in the user guide.
The sponge applicator is not well-made.
This holographic eyeshadow palette has nine shades and does not burn a hole in your pocket. The shades range from iridescent purple, pink, and mauve, to gold, pearl, pale orange, and shimmering green. These stunning holographic colors catch light from every angle and provide a sharp and fine shimmery effect. The shades are smooth, soft, creamy, and flatter all skin tones. A few shades can also be used as a highlighter to top your blush with a holographic finish. These eyeshadows do not exaggerate the fine lines and pores. This holographic eyeshadow palette is perfect for strobing the cheekbones, nose, and even the collarbone. Watch this YouTuber's honest review to get a better idea about the product and its features.
Pros
Pocket-friendly
Suitable for strobing
Covers fine lines and pores
Can be used on the eyes, cheeks, and body
Can be used with a brush or fingertips
Soft texture
Does not crumble
Cons
Needs a couple of coats to achieve a sharp holographic effect.
Has kick-off.
Price at the time of publication: $11.99
The Too Faced La Creme Mystical Effects Lipstick in Unicorn Tears is amazing for those who like to keep their holographic makeup on point. This unicorn lipstick is infused with white lotus flower extract, and it adds soothing hydration to the lips without dryingthem out. The creamy texture of this lipstick gives a stunning liquid matte finish.
Though the lipstick appears blue in the tube, it leaves a holographic effect of tinted purpleand lavender with a sky-blue effect. You can use it as lipstick or a lipstick topper for a glossy, multi-dimensional finish. This creamy, matte, shade-shifting lipstick is definitely something you want to own. This video will give you a better insight into the product.
Pros
Creamy texture
Hydrating
Infused with lotus flower extract
Matte finish
Multi-dimensional
Shade-shifting effect
Can be used as a lip topper
Long-wearing
Smells like candy
Cons
Not smudge-proof
Expensive
Price at the time of publication: $46.99
The NYX PROFESSIONAL MAKEUP Holographic Halo Cream Eyeliner with pigmented pearls provides a sheen metallic finish. You can apply it with a brush as an eyeliner or buff on your eyelids as an eyeshadow to achieve that intense, holographic look.
Pros
Can be used as an eyeshadow
Available in 5 shades
Cruelty-free (PETA certified)
Cons
Price at the time of publication: $8.0
When it comes to drugstore highlighters, Maybelline is the best. Their new Master Holographic Prismatic Highlighter is infused with high-impact iridescent pigments and shimmering kaleidoscopic-style pearl powder that helps create a dreamy unicorn highlighting effect. The texture is soft and does not exaggerate pores and fine lines. This holographic powder highlighter is created with a rich lavender-hued cool tone. The prismatic pearls create a reflective sheen that flashes color in different lights and pops the high points on your face and body. The packaging is great, and the product is reasonably priced.
Pros
Can be used on the face, body, and eyes
Cool-toned
Compact packaging
Lightweight
Available in two holographic shades
Affordable
Cons
Fragile
Does not have a mirror.
Price at the time of publication: $6.49
The Lime Crime's Diamond Crushers Limited Edition Lip Toppers is a holographic lip topper or gloss. This lip topper glides seamlessly and glistens like a diamond. From metallic fuchsia to shiny purple, there are multiple options that you can pick from. It is long-lasting and lightweight on the lips. It is also deliciously scented, like strawberries. You can wear it on bare lips for a tinted effect or use it as a lip topper for a holographic effect.
Pros
Long-lasting
Glides seamlessly
Glistens like a diamond.
Water-based formula
Matte finish
Lightweight
Available in a variety of shades
Strawberry-scented
Vegan
Cruelty-free
PETA certified
Cons
Expensive
Might dry out the lips.
Price at the time of publication: $28.0
The Kat Von D Alchemist Holographic Palette is shaped like a prism and contains four stunning holographic eyeshadows that have shade-shifting quality. The shades – Emerald, Saphire, Amethyst, and Opal –are perfect for achieving a spectrum of radiant, special multi-dimensional effects on your eyes, cheeks, and lips. You can use them as face and body highlighters or a slip toppers.
The holographic shades are formulated with Double Dimension technology, loaded with 360-degree refractive pearls, and dipped in a prismatic coating to deliver twice the transforming power. Each of the four shades catches the light from every angle for a spectrum of aluminizing special effects, perfect for customized finishes, and exploring artistic expressions in all possibilities.
Pros
Formulated with Double Dimension technology
Loaded with 360-degree refractive pearls
Dipped in a prismatic coating
Shade-shifting quality
Can be used on the eyes, lips, cheeks, and body
Stunning packaging
Cons
Expensive
Packaging is not environment-friendly.
Price at the time of publication: $59.99
This lipstick topper by Milani is what you need if you are a fan of shimmery and blingy holographic makeup. It is formulated with prismatic technology and comes in five fabulous shades. This lip topper is packed with light-reflective, iridescent shimmers that glisten and add a next level dimension to your lip color. It is long-lasting and has a mild tint.

Pros
Smudge-proof
Formulated with Prismatic technology
Comes with 5 color choices
Long-lasting
Cruelty-free
PETA-certified
Affordable
Cons
Price at the time of publication: $7.0
Not just eyeshadow, but your eyeliner can also be holographic. The Pretty Vulgar Vixen Glimmer Holographic Liquid Eyeliner is a glittery, liquid eyeliner that contains safe silver and lavender glitter for a stunning shine and a holographic effect to the eyes. This holographic eyeliner is water-resistant, flake-free, transfer-resistant, cruelty-free, and glides effortlessly. You can apply one or two coats to add an iridescent shine to your eyelids. Apply it on top of black eyeliner to give it depth and multi-dimensional shine. You can also apply it to the inner corners of your eyes to brighten the area instantly. The packaging is very appealing and has a sparkly holographic unicorn horn-shaped twist open cap.
Pros
Safe for the eyes
Contains silver and lavender glitter
Water-resistant
Glides effortlessly
Flake-free
Transfer-resistant
Cruelty-free
Can be used alone or on top of eyeliner.
Adds multi-dimensional shine
Cons
Price at the time of publication: $22.0
The NYX Strobe Of Genius Holographic Stick is a holographic highlighter for the high points of your face and body like the cheekbones, nose, cupid's bow, collarbone, and shoulders. This creamy highlighter strobing stick is luminous and gives a glossy appearance. It is packed with ultra-fine holographic pearls and glides effortlessly to illuminate your complexion for a runway-inspired strobe effect. Apply this holographic makeup strobing stick on the highest points of the face, such as the temples, cheekbones, and bridge of the nose. A little brush and dab are all you need to turn a regular makeup look into something stunning and jaw-dropping.
Pros
Strobe effect
Highlights the high points of face and body
Creamy texture
Does not exaggerate pores and lines
Seamless finish
Glides easily
Easy to carry
Affordable
PETA certified
Cruelty-free
Vegan
Cons
Not suitable for oily skin.
Price at the time of publication: $10.1
The Milk Makeup's Holographic Stick is the perfect holographic makeup product for reapplying your shimmery highlight throughout the day. This stick has two secrets – meteorite powder and twilight pearls – that make it worth buying. The holographic stick has a super-hydrating, buttery formula enriched with peach nectar, mango butter, coconut oil, and avocado oil. These moisturizing ingredients create a sheen that is natural and eye-catching while nourishing the skin. The subtle lavender, golden peach, and prismatic pink hues complement all skin tones.
Pros
Infused with meteorite powder and twilight pearls.
Buttery formula
Nourishing
Hydrating
Easy to carry
Suitable for all skin tones
Affordable
Cons
Might not be long-lasting.
Price at the time of publication: $8.92
The Milk Makeup's bestselling Holographic Lip Gloss is packed with meteorite powder and twilight pearls. It contains avocado oil, coconut oil, and mango butter that hydrates and nourishes your lips. This iridescent lip gloss can be worn on its own for an otherworldly sheen, or as a top coat layered over lip color to create a prismatic new hue. It is comfortable to wear and offers a subtle holographic makeup finish.
Pros
Hydrates the lips
Provides a prismatic hue
Cruelty-free
Vegan
Includes a doe-foot applicator
Lightweight
Affordable
Cons
Price at the time of publication: $20.25
If you want a holographic highlighter that is blinding, high-quality, and smooth like butter, the Becca Shimmering Skin Perfector Prismatic Amethyst is your best bet. It has a lavender hue with duo-chrome pigments that provide a purple holographic makeup effect. The Prismatic Amethyst shade is enriched with color-shifting pigments that reflect and refract light to provide a multi-faceted, holographic chameleon effect. It is infused with pale gold, violet, and rose pearls to create a unique, iridescent sheen that shifts as you move. The result is a soft shine that reflects a different shade from every angle. This purple highlighter gives the skin a supernatural glow without exaggerating fine lines and pores.
Pros
Creamy texture
Non-cakey
Adds a chameleon effect
Stunning packaging
Cons
Price at the time of publication: $15.75
These are the 15 best holographic makeup products for your unicorn dreams to become real.Here are a few buying tips before you lay hands on the best holo makeup products.
Holographic Makeup Buying Guide
All That Glitters Is Not Holographic –Many of us get confused between glitter and holographic. The mere addition of different colored glitters is not holographic makeup. Your holographic makeup should have blue, green, yellow, pink, and green hues all together yet with their own seconds of shine to hit that perfect dreamy note of the makeup lover in you.
Purple Highlighters Are Different From Holographic Highlighters– The market is flooded with various shades of highlighters. Purple is one of them. But just a purple highlighter with pink shimmer is not a holographic highlighter. Look for one with a silver base and tiny light-reflecting particles that impart an iridescent quality to the highlighter.
Duo-chrome Lip Toppers Are Not Necessarily Holographic –Holographic lip toppers should reflect at least three colors. A lot of blue lip toppers with purple shimmer can be mistaken for holographic. Look for lip toppers that are either clear or have a base color along with multiple reflective, fine iridescent particles.
Safety First, Always – Holographic makeup is stunning. However, you must check the ingredients list to see if it contains harmful chemicals or glitter that can cut your eyes or skin.
For makeup artists and lovers, it is easy to wear and play with holographic makeup. But if you are new to it, here's a tutorial on how to use holographic makeup without looking out of place.
How To Wear Holographic Makeup (Tutorial)
Why Trust StyleCraze?
The author of this article, Baishali Bhattacharya, is certified in makeup techniques. She has prepared this comprehensive list of the best holographic makeup products after conducting thorough research and reading many product reviews. The products in this article can provide an illusive 3D effect on your face and let you stand out in the crowd.
Frequently Asked Questions
How do you do holographic makeup?
To put on holographic makeup, think it through first. Do you want to highlight your eyes or lips? We would not recommend going with a full face of holographic makeup for everyday use.
Buy the necessary holographic makeup products and start playing. Use your fingertips or a brush to apply holographic eyeshadow. Use an eyeliner to define your eyes. Add holographic highlighter on the cheekbones, bridge of the nose, and the cupid's bow. Use a matte lipstick to finish the makeup look. You may also use a super cool holographic lipstick,lip topper, and a cheek highlighter, but keep your eyes basic.
How do you make holographic eyeshadow?
You can create a holographic effect using the eyeshadow palette you already have. Use a kajal or cake eyeliner to paint the top eyelids first. Use an eyeshadow
brush to pick up a shimmery blue-green eyeshadow. Spray the brush with MAC fix plus or Urban Decay all-nighter. Pat it over the eyelid. Next, pick up a pink shimmery eyeshadow and do the same. Last but not least, gently pat a little bit of silver eye glitter. And you are done!
What's the difference between holographic and iridescent?
In terms of makeup, holographic makeup has a 3D effect or a multi-dimensional light-reflective property. Iridescent means glow. It can use shimmer particles or oils and colors infused together to create a light bouncing property.
How do you use a holographic highlighter?
To use a holographic highlighter, you can use your fingertips or a brush. Dip your finger or brush into the highlighter, dust off the excess, tap it on the cheekbones, and blend. Use a little on top of the nose, cupid's bow, and the inner corners of the eyes. Blend the harsh lines to make it look even.
What's the difference between duochrome and holographic?
Duochrome is iridescent in two colors and shifts from one color to another in various light angles. On the other hand, holographic breaks the light spectrum and makes a makeup product appear in multiple colors and shades, depending on the angle at which the light hits.
How can we remove holographic makeup?
Remove holographic makeup with a cleansing balm or oil, or a makeup remover.
Recommended Articles