11 Best Weight Benches That Are Portable And Adjustable – 2022
Make your workout sessions more intense and safe with multifunctional fitness equipment.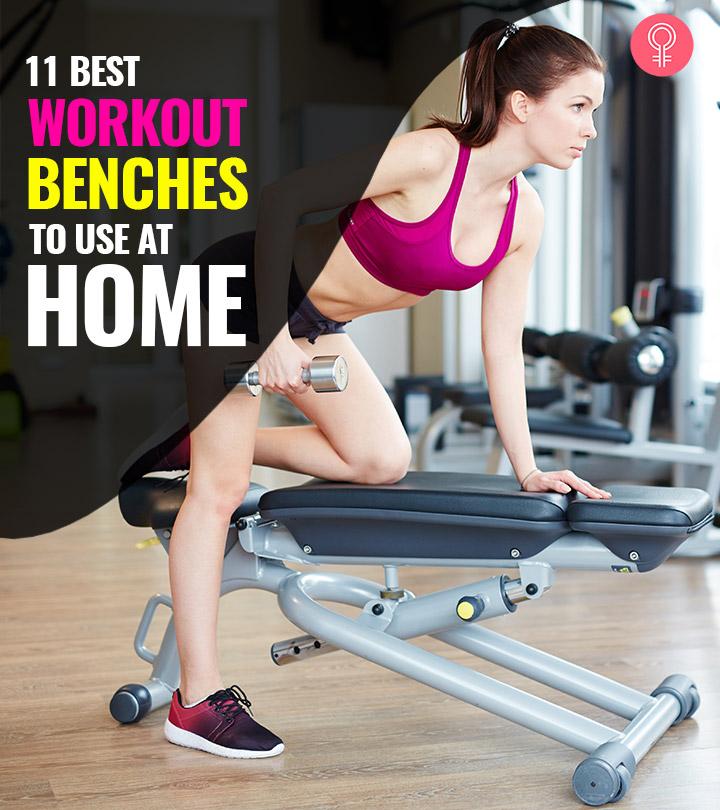 The best weight benches offer you something more than just your regular bench press machine. This versatile piece of equipment can take the weight of any exercise. Be it glute bridges, skull crushers, or split squats; this bench can take it all! On top of that, they are space savers and can be adjusted to the angle of your choice, making your workouts intense. Check out our list of top home weight benches to get every muscle moving. Take a look now!
Types Of Workout Benches
There are different types of benches for different workouts:
Flat Benches: They are the most common and cost-effective benches. They are used for upper body workouts. They are great to use if you are just starting to work out.
Foldable Benches: If you don't have a lot of space at home, these are an excellent option. They work like flat benches but are easily movable.
Adjustable Benches: You can incline or decline these benches as per your workout requirement. You can also leave them flat. These benches allow you to target muscle groups and improve lower body workouts.
Abdominal Benches: As the name suggests, these benches are for abdominal exercises. They can be inclined or declined for various workouts. They also come with foot rollers.
Olympic Weight Benches: These weight benches are much larger and not convenient for homes. They come with many attachments like squat racks and dumbbells.
Preacher Curl Benches: These benches are made specifically for preacher curls and work on your biceps.
Now that we know the types, let's look at the best at-home workout benches.
Top 11 Workout Benches
Flybird has been designing and producing fitness equipment for 20 years. Their adjustable weight bench has been developed under the guidance of professional fitness coaches. The adjustable bench has a unique triangle structure and is made from heavy-duty commercial steel. It is built with a 1.5mm thick steel pipe and has a 500 lbs weight capacity. You can pull the support bar to adjust the bench into six back and four seating positions. It has a 9.7 inches thick backrest with a soft foam pad of 1.8 inches, made with quality leather.
The leather is breathable, odorless, non-slip, and wear-resistant. The bench is foldable, easy to carry, and requires no assembly. The product comes with a one-year warranty and a 30-day warranty on the pads. The legs of the bench are cushioned to increase comfort. The foot bottom tube has an enlarged rubber cover that makes it non-slip. You can also check this YouTuber's detailed review to know more about the results after using this product.
Specifications
Maximum Weight Capacity: 500 lbs
Product Weight: 32 lbs
Dimensions: 47L×16W×47.5H inches
Foldable: Yes
Adjustable: Yes
Pros
Comfortable and durable leather pads
Easy to adjust
Quality material
Comfortable incline and decline angles
Doesn't shake during the workout
Strong steel frame
Space-saving
Non-slip foot cover
Cons
Footholds may be weak.
Not suitable for taller people.
Thin matting
The Marcy Utility Slant Board has a heavy-duty steel tube frame that helps improve balance and durability. It has a powder-coated finish, which is resistant to water and corrosion. This board has a locking pin that allows you to fold the bench, so it takes up less space when not in use. It is compact and easy to carry around. The bench has four incline and decline positions, which add variety to your fitness routine and help in muscle building. These incline and decline positions target different muscle groups, along with the abdominal muscles, intensifying upper and lower abdominal gains.
The board has a longer and wider backrest, which is made of deluxe high-density padded leather upholstery to give you comfort, balance, and support. The slant board has four foam padded handles, providing increased grip hold for workouts. It also has a foam padded headrest for head support. This slanted bench helps tone and define muscles and build strength, power, and stamina, along with burning calories. For a thorough review of the product, have a look at this YouTuber's video.
Specifications
Maximum Weight Capacity: 250 lbs
Product Weight: 22 lbs
Dimensions: 59L x 18W x 29H inches
Foldable: Yes
Adjustable: Yes
Pros
Sturdy
Soft cushioning
Easy assembly
Offers 4 angled positions
Comfortable backrest
Foam padded handles for secure grip
Cons
The holes are not drilled in well.
The nuts don't go in all the way.
Packaging issues
The Haoky Weight Bench is ergonomically designed with soft leather and high-density foam padding, which helps keep the body firm. It also uses foam padded handles to prevent any pain while pushing up or doing any back exercises. It uses a high-density cushion and a reversible elbow pad, whose positions can be changed according to your needs. The bench is designed to give you a full-body workout from the comfort of your home. It has a unique triangular structure made with heavy-duty and high-quality iron tubing for improved stability and durability.
This adjustable abdominal bench is suitable for multiple workouts and helps build most major muscle groups. It can be used for sit-ups, back exercises, push-ups, and flat support. It helps shape the arms, pectoral muscles, leg muscles, glutes, abdominal muscles, and the waist. The bench can be folded and stored away easily, so it doesn't occupy much space. It is easy to install and comes with step-by-step instructions. It also has anti-slip footpads, which prevent slipping and protect the floor.
Specifications
Maximum Weight Capacity: 350 lbs
Dimensions: 35L X 13W X 12H inches (after folding)
Foldable: Yes
Adjustable: Yes
Pros
Heavy-duty construction
Comfortable
Adjustable backrest
Multifunctional
Comfortable incline and decline angles
Foam padded handles for good grip
Doesn't shake during workout
Non-slip foot pads
Can be cleaned easily
Cons
Footholds may be weak.
Packaging issues
The Steelbody Flat Utility Bench helps you achieve a full-body workout. It is made with durable, high-quality steel. The heavy-duty steel frame provides steady support while you work out. It also has foot pads and end caps to prevent it from moving during workouts. The transport wheels and a handle help move the bench around. It is made with a powder-coated finish, which prevents rust, scratches, and wear and tear from heavy use.
It is furnished with a 2.5 inches thick faux canvas vinyl, which provides comfort and enhanced support. This soft layer minimizes the pressure on your back and reduces fatigue while increasing endurance. The bench is great for workouts to remove stubborn fat and build muscle. The sturdy frame and stabilized legs provide steady support for the bench, while the board is furnished with high-density padding that gives maximum comfort when exercising.
Specifications
Maximum Weight Capacity: 800 lbs
Product Weight: 41 lbs
Dimensions: 43.5L x 17W x 26.5H inches
Foldable: Yes
Adjustable: Yes
Pros
Heavy-duty construction
Rust- and scratch-resistant
Sturdy frame
Doesn't move during workouts
Easy and compact storage
Easy to assemble
High-density padding for comfort
Works well even when using weights
Cons
Packaging issues
The rubber may smell in the beginning.
The Marcy Impex Adjustable Weight Bench aims to help you achieve your fitness goals with minimal equipment. It has an adjustable back that can be altered to six different positions to suit your workouts. It also has a secure sawtooth back pad adjustment design, which can be modified to an inclined, flat, or declined position. You can get a full-body workout, thanks to the bench's ergonomic design. It has a leg developer and dual leg extensions to help with lower body workouts.
The bench has top grade foam padding that provides comfort. The powder-coated steel frame provides resilience, and the bench can handle a maximum weight capacity of 600 lbs. It has foam roller pads that have a vinyl covering and a hard-wearing powder-coated finish. It also comes with wheels and a handle for easy transportation.
Specifications
Maximum Capacity: 600 lbs
Product Weight: 51 lbs
Dimensions: 65L x 23W x 46.5H inches
Foldable: Yes
Adjustable: Yes
Pros
Easy to assemble
Good stability
Comfortable incline and decline angles
Adjustable seat
Comfortable padding
High quality rollers
Comes with leg extensions
Instructions come with pictures
Good for incline, decline, and flat exercises
Cons
No padding over caps.
Leg curler goes only halfway.
The bench wobbles a bit.
No locking mechanism for leg extensions.
May be small for people taller than six feet.
The hinge bolt is too long and may scrape the knee.
The AmazonBasics Flat Weight Workout Bench aims to enhance your home workouts. It is perfect for beginner and advanced level workouts. It is made of rugged, high-quality materials, including a durable steel tube frame and a smooth PVC top surface. It can be assembled easily and has upside-down T-shaped legs that provide better stability. This bench helps you burn fat and build muscles from the comfort of your home. It comes with a one-year warranty. The bench is sturdy enough to work with barbells. You can also perform tricep dips or floor-to-bench planks and other high-intensity workouts.
Specifications
Maximum Weight Capacity: 375 lbs
Product Weight: 24.2 lbs
Dimensions: 41L x 11W x 17.9H inches
Foldable: No
Adjustable: No
Pros
Sturdy bench
Doesn't wobble
Durable steel tube frame
Smooth PVC top surface
Good padding and vinyl cover
Easy assembly
Comfortable seating
Cons
The Universal Decline Bench helps you perform a wide variety of core workouts from your home. You can choose from two decline positions and perform sit-ups, twists, and core-strengthening exercises. It has eight-inch padded foam rollers that keep your feet firmly in place. The well-padded back support ensures to keep you comfortable throughout your workout.
Specifications
Maximum Capacity: 200 lbs
Product Weight: 20 lbs
Dimensions: 45L x 17W x 23H inches
Foldable: Yes
Adjustable: Yes
Pros
Comfortable cushioning
Wide foam rollers
Easy to assemble
Comfortable
Three height adjustments
Good for ab workouts
Sturdy
Cons
The protection foam slips off.
May be small for people over 6 feet.
The bench pad may tear off from constant use.
Not adjustable to sit upright.
The Fitness Reality 1000 Super Max Weight Bench is built to support up to 800 lbs. It has a front leg with two adjustable positions, which double the number of backrest angles to 12. The bench can be used for fitness workouts as well as yoga. It helps enhance upper body workouts and other strength training exercises. It comes with independent backrest adjustments and is upgraded with a backrest that is 2 inches wider for better back support.
The bench has a unique triangular support structure. It is made with a strong powder-coated tubular steel frame construction, which provides stability. It can be folded and has wheels for easy transportation. It has three position adjustable leg hold-downs. It comes with a manual as well.
Specifications
Maximum Capacity: 800 lbs
Product Weight: 35 lbs
Dimensions: 59L x 23.5W x 48.5H inches
Foldable: Yes
Adjustable: Yes
Pros
12 backrest angles
Wider backrest
Strong steel frame
Easy to assemble
Sturdy
Has transportation wheels
Foldable
Cons
Packaging issues
Narrow bench
The seams may come off the bench cover.
The Finer Form Multi-Functional Bench is designed for multiple workouts that target most major muscle groups and help shape your abs, back, chest, glutes, hamstrings, and core. It is made with high-grade steel and has a scratch-resistant powder-coated finish for durability. It has one flat and two decline bench settings with four foot adjustments and eight thigh support cushions for comfortable height adjustments. It can be used as an adjustable sit-up bench, which strengthens the abs and oblique muscles.
It can also be used as a flat bench for flies and chest presses or a decline bench for lower back, core, and hamstring workouts. It comes with extra supporting tubes that form a triangle frame. It can handle a maximum weight of 660 lbs and has a comfortable cushion pad that provides consistent support and comfort for the lower back and abdomen. The footrests are welded into the bench to provide better support.
Specifications
Maximum Weight Capacity: 660 lbs
Product Weight: 38 lbs
Dimensions: 39L x 13W x 17.5H inches
Foldable: No
Adjustable: Yes
Pros
Made with high-grade steel
Easily adjustable decline and flat settings
No wobbling or shaking
Comfortable cushion pad
Easy to move
Good for back extensions, sit-ups, and flat benches
Cons
Packaging issues
Difficult to assemble.
Plastic footrests come off easily.
The Rep Fitness Flat Bench is a heavy-duty 1000 lbs ASTM bench. It is designed to be used with dumbbells, smith machines, cages, or power racks. It has a pad that provides support for lifting. The pad measures 12 inches wide and has a stable 16-inch base that provides ample back support and leg drive during bench presses. It is durable and sturdy under load. The top surface of the pad is 17.5 inches from the floor.
The flat bench is made from 11 gauge steel with a thick plywood base layer, dense foam core, and a soft top layer, which provides a mix of support and comfort. It has a 2.5 inches thick pad that is covered with durable and textured non-slip vinyl. The bench weighs 45 lbs and is easy to move around. It comes with a 10-year warranty on the frame and a 30-day warranty on the pad.
Specifications
Maximum Weight Capacity: 1000 lbs
Product Weight: 45 lbs
Dimensions: 47L x 12W x 17.5H inches
Foldable: Yes
Adjustable: Yes
Pros
Strong and stable
Comfortable padding
Made with 11 gauge steel
Easy to assemble
Durable and sturdy
Easy to clean and store
Cons
Packaging issues
May become wobbly after a few weeks.
Staples may fall after some time.
The Reebok Ab board is made from durable tubular steel with a 2.5 inches thick pad. This makes it comfortable and hard-wearing. It helps strengthen and tone the core with targeted bodyweight and weighted exercise. It has ankle and knee anchors that keep the legs locked into the bench, making it suitable for abs, oblique, and hip flexor exercises. The ergonomically designed back support and foam ankle and knee cushions make it comfortable to use. This bench has non-slip rubber feet and a wipeable surface that makes it easy to clean and maintain.
Specifications
Maximum Weight Capacity: 330 lbs
Product Weight: 55.6 lbs
Dimensions: 42L X 17W X 21.7 H inches
Foldable: No
Adjustable: Yes
Pros
Comfortable padding
Easy instructions and assembly
Made of durable tubular steel
Sturdy
Comfortable angles
Easy to move
Cons
Packaging issues
Screws may not fit.
Mentioned below are some tips to consider when buying a workout bench for at-home use.
Best At-home Workout Bench Buying Guide
Adjustability: Adjustable benches come with movable incline and decline angles that make your workouts smoother. Check the specifications and reviews to understand how far the incline and decline angles go.
Comfort: When using equipment, make sure you are comfortable enough not to strain or stress any part of your body, beyond what the exercise requires. A big key to finding an adjustable bench press is finding one with comfortable padding that suits even prolonged workouts.
Durability: Most adjustable benches come with powder coating, which increases their durability and keeps them scratch-free. Make sure the steel frame is strong. Check the reviews to make sure the bench can handle strenuous and long workouts.
Easy To Move Around: Most adjustable benches come with handles and/or wheels for easy transportation. They can also be folded for minimal storage space.
Weight Capacity: Checking the weight capacity should be one of the first things you do when buying an adjustable bench. Make sure it handles more weight than your own body weight. This is because when you exercise, you exert more weight on the bench.
Weight Bench Safety: Make sure the bench comes with end caps or foot padding to prevent it from moving during workouts.
Why Trust StyleCraze?
Aditi Naskar, the author, has a diploma in health and wellness, and in this article, she recommends the best weight benches that you can use at home. All the products mentioned in the list have been carefully reviewed by her to help her readers make the best pick. These are versatile pieces of equipment that can take the weight of any exercise, be it glute bridges, skull crushers, or split squats.
Frequently Asked Questions
How long should a weight bench be?
A weight bench should be 48 inches long.
Is an adjustable bench worth it?
Yes, an adjustable bench is an excellent choice for lifters seeking a balance of comfort and versatility. It is ideal for those who prefer to use declines and inclines during workouts.
Which is better: an incline or a flat bench?
Both an incline and a flat bench are preferable. However, the flat press targets the entire chest, whereas the incline bench targets the shoulders and upper chest.
Should I start with an incline or flat bench?
Begin by building a flat bench. Because it is easier to lift heavy weight on a flat bench than an inclined press, you will be stronger on the flat bench press.
What happens if you bench press every day?
If you bench press every day, you risk injuring and inflaming your arm and chest muscles.
Do you need a weight bench for your home gym?
Yes, you must have a weight bench for your home gym. A weight bench can assist you if you are looking for exercise equipment that allows you to perform most exercises. For example, dumbbell lifting, chest presses, core exercises, and other exercises can be performed on weight benches.
Recommended Articles