10 Best Home Office Desks – Reviews And Buying Guide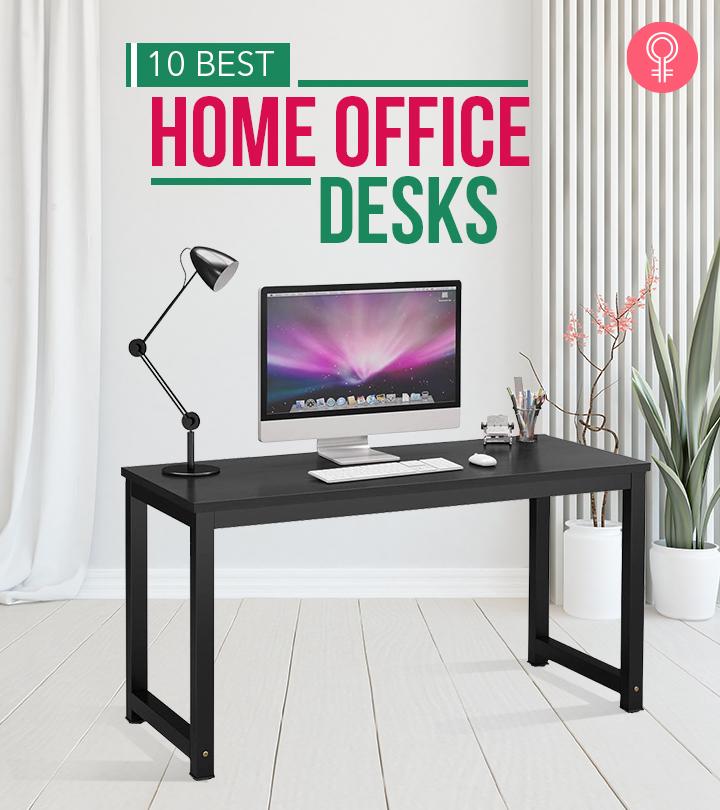 After working from a personal desk space or a cubicle for years, working from home seems a bit challenging. Not having a dedicated workspace at home can hamper your focus and productivity. This is where home office desks can help. Below, we have listed the 10 best home office desk options available online. Discover which one works the best for you and what to keep in mind while buying a home office desk. Scroll down to get started!
10 Best Home Office Desks That Are Functional And Sleek
The CubiCubi Computer Desk is a stunning add-on to your home decor. Its vintage industrial tabletop and adjustable leg pad provide great comfort and stability for long working hours. It has slots and storage for all office accessories. Thus, you will always have a clutter-free large desk space to work. This home office desk can be assembled within 10 minutes and has a 2-year warranty.
Features
Material: Metal, Particleboard
Desk Shape: Rectangle
Size: 40″L x 19.7″W x 29.5″H
Desk Weight: 24.1 lbs
Color: Rustic brown
Number Of Drawers: 1 storage bag and iron hook
Pros
Sturdy
Affordable
Compact
Easy to assemble
Double iron-trut design
Adjustable leg pads
Cons
The GreenForest L-Shaped Corner Desk is a classy, eco-friendly, moisture-proof, and scratch-resistant product. Its unique shape maximizes the usable space. It is ideal for work, study, and gaming, especially in a small/tight space. This corner desk comes with sturdy adjustable foot cups to ensure uniform height throughout. You can place multiple monitors without worrying about stability and space. The desks can also be switched as per your convenience.
Features
Material: Engineered Wood, Steel
Desk Shape: L-shape
Size: 58.1″L x 44.3″W x 29.13″H
Desk Weight: 37.2 lbs
Color: Black
Number Of Drawers: None
Pros
Space-saving
Large leg room
Value for money
Cons
Assembly takes time
Flimsy and weak build
Weak legs
The Writing Computer Desk by Coavas is a portable and functional home office desk that can double up as a foldable picnic table or be placed in your study, living room, or kitchen.This desk is stylish, waterproof, easy to assemble, and durable. It fits well in small spaces and has good legroom and wide workspace.
Features
Material: MDF and Metal
Desk Shape: Rectangle
Size: 39.4″L x19.7″W x 28.3″H
Desk Weight: 21 lbs
Color: Brown desktop, black frame
Number Of Drawers: None
Pros
Foldable
Portable
Easy to assemble
Lightweight
Value for money
Cons
No storage
Weak build
Cannot support heavy objects
The Zinus Jennifer Soho Rectangular Table is an elegant, sturdy, and multipurpose desk. It is easy to assemble and comes with a 1-year warranty from the manufacturer. It can withstand the weight of two flat monitors and sit steadily on carpets. You can attach various storing spaces for office supplies if needed.
Features
Material: Wood and Steel
Desk Shape: Rectangle
Size: 55″L x 24″W x 29″H
Desk Weight: 40 lbs
Color: Espresso-finish top, white legs
Number Of Drawers: none
Pros
Classy look
Spacious
Sturdy
Good build quality
Easy to assemble
Cons
The Mr IRONSTONE Computer Corner desk is L-shaped, spacious, and easy to clean. You can mount two to three monitors, have your books, and accessories- all on the tabletop. The X-shaped bracing gives extra support to the desk while the adjustable leg pads maintain the height throughout. The back of the middle corner is cut to manage cables and cords for a clutter-free workspace.
Features
Material: MDF Board and Steel Leg
Desk Shape: L-shape
Size: 59″W x 21.7″D x 30″H
Desk Weight: 22 lbs
Color: Black
Number Of Drawers: None
Pros
Spacious
Strong frame
Value for money
Wide leg room
Cons
Poor design
Hard to install
The Walker Edison Glass Workstation Desk is another perfect fit for tight corners. It is sleek, spacious, and an ideal option for your home office. It includes a sliding keyboard tray and an unattached CPU stand. The L-shaped desk top can accommodate two monitors safely. The keyboard tray can be mounted on either side of the desk as per convenience, and there is ample space to keep your accessories and work essentials.
Features
Material: Glass and Metal
Desk Shape: L-shape
Size: 51″L x 20″W x 29″H
Desk Weight: 57 pounds
Color: Black
Number Of Drawers: None (1 CPU stand)
Pros
Sturdy
Large legroom
Easy to assemble
Accommodates multiple monitors
Cons
No support under the corner
Low table height
Price at the time of publication: $178.4
The Prepac Floating Desk is a wall-mountable desk that is safe, space-saving, and stylish. It can be mounted using the metal hanging rail system in any room of your choice. The stable work surface is perfect to set your computer, while the side compartments and top shelf provide functional storage for office supplies. The cord and paper clutter is tucked away in/on the shelves to reveal a clean and spacious work area. This desk is easy to install and can be paired with a comfortable and ergonomic chair.
Features
Material: Wood and Metal
Desk Shape: Foldable
Size: 19.8″L x 42.2″W x 39.5″H
Desk Weight: 60 lbs
Color: White
Number Of Drawers: 6 shelves
Pros
Space-saving
Huge storage
Value for money
Cons
Insufficient depth
Assembly issues
Heavy
Difficult to mount
The SHW Adjustable Computer Desk is a tough product that can go from 28″ to 46″ in height. It can be adjusted easily from a sitting to a standing desk with the support of solid steel legs. The telescopic height adjustment is made using a motorized electric lift system. This desk comes with a grommet to hold all your cables. A wire basket is also provided under the desk to manage cords and plug boxes.
Features
Material: Steel
Desk Shape: L-shape
Size: 55″W x 34.5″D x 28-45″H
Desk Weight: 79.6 lbs
Color: Black
Number Of Drawers: None
Pros
Value for money
Comfortable
Convenient
Can support heavy objects
Cons
The Sauder Carson Forge Desk is what you need if you are looking for something vintage, sturdy, and functional. It has a Washington cherry finishand can be a statement piece in your home office.It has three drawers to hold all your office supplies. They glide smoothly on metal runners and have rusted iron accents. The desk is made from environment-friendly materials.
Features
Material: Wood and Metal
Desk Shape: Rectangle
Size: 53 1/4″W x 22 5/8″D x 29 3/4″H
Desk Weight: 103 lbs
Color: Washington cherry
Number Of Drawers: 3
Pros
Sturdy
Good storage space
Value for money
Easy to assemble
Cons
The Tribesigns Computer Desk comes in a minimalist and clean design with space on and under the table. The laminated top is made scratch-resistant, waterproof, and sturdy. The legs give extra stability to hold heavy accessories and computers. It has great size and can fit in anywhere in any room. The desk space is large and accessible on either side.
Features
Material: Engineered wood
Desk Shape: Rectangle
Size: 55"L x 23.6"W x 29.2"H
Desk Weight: 63.8 lbs
Color: Teak frame and black legs
Number Of Drawers: None
Pros
Value for money
Good leg room
Spacious workbench
Sturdy
Easy to assemble
Cons
Those were our top 10 elegant, functional, and cost-effective home office desks. If you are wondering which one to buy, read the following section for buying tips. Here are a few key points/features to look for while buying a home office desk-
How To Choose The Best Home Office Desk – Buying Guide
Desk Size: Your desk space has to be wide and ergonomic. Go for a desk that can accommodate your computer/laptop, paper files, and work accessories. You need to have enough room left to write or draw.
Desk Height: Go for a desk with an adjustable height over the normal one. It will be not only ergonomic but also airy with good legroom. The latest desk models come with motorized height adjustment. Without any effort, you can convert a sitting desk to a standing one and vice versa.
Material: Choose a strong material – metal or wood – over particleboard or glass desk. Since it is an office desk, you need to look at the amount of weight it can support. If you work with multiple monitors and a lot of gadgets, go for a sturdy desk. But if you do most of your work on a lightweight laptop or papers/charts, lighter desks may work.
Desk Weight And Portability: Portability is important if you are in small or shared spaces. Buy a foldable and easy-to-assemble desk to shift shop anytime. Light materials like particleboard, engineered wood, and metal will be a good choice for students.
If you are going to assemble your desk, the desk weight matters. Heavy desks are stressful to put together and can cause mishaps if not done well.
Storage: Home offices tend to collect more clutter than regular workspaces. Finding a desk with ample storage space helps you tuck away your creative mess. Having drawers, shelves, and baskets built into the table will make it multipurpose. If your desk does not come with paper storage options, ensure that it has cord organizers.
Easy To Assemble: There is no point in investing in a desk it takes you ages to assemble it. Depending on the effort and help you have, choose a hassle-free and light or vintage and bulky desk. Make sure to check the weight of the product before ordering.
These pro-tips will help you finalize which product works best for you. Choose from our list of the 10 best home office desks and work your week away!
Frequently Asked Questions
What is the difference between a writing desk and a computer desk?
Writing desks are designed to have more desk space and less storage. They support the basic function of writing. They may have adjustable height and a drawer or two but nothing high-end.
Computer desks, on the other hand, are large with more storage. These desks are designed to accommodate bulky gadgets, peripherals, and cords. They come with shelves, drawers, baskets, and pouches. Some computer desks are also stackable to maximize space usage and provide ergonomic comfort.
How much does an office desk cost?
Anything between $20 to $2000. The cost varies depending on the material, functionality, design, brand, and storage options.
Recommended Articles