15 Best Home Gym Equipment To Get In Shape – Top Picks of 2022
Build a mini home gym and stay active and healthy in the comfort of your own home.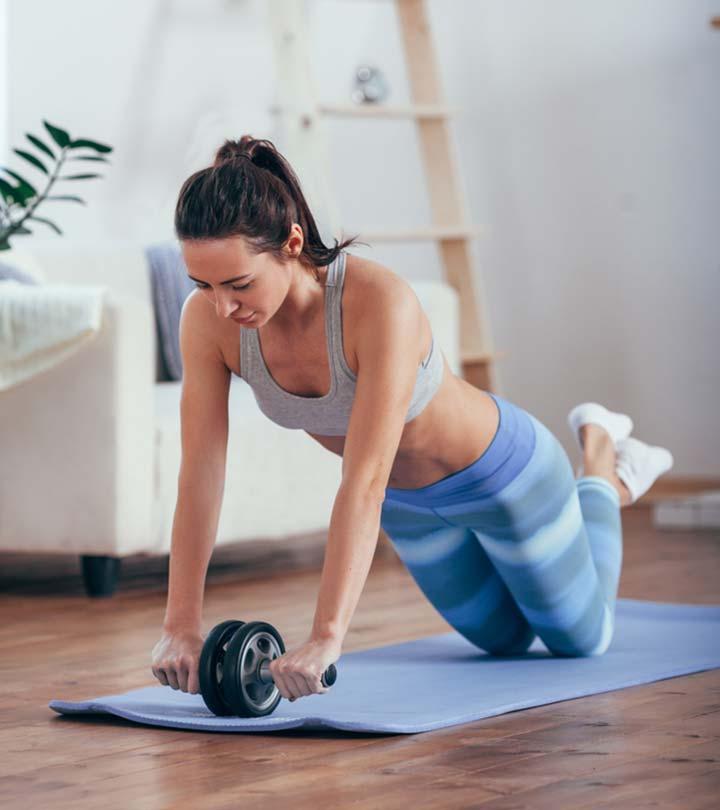 Gyms saw a significant shut down during the pandemic, which inspired many to start working out at home with the best home workout equipment. Fitness enthusiasts did not shy away from purchasing light devices that are tailor-made to set up in the home environment. There are many such beauties available online, and we have picked out the best 15 ones for you to think about and make a decision carefully!
Top 15 Home Workout Equipment Of 2022
1. BalanceFrom GoYoga Non-Slip Yoga Mat
This is not just another yoga mat. It is highly rated and is made with high-density, eco-friendly material that makes it slip-proof. The mat is 68″ long 24″ wide and ensures comfort to your knees, elbows, hips, and spine. 
Pros
Slip-proof
Cushions the joints and comfortable
68″ long 24″ wide ¼" thick
Water-resistant
Washable
Portable
Comes with a carrying strap
Easy to store
2-year BalanceFrom warranty
Cons
Price at the time of publication: $15.9
TRX suspension bands are the most popular home workout equipment from the brand. The set consists of a suspension trainer, a suspension anchor, a door anchor, a getting started guide, and access to the TRX Training Club app. It is a great tool for all-body workouts, including strength and core training, in the comfort of your home. It offers seven functional movements to work your total body for a healthier you.
Pros
Lightweight
Portable
Sturdy
Versatile
Ideal for total body workout
Suitable for all levels
Durable
Cons
Price at the time of publication: $179.95
This set of 5 color-coded bands offers five resistance levels to meet a beginner's or a professional's workout needs. The Fit Simplify Loop Resistance Bands are made of 100% latex and are heavy-duty, making them highly durable and long-lasting. These are great for building muscles, toning the body, strength training, or basic workouts. In addition, the band set comes with a travel bag and instruction guide, making it a portable option to keep you healthy while travelling. This video offers a more detailed explanation of the product.
Pros
Portable
Heavy-duty quality
Color-coded resistance bands
Comes with an instruction manual
12" long and 2" wide
5 levels of resistance
Good for full body toning and physical therapy
Cons
The bands tend to roll-up
Price at the time of publication: $12.95
4. BOSU Balance Trainer

You may have seen this equipment at the gym. Fitness trainers swear by it. The BOSU ball is great equipment for improving core strength, balance, and coordination. It also provides cardio, muscular strength, flexibility, and endurance. It adds challenge to the workout by providing an unstable, dynamic surface. Here are a few examples of BOSU ball exercises. This set includes a BOSU Balance Trainer, an owner's manual, and a hand pump. You may check this video for a better understanding of this product.
Note: Do not use this if you are recovering from surgery. 
Pros
High quality
Durable
Both sides can be used for full-body exercise.
Cardio, balance, flexibility, and strength training can be done.
Adds a fun challenge to your regular workout.
Can withstand user weight up to 300 lbs.
Cons
Expensive
Not for the elderly.
Unsupervised movements may lead to injuries.
Price at the time of publication: $144.99
5. BodyBoss 2.0
What if you could do a full gym workout through just one equipment? BodyBoss gives you access to one such gym workout package. It is the world's first portable gym! It is specially designed to simulate all the bulky equipment and machines, combine into one, and create a revolutionary workout concept. You can do upper body and lower body workout, cardio resistance boxing workout, and body part focus workout with this home workout equipment. This video review will help you learn more about the product.
Pros
Lightweight
Versatile
Easy to use
Comes with resistance bands
Collapsible workout bars and wrist/ankle straps
Can be used to perform 300+ exercises.
The Fold Up Platform allows to increase the exercise challenge.
Can be customized just for you by adjusting the bands.
Cons
None
Price at the time of publication: $65.0
6. Vinsguir Ab Roller
Who doesn't like chiseled abs or a slim tummy? The Vinsguir Ab Roller is an effective, portable equipment for achieving exactly that! This ab roller is 8 cm ultra-wide, which ensures balance and stability. The handles are made of EVA rubber cotton that ensures a comfortable grip. The wheel is made of TPR soft rubber for quiet operation. The shaft is made of high-strength stainless steel and can bear a maximum weight of 440 pounds. 
Pros
Value for money
Easy to install and disassemble
Free knee pads
Strong
Doesn't wobble
Minimizes risk of injuries
30-day no-hassle returns & 180 days warranty
Cons
Not a versatile equipment for a full-body workout.
Price at the time of publication: $25.99
7. Sunny Health & Fitness Mini Stepper With Resistance Bands 
The Sunny Health & Fitness Mini Stepper comes with resistance bands, which makes it an excellent full-body workout equipment. It is lightweight, portable, and built with a hydraulic drive system, which makes "stepping" smooth. The height adjustment knobs help adjust motion height for long steps and short bursts of exercise. The large textured footplates ensure a non-slip footing. The LCD monitor measures the steps, time, and calories burnt. 
Pros
Portable
Versatile
Compact
Good for a full-body workout
Comfortable footplates
Cons
Breaks easily (according to user reviews)
Price at the time of publication: $78.07
8. AmazonBasics Medicine Ball
Adding a medicine ball to your bodyweight workout can help improve muscle strength, stamina, endurance, and power. It also improves balance. The AmazonBasics medicine ball comes in different weights, and the textured surface ensures a solid grip. 
Pros
Portable
Can be used for upper and lower body exercise.
Useful for cardio and strength training.
Adds challenge and makes working out a fun activity.
Value for money
Cons
None
Price at the time of publication: $28.66
9. Tone Fitness Aerobic Step Platform
Step aerobics is a great way to burn calories and get full-body cardio. It helps in fat loss and increases stamina and endurance. The Tone Fitness Aerobic Step Platform is a trusted and highly rated step exercise platform. You can use it to do various types of exercises. Here are a few examples of step aerobics. 
Pros
77″ Long X 11.02″ Wide X 5.91
Lightweight
Portable
Non-slip surface
Adjustable height
Non-skid feet provide stability.
Cons
It cannot be used for strength training unless you use weights along with step aerobics.
Price at the time of publication: $27.77
10. GoFitness Push Down Bar Machine
The GoFitness Push Down Bar Machine works on your upper body – the chest, back, abs, and shoulders. It is portable and can be adjusted to have different levels of resistance. It helps build muscles and enhance definition. Anyone can use it, beginner or a pro. 
Pros
Compact
Portable
Good for upper body strength training
Durable
Cons
Only useful for the upper body.
Expensive
Price at the time of publication: $69.99
11. GHB Pro Agility Ladder
Fan of functional training? GHB Pro Agility Ladder can help set a functional training fitness center at your home! It is an excellent equipment for cardio and helps burn fat and improve agility, coordination, and stability. 
Pros
20 feet long with 12 durable plastic rungs
Each rung is 16.5″ long, and the space between each rung is 15".
Lightweight
Portable
Good for functional fitness.
Keeps you agile and fit.
Adjustable
Comes with a carrying bag.
Cons
Not for strength training.
Price at the time of publication: $16.99
12. OYO Personal Gym – Full Body Portable Gym
The OYO Personal Gym is compact, lightweight, and portable and helps you get a full-body workout anytime, anywhere. Its SpiraFlex resistance technology has been used for over a decade on the International Space Station to keep astronauts fit. This equipment helps burn calories, build muscles, and improves strength. It targets the chest, back, arms, legs core, and abs.
Pros
Portable
Good for muscle building and strengthening.
Burns fat even at rest.
Free online access to over 60 workout and 197 exercise videos.
Cons
Price at the time of publication: $169.95
13. Vaunn Medical Folding Pedal Exerciser

This equipment is good for people undergoing physical therapy. It provides gentle and low-impact exercise that helps improve blood circulation and muscle tone. It targets the arms and legs. The adjustable knob helps control the level of resistance. The non-skid ribbed rubber feet ensure stability. 
Pros
Portable and lightweight
Foldable
Good for physiotherapy
Improves blood circulation
Stable
Cons
Not for high-intensity calorie burning.
Not for strength training.
Not for the core, glutes, chest, back, and shoulders.
Price at the time of publication: $49.99
14. Survival and Cross Jump Rope
Jumping rope is a great calorie burner. It has many benefits. The best part is, you can adjust the intensity to make it an aerobic or an anaerobic, high-intensity exercise. The Survival and Cross Jump Rope has 5" handles and 10-foot cable. It is fully adjustable and is good for beginners and pro athletes. The ball bearings ensure smooth, tangle-free rotation at your desired speed.
Pros
Compact
Portable
Stable
Tangle-free
Adjustable
Comfortable handles
Durable
Cons
Not for strength training.
Price at the time of publication: $10.88
15. ATIVAFIT Mini Exercise Bike
ATIVAFIT Mini Exercise Bike is actually a compact, mini bike that helps you lose fat from the lower body. It is a great way to exercise your legs at home while you work.
Pros
Light
Portable
Easy to install
Electronic LCD display
Adjustable resistance
Has a maximum weight capacity of 250 lbs.
Cons
Not for the upper body.
Not for strength training.
Price at the time of publication: $108.43
Why Trust StyleCraze?
Aditi Naskar, the author of this article, holds a diploma in health and wellness and specializes in reviewing fitness and health products. According to her, one should never compromise with fitness and workout even if one cannot visit gyms or trainers. So, she has made a list of the 15 best home gym equipment to help you get in shape. They are made of high-quality, durable materials and easy to store.
Frequently Asked Questions
What workout equipment is the most effective?
The BodyBoss 2.0 is the best you'd want to start your daily workout with. You can perform up to 300+ exercises with just one tool.
Is buying home gym equipment worth it?
Yes, if you are someone who loves to do workouts in your spare time and from the comforts of home, setting up a home gym is the best option. You can add as much equipment as possible based on your fitness goal and perform exercises freely.
Can you build muscle using a home gym?
Yes, you can build muscle with professional equipment by targeting specific muscle groups effectively.
How do you stay safe using home gym equipment?
• Always wear shoes for good support.
• When doing weight training, always have a partner for support.
• Don't overdo any exercise.
• Don't shift weights instantly.
• Do more reps with lighter weights.
How often should gym equipment be serviced?
You can service gym equipment once a month to keep them protected from wear or tear.
How do you clean home gym equipment?
Wipe your benches, mats, or dumbbells with a piece of cloth after using them.
Recommended Articles