16 Best Honest Beauty Products That Are Amazing – 2023
If clean beauty concept has begun to impress you, these must be your go-to products.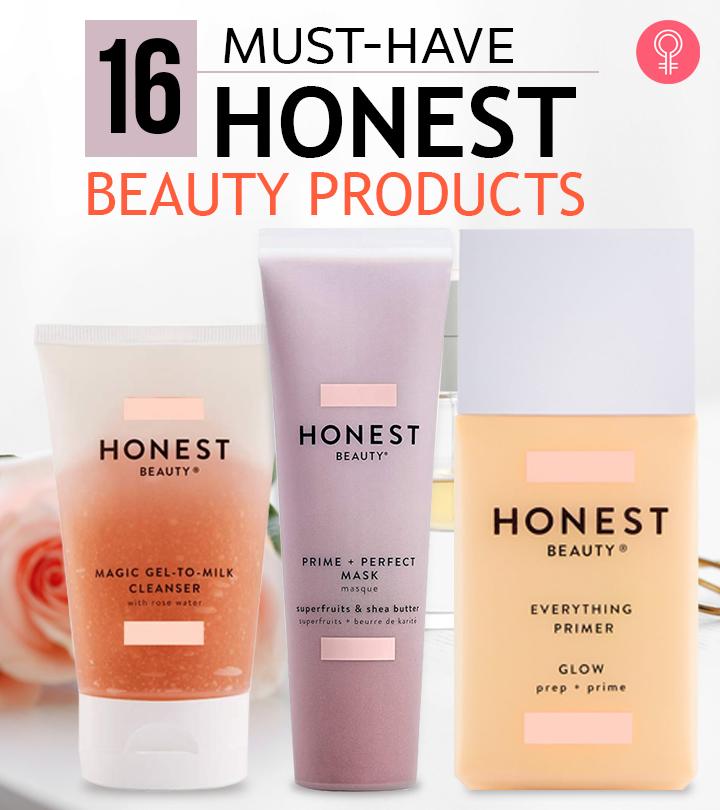 If you want to change over to cleaner beauty standards, try the best Honest Beauty products. This all-natural, organic cosmetics brand was founded by actor Jessica Alba. Honest Beauty offers skin-friendly products that are tested by dermatologists and ophthalmologists. This cruelty-free brand also ensures that its products are made of non-toxic, chemical-free ingredients that do not aggravate your skin. Check out the 16 best Honest Beauty products that you can incorporate into your skin care and makeup routine.
16 Honest Beauty Products You Need To Try
The Honest Beauty Extreme Length 2-in-1 Mascara+Lash Primer glides smoothly for lush length and sky-high lift. It comes with specially molded bristles that pick up every lash and give expert definition and volume.
The primer coats your lashes to create an even base and intensify the color. This mascara+lash primer combo contains natural ingredients, such as jojoba esters, acacia gum, pure corn starch, carnauba wax, cellulose, and vitamin E. These ingredients make your lashes fuller and add drama to your eye makeup. Watch this video to know more about the product.
Pros
No clumping
Easy to remove
Long-lasting
Cons
Price at the time of publication: $17.99
The Honest Beauty Crème Cheek Blush is your go-to for an instant, dewy flush for the cheeks. It is lightweight, has buildable pigments, and melts onto your skin seamlessly. This cream blush is formulated with naturally-derived apple, raspberry and grape extracts, and castor seed oil.
To get the right pop of color, take a small quantity of this blush between your fingertips. Flash a smile and dab it on the apples of your cheeks lightly. Blend the pigment upwards towards your cheekbones in a circular motion. This video will give you more insights into the product.
Pros
Lightweight
Blendable
Buildable
Travel-friendly
Long-lasting
Available in various colors
Cons
Price at the time of publication: $15.99
The Honest Beauty Makeup Remover Wipes clear makeup, dirt, and excess oil from all skin types. They are infused with grape seed and olive oils. These oils nourish your skin, lock the moisture, and do not over-dry your face. Wipe around your eyes, face, and neck gently for a fresh and clean feel before applying makeup. You do not have to rinse your face and neck after using them. To make an informed decision before buying, you can check out this video.
Pros
Suitable for all skin types
Travel-friendly
Easy to use
Non-irritating
Cons
Leave residue
Unpleasant smell
Price at the time of publication: $19.99
The Honest Beauty Magic Beauty Balm is a multipurpose moisturizing balm for the face, lips, and body. It is made of sunflower seed oil, olive fruit oil, coconut oil, shea butter, jojoba seed oil, soybean oil, and pure botanical extracts. These ingredients keep your skin hydrated all day long. This product helps soften and soothe dry skin, lips, and cuticles. You can also use this magic balm to highlight the cheekbones or around the eyes for a fresh, dewy look.
Pros
Pleasant smell
Spreads evenly
Glides easily
Cons
May leave a greasy residue
Price at the time of publication: $15.99
The Honest Beauty Magic Beauty Balm Stick adds a dewy highlight to all skin types. It comes with a hint of shimmer that freshens your look even without makeup and a skin care routine.
This balm stick contains a natural blend of fruit and botanical oils. It also contains coconut, olive, argan, jojoba, soybean, and sunflower seed oils, shea butter, and vitamin E derivatives. This spreadable formula is easy to apply. You can use it as a highlighter around the eye area or cheekbones with a single swipe for a dewy, no-makeup look.
Pros
Suitable for all skin types
Adds a dewy glow
All-day wear
Cons
Price at the time of publication: $14.99
This luxurious mask keeps your skin primed and prepped perfectly for makeup and a long day. It is infused with antioxidants and vitamin E that nourish and revive stressed and tired skin. The extracts of black currant, raspberry, orange, apple, strawberry, pineapple, vanilla fruit, and coffee seeds fight free radical damage.
This face mask moisturizes your skin and keeps it healthy in the morning, night, or after long travel hours. Apply a thin layer on dry, clean skin. Leave for 5-10 minutes before removing gently with warm water. Pat dry and continue with your regular skin care routine.
Pros
Pleasant fragrance
Suitable for dry skin
Moisturizes the skin
Easy to remove
Cons
Price at the time of publication: $19.99
The Honest Beauty Eyeshadow Palette comes with unique shades with seamless transition from day to night. It is pigment-rich, easily blendable, and provides high coverage. The palette has a combination of mattes, shimmers, and satins to achieve versatile makeup.
The matte hues can double up as bold eyeliners when worn wet, and the shimmer shades offer a high-shine finish. These shades are safe on any skin type and tone. They set in quickly and bring out the maximum depth of each pigment.
Pros
Blendable
Long-lasting
Buildable
Suitable for all skin types and tones
Cons
Price at the time of publication: $35.98
The Honest Beauty Organic Beauty Facial Oil replenishes moisture in dry and dull skin. It is enriched with pure seed and fruit oils that nourish and smoothen your skin, and make it supple. The key ingredients are olive, sunflower seed, apricot kernel, avocado, tamanu seed, chia seed, jojoba, and lemon peel oils.
This facial oil contains pure botanical blends of rose, ylang-ylang, lavender, bergamot, and clove oils. These exotic essential oils impart a subtle and natural scent to the product. For best results, use this facial oil morning and night after cleansing and before moisturizing. Warm 1-2 drops of the oil between your palms and press gently on your clean face and neck. Massage until fully absorbed.
Pros
USDA-certified
Pleasant scent
Nourishes the skin
Adds glow
Suitable for dry skin
Absorbed quickly
Cons
May cause breakouts
Greasy
Price at the time of publication: $25.65
This ink-black eyeliner comes with a flexible tip that creates a precise, seamless, and satiny-smooth line. It contains plant-derived ingredients and stays without flaking, smudging, or budging for up to 8 hours. The rich and deep liquid ink glides over the eyelids easily on all skin types. The plant-derived ingredients make it safe for sensitive and irritated skin.
Pros
Easy to apply
Long-lasting
Easy to remove
No carbon black
Suitable for all skin types
Smudge-proof
Flexible tip
No flaking
No budging
Transfer-proof
Cons
Price at the time of publication: $12.99
The Honest Beauty Lip Crayon – Demi Matte locks the moisture of your lips with its plant-derived ingredients. It has not only high-impact color but also a luscious, creamy feel that glides on your lips smoothly.
This lip crayon is made of a deep-conditioning blend of jojoba oil, murumuru butter, and shea butter. It also contains extracts of honey, melon, strawberry, raspberry, blackberry, grape, vanilla fruit, and apple with high antioxidant activity. This crayon has an exotic base of sunflower seed, candelilla, beeswax, and carnauba wax.
Pros
Lightweight
Long-lasting
Travel-friendly
Glides smoothly
Easy to apply
Moisturizes the lips
Day-to-night wear
Available in 8 shades
Cons
Price at the time of publication: $8.9
The Honest Beauty Everything Primer smoothes and firms your skin. It is enriched with hyaluronic acid that hydrates your skin and reduces the appearance of enlarged pores, and fine lines. You can wear it alone or with foundation.
The non-toxic traces of mica adds sheer radiance to your skin and make it luminous, fresh, and youthful. This primer blends into your skin easily without taking away your natural skin tone. It is suitable for all skin types and tones. Blend a small amount of this primer gently over your face as the first step of your makeup routine.
Pros
Suitable for all skin types
Adds subtle radiance
Non-comedogenic
Lightweight
Dewy finish
Provides full coverage
Cons
Price at the time of publication: $13.86
The Honest Beauty Magic Gel-To-Milk Face Cleanser makes your skin glowing, clean, and touchably soft. It is formulated with pink kaolin clay and rose essential water to remove makeup, impurities, and grime easily.
This translucent gel transforms into a soft, milk-like texture after contact with water because of the pink kaolin clay. The sugar technology with citric acid helps deeply hydrate your skin without stripping the essential face oils. This gentle formula does not over dry your skin or cause breakouts and parched patches. It is suitable for all skin types and can be used daily.
Pros
Can be used daily
Suitable for all skin types
Gentle formula
Softens the skin
Cons
Price at the time of publication: $14.4
The Honest Beauty 3-In-1 Detox Mud Mask help purify and condition all skin types. Its unique formula helps close open pores and remove trapped impurities without stripping essential skin oils. This mud mask contains Juju volcanic ash, activated charcoal, and refined white bentonite that detoxify stressed skin.
It has natural conditioners like aloe leaf juice, manuka honey, and shea butter that soften and nourish your skin. This product also contains a biological blend of lavender, geranium, patchouli leaf, Roman chamomile, and lemongrass oils. These ingredients impart natural fragrance and have potent antioxidant properties. Use it once or twice a week for best results.
Pros
Nourishes the skin
Easy to apply
Easy to wash off
Suitable for all skin types
Cons
Might cause a burning sensation
Price at the time of publication: $41.24
This retinol serum adds radiance and makes your skin young-looking. It has hyaluronic acid that deeply hydrates your skin and reduces the signs of aging. This serum contains jojoba esters, squalene, apple extract, and treated beeswax that soften your skin. It is formulated with tapioca-encapsulated retinol for a sustained, long-lasting effect.
Note: Use this serum in the night as retinol can make your skin photosensitive. If using during the day, wear a sunblock with high SPF. If you are new to retinol products, use the serum once a week. If you are a regular retinol user, include this serum in your night skin care routine at regular intervals.
Pros
Adds radiance
Reduces signs of aging
Softens your skin
Long-lasting
Unisex
No BHT
Cons
Not for sensitive skin
May cause sunburns
Price at the time of publication: $25.93
The Honest Beauty Deep Hydration Eye Cream hydrates the delicate skin around the eyes. It contains natural extracts of chamomile, calendula, rice bran, jojoba, shea nuts, barbary fig, and baobab fruit. These ingredients help lock in moisture, soothe inflammation, and replenish fats and oils to the skin. This formula is enriched with hyaluronic acid that plumps and firms the skin around the eyes. It addresses sunken eyes, aging skin, dark circles, wrinkles, and fine lines around your eyes.
Pros
Hydrates the skin
Value for money
Long-lasting
Cons
Price at the time of publication: $19.99
The Honest Beauty Everything Cream Foundation is infused with a blend of chamomile, calendula, and vitamin E. It conceals and conditions your skin. This antioxidant-rich foundation contains jojoba oil and mineral pigments that match any skin tone for a radiant complexion.
It also contains natural emollients like castor oil, carnauba wax, lemon peel oil, lavender oil, and sunflower seed oil. They hydrate the skin and reduce the appearance of fine lines and other aging signs. Apply a dot of this product on the cheeks, chin, forehead, and nose using a sponge applicator and blend in a circular motion for full coverage.
Pros
Blendable
Provides full coverage
Suitable for all skin types and tones
Cons
Might get cakey
Thick consistency
Price at the time of publication: $28.42
How do Honest Beauty products achieve incomparable results without using chemical additives? Read on to know more.
What Are The Key Honest Beauty Ingredients?
Honest Beauty swears by natural ingredients, most of them being plant-derived. Their products contain natural fats and emollients like coconut oil, shea butter, beeswax, propolis, jojoba seed oil, colloidal oatmeal, castor oil, carnauba seed wax, sunflower seed oil, tamanu oil, apricot kernel oil, and olive oil.
Naturally-occurring antioxidants in the form of aloe leaf extract, chamomile extract, lavender oil, clove oil, ylang-ylang oil, bergamot oil, and vitamin C and E go into the Honest Beauty masks, primers, cleansers, and foundation. A few of these ingredients also impart a subtle natural fragrance to the products.
Exotic anti-aging additives like retinol, hyaluronic acid, provitamin E and C, apple fruit extract, collagen, and squalene can make your skin photosensitive and trigger side effects. This is why they are dermatologist-tested, toxicologist-verified, and vetted thoroughly for skin safety.
Any additive that is not plant-derived or natural goes through vigorous testing and formulation trials. They are used only after meeting the Honest Beauty safety standards. Moreover, these synthetic materials are obtained from carefully vetted raw material partners and emphasizes on toxicologist-reviewed formulas.
Honest Beauty also created a NO List – a list of over 2,500 chemicals they choose not to use in their products. The NO List is category-specific because the risk of any chemical depends on how and where it is used.
Why Trust StyleCraze?
As a certified skin care coach, author Oyendrila Kanjilal believes Honest products represent a significant step forward in the cosmetic industry. According to her, this clean, skin-friendly brand is loaded with the goodness of natural ingredients. She meticulously researched the product reviews and formulations of various products before creating her list of the best Honest products. Try this cruelty-free sunscreen product line to transform your appearance.
Frequently Asked Questions
Are Honest Beauty products cruelty-free?
Yes, Honest Beauty products are cruelty-free. The packaging of the brand features PETA's global Beauty without Bunnies logo.
Is Honest Beauty toxin-free?
Yes, Honest Beauty is toxin-free.
Is Honest Beauty a clean brand?
Yes, Honest Beauty is a clean skincare brand with affordable beauty products.
Does Honest Beauty use parabens?
No, Honest Beauty does not use parabens, sulfates, phthalates, or synthetic fragrances.
Is Honest Beauty really organic?
Yes, the Honest Beauty brand is completely organic.
Recommended Articles