15 Best Honey Skin Care Products For Beautiful Skin – 2023
Enjoy the goodness of nutrient-rich natural elements that rejuvenate and renew your skin.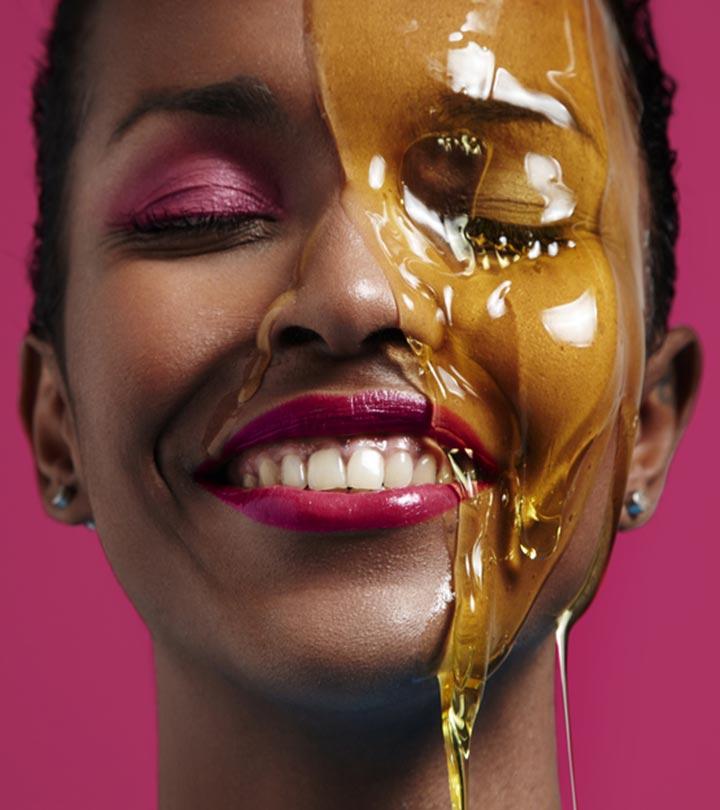 You will be glad to know that honey could do more than just sweeten your tea. That's right. It can moisturize your skin, soothe inflammation, and fight the initial signs of aging. Honey skincare products are all the rage, with the beauty world constantly working towards using more organic products. Even though honey is solely capable of offering you endless advantages, many beauty brands have enhanced skincare formulas by mixing it with powerful ingredients such as shea butter, glycolic acid, hyaluronic acid, and aloe vera with the intent to provide you with a multitude of benefits. From enhancing the texture and elasticity of your skin and moisturizing and hydrating it, honey does a lot to give you smooth and soft skin. But if you want some help picking the right products, you can count on us. We have made a list of the 15 most effective options that you must try. So, scroll down and check it out.
Top 15 Best Honey Skin Care Products Of 2023
Are you worried about cracked cuticles and dry, brittle nails? Well, this Cuccio Naturale Milk & Honey Cuticle Revitalizing Oil may be your one true solution. This unique formula contains raw honey that deeply moisturizes and soothes your skin. It also contains milk, abundant in lactic acid that profoundly nourishes your cuticles, skin, and nails. It is enriched with vitamin E and provides moisture to the nail bed, and prevents the cuticles from peeling and cracking. Say goodbye to brittle nail beds, once and for all with this honey skin treatment, which includes premium cold-pressed oils in its mix, to maintain the health of your nails.
Pros
Cruelty-free
Paraben-free
Strengthens nails
Prevents peeling and cracking
Lightweight, non-toxic formula
Cons
Floral scent may be a bit overwhelming for some
Price at the time of publication: $13.61
Are you looking for an all-purpose face and body cream? Give the cream a try. It not only tightens your skin but provides hydration and moisture. Made with a blend of manuka honey, coconut oil, cocoa butter, and aloe vera, it soothes inflammation, softens skin, and reduces wrinkles. It also contains vitamins A, E, and B, which nourish the skin, leaving it soft and healthy. The shea butter and blue-green algae in the formula are enriched with amino acids and antioxidants, which provide a radiant glow. The formula also includes hemp seed oil, which boosts collagen.
Pros
Unscented
Anti-microbial
Enhances keratin
Brightens skin tone
pH 5.5 balanced formula
Cons
May not suit sensitive skin
Price at the time of publication: $15.97
Are regular exfoliators drying out your skin? This scrub and mask from Era Organics, is all you will ever need. Made with manuka honey and walnut shell powder, it gently scrubs away the dead skin cells and provides moisture with each wash. Loaded with vitamins A, C, B, and E, the aloe vera and Cehami flower extracts accelerate cell growth and prevent acne. The formula is also enriched with orange oil and honey, which helps lighten the skin, provide hydration, and boost collagen production.
Pros
Eliminates blackheads
Powerful acne scar treatment
Cleanses and minimizes pores
Free from alcohol and parabens
Cons
Some may find the consistency to be heavy and greasy
Price at the time of publication: $23.99
Give your skin an intense dose of nourishment with this Andalou Naturals Pumpkin Honey Glycolic Mask. It contains pumpkin honey, rich in beta carotene, and offers a smooth texture with an even skin tone. Enriched with vitamin C and aloe vera, this mask promotes the skin's vitality and strengthens its protective moisture barrier. The glycolic acid, along with the fruit stem cell engineering, eliminates dry and damaged surface cells, leaving your skin with a youthful glow.
Pros
Gluten-free
Cruelty-free
Vegetarian formula
Delivers instant glow
Cons
Pumpkin scent may be overwhelming for some
Price at the time of publication: $11.59
Are you worried about large pores? Minimize pore size with this clay mask and cleanser from Freeman. It contains the goodness of witch hazel and xanthan gum that deeply cleanses your pores of impurities. Made with manuka honey, a natural antibacterial ingredient, it helps soothe breakout-prone skin, while the antioxidants in the tea tree oil help fight signs of premature aging. Get salon-smooth skin at home with this honey mask that doubles as a cleanser.
Pros
Cruelty-free
Treats blemishes
Suits oily and acne-prone skin
Free of parabens, sulfates, mineral oil, and phthalates
Cons
May not be suitable for dry skin
Price at the time of publication: $7.3
Say goodbye to dull and dry skin with this L'Oreal Paris Age Perfect Hydra-Nutrition Night Balm. It is enriched with manuka honey and shea butter, which locks in moisture and offers 48-hour, long-lasting nourishing comfort. This creamy night balm contains portions of apricot kernel and rice bran oil that elevate your skin's moisture content, improve elasticity, and gives you visibly supple and firm skin.
Pros
Non-sticky formula
Tones skin
Allergy-tested
Paraben and mineral oil-free
Cons
Formula may be a bit heavy
Price at the time of publication: $14.78
Boost your skin's immunity by strengthening its moisture barrier with this honey-infused product. Combined with the goodness of olea europaea fruit oil, sunflower seed oil, macadamia integrifolia seed oil, and xanthan gum, this serum leaves you with velvety soft skin. It contains black honey extract, which has anti-aging properties and offers intense hydration. The black bee propolis extract, combined with royal jelly extract, penetrates deep into your skin and regulates the skin's natural pH balance.
Pros
Lightweight formula
Contains a pleasant scent
Organic formula
Suits allergy-prone skin
Cons
May not be suitable for oily skin
Price at the time of publication: $22.99
This therapy cream formulated with manuka honey, kukui nut oil, and shea butter will soothe your dry, itchy, and irritated skin with its moisturizing properties. The microbial activity of the manuka honey speeds up the healing process of damaged and wounded skin. This manuka honey face cream contains tapioca starch, sunflower seed oil, rosemary leaf extract, and jojoba extracts that boost skin regeneration, leaving you with soft skin you can't stop flaunting.
Pros
100% natural
Non-toxic
Free of antibiotics and petroleum
Gentle formula that is suitable for children
Soothes dryness and provides relief to skin conditions like eczema, psoriasis, and dermatitis
Cons
May leave behind a greasy residue
Price at the time of publication: $11.24
If you struggle with irritated skin and redness daily, you must give this overnight mask a shot. With the goodness of propolis extract and natural beeswax, this mask offers intensive hydration. It heals stressed and inflamed skin while drastically reducing redness. This gel-type mask contains hydrogenated castor oil, cassia obtusifolia seed extracts, and allantoin that reduces puffiness and stimulates new tissue growth.
Pros
Lightweight formula
Cooling effect
Soothes flared and irritated skin
Suitable for all skin types
Cons
Formula may be a bit sticky
Price at the time of publication: $18.0
This serum is powered by 5 naturally-derived ingredients such as beeswax and manuka honey, to soothe redness and leave you with smooth, supple skin. It contains the goodness of honey and hyaluronic acid, which offers relief from inflamed skin while tightening it and providing hydration. This serum includes peptides and ceramides, which revive the appearance of stressed skin to fight signs of aging by reducing wrinkles and fine lines.
Pros
Organic formula
Promotes skin renewal
Boosts moisture level up to 88%
Alcohol, mineral oil, sulfates and paraben-free
Cons
May not be effective in eliminating blackheads completely
Price at the time of publication: $13.15
Regular cleansers irritating your skin and leaving it inflamed? You need this miracle product that gently cleanses your face of dirt and impurities without damaging its texture. This mild formula made from micro-bubble technology is infused with honey extracts, rich in nutrients and vitamins that deeply moisturize your skin. It also contains centella, which calms skin irritation, and a microbubble complex that gently washes away other unwanted particles off the skin.
Pros
Smoothes skin
Cleanses pores
Organic formula
Nourishes deeply
Suitable for dry and sensitive skin
Cons
Formula may be greasy for some
Price at the time of publication: $34.11
This cleansing balm is loaded with nourishing ingredients that will moisturize your skin and protect it from pollution and other environmental stressors. The honey reinforces the skin's lipid layer and clarifies the skin without stripping it of its natural oils. The formula includes royal jelly peptide, which shields your skin from infection and bacteria. The balm also contains probiotics to help fight skin aging and prevent skin conditions such as acne and eczema. Cleanse your face with its gentle lather without having to worry about dryness after.
Pros
Cruelty-free
Gluten-free
Nourishing formula
Contains a soothing scent
Provides intense hydration
Cons
May not be suitable for oily skin
Price at the time of publication: $25.0
If you are anxious about dull and dry skin during the winters, this cream will work wonders for you. Formulated with extracts of propolis, royal jelly, and honey, it revitalizes your skin to look healthy and radiant. This honey face moisturizer contains a yellow flower complex that offers nourishment by penetrating the deeper layers of skin and boosting skin elasticity. The black yeast infused with honey water soothes inflammation and leaves you with a plumper and softer appearance.
Pros
Paraben-free
Calms redness
Ultra-hydrating formula
Delivers healthy complexion
Can be used as a makeup base
Cons
May not be suitable for sensitive skin
Price at the time of publication: $37.99
This shower gel provides a rich lather and cleanses impurities and excess oils gently. It is infused with pure shea butter, rich in fatty acids and vitamins, which will soothe irritated and inflamed skin. It possesses anti-inflammatory and healing properties, which help maintain the skin's health, leaving it soft and nourished. The formula also includes honey, known for its antibacterial and antiseptic qualities that prevent acne and is suitable for oily skin types.
Pros
Hydrates skin
Evens skin tone
Moisturizing formula
Nourishes damaged skin
Cons
Fragrance may be overpowering for some
Price at the time of publication: $59.99
Are you tired of dealing with dehydrated skin that has been damaged by pollution? Try this Arcona Hydrating Serum for chronically dry skin. It is infused with nourishing ingredients, which replenish lipids lost due to stress, aging, and environmental damage. It contains manuka honey extracts that moisturize skin with its rich minerals, amino acids, and vitamins, while the hyaluronic acid works as a natural hydrator. The formula also contains aloe leaf juice powder that soothes skin by acting as an anti-inflammatory agent.
Pros
Organic formula
Replenishes lipids
Free of harsh toxins
Delivers youthful complexion
Cons
May not be suitable for oily skin
Price at the time of publication: $49.95
Now that you are acquainted with the 15 best honey skin care products of 2023, here are a few things you must keep in mind before making your purchase.
How To Choose Honey Skin Care Products?
Here are a few parameters you can judge before buying the products.
As we all are aware, no one product magically works for all skin types. And it is no different with honey skin care products. Depending on whether you have normal, dry, oily, combination, or sensitive skin, you can make your pick. For dry skin, look for products with a moisturizing formula with ingredients such as the apricot kernel, shea butter, castor oil, and rice bran oil.
If you have oily skin, you can choose honey products with witch hazel, xanthan gum, and hyaluronic acid. The Freeman Deep Clearing Manuka Honey + Tea Tree Oil Clay Mask + Cleanser and HoneyLab 5-in-1 Skin Rescue Face Serum are must-have products if you have oily skin.
For sensitive skin, opt for honey skin care products with soothing ingredients such as olea europaea fruit oil, sunflower seed oil, macadamia integrifolia seed oil, and rosemary leaf extract. SkinFood Royal Honey Propolis Enrich Essence and First Honey Skin Therapy Cream Medical Grade Manuka Honey are great for sensitive skin.
While honey itself is a humectant that reduces moisture loss, it is a bonus if you find it infused with other powerful ingredients that will nourish your skin deeply. Look for hydrating blends such as the apricot kernel and rice bran or witch hazel and xanthan gum.
While you have an array of organic honey skin care products to choose from, you must be careful not to pick one that is loaded with sulfates and parabens. They can irritate your skin and lead to redness and inflammation while stripping away your skin's natural oils. Instead, choose products that have plant-based formulas, free of harmful chemicals.
Benefits Of Honey Skin Care Products
Using a honey skin care product regularly can rejuvenate and transform your skin to be healthier.
Honey works as a natural antiseptic and absorbs impurities from your skin while helping you get rid of dirt and excess oil gently. It contains small amounts of hydrogen peroxide, which disinfects your skin, while the sugar content controls bacterial growth. Not only does honey help with acne, but it also helps reduce acne scars and other blemishes.
Honey based skin care products moisturize your skin profoundly and fade the appearance of fine lines and wrinkles. It contains antioxidants, which work towards reducing wrinkles as well as improve elasticity.
Pure honey is an effective natural moisturizer. Combined with ingredients such as glycolic acid, aloe vera leaf juice, and shea butter, it offers relief from itchy and dehydrated skin. It acts as an excellent humectant that attracts moisture and leaves your skin hydrated.
Why Trust StyleCraze?
Kirtana Divakar, the author behind this post, is a skin care fiend with a deep affection for unearthing and studying new products that boost skin health. In this article, she brings you these 15 effective skin care products containing honey. The author has researched each product and investigated all their reviews to bring you only the best of the best. Each of these products was selected based on the absence of harsh elements, skin care benefits, and more.
Frequently Asked Questions
Is honey good for all skin types?
Yes, honey is suitable for all skin types. With its hefty serving of antioxidants and anti-bacterial properties, it works wonders for acne-prone sensitive skin too.
Is store bought honey good for your face?
Pure honey has several medicinal properties that improve the health of your skin. However, when it comes to store-bought honey, it is important that you ensure that it does not contain preservatives or infused harmful chemicals.
Can I use turmeric and honey on my face?
Yes, you can. Antioxidant-rich turmeric, blended with the anti-inflammatory properties of honey helps reduce blemishes, calms redness, brightens skin, and fights acne.
Does honey work on wrinkles and make your skin glow?
Yes, honey has humectant properties that delays the appearances of fine lines, wrinkles, and fights off free radicals, while delivering a radiant glow.
Does honey remove pimples?
Yes, it does. Honey contains hydrogen peroxide, which disinfects your skin, while controlling the growth of bacteria that lead to acne production.
How many times should I apply honey on my face?
If you are using pure honey, you can apply it once or twice a week consistently for desired results.
Does honey have side effects on the face?
Being an organically-sourced ingredient, it is unlikely to cause an allergic reaction in most people. However, it is always advisable to check with your doctor first.
Does honey moisturize skin?
Yes, it is a natural humectant that is extremely moisturizing and hydrates even the driest part of the skin efficiently.
Can I leave lemon and honey on my face overnight?
No. You should never leave lemon and honey masks on your face overnight, as honey can get really sticky and the acidity in lemon could irritate your skin, if left for long. It advisable to wash a lemon and honey mask after 20 minutes of application.
Recommended Articles