30 Best Hostess Gifts That Are Sure To Impress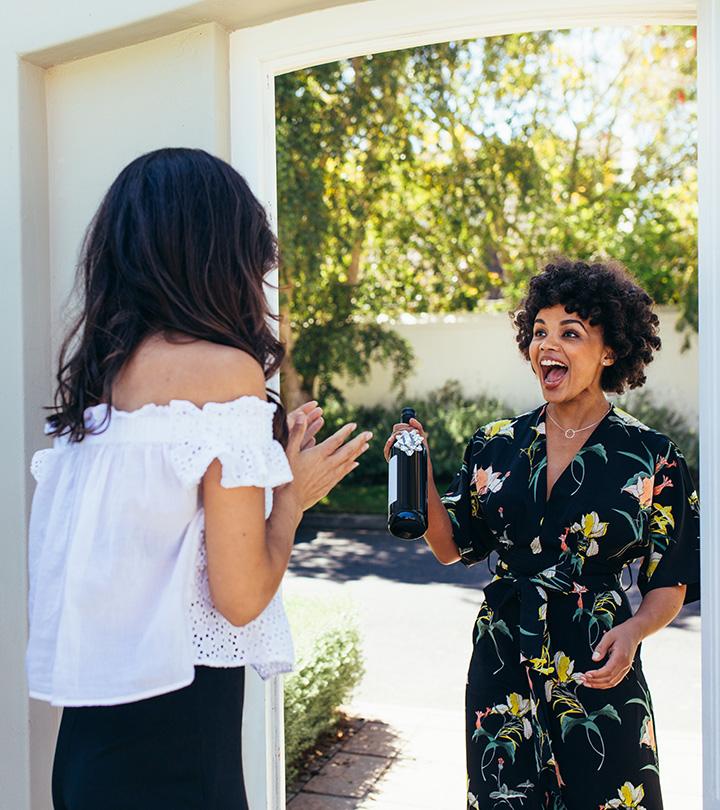 The end of the year is just around the corner. This means you're probably going to have to attend some sort of social event. Spread the delight you feel at this time and offer someone a thoughtful gift, especially if that someone is your hostess.
While it isn't mandatory, even the smallest gifts can bring the biggest smiles. Also, the rules of social etiquette support this particular gesture. But, what would a thoughtful gift be? To help you answer this question, we did the research and have come up with a list of the 30 best hostess gift ideas.
What Are Hostess Gifts?
A hostess gift could be anything that is appropriate to the occasion and the person. It could be something with a utilitarian value, something aesthetic, or even food and drink commodities.
Depending on the type of gathering, you could customize your gift ideas for the hostess. For example, for a Thanksgiving dinner party, you could buy a wine dispenser, while for a baby shower, a baby blanket or crib mobile would be more appropriate.
How To Choose And Give The Perfect Hostess Gift
There is no definite rule to follow when buying gifts, so feel free to get creative with your ideas. You can choose items useful for hosting parties, household items, small kitchen appliances, interior decor, personal care items, or food and/or wine.
The only guidelines you might want to remember is to choose a gift appropriate to the event or your hostess's tastes.
The hostess gift ideas gathered in this article cut across several events. While some are suitable for any occasion, what matters most, in the end, is your heart.
How Do You Give A Hostess Gift?
What is the best time to present your hostess with her gift? Again, there are no hard and fast rules, but etiquette dictates you present the gift when your hostess welcomes you.
If you share a close bond with your host or hostess and your gift is intensely personal to them and you, you could take them away from the main crowd and present it to them.
With all this in mind, let's take a look at the gift ideas we've curated for you.
30 Best Hostess Gifts
1. Vintage Brass Mister
This is a gift for the hostess with a green thumb. This vintage brass mister from Sustainable Village is the perfect tool to help her nurture her favorite indoor plants. The brass mister doubles up as an essential indoor garden tool and a conversation piece.
Features
Stain-resistant
Tiny nozzle prevents overwatering.
2. LUNAR Premium 6-Piece Cheese Knife Set
The Lunar 6-Piece Cheese Knife Set is perfect for practically any social do and can be a wonderful gift. The set is made of
premium quality stainless steel and contains four different-sized cheese knives, a cheese fork, and a soft-cheese spreader.
The blades are sharp and have easy-grip handles. The knives can be used to both prepare and serve a variety of cheese. It is the most inexpensive hostess gifts.
Features
Lightweight, portable, and durable.
The set comes in a box presentable as a gift.
3. Bambusi Premium Bamboo Cheese Board Set
This cheese board from Bambusi is  ideal for cheese lovers. The board comes with four cheese knives neatly stored in a built-in pocket-drawer that slides closed when not in use.
This cheese board is water- and scratch-resistant, has a drip groove to control spills, and is not susceptible to bacterial growth. This board would make a lovely display at an upscale thanksgiving party.
Features
Made of bamboo.
Spacious and has border space for holding cheese supplements.
Easy to wash but is not dishwasher compatible.
4. Mini 3.5 Inch Glass Bowls
This glass bowl set contains 12 identical multipurpose glass bowls and  is an inexpensive gift option. These mini glass bowls can be used for cooking, baking, and serving candies and nuts at parties or other household functions.
The bowls are clear and presentable. The dishes are convenient to use and an affordable option for when a large number of guests require serving. Your hostess will cherish this gift if she frequently hosts large social gatherings.
Features
5 inches rim dimension
5 inches deep
Sturdy glassware
5. Buddeez Party Beverage Dispenser
Beverage dispensers are a great feature for parties as they relieve the host of the stress of serving drinks, in addition to their other duties. This party beverage dispenser from Buddeez has a capacity of 1.75 gallons – which is sufficient for a moderately sized party.
This beverage dispenser has a large beverage reservoir, an inner cone for ice, a base compartment, a top for sweeteners and fruits, and a cup holder also on top. It is made of clear glass and has a quirky little hang-tag to label the beverage, and a handy push-faucet – making it a dispenser your hostess is sure to love.
Features
Easy to operate faucet
Hang-tag for labeling
Can be cleaned easily, but preferably not in a dishwasher
6. Stainless Steel Salt And Pepper Grinder Set
This product is a dual grinder set, traditionally for salt and pepper. A hand-operated manual grinder and custom-made for kitchen use, the mills are made of ceramic. This makes it non-corrosive and non-absorbent, giving you the perfect blend every time.
This handy little kitchen gadget is an excellent hostess gift. The grinder duo is compact, easy-to-use, and adjustable as it comes with a coarseness adjustment knob. This grinder is the ideal instrument for grinding Himalayan salt and pepper.
Features
Stainless steel lid and glass body
High-quality and long-lasting materials
7. YIHONG 8 Pcs Reusable Metal Drinking Straws
For the hostess who prides herself on her beverages, running out of straws is not an option. Reusable straws, therefore, are the answer.
This product from Yihong is made of food-grade stainless steel and has no metal aftertaste. The straws are 8.5 inches long, which makes them suitable for regular tumblers and cups. Four of the eight straws are straight, and others bent, each with a diameter of 0.25 inches – perfect for juice, lemonade, and other drinks.
Features
Long-lasting with anti-rust and anti-scratch design
Comes with two nylon cleaning brushes
8. Vremi Olive Oil and Vinegar Dispenser Set
The Vremi Oil Dispensing Cruet Set features two cruet bottles hung side-by-side on a steel caddy. The bottles come with a double-tipped spout, with large and small spouts for fast and slow pouring, respectively.
The dispenser set is ideal for storing olive and vinegar, often used to flavor dishes. The spouts on the bottles are anti-spill designed and, coupled with the measurement labels on the bottle, help you check the quantity immediately.
Features
17-ounce(about 500 ml) capacity
The caddy and the bottle set is portable and has a fancy design proper for dining tables.
9. Insulated Two Wine Bottle Carrier
This insulated wine bag is a fun gift for wine lovers. The bag can carry two standard 750 ml wine bottles conveniently. It has an adjustable and detachable shoulder strap, allowing your hostess to carry this bag around with ease during outdoor events.
This wine bag is specifically designed to carry delicate wine bottles, thanks to its padded lining. The bag also has a divider to protect the wine bottles from banging against each other. The walls of the bag are thermally insulated for temperature control.
Features
Portable with padded hand straps and a shoulder pad
Made from polyester.
10. Veken French Press Coffee Maker
The Veken French Press is an excellent coffee maker. This is a fabulous gift idea for the hostess who loves finely brewed coffee. It is made from high-grade heat-resistant borosilicate glass and comes with four food-grade stainless steel filters.
The 800 ml coffee jar is precisely scaled to help control how much coffee is brewed. The coffee residue and brew can be seen through the glass when brewing.
Features
The glass used for the French Press is less noisy than metal.
The coffee maker and filters are easy to clean.
11. Marquis Vintage Body Red Wine Glass
Practically everyone loves drinking out of a wine glass – whether they drink wine, or juice, it still instantly gives your choice of beverage a touch of style. The Marquis Vintage red wine glass, therefore, makes for a great host or hostess gift idea.
The set of four glasses is made of high-quality crystal. They are free of lead, last longer (when used with care), and do not break easily.
Features
Does not contain lead
Scratch-resistant
Hand-washable
12. Cresimo Cocktail Shaker
The Cresimo Cocktail Shaker is a fun and charming gift – perfect for making all kinds of scrumptious cocktails.
The Cresimo cocktail shaker is simple to set up and easy to use. It also comes with an in-built filter. An illustrated guide is added to the set to help you enjoy the best drink recipes.
Features
Made from stainless steel.
Comes with a twisted bar spoon
Lasts long, does not leak drinks, and does not rust.
13. Refinery Wine Bottle Caddy
A Refinery Wine Bottle Caddy doubles up as a thoughtful gift and as a decorative. The hostess can easily organize their beverages and can place it on tabletops in the living room, kitchen, or office.
This caddy is handcrafted with care and can be used to arrange two bottles of wine and four wine glasses. It has a handle on the top for easy carrying and can be used for outdoor functions, such as picnics with friends.
Features
Made from Acacia tree wood
Hand-made
Portable and sturdy
14. NutriChef Nutrichef Thermoelectric Wine Refrigerator
The NutriChef Thermoelectric Refrigerator is an expensive gift, but it is also an efficient and useful one. It helps your host or hostess arrange their favorite wines tidily. The refrigerator is noiseless. It has a carrying capacity of 12 bottles and a compartment  to keep bottles upright.
This product comes in modern design that can be used in the kitchen or study. With this gift, your host can easily reach for their favorite wine as they indulge in the pleasures of a good book or TV series.
Features
Airtight and reasonably durable glass door
Thermoelectric cooler
Touch temperature control unit
 15. Watermelon Keg Tapping Kit
The Watermelon Keg Tapping Kit is a unique gift idea and is ideal for the fruit-loving host or hostess. The manually operated juice tapping kit gives you natural fruit juice, fresh in taste and texture. It is a unique hostess gifts.
With this product, your host can make their favorite watermelon drink seed-free and pulp-free. Sturdy and convenient, this is great for parties and picnics and can also be used to tap other fruits, such as pineapple or cantaloupe.
Features
Hand-washable
Easy to install
16. Leeotia Women's Apron
The Leeotia Women's Apron makes for a rather pretty hostess gift. With two large pockets, the apron has plenty of space for your hostess to tuck a dishcloth or ladle into.
This apron keeps one well covered, eliminating worries over getting stains and cooking splatters on clothes. The fabric is made of pure cotton and  has long ties that can be tied to keep the apron secure during work and loosened to be whipped off once done.
Features
Resistant to dirt and stain
Does not bleach
Machine washable
17. AmazonBasics Two Slice Extra Wide Slot Toaster
This basic toaster from AmazonBasics is portable, easy-to-operate, fast, and, most importantly, heats those slices of bread to golden, toasty perfection! This toaster can be used to toast bread slices or sliced bagels.
The AmazonBasics Two-Slice Extra-Wide Slot Toaster has six toast settings, including a defrosting, and a bagel mode. The button for the selected toast setting illuminates to help you know what is being done. The toaster also has a cancel button in case you make a wrong selection. The extra lift lever on the toaster is what you push when done toasting.
Features
Has a removable crumb tray for easy cleaning
Comes with a 22-inch long power cord for a safe connection
18. Utopia Kitchen Cheese Grater
The Utopia Cheese Grater is a fun kitchen utensil. This cheese grater has six sides with varying grater sizes, allowing you to choose how thick or fine you want your cheese to be grated.
A kitchen cheese grater can also be used for vegetables like carrots, cucumber, and other eatables. This product has a rubber-coated handle on top that makes it sturdy to grip while in use. This product is durable and perfect for various shredding purposes.
Features
The metal shredding sides are made from high-grade stainless steel.
Easy to clean
Dishwasher safe
19. SimpleHouseware Fruit Basket
The SimpleHouseware Fruit Basket is a beautifully crafted kitchenware and is a prettily designed, inexpensive git option. Its hanger is specially designed  to hang fruits, such as bananas and grapes.
The basket is handy and can be carried from the kitchen to the dining table with ease. The basket lines are spacious to allow for ventilation but are not so large that small fruits might slip through the space.
Features
Detachable hanger
Lovable bronze coating
20. Ritz Royale Pot Holder And Kitchen Pad Set
This is an inexpensive hostess gift idea. These two kitchen pads in this kitchenware set also double as potholders. These potholders are thick and can withstand high heat exposure.
This potholder (kitchen pad) set from Ritz Royale is made from terry looped cotton, which gives a reassuring thickness – especially as they could also be used as oven mitts.
Features
Stain-resistant and easy to wash
Machine washable pads
21. Mixed Llama Swedish Dishcloth Set
This beautifully illustrated dishcloth set contains four reusable dishcloths. Each of the dishcloths has different artwork of a colorful llama.
These charming dishcloths are machine washable and can be used up to a hundred times. They can be used for cleaning and drying dishes, kitchen and dining tables, and can on coarse planes for spillages on floors.
Features
Made from wood pulp and cotton fibers
Machine-washable
22. Burt's Bees Baby Burp Cloth Set
Here is something you can present to the hostess of a baby shower. The Burt's Bees Burp Cloth Set contains five burp cloths that can be used to cover the shoulder while carrying a baby. This set of baby burp cloths are both beautifully designed and effective absorbers.
Each burp cloth is double folded, which makes it thick and an excellent absorbent. It also has a three-panel design that makes folding and storage easier. The fabric of the burp cloth is rib-knit, which gives it more elasticity and durability.
Features
Made from cotton, which makes it breathable.
Durable
Three-panel design
23. XMWEALTHY Newborn Baby Wrap Swaddle Blanket
The newborn baby wrap blanket is made to keep the baby comfortable and cozy on a chilly day. The material is carefully knit together to maximize softness and warmth. It is one among the baby shower hostess gifts.
The small baby swaddle and blanket from Xmwealthy is ideal as a blanket for the newborn. It can, however, also be used as a sleeping bag. It is customized with a hood. The design is easy to wrap and to open.
Features
Baby wrap buttons make it easy to keep the swaddling in place.
Has a hood
24. Johnson's Baby Oil Enriched With Shea & Cocoa Butter
Johnson's Baby Oil is the perfect oil to keep a baby's (or adult's) skin deeply moisturized and glowing. The oil is made from mineral oil and fortified with shea and cocoa butter and has a nourishing effect on skin, protecting it from dryness. The efficacy of this product has been clinically tested by professionals. The light scent and soft feel leave the skin looking smooth and fresh. 
Features
No harsh chemicals or preservatives
Hypoallergenic
25. Matcha Green Tea Powder
Jade Leaf Matcha Green Tea Powder contains no chemical additives or preservatives, and the natural plant extract blend is healthy and delicious. This green tea powder is a decadent gift for the person who enjoys sipping their green tea.
This Jade leaf matcha green tea is culinary grade and can, therefore, be safely used as a food additive. This product comes with a detailed guide on the various usage options of the powder.
Features
Cost-effective
Long shelf life
26. Slymeay Phoenix Tail Shape Flower Vase
A flower vase is a perfect gift to boost the interior decor of your hostess's home. This glass vase has a peculiar two-fold design, with a phoenix tail design on the front and a grain design on the sides. It is the good hostess gifts
This product from Slymeay is made with thickened glass and is sturdy. Thanks to the cut-glass accents on the vase, it reflects and refracts the light beautifully, making the vase itself, a topic of conversation.
Features
Made from lead-free crystal glass
Sturdy
27. GIFTME Umbrella Hanging Wall Flower Holder
The Giftme Umbrella-Shaped Flower Holder is a great gift for someone who loves being around green, growing things. These flower holders come in a set of two and can be hung in any kind of space suited for greenery.
The umbrella flower holder is made of galvanized zinc, with drainage holes punched into the bottom of each holder. This can also be used as a bird feeder or a decorative holder for household items, such as mail, pens, and what-have-you. 
Features
Durable and weather-resistant
Can be used for both indoor and outdoor beautification
28. Secura Electric Wine Bottle Opener
Sometimes, when you are in the mood for a drink, that is precisely the time the bottle's foil and cork decide to be uncooperative. Enter: The SecuraElectric Wine Bottle Opener. It is easy-to-operate, stress-free, and opens the bottle neatly, preventing any spillage.
The Secura electric wine bottle opener has a transparent shell wrapped around the stainless steel corkscrew, which allows you to watch the process. It functions with a single button push and uses a rechargeable battery that lasts for up to thirty uses.
Features
Comes with a foil cutter
Easy to use
29. Paksh Novelty 7-Piece Glass Decanter & Whisky Glasses Set
An ornately designed premium quality decanter and glass set, this is a gift for those who appreciate a fine aged scotch or bourbon. It is the best hostess gifts for weekend stay.
The decanter has a capacity of 33.75 ounces, and the drinking glasses have a capacity of 9.5 ounces each. The decanter comes with a sumptuously crafted fluted stopper.
Features
The set comes in a gift-ready package
30. Chemex Classic Pour-Over Glass Coffeemaker
This glass coffee maker is a beautifully designed pour-over suitable for traditionally brewed coffee. It is a fabulous gift for traditional coffee lovers. Coffee brewed in this brings out a rich, deep flavor, which is sure to delight a coffee lover's tastebuds. The shape of the jar is compatible with Chemex half-circle filters.
Features
The jar has a capacity of about five ounces.
The best host or hostess gift ideas are ones that are thoughtful, fun-filled, and bring joy to the receiver. In this article, we have selected the best hostess gifts suitable for different occasions. However, as we mentioned before, the best gifts are ones that come from the heart. If you feel any of the products mentioned here are suitable, do click the "Buy Now" link to order them asap. We hope you enjoyed these ideas and that the person you buy your gift for appreciates you too!
Recommended Articles
The following two tabs change content below.

Latest posts by Harini Natarajan (see all)

Harini Natarajan
As Chief Editor, Harini sets the tone and editorial direction for StyleCraze to deliver engaging, interesting, and authentic content revolving around women's health, wellness, and beauty. She has over 14 years of experience in content writing and editing for online media. She specializes in the areas of Beauty, Lifestyle, and Health & Wellness and is proficient in Medical Sciences (Biology, Human Anatomy and Physiology, and Biochemistry). Her background in Biomedical Engineering helps her decode and interpret the finer nuances of scientific research for her team. Harini is a certified bibliophile and a closet poet. She also loves dancing and traveling to offbeat destinations.