11 Best Hot Curling Brushes For Short Hair You Can Buy In 2021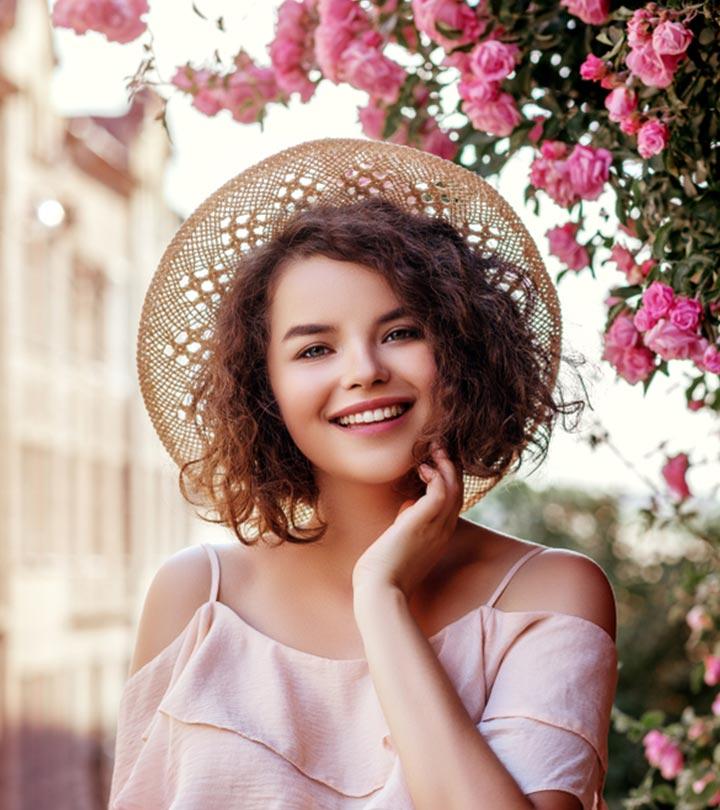 How many hours have you spent drying your hair and then styling it? The time that has passed can't come back, but the amount of money spent and the damage caused to your hair can indeed be saved. Have you ever come across a product that does both drying and styling together? If not, now you will! We present to you hot curling brushes.
You can now style your short hair without worrying about the damage and frizz caused due to excess heat and usage of numerous products, thanks to hot curling tools. Here are some of our top 11 best hot curling brushes for short hair that are curated just for you! You no longer need someone's help to do your hair when you have this tool with you.
Top 11 Best Hot Curling Brushes For Short Hair Of 2021
Have you ever wondered what it would be like to create beautiful curls on your own? Is that even possible? It surely is! With Helen Of Troy Professional Brush Iron, all impossibles can be made possible. This tool is perfect for everyday use and does wonders to hair of varying lengths. It has a narrow barrel that allows you to make tight curls, giving you an elegant look. It gently holds your hair while adding volume to it.
Pros:
Flexible bristles
Helps massage the scalp
Features two heat settings
8-feet long tangle-free swivel cord
Cons:
The brush might not rotate on its own.
amazon box="B07DD8W3NN" template="custom" image_size="large" tracking_id="tsr-haircarepro-20 "]
Here's how you can style your hair without having to fear the damage that can be caused by a hair tool. PHOEBE Mini Curling Iron is a travel-friendly hair curling iron that is designed in a way that it can be easily carried wherever you go! It is super easy to operate and saves a lot of time as well. This product is made of ceramic tourmaline barrel and features a cool tip, which provides protection against heat to short hair and locks in moisture, making your tresses look healthy and smooth.
Pros:
Lightweight
Dual voltage
Anti-scald feature
1-year warranty
Heats up fast
Cons:
Might not have temperature control settings
Can a hair curling tool be efficient, affordable, and lightweight at the same time? Of course, it can. Kaleep Hair Dryer & Volumizer Hot Air Brush is all this and more. Style your short hair like never before with this hair tool that adds volume to your hair and smoothens it. It also helps condition your hair and prevents it from over-drying by locking in the moisture, thanks to the tourmaline technology. The result is soft and silky hair in just a few minutes. This product is tangle and static-free, and includes two heat settings. You no longer have to worry about the damage the next time you wish to style your hair with this hair tool at your disposal.
Pros:
Reduces frizz
Long-lasting
Safe to use
Adds shine
Reduces heat damage
Cons:
The cord might not swivel.
Do we always have to rely on the hairstylist to get our hair done? We can't always visit the salon, especially when sudden plans are made. But we can't step out with a shabby look, can we? That's when a styling tool such as this Revlon Heated Silicone Styling Brush comes handy. This tool heats up fast and hence saves your time. The silicone bristles on the brush are flexible, soft, and cool to the touch. The silicone reduces the risk of burns, enabling you to style your hair without the fear of heat. This product allows you to control the temperature, preventing your hair from getting burnt or damaged.
Pros:
Adds shine
Makes hair soft
Less time consuming
Ensures tangle-free styling
Adds volume and improves texture
Comes with nylon pins for easy attachment
Cons:
Might not work well for fine and baby hair strands
We love to dress up and style ourselves, but how many of us have the time for that? Most of us have busy schedules, and this hectic routine does not leave us with enough time. Not to worry! SUNBA YOUTH 3-in-1 Hair Dryer Brush is the perfect solution for you. You can now style your hair without having to invest too much time. This hair tool works as a curler as well as a straightener. It's lightweight, has two heat settings, and it's portable — these characteristics are what makes this tool efficient and user-friendly. Invest in this curling brush and sport a new look every day.
Pros:
Safe to use
Good quality
Adds volume
For all hair types
Tangle-free bristles
Anti-static feature
Makes hair smooth
Adds luster and shine
Cons:
LOVANI Mini Travel Hair Curling Iron Brush is ideal for short and thin hair. The ceramic tourmaline technology produces negative ions that reduce hair damage. It doesn't need any additional adapter as it comes with dual voltage levels ensuring secure usage globally. The 360 degrees swivel cord provides convenient curling of your hair. It comes with a hanging loop for easy storage. The anti-scald design prevents burning, and the comb-like bristles deliver tangle-free hair. The dual PTC heating technology makes your hair supple and prevents heat damage.
Pros:
Lightweight
Portable
User-friendly
Non-slip handle
Cons:
How do celebrities and bloggers look so good even when they are traveling? They have the resources, but now so can you! We have the perfect hair tool for your short hair. Buy AmoVee Mini Curling Iron Brush and style your hair in whichever manner you want, without spending much time or money on it. This product is safe to use and is portable as well, which makes it user-friendly. It does not damage your hair, thanks to the ceramic tourmaline barrel that releases negative ions to make your hair voluminous and smooth. This product provides you a hassle-free experience as it has a swivel cord, which does not get tangled. Get the best hair curling experience and look nothing less than a celebrity.
Pros:
Dual voltage
Long-lasting
Anti-scald brush
Ergonomic handle
Tangle-free swivel cord
Ideal for everyday styling
Cool-tip ensures easy handling
Cons:
Can a hairstyling tool be light in weight? Yes, it absolutely can. Try this Milantia Mini Travel Curling Iron Brush, whose name itself suggests that it is travel-friendly and easy to use. It is the most suitable option for your short hair and will never disappoint you. It also comes with a traveling pouch and an EU adapter. This product features a heat-resistant nylon brush and a cooling tip that protects your skin from burns. You can now eliminate kinks and control flyways as this product has removable nylon teeth. This helps the brush reach your scalp and add volume to the roots.
Pros:
Durable
Easy to use
Heats up fast
Anti-scald bristles
Eliminates static and frizz
Adds shine and smoothness
Adds smoothness to hair
Cons:
Might not be suitable for fine hair
Wondering why everyone goes gaga over an item made of silicone? Because that's how efficient it is! These silicone bristles improve blood circulation by stimulating the cells within your scalp. Hot Tools Professional Silicone Bristle Hot Brush is made of ceramic barrels and comes with a long cord that does not tangle. Plus, it has variable heat settings, enabling you to adjust the temperature to try out different hairstyles. Be your own hairstylist and look elegant with your beautifully curled short hair.
Pros:
Reduces frizz
Soft and pliable bristles
Provides comfortable grip
Long cord ensures flexibility
Cons:
Are you looking for a user-friendly hot curling brush for your short hair? Get this CHI Amplitude Ceramic Heated Round Brush that has a tourmaline ceramic barrel and a 9-feet long swivel cord, which makes it easy to use. Its temperature can be adjusted and can go up to 410°F. It also comes with an auto shutoff function, which means it switches off after an hour, in case left unattended. This product is excellent for thick and wavy hair as it provides a great hold. This hair iron is of excellent quality and helps you create smooth curls while adding volume to your hair. It distributes heat evenly, preventing your hair from getting damaged. It does not allow your hair to become dry and therefore keeps it hydrated and moisturized. Get frizz-free and healthy-looking hair with a perfect hairstyle with this hair iron brush.
Pros:
Adds moisture
Dual voltage
Easy to use
Provides shine
Safe to use
Does not tangle hair
Heat-resistant nylon bristles
Cons:
Might not be suitable for use on wet or damp hair
Have you ever come across a curling iron brush that not only styles your hair but also makes it look healthy? FHI HEAT Sphere Tangle-Free Curling Iron Brush adds volume, locks in moisture, and detangles your hair, making your short hair look beautiful and healthier. This product can be used to create various hairstyles, allowing you to try a different look every time you step out for an event! The fine-tooth and rounded bristles will enable you to comb and style your hair and prevent it from breakage. This curling iron brush has a tourmaline ceramic barrel and several heat settings that allow you to control the temperature. Hurry up! Get this hot curling brush for your short hair and flaunt a gorgeous hair look wherever you go!
Pros:
Easy to use
Gloves included
Heats up quickly
Suitable for every hair type
Has retractable feature
1-hour auto shutoff function
Cons:
Let us now understand what needs to be considered before you decide to buy a hot air brush for yourself
Buying Guide
How To Choose Hot Curling Brush For Short Hair
Here are a few points that we must consider when buying the best hot curling brush for your short hair.
Barrel size: Get a barrel with less than 2 inches diameter to achieve better styling. Barrel size beyond 2 inches is meant for hair up to or below shoulder length.
Bristle: Brushes that have fine and short bristles are ideal for short hair.
Variable setting: It should allow you to preset the temperature as per your convenience as it will prevent it from damaging your hair.
Convenience: The brush should allow you to twist and turn it in any direction to enable you to try different hairstyles.
Price: The price depends on the material and convenience of a hot curling brush you decide to buy. Manual irons are less expensive as compared to rotating hot air brushes.
Travel-friendly: Get a slim and sleek brush if you are someone who travels a lot, and keep the bulky ones for styling at home.
How Do You Use A Curling Brush On Short Hair
Step 1: Divide your hair into sections for easy styling.
Step 2: Place the curling brush at the roots of your hair while using it.
Step 3: Twirl the air brush outwards using one hand and use your other hand to hold sections of your short hair.
Step 4: Repeat the steps until you have curled all the sections of your hair and achieved the look you want.
You might be surprised as to how a hairstyling tool can perform so many functions! Take a look at the 11 best hot curling brushes available for you and pick your favorite to flaunt your shiny, smooth, and thicker-looking short hair. Pampering can now be easy and fun with these hot curling brushes suggested by us. They are easy to use and come with a manual heat setting system that allows you to control the temperature at your convenience. Rest assured, they won't disappoint you.
Expert's Answers For Readers' Questions
Is a hot air brush good for short hair?
Yes, it is suitable for short hair as it helps style your locks. The hot air brush can add volume to your hair and make it look shiny.
What is the best hot air brush for short hair?
The best hot air brush for your short hair is the one that doesn't make your hair frizzy and can slide through your strands easily. It should have an easy-to-access button layout, making it user-friendly. Revlon hair dryer and Phoebe curling iron brush are some of the best hot air brushes for you.