11 Best Hot Plates For All Your Cooking Needs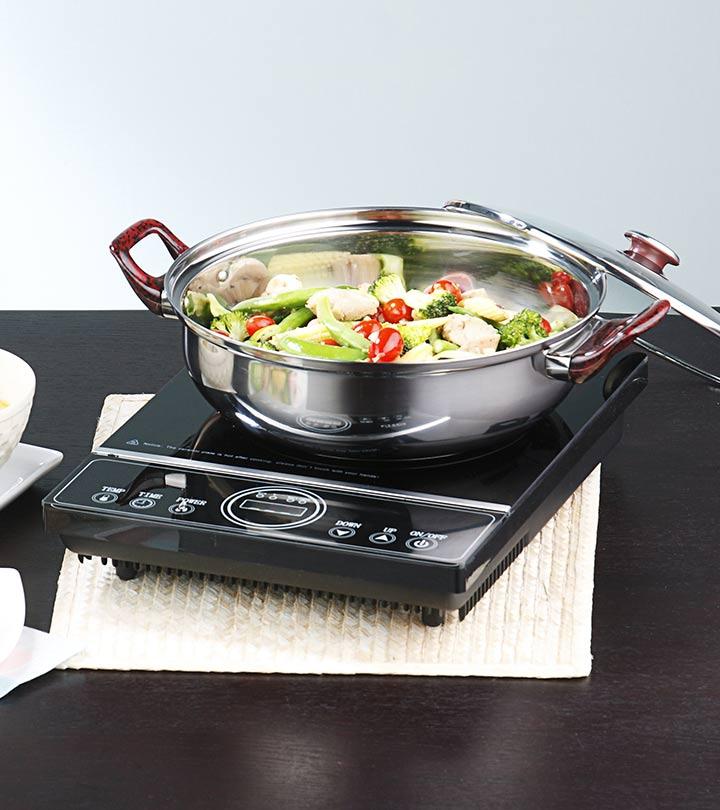 Are you looking for a small burner because you can't fit a regular-sized stove on your kitchen counter? Or do you need an additional burner? If your answer is yes for either of that, then you should buy a hot plate that is sure to fit your cooking activities. Although they are small in size, they offer various features like temperature control and automatic shutdown. They are very easy to use and can be stored when not being used.
If you live alone or you need a burner for your road trip, hot plate is going to be your best companion. From making soup to frying meat, you can do it all by using its various heating features. So, let us take you through our list of the best 11 hot plates in the market.
11 Top-Rated Hot Plates of 2020
Living alone in your college dorm? Then we have the perfect equipment for you. This Electric Single Burner makes your cooking activity easy and simple. It features a 1000 W heater distribution coil with a temperature knob that helps you to adjust the heat as per your needs. There are multiple variations to this model ranging from different color variations, sizes to exterior built. There is also a two-burner variant, if you are looking to multitask.
Pros
It has a stainless steel drip tray.
You can easily access the drip pan for cleaning purposes.
The handles on the side stay cool no matter the temperature.
It has rubber feet to prevent the burner from sliding.
It has a light indicator to show when it is in use.
Its compact design lets you save a lot of space on the counter.
Cons
It can not be used for more than an hour
Are you planning to have a backyard cooking session this weekend? Breakfast, lunch or dinner, you can cook them all, anywhere and anytime, if you have a socket to plug it in. This lightweight portable cooktop from Duxtop is more efficient than your conventional gas stoves. It has an oversized glass cooktop which keeps the food ingredients from burning. With the help of the digital control panel, you can adjust the temperature as needed between 140°F to 460°F to have more control over your cooking.
Pros
It has a built-in timer that can be set up to 170 minutes.
It uses a 120 V, 15 amp electric outlet with an 83 percent energy efficient rating.
The angled-panel has a LED screen to display status even from a distance.
It has 15 preset power level settings of 200-1800 W.
It has safety features like over-heat protection, auto-pan detection
Cons
The outlet fan might be loud.
Having issues with your gas stove? Having an additional burner could come in handy in such situations. You don't have one? Then you should definitely buy Aroma's Single Burner Hot Plate. This 1000 W hot plate is powerful enough to cook for a big group and compact enough to be stored in small places. You receive 15% faster heating with its improved curved design that provides better contact with your cookware.
Pros
BPA-free
The cooking surface is easy to clean.
The solid surface prevents food particles from falling inside.
It is extremely lightweight to carry it to anywhere.
It has die-cast metal construction for the extended durability.
It has four temperature settings with ON light indicator.
Cons
The extended surface around the burner might also become hot.
Show off your culinary versatility with Elite Cuisine Electric Single Burner Hot Plate. It offers reliable heating with features that are as versatile as your cooking is. The heavy-duty, cast-iron flat plate distributes heat evenly for even cooking. This portable burner uses 1000 W power to provide you a faster cooking time. It can be teamed-up with any kind of cookware that you have at hand.
Pros
It has a cool-touch base.
The heating plate is non-stick and very easy to clean.
The light turns on when the burner is in use.
It has non-slip rubber feet for stability.
It has an adjustable knob to select between low, medium and high temperature settings.
Cons
The initial heating of the plate might be a bit slow.
Experience a hassle-free cooking with the help of this infrared cooktop burner from Ovente. It utilizes infrared technology to offer impeccable performance without requiring any special cookware. It has a stainless steel body with a crystallite ceramic glass top which adds an elegant look to it. The flat glass top cooks food evenly without leaving any cold or hot spots. And, the thermostat control knob lets you set the temperature at the desired level.
Pros
Easy-to-store
It has an on/off indicator light.
It has rubber feet to keep the burner stable.
It weighs just about 3 pounds, a perfect companion for your camping trips.
The glass top and metal body are extremely easy to clean, just wipe it with a damp cloth.
Cons
The temperature knob is at an upward angle which might make using large pans a hassle.
Well, you know how the saying goes, "Two is better than one". This Cast-Iron Double Burner is an excellent choice for your multitasking cooking activity. Both have heavy-duty cast iron plates that are built for durability. The primary burner runs at 1300 W power and the secondary is rated at 500 W. Both burners have great quick heat retention ability that lasts throughout your cooking duration. Even with two burners, it is compact and suitable for small or outdoor kitchens.
Pros
Easy-to-clean
It has non-slip feet for stability.
It has a brushed stainless steel body.
Both burners have dedicated 6-setting adjustable temperature controls.
They have independent adjustable thermostat with on/off indicator lights.
Cons
The burners might lose maximum temperature overtime.
Don't be fooled by its tiny form factor, this electric burner from CUSIMAX packs 1500-watt power for the ultimate cooking results. It can support any type of pots and pans with a maximum size of 7.1 inches, so that you don't have to buy any dedicated cookware. The cast-iron heating plate lets you cook food evenly without any major heat loss. This is an ideal appliance for a house with small work spaces. To make the best use of this appliance, preheat the burner before you start using it.
Pros
It has an automatic shutdown feature.
It has rubber feet to prevent the burner from moving.
It has black stainless steel body to endure daily use.
It maintains a steady temperature until the settings are changed again.
It has 7 thermostatically-controlled heat settings to cook any assortment of food.
Cons
It might not be ideal for long-term use.
Make your cooking process easy and safe with SUNAVO Portable Hot Plate. It features an intelligent Overheat Protection which turns off the hot plate if it becomes too hot and turns it back on once it is at a normal temperature. It has a 1500 watt heating plate that can be controlled using the 5-power level heat insulated switch knob. You can have it as a backup burner or as a primary burner; it fits right in with your other equipment.
Pros
Easy-to-transport
It makes no noise while in use.
The compact size makes it easy to store in small places.
You can use any flat-bottomed cookware.
Cons
It might not last a long time.
Do you have a long list of items that you need to cook for that party you are hosting this weekend? Don't worry; you can make them all with this easy-to-use and portable cooking burner. It is small in size but has a 750 watt power and the coiled heating element lets you finish your cooking super fast. You can have total control over the temperature using the adjustable temperature control.
Pros
It has no-skid rubber feet.
You can use any type of cookware on this burner.
It is very easy to clean the drip plates. Just lift the coils and wipe it with a damp cloth.
The coiled burner distributes the heat evenly no matter the temperature.
The touch handles on the side will remain cool even while in use.
Cons:
The burner might wobble while using a heavy pan.
This high-quality dual electric burner cooktop from NutriChef offers an easy and hassle-free cooking experience. It features a plug-in design which is safe to be used as both countertops and table top burner. It has a tempered ceramic glass cooker and features a Ready-to-Serve "Keep Warm" function that is ideal for warming up food in an instant. It has multiple cooking modes that you can change with just the press of a button and you can preview the settings on a digital LCD screen.
Pros
Energy-efficient design
Sensor touch controls
It has a dedicated button for countdown timer settings.
It has independent configurable temperature setting buttons
The front panel features touch buttons.
It has a non-stick and stain-resistant cooking surface.
It has a built-in child lock feature.
Cons
Using both burners at the same time might put a cap on the maximum temperature.
You can make meals with just a push of a button! Rosewill Electric Induction Cooktop features 8 temperatures and 8 power levels that cater to all your cooking requirements. This function lets you cook, stir fry, braise, deep fry, fry, roast, and boil water. It has a 1800-watt power capacity and can heat up to 450ºF. The surface is made from a polished A-grade crystal plate making it scratch-resistant and very easy to clean. It has a timer which can be set up to 3 hours which is perfect if you are making vegetable or chicken stock.
Pros
Energy efficient
It has a large LED screen display.
The package includes a stainless steel pot.
It has an intuitive touch control panel.
It has non-slip padding at the bottom.
Cons
It might overheat very fast.
There you go! You have seen our list of the best electric hot plates in the market, now let us take a look at some of the factors that you need to consider while buying one.
Electric Hot Plates – Buying Guide
What Is A Hot Plate?
Hot plate is a portable and compact kitchen appliance that uses electric heating elements or gas burners for cooking purposes. Most models usually have one burner, but there are brands that make models with two of them. It packs enough power to cook something as simple as a soup for one person to a wide range of dishes for a group. It can be bought as a spare burner or can be used as a primary cooking appliance. Thanks to their compact size, they can easily be stored in small cupboards or can be taken on camping trips. Some burners even offer multiple preset cooking settings for convenience.
Types Of Hot Plates?
They are categorized into 3 types — electric, induction, and gas. Electric being the most preferred choice by users. All three variants have different price ranges and features.
Electric hot plate uses a heating element that is usually placed on top of a drip plate or they are integrated beneath a glass or cast iron surface.
Induction hot plate uses an electromagnetic field to heat cookware instead of a conventional heating element.
Gas hot plates are similar to camp stoves. But unlike camp stove, the fuel will be inside the body of the gas hot plates. Since they use open flames, it is mostly preferred for outdoor activities.
What Should You Consider When Buying A Hot Plate?
Let us make buying a hot plate a little more simple for you. These are some important features that you should consider before ordering one.
Plate Type: As mentioned earlier, they are divided into 3 categories — electric, induction, and gas. Depending upon the place you are going to use it and the frequency you can choose one that fits your requirement the most.
Portability: This one is the selling point of hot plates. They are extremely lightweight and compact in size. You are going on a camping trip or just backyard cooking, portable hot plates are really helpful. Some of them have two burners which might not be the most portable-friendly options.
Temperature Control: If you are going to cook a variety of dishes, then having a control over the temperature is very critical. A lot of the products on our list offer temperature control ranging from low-high and up to 450°F. Low temperature is used to warm food and medium-high temperature is used to cook food. Some of them even have presets that can be used for specific purposes like boiling water.
Power: Power of the hot plate decides how much heat is produced and how fast it can heat up the cookware. Hot plates with high wattage heats up quickly and save a lot of time as opposed to lower wattage hot plates. Also, if you commonly use large cookware, you will probably need something that packs higher power.
Hot plates are a great addition to your kitchen as you never know when your primary stove stops working, so having a hot plate at your disposal is very helpful. Hopefully, our product list and buying guide should help you narrow your choice to finally land on one because these are definitely worth putting your money on.
The following two tabs change content below.

Latest posts by Atulya Satishkumar (see all)

Atulya Satishkumar
'Techie by day, writer by night' is how she described herself before embarking on the journey of writing. Her strong belief in the magic of the written word, coupled with a very keen eye for detail, helps her guide her team to create quality content. When she is not editing beauty, fashion, and lifestyle-related content, she writes prose and poetry, plays her ukulele (and/or guitar), and pets floofs.