11 Best Hot Rollers For Long Hair + The Ultimate Buying Guide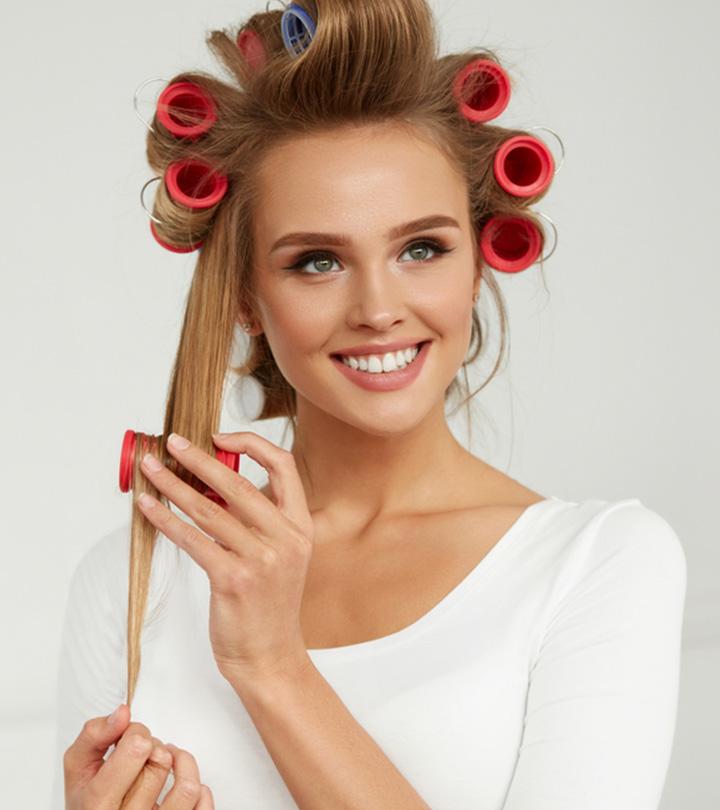 You are at the right place if you are looking for the best hot rollers for long hair. We love curls too, and that's why we have sought out the best rollers that can help women with straight hair get some of the oomph that curly hair brings. Depending on the kind of curls you want, hot rollers can be the perfect tool to achieve salon-level results at home!
With a hot roller, you can also try out wavy hairstyles, especially if you want to break the monotony of straight hair for a special occasion. It makes way more sense to invest in a good hot roller kit and style your hair at home rather than turn to expensive salon services for a temporary hairdo. To help you achieve voluminous and healthy-looking curls at home, we bring to you this list of the top 11 hot rollers for long hair. That's not all. We have also included a buying guide to make it easier for you to make the perfect choice for your hair curling needs.
Top 11 Best Hot Rollers For Long Hair Buying Guide
This ionic conditioning hair setter is designed using thermal wax core rollers to create lustrous curls. The wax core helps the heated hair rollers retain high levels of heat for a long time, which then adds volume to your curls. The ceramic technology incorporated in these hot rollers conditions your curls to add shine and reduce the frizz. The 20 hot rollers in this kit come in 3 sizes, so that you can customize your hairstyle, depending on your mood for the day. It also comes with J-clips, which are designed to secure the hot curlers in place and reduce creasing.
Pros
Comes with 20 rollers in 3 sizes
Ceramic technology and ionic conditioning
Includes 3 color-coded clips
The hot rollers come with cool-touch ends
Features a ready indicator light
Cons
Takes some time for the rollers to heat up
Perfect for women with any length of hair, this one will help you achieve beautiful curls and waves in a short period of time. This hot hair roller set comes packed with 20 multi-sized and tangle-free rollers. As it comes with 8 small, 6 medium, and 6 large-sized rollers, you can create all sorts of curls you want. To keep your curls locked in place, the kit also includes 20 clips made of stainless steel that are color-coded, which you can store inside the hair curlers. The patented design grips hair for easy hair styling, and the base lights up in red when the rollers are ready for use.
Pros
Compact packaging
Dual-voltage
Includes 20 multi-sized hair rollers
Includes 20 color-coded stainless steel clips
Patented hot roller design
Cons
Not safe to be used outdoors or where aerosol products are being used
One of the best ceramic hot hair rollers for long hair, this one by Remington uses both ceramic and ionic technology to reduce static and frizz, and make way for shiny and healthy-looking curls. The rollers come in a compact case which not only heats the rollers but can also be used for storage and travel. The J-clips that come with the rollers are specially designed to hold the rollers in place securely and to avoid any creasing. If you're a woman who's always on the go and can't find time to spare, these rollers are going to keep you very happy! The rollers heat up in 90 seconds, and its cool-touch ends keep your fingers from burning.
Pros
Uses ceramic and ionic technology
Reduces static and frizz
Comes with 10 rollers in 2 sizes
Worldwide voltage
Heats up in 90 seconds
Affordable
Cons
The J-clips included may not hold up well
The bigger the rollers, the bigger the hair, the bigger the drama! Create beautiful and bouncy curls with these hot rollers for long hair from Con air. It is ideal for all hair types as it provides impressive heat protection. The flocked, velvety roller surface helps you pull-off natural-looking smooth curls. It comes with 3 extra large, 3 large, and 4 medium-sized rollers, which lets you curl and style your hair in different ways. As it is a dual-voltage hair roller, it can be used anywhere in the world. The base comes with a 5-ft power cord for safe use and handling.
Pros
The rollers are impressive in size
Velvety roller surface
Suitable for all types of hair
Dual voltage
Includes a super clip
Cons
As there are no small rollers, this product may not help you create classic tight-curls
Whether it is large bouncy curls you want or classic tight curls, these rollers in different sizes can do the trick for you. Armed with 6 small, 6 medium, and 8 large curlers, this kit can help you stand out in any crowd. It comes with 12 temperature settings for all hair types and creates dynamic and dimensional curls. The rollers emit negative ions to reduce frizz, and the ceramic technology heats the rollers quickly while providing even heat distribution. As a bonus, argan oil is included to provide maximum conditioning to your hair. The retractable cord also makes it easy to store.
Pros
Uses both ionic and ceramic technology
Comes with 20 rollers in different sizes
12 temperature settings
Heats up in 2 minutes
Includes clips
Cons
For consistent and even heat distribution, you can place all your bets on this hair roller by Con air. It uses ceramic-infused technology to deliver long-lasting and voluminous curls. Create any type of curl you want with a dozen rollers that come with this kit. It also provides more heat protection and twice the flocking to grab hair and hold the curler in place. The super clips included allows for a secure hold, and as the roller features an aluminum heating core, it heats up in 85 seconds.
Pros
Soft flocking layer
Ceramic thermal layer
Aluminum heating core
Includes 12 super clips
Heats up in 85 seconds
Cons
May not work well on extremely thick hair
An elegant and compact solution to big and bold curly hair, this molecular steam hair setter packs quite a punch. For maximum versatility and infinite styling options, you can make use of any of the 30 foam rollers that come in various sizes ranging from petite to jumbo. So, whether it is extremely tight curls you want or wavy, loose beachy waves you dream of, this little tool can help you achieve it. No matter what type or texture of hair you have, it will work wonderfully for you and offer long-lasting curls. It also comes in a storage bag for easy organization, and the dual voltage feature makes it a great travel companion.
Pros
The foam hair rollers are soft on the hair
Includes 30 foam rollers
Ideal for all hair types
Comes in a storage bag
Compact and lightweight
Dual voltage
Cons
Only one roller can be heated at a time
The ceramic technology in this compact roller set makes the rollers heat up quickly and evenly to help you achieve your preferred style. So, if you love your curls, no matter what the size, you can choose this one. It comes in a soft fabric pouch, which makes it easy to store and convenient to carry while traveling. It includes 8 large and 4 medium rollers, all of which will give you bouncy and shiny curls. As it is a dual voltage roller, it can be used all over the world. For best results and long-lasting curls, let the rollers heat up for extended periods and use the clips provided for a stronger hold.
Pros
Compact
Comes in a soft fabric pouch
Ceramic technology heats up the rollers fast distributes heat evenly
Dual voltage
12 rollers
Hair clips are included
Cons
BaByliss is quickly becoming a popular brand for hair-curling products. This roller kit uses nano-titanium technology and far-infrared heat for gentle styling as the heat gets distributed uniformly. It also protects the hair from heat damage and reduces frizz. You can expect bouncy and long-lasting curls with this roller as it comes with a velvet-flocked surface which grips the hair and creates beautiful curls while adding shine. This roller set comes with 12 rollers, 12 butterfly clips that help clamp the rollers in place, and 12 color-coded metal clips for a better hold.
Pros
Uses nano-titanium technology
Far-infrared heat causes less heat damage
Includes 12 velvet-flocked rollers
Includes 12 butterfly clips
Comes with 12 color-coded metal clips
Cons
This Remington Pro Hair Setter comes with The rmaluxe Advanced Thermal Technology, which delivers high heat from the inside and outside to help you create bouncy curls while reducing hair damage. The ceramic-coated rollers simplify and speed up the curling process while eliminating frizz. It comes with 20 rollers and a dual-heating system. This means that all it takes is 5 minutes to achieve flawless, salon-style curls. Its innovative vertical design not only makes it a compact case to carry but also saves a lot of space. Let's not forget, the roller rack heats up in just 90 seconds!
Pros
Includes 3 sectioning clips
Ceramic-coated rollers
Optimized heat levels
Vertical space-saving design
LED light turns on when it's ready for use
Cons
For some hair types, the curls may not last a long time
A leader in transformational hair care, John Frieda hair products have always been ahead of the curve. The advanced ionic conditioning in this large hot roller for long hair promotes manageability and leaves the hair smooth and healthy. The ceramic-technology heats the rollers quickly and doesn't cause heat damage. The titanium ceramic flocked rollers also feature butterfly clips that allow a superior hold. It comes with 3 temperature settings for easy curling and handling. The handy storage case helps to keep the rollers organized and is easy to carry around as well.
Pros
Ionic technology reduces frizz
5 jumbo titanium-ceramic flocked rollers
3 temperature settings
Sturdy butterfly clips
Compact case
Cons
The rollers can't be used to create tight curls
A Helpful Buying Guide For Hot Rollers For Long Hair 
How To Choose The Best Hot Rollers For Long Hair
1. Material
There are 5 common types of hot rollers. Ceramic is a non-metallic material that is widely used in curling tools. Ceramic hot rollers take some time to heat up and work through infrared energy. It is considered to be the best for fine hair. Tourmaline hot rollers use negative ions to fight positive ions in the hair and retain the natural moisture of the hair while preventing frizz, damage, and breakage. Titanium hot rollers are low in density, durable, and transfer heat quickly. It also retains heat consistently and is best suited for coarse or thick hair. If you want long-lasting curls, you should opt for  hot foam rollers. They preserve the moisture of the hair longer, thereby holding the curler for a little longer too. Like hot foam rollers, wax core hot rollers are also used to make curls last longer. These hot rollers remain heated longer than other materials and traditional rollers.
2. Temperature Levels
Most hot rollers come with 3 basic heat levels – low, medium, and high, while some come with up to 12 adjustable temperature levels. Depending on the type of hair you have, choose the heat levels wisely. If you have fine or thin hair, always stick to low heat. However, if you have thick and coarse hair, you should heat the rollers at a high temperature.
3. Number Of Rollers
The number of rollers in a hot roller case differs from brand to brand. However, it is always wise to invest in a hot roller set that comes with at least 10 rollers in different sizes for curling versatility. 
How To Use The Hot Rollers For Long Hair
Step 1: Comb your hair thoroughly. If you have frizzy hair, use an anti-frizz serum or spray.
Step 2: Section your hair out into 2 inch wide sections.
Step 3: Wrap your hair around the curler.
Step 4: Let the curler work its magic for 5-10 minutes.
Step 5: Remove your hair from the curler.
Step 6: Comb your curls gently with your fingers.
Why Trust StyleCraze?
An expert in haircare, Sneha Manhandar, the author of this article, loves to try out different haircare products that can cater to the unique requirements of the readers. To this end, she went on a hunt for the most effective hot rollers for long hair and made a list of the best ones. The products listed below are perfect for giving your hair the desired volume and healthy look. She has also provided a buying guide to help her readers pick suitable ones.
Frequently Asked Questions
Do Hot Rollers Work On Long Hair?
AAlthough it may take some time and patience, rest assured that hot rollers work perfectly well on long hair. Before you use a hot roller, comb your hair thoroughly, and section your hair out. Each section should be about 2 inches wide. Once you wrap your hair around the curler, let it sit for about 5-10 minutes, and enjoy your curly hair.
Are Hot Rollers Bad For Your Hair?
AMost hot rollers these days come with ceramic, nano-titanium and ionic technology, all of which work actively towards eliminating frizz, reducing breakage, keeping the natural moisture of hair intact, and fighting against heat damage. How you use the hot rollers can also play a significant role in how much damage is caused to the hair.
Recommended Articles: