8 Best Hot Rollers For Short Hair (2023) – Reviews And Buying Guide
Make creative hairstyles on short hair with styling tools that offer bounce and volume.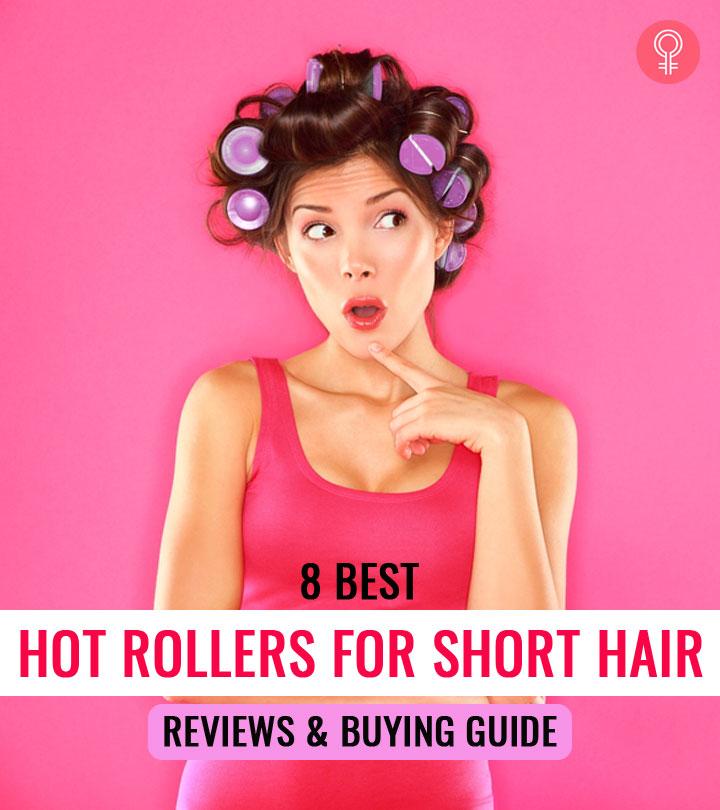 It is simply not true that women with short hair can't use hot rollers and our list of the best hot rollers for short hair is here to shatter the misconception. It is easy to believe when you see only willowy models backstage or grannies with long silver hair put on the rollers, but trust us, your short hair can be rolled and curled just how you like them. In fact, curling short hair with rollers is one of the easiest ways to bring variety into your hairstyles. So, without further ado, take a look at our list of the 8 best hot rollers designed for short hair like yours!
8 Best Hot Roller For Short Hair
Conair Compact Multi-Size Hot Rollers are perfect for any hair type and length. It is one of the best hair roller sets to get bouncy and voluminous curls. These multi-size rollers are especially great for short hair. If you want to create tangle-free curls on your short hair, these rollers will surely serve your purpose. You can use the small rollers for tight curls, medium rollers for medium curls, and long rollers for loose curls. Watch this YouTuber's honest review to get a better idea about the product and its features.
Pros
Multiple sizes of rollers
Comes with a detailed instruction manual
Heat-resistant roller ends
Extended cord
Cons
No auto shut-off feature
Plastic setter may melt if it gets over-heated
Price at the time of publication: $22.99
Remington H9100S Pro Hair Setter Electric Hot Rollers runs on Advanced Thermal Technology. It helps set your short hair in perfect curls in just a few minutes. Remington H9100S Heat Setter has a dual heating system that heats the rollers both on the inside and the outside. They give you perfect coiled curls on your short hair. This video will give you a better insight into the product.
Pros
Comes with a detailed instruction manual
4-year limited warranty.
Provides great hold for short hair
Prevents creases
Heats up in a few seconds
Bright LED light indicates once the rollers have heated up
Cons
Do not glide smoothly out of your hair
Takes some time to set the curls
Price at the time of publication: $33.22
InfinitiPro By Conair Instant Heat Ceramic Flocked Rollers create wonderfully dynamic and dimensional curls with their ceramic technology. These rollers give your hair the perfect curls of different sizes, varying from tiny and tight to big and bouncy. These rollers are also infused with an argan oil treatment that provides nourishment to your hair. It sets your hair in a beautifully smooth way and gives you shiny and voluminous curls. These are the safest hot rollers that don't burn your fingers. Watch this video for a thorough understanding of the product.
Pros
Emit natural ions that reduce frizz
Heat up quickly
Unique clip design
Smoothens the hair
Cons
No space to store the clips in the case
Price at the time of publication: $44.99
The BabylissPRO Nano Titanium Professional Ionic 30-Roller HairSetter has ceramic rollers with nano titanium technology to offer high and even temperature for faster and damage-free styling. The product contains 4 different sized rollers – 6 small, 8 medium, 8 large, and 8 jumbo along with 12 crease-free clips. Jumbo rollers help to make your hair appear voluminous. Large rollers make your hair create big waves and smooth. Medium rollers turn your hair curly, and small rollers curl your hair without adding volume to the hair. They are one of the best rollers for short hair to get their desired style in a jiffy.
Pros
Multiple sizes of rollers
Quick heat-up
2 temperature settings
Smoothens the hair
Cons
Price at the time of publication: $64.99
The T3 Volumizing Hot Rollers Luxe is designed with Heatcore Technology to offer quick heating and consistent heat transfer. The dual temperature settings provide the convenience of long-lasting style and hair volume for shoulder length and longer hair. Moreover, the rollers come with a velvet flocking surface to make your hair shiny. The kit also includes 8 crease-free clips to hold the rollers firmly. Additionally, the device comes with a 60-minute auto shut-off feature.
Pros
Insulated rim
Easy to use
Long-lasting volume
Makes hair shiny
Suitable for all hair types
Cons
None
Price at the time of publication: $139.99
Looking for maximum styling versatility for your short hair? Get your hands on the Caruso C97953 30 Molecular Steam Hair Setter. This pack of 30 rollers consists of 6 petite, 6 small, 6 large, and six jumbo hair rollers. These foam hair rollers are best suited for creating long-lasting curls. The rollers fit all hair lengths, ranging from long to shoulder-length to short. They come in a storage bag for easy organization and transportation. Women who have been using these foam rollers for years highly recommend them.
Pros
Contains rollers of all sizes
Dual-voltage facility
Come with a storage bag
Create bouncy curls.
Cons
Curls take longer than usual to dry
Clips don't stay in place
Price at the time of publication: $51.0
The Calista Ion Hot Rollers Short Style Set designed with PTC heater ensures safe heat transfer. It works on ionic technology to offer damage-free curling, frizz-free and smooth hair. The kit includes 3 different rollers – short set, long set, and body waver set. You can use all the 3 sets on short and long hair. It also includes butterfly clips to hold the rollers in a place. This set will give you soft waves, tight ringlets, or gorgeous curls, along with providing volume for an envious mane.
Pros
Suitable for all hair types
Light indicator
Travel case
Dual temperature setting
Cons
Price at the time of publication: $145.0
The Kitsch Ceramic Thermal Hair Rollers feature ceramic-coated barrels to give you voluminous and long-lasting curls with zero heat damage. These are high-quality rollers made of self-gripping material that provides a strong grip and prevents snagging. This set of 8 rollers comes in three sizes, which can be used on all hair lengths and allow you to try various hairstyles. The rollers are packed in a compact bag, which makes them easy to store in any space!
Pros
Long-lasting results
Evenly distributes heat
Adds lift at the roots
Easy storage
Portable
Cons
Can turn hair slightly frizzy
[multi_buy_now_btnasin="B07W6RLZD4″amz_affilate="tsr-haircarepro-20″walmart_affilate=""]
Now that you know which hot rollers are great for short hair, let's check out some things that you need to consider before buying a set.
Buying Guide For Hot Rollers
Roller Size: Hair rollers can be of different sizes – large, medium, and small. You need to pick the right size for the curls that you want. Large rollers create loose waves, medium rollers create loose-ended curls, and the smaller ones give you tight, bouncy curls.
Quantity: The quantity of hair rollers depends on the length of your hair. If you have short hair, just 8 rollers will do. On the other hand, if you have long hair, you need a minimum of 12 rollers.
Material: Before buying rollers, you need to keep in mind their material and how your skin reacts to it. The standard rollers are usually made of plastic. Flocking and Velcro rollers offer a more natural grip if you have short hair. Hot rollers coated with ceramic and/or tourmaline make your hair shiny.
Heat Technology: The hot hair rollers heat up using the following three technologies:
Conduction rollers take around 5-10 minutes to get heated up.
Steam technology is the second heating method, where it takes 10 seconds to heat the foam surface of the rollers.
Induction technology takes just 8 seconds to heat the rollers.
Types Of Hair Rollers: There are also many different types of hair rollers that you can choose from:
Hot Hair Rollers: Hot hair rollers are used to achieve different hairstyles. They easily adjust to all hair lengths and are easy to clip on. However, you need to give them ample time to cool down before removing them.
Velcro Hair Rollers: These rollers work best for people who have wavy hair.
Flexi Rods: As the name suggests, these are long, thin, and flexible rods that help you create spiral curls.
Foam Rollers: Foam rollers are safe options as they do not transmit the heat to your hair. These rollers work best on pat-dried hair.
Brush Rollers: These rollers help you brush out and give your hair a bouncy look when you blow dry it.
Why Trust StyleCraze?
Oyendrila Kanjilal is a hair care enthusiast and likes trying out various hair and styling products for her readers. She has prepared a list of the best hot rollers for those seeking to add twists and curls to their hairstyle. Before curating the list, she has researched the products and checked many user reviews and feedback. The rollers included in the list are shortlisted considering factors like size options, types for convenience, and budget. Lindsay Loo, hair color expert and cosmetologist, suggests, "Make sure your hair is completely cooled down before removing the rollers. If you remove them too soon while the hair is still hot/warm, this can make the style not last along with unexpected results."
Frequently Asked Questions
How do you use hot rollers on short hair?
Using hot rollers on short hair is not that difficult. You need to keep in mind the following things:
Make sure you know the kind of rollers you are using for your hair.
Short hair also needs the right amount of protection before using heated rollers. Your hair should be clean, and you must use a heat protection spray before using the rollers.
Divide your hair into even sections to get the right curls.
Do not overheat the rollers before using them.
Give your hair ample time to cool down before removing the rollers.
Use an anti-frizz serum as a finishing touch.
Do hot rollers work for short hair?
Yes, you can curl short hair using hot rollers.
Are hot rollers better for your short hair than curling iron?
Hot rollers do not damage your hair as much as using curling irons do and hence are better.
Do you use rollers on wet or dry hair?
For the best results, use rollers on damp hair. It helps form better curls that last longer.
How many hot rollers do I need?
Depending on your hair thickness, you may need 4-5 hot rollers.
How long do hot roller curls last on short hair?
Hot roller curls last for 8-10 hours on short hair if done properly.
Can you leave hot rollers on overnight?
No, leaving hot rollers on for a long time will definitely damage the hair.
Why do my hot roller curls fall out?
Not prepping the hair with the right products may make your hot roller curls fall out.
Recommended Articles