10 Best Hot Rollers For The Perfect, Bouncy Curls – 2023
Get gorgeous curls without any heat damage to your locks with these easy-to-use rollers.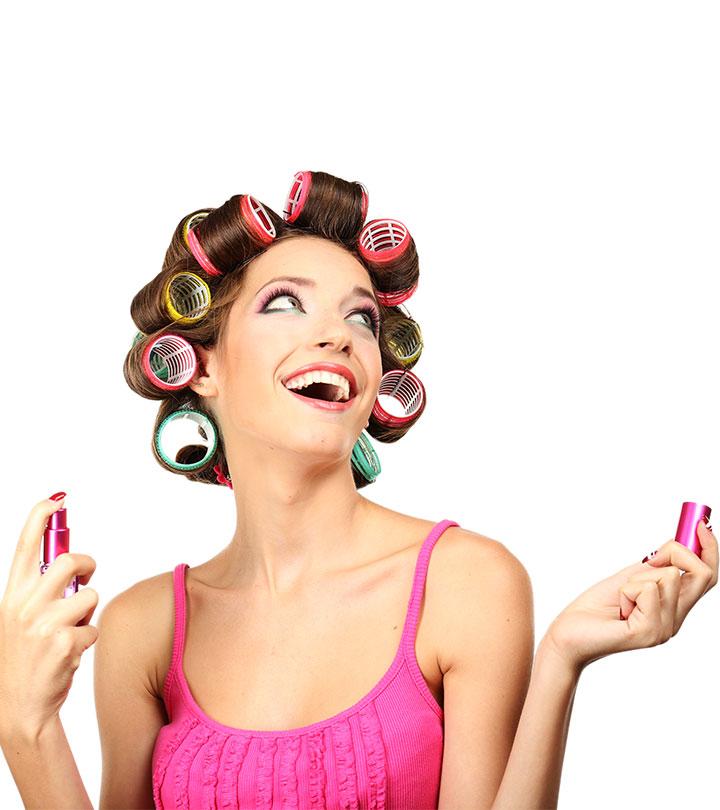 A hot roller is a small tube structure that helps turn your straight hair into brilliant curls and waves. These hot rollers are great for fine hair. The best hot rollers ensure quick hair styling at home without even visiting a salon. You can use them from the convenience of your home and get salon-quality curls for any occasion you like. These magic rollers are heated to keep your curls long-lasting. They also make your hair less frizzy and shiny. This article brings forth the 10 best hot rollers that transform your hair into curls smoothly.
Top 10 Hot Rollers For Voluminous And Bouncy Curls
These ceramic plated jumbo hair rollers set your hair curls quickly and impart long-lasting shine to it. They are infused with ceramic technology to provide consistent heat for long-lasting curls. With 12 pieces that come in super jumbo sizes, you can create voluminous curls and waves within minutes. The rollers come in three different sizes: 1¼ inch, ¾ inch and 1 inch. The set includes 4 super jumbo rollers and 8 jumbo rollers with a set of wire clips for a secure hold. It has 12 different heat settings. In this YouTube video, you will find a detailed review of this product.
Pros
Easy to use
Do not create static
Add body to fine hair
Curls stay in place
Cons
Price at the time of publication: $36.99
Hair can be styled better when it is moist. Caruso has created these rollers that harness the power of steam to create voluminous curls of different sizes. Besides, steam conditions your hair and does not generate static. These soft foam rollers are infused with moisture that penetrates each strand, giving you beautiful, shiny, and long-lasting curls. It has 30 high-power hot rollers in different sizes, which can be of great help to people with short and thick hair.
Pros
Curl your hair in 30 seconds
Great for all hair types
Gives even styling
Cons
Price at the time of publication: $51.0
Create gorgeous and voluptuous bouncy curls using Remington Ionic Conditioning Hair Rollers. These hair rollers use exclusive thermal wax to create long-lasting curls. The wax core allows the rollers to hold high heat and create voluminous curls in no time. They have a velvety texture on the surface, so your curls have less frizz and more shine. Also, the curling system comes a set of J-clips that allow you to secure the rollers in your hair without creasing. Check out this video on YouTube for a detailed understanding of the product.
Pros
Cool-touch ends
Neat and springy curls
Prevent damage and frizz
Color-coded J-clips
Cons
The end caps are not firm enough.
Price at the time of publication: $20.99
These hair rollers are a good bet as they are made of high-quality ceramic. It uses the latest nanotechnology that creates heat from inside the hair, keeping your locks hydrated and soft. It helps maintain stability even at high-temperature settings. This set includes 20 rollers in two sizes, ⅜ and ½ inch, and 20 color-coded clips to create small and medium curls. The infrared heat penetrates the hair from within for quick heat-up.
Pros
Lightweight
Create soft and natural-looking curls
Rapid heating time
Impart shine
Cons
Price at the time of publication: $64.99
Kitsch Pro Ceramic Thermal Hair Roller boasts ceramic coated barrels that can mimic a lust-worthy, professional blowout! This set of 8 rollers is great for those who are looking for ways to add body and volume to their mane. It comes with three different sized rollers that can help you to create a variety of curl shapes. These easy-to-use velcro rollers are made of self-gripping material that helps grip hair and create a strong hold, making the styling process hassle-free. These thermal hair rollers come packed in a reusable pouch which not only makes it easy to store but also portable.
Pros
Long-lasting results
Even heat distribution
Adds lift at the roots
Easy storage
Portable
Cons
Can turn hair slightly frizzy.
Price at the time of publication: $11.17
For over 20 years, John Frieda Hair Products have been defining style and helped many transform their dry and frizzy hair to flawless and silky locks. John Frieda Body And Shine Smooth Waves features 5 jumbo rollers that create gorgeous, voluptuous curls. They heat up in 2 minutes for fast results. It also includes a high-voltage generator that emits ions more than other ionic rollers. These conditioning hair rollers allow you to enhance the manageability of your hair, eliminating static and frizz.
Pros
Smoothes the hair cuticles
Ion technology
Gives salon-like luscious curls
Do not damage your curls
Cons
Not suitable for fine hair
The T3 Volumizing Hot Rollers are apt for creating loose waves, bouncy curls, or tight corkscrew curls! Also, it adds thickness, fullness, and luster to your hair. Due to its T3 heat core technology and dual temperature settings, curls last for a very long time. It comes packed in a stylish storage bag so you can carry it wherever you go!
Pros
Fast heating
Adds body
Adds shine
Adds volume
Long-lasting results
Portable
Cons
Price at the time of publication: $20
Get bouncy and luscious curls with these 10 easy-wrap hair rollers. Revlon Tourmaline Hair Rollers are infused with triple ceramic coating that sets the curls quickly with a silky-smooth finish. These rollers come with a storage pouch that allows you to achieve perfect curls even on-the-go. They provide optimal heat for less damage and frizz. The tourmaline ionic technology helps balance the charge, giving you smooth, silky, and shiny hair. If you want to know more about this product, check out this video on YouTube.
Pros
Easy to use
Lightweight
Safe for thin and brittle hair
Cons
Price at the time of publication: $24.99
Get beautiful, bouncy, and shiny curls with Campbell Mcauley's Ionic Hot Rollers. They are specially designed to heat up quickly and feature cool-touch ends for quick and easy styling. PTC heat technology enables fast and damage-free heating. The ionic rollers generate hydrating negative ions to give your hair moisture and long-lasting shine. Tourmaline helps create smoother and shinier curls while minimizing frizz. These rollers also offer convenient curling options for those who want to add a lot of volume to their curls.
Pros
Provides firm hold
Infused with ptc heaters
Does not tangle your hair
Imparts shine
Gives frizz-free curls
Cons
Get tangle-free, voluptuous curls with CHI's Smart Magnify Ceramic Hair Rollers. These velvet-finished rollers hold heat for up to 15 minutes and create gorgeous, shiny, and long-lasting curls. The set comes with 9 rollers with a compact platform. It includes a collection of clips to hold the rollers in place without creasing your hair.
Pros
Unbreakable
Effective on all hair types
Prevent frizz
Cons
Price at the time of publication: $108.36
Now that you are aware of the top-rated hot rollers, let's get you familiarized with the steps to follow while using them.
How To Use Hot Rollers
Step 1 – Choose The Right Size Hair Rollers
Keeping basic principles of design in mind, it's obvious that the smaller the barrel size, the smaller your curls will be. So, if you want voluptuous curls, choose a barrel size of 1½ or 2 inches.
Step 2 – Prepping Your Hair
This step can be optional if you are running out of time. Also, ideally, curls stay put even on dirty hair. But, if you choose to wash your hair, ensure to dry it thoroughly.
Step 3 – Use A Heat Protectant Spray
Spray some mist while using hot rollers to avoid heat damage. Also, wet hair can be styled quickly and will give you defined curls in no time.
Step 4 – Divide Your Hair Into Sections
To finish curling your hair quickly, divide your hair into three sections – one on the left, one on the right, and one at the back. This way, you will be able to work with your hair in lesser time.
Step 5 – Work Up The Rollers
Make sure to start at the front of your head. Take a chunk of the hair in the front, place the roller in it and roll your hair back toward the roots. Secure it tightly with the clip. Continue this way until you have finished the entire middle section.
Likewise, roll your hair at the sides in different directions, i.e., back and forth for more natural looking curls.
Step 6 – Let The Rollers Cool Down
Once you are done rolling your hair, allow them to cool in place for 25 minutes.
Step 7 – Remove The Rollers And Set Your Curls
Remove the rollers one-by-one without disturbing the curl pattern. Loosen the curls by running your fingers through them gently. You can even use a brush to define the curls. Finish the process with a setting spray.
Laura Dale, a licensed cosmetologist and hair expert, says, "Hot rollers are a fantastic tool for beautiful curls and adding volume to your hair. My tip for using hot rollers is to always use a styling product like mousse and a heat protectant with them. The mousse provides hold to preserve your curls and volume, while a heat protectant spray acts as a shield to protect against potential heat damage from the rollers."
Recommended Articles
Best Hot Rollers For Thick Hair
Best Hot Rollers For Short Hair – Reviews And Buying Guide
Best Hot Rollers For Fine Hair To Add Volume
Best Selling Travel-Friendly Hot Rollers
Best Hot Rollers For Long Hair With Ultimate Buying Guide