15 Best Hot Yoga Mats For Women, According To Yoga Experts – 2022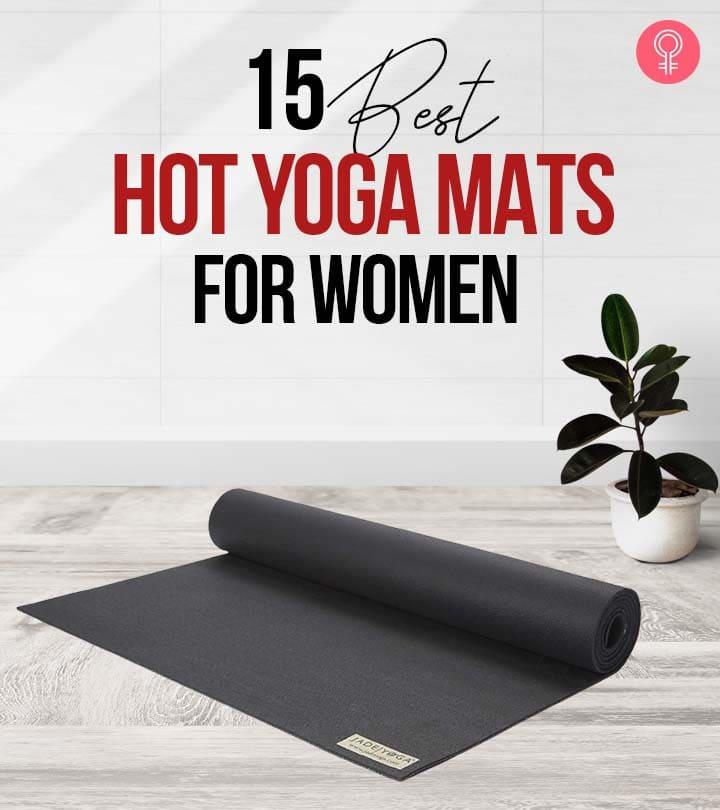 The difference between normal yoga and hot yoga is that the room for hot yoga is heated right above the room temperature to whatever degree you deem fit. Get one of the best hot yoga mats and hit a studio that teaches it today. It is a great idea for those who like to sweat at the gym and want to try the same with yoga. It is very important to choose the right yoga mat, more so in the case of hot yoga. As it is sweaty and done in a humid environment, it is imperative that your mat is non-slip and non-skid for your safety. In this article, we have compiled a list of the best hot yoga mats that provide optimum performance. Read on to know more!
What Is Hot Yoga?
Hot yoga refers to any yoga practice that is done in a heated environment. It involves a range of different yoga styles that are performed at a temperature between 30-39°C. From improving your cardiovascular health and enhancing your lung capacity to building flexibility and boosting your metabolism, there is a plethora of added benefits to hot yoga when compared to regular yoga.
But, can you use your regular yoga mat for this? Find out below.
Do You Need A Special Mat For Hot Yoga?
No, yoga mats for regular yoga and hot yoga are usually the same. That being said, the features of hot yoga mats include a strong grip, sweat-absorbing upper material, and anti-slip construction for your safety.
Now, let's check out some of the best mats suited for hot yoga sessions.
15 Best Hot Yoga Mats For Women
If you are looking for the ultimate lightweight mat that provides a strong grip, then look no further than the IUGA Pro Yoga Mat. It has a polyurethane top layer that is ideal for professional yoga practice. The anti-slip TPE bottom layer also provides strong cushioning.
This mat is highly durable as it is flake-proof and stretch-proof to give you a fresh experience every time you work out. Its 5 mm cushion base is not only comfortable but also provides a stable and supportive surface for you to carry out all kinds of yoga poses. You can easily carry this mat anywhere – to the yoga studio or outdoors. Check out this video to learn more.
Specifications
Material: Polyurethane and Rubber
Color Options: 5
Dimensions: 72 x 26 x 0.2 inches
Weight: 2.8 lbs
Pros
Easy to clean
Non-slip
Good cushioning
Provides stability
Portable
Comfortable
Sturdy
Durable
Cons
None
This yoga mat by Gruper is a blend of thermoplastic elastomers and nitrile butadiene rubber that makes it a thick, soft, and comfortable mat with optimal cushioning support. It comes in two different thickness levels of 10 mm and 15 mm, both of which are highly durable, tear-resistant, and sweat-proof. This mat offers anti-slip performance on wood, tiles, and cement. Unlike its ordinary counterparts, it is wide and extra thick, making it ideal for people with knee pain.
Specifications
Material: Thermoplastic elastomers and Nitrile butadiene rubber
Color Options: 20
Dimensions: 72.05 x 31.5 x 0.39 inches
Weight: 2.43 lbs
Pros
Thick foam
High density
Anti-slip
Moisture-resistant
Feather-soft feel
Extra wide
Value for money
Cons
None
The Jade Yoga Harmony Mat is of premium-quality and offers a professional-grade level of traction with its all-natural rubber construction. It offers good grip and durability. It is 4.7 mm thick, which provides an ideal cushioning support for standing poses. Watch this video for more information about the product.
Specifications
Material: Natural Rubber
Color Options: 7
Dimensions: 68 x 24 x 0.19 inches
Weight: 4.18 Pounds
Pros
Extra strong grip
Durable
Good cushioning
Non-slip
Value fore money
Durable
Cons
The Aurorae Synergy Yoga Mat-Towel is an ideal choice for an anti-slip, extra comfortable, and dry yoga session. This unique mat comes with a patented 5 mm bottom layer of PER yoga mat combined with an ultra-luscious microfiber towel on the top. It eliminates the risk of bunching and unnecessary moving of the mat during yoga, thereby ensuring high safety.
Specifications
Material: PER and Microfiber
Color Options: 4
Dimensions: 24.75 x 4.4 x 3.8 inches
Weight: 3.59 lbs
Pros
Lightweight
Well-padded
Odor-free
Non-slip
Sweat-absorbent
Provides stability
Machine-washable
Affordable
Cons
This all-in-one yoga mat from the Yoga Design Lab has a microfiber top layer fused with a natural rubber base layer. It offers quick sweat-absorption without bunching up. This mat is ideal for hot yoga as it provides a superior grip and cushioning that ensure good balance and stability during your workouts. It comes in three different thickness levels of 5.5 mm for high cushioning, 3.5 mm for everyday, and 1.5 mm for portable traveling. This hot yoga mat includes a carrying strap, making it easier for you to carry it everywhere.
Specifications
Material: Microfiber and Natural rubber
Color Options: 14
Dimensions: 3.15 x 2.36 x 1.57 inches
Weight: 4.85 lbs
Pros
Quick-drying
Machine-washable
Strong grip
Good cushioning
Sweat-absorbant
Anti-slip
Portable
Cons
The Gaiam Sol Dry-Grip Yoga Mat is made of a strong PVC material that is lightweight and extra thick (5mm) for ideal cushioning support for your joints. It has a closed cell construction that keeps bacteria, germs, and odor at bay. This mat effectively wicks away moisture and offers a stronger grip as the temperatures rises.
Specifications
Material: PVC
Color Options: 3
Dimensions: 68 x 24 x 5 inches
Weight: 4 lbs
Pros
Soft cushioning
Lightweight
Moisture-wicking
Strong grip
Good stability
Sturdy
Durable
Phthalate-free
Cons
If you want the most durable yoga mat, try this one by Plyopic. It starts to offer a strengthening its grip from a lower moisture threshold compared to its counterparts. It features an eco-degradable microsuede that feels soft, textured, and warm to touch. The natural tree rubber on the bottom layer lends a superior grip on the floor. This 3.5 mm thick mat provides good stability and superior resistance and is ideal for stretching. It is extra long and wide to give you the freedom to perform any kind of yoga pose.
Specifications
Material: Natural tree rubber and Microsuede
Color Options: 15
Dimensions: 71 x 25.5 x 0.14 inches
Weight: 2 lbs
Pros
Non-toxic
Soft material
Provides stability
Curl-resistant
Durable
Cons
This completely natural hot yoga mat by the trusted brand Gaiam features a sustainable cork top layer along with a TPE bottom that keeps the moisture and odor away. The cork layer loosens up as you keep sweating while increasing grip and traction. This 5 mm, non-slip hot yoga mat is ideal for both beginners and professionals.
Specifications
Material: Natural cork and TPE rubber
Color Options: 2
Dimensions: 68 x 24 x 0.2 inches
Weight: 4 lbs
Pros
Lightweight
Eco-friendly
Comfortable
Durable
Anti-slip
Strong grip
Odor-free
Non-toxic
Phthalate-free
DEHP-free
DBP-free
DINP-free
DIDP-free
BBP-free
DNHP-free
Cons
None
The TOPLUS Travel Yoga Mat is highly absorbent and made of premium-quality material to suit professionals and beginners alike. The velvety suede material on the top is skid-resistant, even in the hottest temperatures. The natural rubber bottom enables good grip on any type of floor surface. This mat is easy to fold and fit into small carry bags for travel.
Specifications
Material: Thermoplastic elastomers and Nitrile butadiene rubber
Color Options: 6
Dimensions: 71 x 26 x 0.065 inches
Weight: 2.5 Pounds
Pros
Portable
Flexible
Durable
Sweat-absorbing
Easy storage
Anti-slip
Ultra-soft
PVC-free
Non-toxic
Dye-free
Cons
None
This beautiful yoga mat by OGOGO is made of durable TPE and soft suede material that ensure a stylish appearance as well as enhanced flexibility. The suede top is highly absorbent and anti-slip, while the windmill texture stays firm on the ground for high stability. It is 6.35 mm thick for ample cushioning support to prevent any strain.
Specifications
Material: TPE and Suede
Color Options: 8
Dimensions: 72.05 x 24.02 x 0.28 inches
Weight: 2.42 lbs
Pros
Comfortable
Anti-slip
Portable
Great cushioning
Non-toxic
Odor-free
Cons
None
Get the smoothest hot yoga experience with the TXK Yoga Mat. It has a soft, non-slip surface with a slide-proof front and an absorption grip in the back. This 5 mm thick mat is easy to handle on any kind of surface, from ceramic tile to wood to marble. It is made of natural rubber and suede that ensure high stability, comfort, and optimal cushioning support while you focus on your balance, posture, and breathing.
Specifications
Material: Natural rubber and Suede
Color Options: 5
Dimensions: 72 x 26.77 x 1.5 inches
Weight: 2 lbs
Pros
Non-slip
Intricate design
Strong grip
No-fading
Sturdy
Machine-washable
Portable
Tear-proof
Cons
None
This one is aptly described as "the yoga mat that adores sweat" by Reetual. It is made with patented MicroGrip surface technology that offers great grip during your yoga routine. It has a smooth, padded, and dry surface that is great for those extra sweaty workouts. This mat starts wicking away moisture as soon as it increases by 2.1%. The MicroGrip top surface is thermally fused with the natural rubber base, resulting in a uniform and soft workout mat that does not curl, roll, or bunch up.
Specifications
Material: Rubber and Biodegradable Microsuede
Color Options: 16
Dimensions: 70 x 24 x 0.35 inches
Weight: 4 lbs
Pros
Curl-proof
Provides stability
Secure grip
Anti-fade surface
Effectively absorbs sweat
Machine-washable
BPA-free
Latex-free
Cons
This Mandala-designed cork mat by Yoga Design Lab features an anti-slip grip that keeps strengthening as you sweat during your workout. It is made of a high-density cushion and premium-quality biodegradable natural cork and rubber for durable construction. The mat comes with a symmetrical design pattern using a non-fade, water-based ink for guiding your alignment during your workout.
Specifications
Material: Cork and Rubber
Color Options: 2
Dimensions: 70 x 24 x 0.13 inches
Weight: 4.85 lbs
Pros
Durable
Absorbs sweat
Anti-slip
Sturdy
Easy to clean
Includes a carrying strap
Silicone-free
PVC-free
Phthalate-free
Cons
The YUGLAND PU Yoga Mat is designed with a natural rubber bottom and a PU leather upper that lend it a non-slip texture and high moisture absorbing ability, which is ideal for hot yoga workouts. It features alignment lines that come in handy for accurately aligning your body during your poses. This mat is extra wide and has thick, high-density 4 mm cushioning that is perfect for professional yogis. It comes with an additional strap, carry bag, and gift box, making it great for traveling and gifting.
Specifications
Material: Natural rubber and PU leather
Color Options: 18
Dimensions: 72 x 26 x 0.16 inches
Weight: 6.61 lbs
Pros
Non-slip
Extra thick
Large size
Non-toxic
Portable
High-density cushioning
Cons
If you are looking to have a relaxing workout without worrying about your mat slipping around, choose the Tikaton Yoga Mat that provides skid-resistance and high cushioning comfort. It offers a dynamic rebound and balanced decompression while being gentle on your joints. It is a highly versatile mat that can be used for hot yoga, Bikram yoga, pilates, and ab workouts. This yoga mat comes with a sling strap so you don't need a yoga mat bag anymore!
Specifications
Material: POE
Color Options: 2
Dimensions: 72 x 24 x 0.25 inches
Weight: 2.5 lbs
Pros
Lightweight
Eco-friendly
Ample cushioning
Easy to clean
Sturdy
Durable
Extra thick
Non-slip
Odor-free
Springback feature
Anti-sweat
Waterproof
Non-toxic
Includes a yoga strap
Cons
None
Now that you know of all about the best hot yoga mats on the market, let's talk about how to choose the best one. Check our comprehensive buying guide below!
How To Choose The Best Hot Yoga Mat – Buying Guide
While yoga mats are traditionally 0.5 to 1 inch thick, there are many mats that offer increased thickness for more comfort. Depending upon your needs, you may go for an extra thick mat of about 1.5 inches or more as it provides increased cushioning support.
The material of a yoga mat does not only determine the level of comfort but also lends it its non-slip, strong grip, and sweat-resistant properties. The best material for a hot yoga mat is polyurethane because it absorbs moisture to provide a stronger grip during sweaty hot yoga.
Whether it is heading to the studio or going for a workout in the park, carrying around yoga mats isn't new. Ensure that the mat is light enough to make it easily portable and comes with a carry strap or bag.
In the next section, learn about how to take care of your much-used yoga mat.
How To Clean Your Hot Yoga Mat
Hot yoga mats are a breeding ground for bacteria, so cleaning them is an essential part of using them for everyday workouts. Take a look at the best way to effectively clean a hot yoga mat:
Start by cleaning the mat using a clean towel or a tissue wipe. You can accompany this with a spray mixture made using distilled water, essential oils, and white vinegar.
Wipe it in the same direction on both sides of the mat.
Follow this by using a disinfectant spray. Use a spray that is ideal for yoga mats.
Make sure to wash your hands thoroughly after cleaning.
Why Trust StyleCraze?
Aditi Naskar, the author, has a diploma in health & wellness and a passion for reviewing emerging products related to fitness. She has carefully curated the list of the best hot yoga mats available after thoroughly researching multiple options. While collating the list, she also took into consideration numerous product reviews that she found in trusted online forums. To help the readers choose the mat most suitable for their needs, she has provided feature details and pros and cons for each of the shortlisted options, along with a helpful buying guide. These mats are built to be non-slip and non-skid for optimum performance even in a hot and humid environment.
Frequently Asked Questions
Which is the best material for a hot yoga mat?
The best material for a hot yoga mat is polyurethane because it absorbs moisture to provide a stronger grip.
What is the difference between a hot yoga mat and a regular yoga mat?
While a regular yoga mat can be made using a range of different materials without any specific requirements, a hot yoga mat needs to provide exceptional anti-slip and strong grip properties to avoid any mishaps because of the sweaty nature of the workouts.
How thick should a hot yoga mat be?
The standard 1/8 inch thickness is enough for a hot yoga mat. However, if you have sensitive knees, choose a thicker mat for extra comfort.
Is hot yoga suitable for beginners?
Yes, hot yoga has different difficulty levels, depending upon your stamina. It includes exercises for beginners as well.
Is hot yoga the same as Bikram yoga?
Hot yoga is any type of yoga that is done in a heated room. Bikram yoga is the most common form of hot yoga that was developed by Bikram Choudhury.
How frequently should I clean a hot yoga mat?
If you do hot yoga regularly, then clean your mat at least once a week. If you use it only occasionally, then cleaning it once a month should be enough.
Recommended Articles