9 Best House Shoes For Women To Buy In 2023, According To Reviews
Keep your feet relaxed and well-cushioned at home with these comfy shoe options.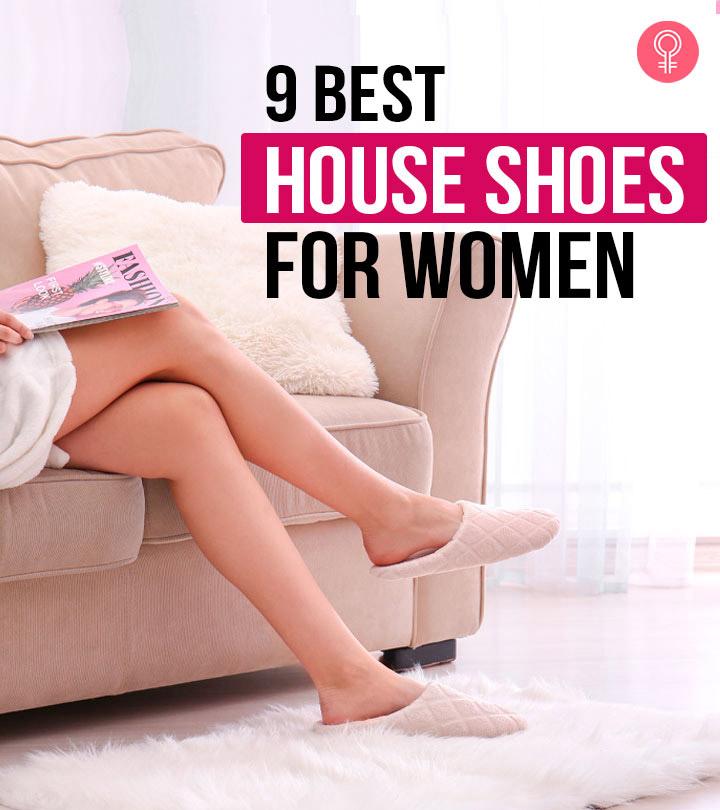 The comfortable feeling of a good pair of house shoes after a long day outside is oh-so-good! We spend our day on our feet, whether it is walking or standing for long hours. Once you return home after a day of restricted discomfort in your bellies or heels, these house shoes for women offer soft padded support and unrestricted space to your feet and toes.
Whether it is a pair of moccasins or fuzzy slippers, we bring you a list of the best house shoes that will help you relax and provide warmth to your feet. So, scroll down to find your favorite pair now!
9 Best House Shoes For Women
This clog slipper from Jessica Simpson has thick memory foam cushion and a textured bottom outsole, which offers extra grip and prevents skidding. The inside is lined with plush fabric, which is soft, cushy, and comfortable. This house slipper is super fluffy and relaxing and can be worn all day around the house, especially on cold days. In case it gets dirty, you can put it in the washing machine for a quick and easy wash.
Pros
Good grip
Good cushioning
Thick memory foam
Machine washable
Anti-slip
Comfortable
Breathable
Cons
None
Price at the time of publication: $31.99
Moccasins are easy slip-on shoes, and these ones from Ataiwaee are super comfy to wear all day around the house. They feature microsuede uppers lined with soft sherpa lining. The skin-friendly and ultra-soft memory foam inner padding provides relaxation and warmth to the feet. The soles are made of anti-slip, textured fabric for extra grip. These winter shoes offer support to the feet while reducing foot stress. They are comfortable to wear both indoors and outdoors. The shoes are durable and do not deform easily.
Pros
Thick plush lining
Skin-friendly
Durable
Anti-slip soles
Memory foam
Machine washable
Wearproof
Cons
None
Price at the time of publication: $19.99
These cute bootie-style slippers are perfect for cold winter days, as the fuzzy fleece lining blankets the feet in warm coziness. The 80D memory foam lining is soft and relaxing for the feet, while the supportive insoles provide arch support and reduce foot pain.
The fashionable shoes have a chenille velvet upper with slight scrunching at the shin area for added style. They feature wide openings and are easy to slip into. The rubber soles are anti-skid and offer excellent grip even on slippery ground. These house shoes for women are versatile and flexible and come up a few inches above the ankles, covering the lower part of the legs like warm socks.
Pros
Plush fleece lining
Keep feet warm
Memory foam insole
Flexible
Non-slip
Sturdy
Easy to slip on
Machine washable
Cons
Price at the time of publication: $26.95
The stylish EverFoams house shoes are suitable for indoor and outdoor use. These have a micro-suede upper and a polar fleece inner that makes them soft and ultra-comfortable. The woollen yarn knit collar keeps the feet warm in cold winter months without making them feel stuffy.
The durable rubber soles are anti-slip and offer excellent grip on any surface. The EVA foam is shock-absorbing, facilitating walking stability, while the plush insoles are fuzzy and cozy. The 70D memory foam creates a soft layer contouring the feet for extra support and ease and offers good shock absorption. The meticulous workmanship is beautiful with classic buttons to highlight the design.
Pros
Plush fleece insole
Skin-friendly material
Comfortable
Moisture-wicking
Durable
Anti-cold rubber sole
Extra shock absorption
Machine washable
Cons
Stretches out after a few wears
Price at the time of publication: $25.98
The Clark's Kimberly Clog Slipper has a suede upper and faux fur accents. The comfortable insole cushions each step and makes walking easy and relaxing. The rubber outsole is stable, durable, and slip-resistant, making this shoe suitable for both indoor and outdoor use. The slippers have a one-inch heel and a slip-on style.
Pros
Comfortable
Durable
Warm faux fur insole
Non-slip
Cons
None
Price at the time of publication: $35.4
Slip those tired feet into the comfort of soft cushiony house shoes from Home Top. The ultra-comfortable lightweight home shoes are designed with a terry cloth lining and high-density memory foam inner padding. The cloth keeps away moisture and prevents the feet from sweat or smell. Multi-layered cushioning is soft on the feet, keeping them dry and cozy. The polyester body and rubber soles make these shoes sturdy and durable. They wrap in your feet from all sides and give a massaging grip. The shock-absorbing sole provides stability. The classic design of a coral fleece interior and cotton cloth exterior is perfect to wear with robes, pajamas, and loungewear. These shoes also feature weatherproof properties and can be used indoors and outdoors.
Pros
360° feet wrapping
Foldable
Easy on/off
Anti-slip
Machine washable
Suitable for all ages
Cons
Price at the time of publication: $24.99
Slip your feet into the Vionic Jackie Flannel House Shoes for women for a comfortable spa-like relaxation. They are crafted with Vionic technology to offer exceptional support to the feet. The sole-hugging footbed is podiatrist-designed and biomechanically contoured for better foot health.
The footbed is made of 100% polyester terry cloth, which is sweat-absorbing and breathable. The orthotic insoles provide great arch support and keep the feet free of pain and stress. The three-zone comfort technology supports the natural curvature of the foot and reduces stress on the knees and ankles. The classic quilted upper is stylish, while the rubber outsole is durable, stable, and skid-proof.
Pros
Comfortable
Flexible
Sole-hugging footbed
Adjustable
Skid-proof
Durable
Cons
Price at the time of publication: $89.95
The Yixi house slippers for women have a plush fleece upper that is extremely warm and cozy. The soft memory foam inners offer excellent support to the footbed and keep the feet cushioned and warm. The shock-absorbing insoles offer stability and make walking around the house easy. These slippers have TPR outsoles, which offer great traction and are skid-proof on uneven or slippery ground. This makes them suitable for indoor and outdoor use. The fleece lining remains close to the skin and soothes the feet with a spa-like feel. The easy, slip-on design makes these slippers convenient for home use.
Pros
Plush fleece upper
Anti-slip TPR outsole
Shock-absorbing
Excellent grip
Skid-proof
Good cushioning
Cons
The inner foam may sink soon.
Price at the time of publication: $9.9
This is yet another pair from the house of EverFoams. These micro-suede slippers have a cozy shearling inner lining and 70D dense EVA memory foam insoles. This offers good support to the feet, along with ultra-soft cushioning. The versatile outsoles are made of rubber, which is slip-resistant, durable, and suitable for any surface, both outdoors and indoors. The fluffy, faux shearling wraps around the feet and ankles to provide warmth to the entire foot from toe to heel. The thick faux leather upper is elegant and stylish with seamed, handmade thread decor. The shoes sport a back seam and straps, which give you a perfect fit.
Pros
Easy to wear
Slip-resistant
Durable
Super cozy
Padded insole
Machine washable
Cons
No ventilation may cause them to stink
Price at the time of publication: $22.99
A good pair of house shoes offer the perfect comfort and cushioning that your feet need after standing or walking all day. However, choosing the right pair of shoes may be challenging if you are not sure what to look for! So go on and browse through our guide to buy yourself the best house shoes immediately.
Things To Consider While Buying The Best House Shoes For Women
The house shoes must maximize comfort but also offer good support. Pick a shoe that provides unrestricted spacing inside for the toes to spread with ease. Supportive EVA insoles and a flat sole help in walking stability and shock absorption. You can also look for orthotic insoles. These provide extra support to the arch and minimize pain and stress on the feet. The footbed should hug the soul and be biomechanically contoured to facilitate good food health while reducing pressure on the ankles and knees. Pick a shoe with a built-in back stiffener for added support.
The outer body of a house shoe can be made with suede, cotton, nylon, velvet or rubber. This is mainly for the aesthetics of the shoe. However, concentrate on the inner and bottom sole construction of the footwear. Choose rubber soles that are durable and anti-slip for the bottom construction. These offer good grip on any flooring or surface. EVA foam construction facilitates stability and shock absorption. The insoles should be made of plush memory foam for a cozy walk-in-the-clouds feeling.
Consider the weather and climate of the place you live in while purchasing house shoes. If you live in a cold place, there are house shoes that are made with fuzzy, fleece blanket-type linings or faux fur insoles to keep the feet cozy and warm. 70D-80D memory foam adds to the plushness. You can also pick boot-style shoes which act as socks or keep the ankles and lower legs warm too. In case of places with warm weather, pick breathable material and knitted uppers. Even polyester terry cloth is a good bet. These shoes should have moisture-wicking properties that keep the feet dry, sweat-free, and odor-free.
House shoes can be of various types like moccasins, boot-style, slip-on belles, loafers, and slippers. If you are looking for strap-on shoes, pick adjustable, easy-to-use straps.
House shoes can be flexible and foldable as well as hard construction. Foldable shoes are easy to carry for travel purposes and are lighter in weight.
Pick a shoe that is washable. The fabric and sole should be water-proof and quick-drying. A machine-washable shoe is the most convenient.
Why Trust StyleCraze?
The author of this article, Baishali Bhattacharya, is a certified image consultant who likes to explore, research, and review products for her readers. She has filtered the best house shoes for women based on the unbiased reviews she found on several trusted online platforms. The list offers soft padded support and unrestricted space to your feet and toes. They are easy-to-wear, durable, and slip-resistant.
Frequently Asked Questions
Is it better for your feet to wear shoes in the house?
Yes. Wearing shoes or slippers inside the house is not just about comfort, it is also good for your health. They help keep your feet in top condition and avoid accidents and injuries.
What kind of house shoes are good for feet?
Well-cushioned shoes that make you feel comfortable and relaxed, and provide you support while walking are the best house shoes.
Can you wear house shoes outside?
No. It is not recommended to wear house shoes outside as their soft material can get damaged.
Should you wear house shoes all day?
Yes, you can wear house shoes all day when you are inside the house. You can remove it while you are in bed.
How long house shoes last?
If you wear house shoes only inside the house, they will last a couple of years. To increase the life of your shoes, it is recommended to wash them once in a while.
Are house shoes washable?
Yes, house shoes are washable. You can machine wash them with lukewarm water and a mild detergent on delicate mode separately.
Recommended Articles