7 Best HSI Flat Irons For A Fabulous Look In 2022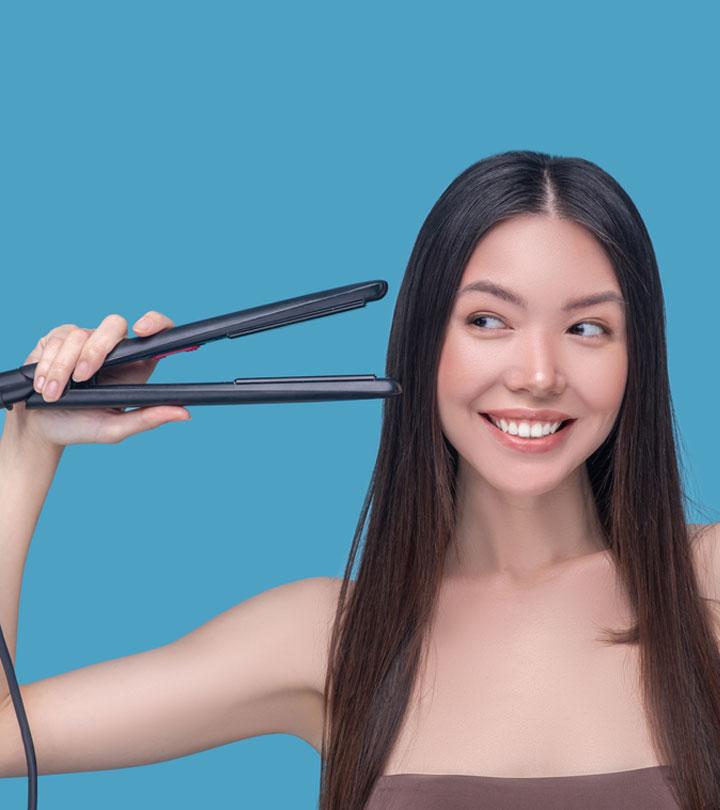 It is hard to choose between the wide variety of flat irons doing the rounds in the market. However, HSI is one of the many brands that can guarantee high-quality hair straightening for that fabulous look that your hair deserves, making your choice easier. But HSI also churns out so many hair products that it may be hard for you to find the best HSI flat iron for your hair. To save you from trying out every product and burning a hole in your pocket, we've listed out the 7 best flat irons from HSI that will not only eliminate the dullness in your hair after styling but leave it looking shiny without any potential burns or damage. Just browse through our list and we're sure you'll find one that meets your hair care needs, regardless of the hair type you sport.
7 Best HSI Flat Irons To Achieve Sleek Hairstyles
Do you always have to rush to your stylist or take someone's help whenever you wish to straighten or curl your hair? You no longer have to do that as the HSI Professional Glider helps you create numerous hairstyles without damaging your hair. Get rid of the frizziness and coarseness of your hair without putting much time and effort into styling. This hair straightener is equipped with ceramic and tourmaline ion plates that use 8 micro-sensors with Heat Balance technology to ensure even heat distribution. It comes with an adjustable temperature setting from 140-450°F, making it user-friendly. You also get a complementary argan oil treatment that can enhance the beauty of your hair after you style it with the flat iron. Watch this YouTuber's honest review to get a better idea about the product and its features.
Pros:
Dual-voltage
Suitable for all hair types
Glossy finish
360° swivel cord
It includes a heat-resistant glove
Cons:
This product might not have a digital display.
Does your hair iron give you frizzy and dry hair problems? If yes, it's time to make the switch to this compact yet powerful flat iron. This HSI Professional Glider Mini Ceramic Flat Iron is made up of ionic ceramic tourmaline-infused plates that allow water molecules to enter your hair and prevent frizziness. It not only works well on your long hair but beautifully styles your short hair as well. It is one of the best flat irons because it does not give out the burnt hair smell that you might generally experience after exposing heat to your hair. This hair tool protects your hair and prevents overheating with the help of 8 micro-sensors that regulate the temperature and distributes heat evenly. This video will give you a better insight into the product.
Pros:
Anti-static
Dual-voltage
Compact
Reduces frizz
Cons:
It is not heat adjustable.
How cool would it be to try a new hairstyle every time you get invited to a party or an event? You can now easily style your beautiful hair with the easy-to-use HSI Elite Professional Glider Flat Iron that can help you create bouncy curls or straighten your hair in minutes. No matter how frizzy or coarse your hair is, this hair tool won't fail to impress you as it boosts shine and makes your hair more manageable. This flat iron has 8 micro-sensors with Heat Balance technology to regulate the temperature and allow even distribution of heat to your hair, hence preventing it from overheat exposure. These flat iron plates are 1¼-inch in width, narrow enough to style your bangs but wide enough for any hair length. Watch this video for a thorough understanding of the product.
Pros:
Travel-friendly
Wide temperature range
Argan oil hair treatment included
Detangles hair
Cons:
Those with long hair may find the plates too small.
Are you under the impression that flat irons take a long time to heat? With the HSI Professional Glider Titanium Flat Iron, you can easily and quickly style your hair with even heat distribution provided by this hair tool. The flat iron comes with microsensors that allow it to regulate heat and protect your hair while you style it. It is easy to adjust the heat with the temperature control of the product and is also suitable for all hair types. It is equipped with titanium tourmaline plates, which heats up instantly, saving you time and energy.
Pros:
Heat-resistant glove included
Argan-oil hair treatment included
Smoothens hair
Protect tresses
Anti-frizz
Cons:
Might take time to heat up.
Have you tried a flat iron that dispenses steam infused with argan oil? If you haven't, you should consider the HSI Professional Glider Steamer Ceramic Flat Iron. It styles your hair effortlessly and also provides moisture and thermal protection to your hair. This product comes with tourmaline-coated plates that add shine to your hair and prevents dryness. This hair tool has adjustable heat temperatures between 360°F and 450°F and has curled edges to help you curl, flip, or straighten your hair.
Pros:
Controls and distributes heat
Protects hair from damage
Easy and fast
Digital display
Adjustable heat settings
Travel pouch included
Cons:
Might not be a good steamer.
The HSI Professional Glider Gold Flat Iron is listed as one of the best flat irons as it can flip, curl, and straighten your hair, based on your hair styling preference. You no longer have to buy separate tools for each hairstyle you want to experiment with. This product has 8 microsensors present on the ceramic tourmaline-infused plates that help regulate temperature and distribute heat evenly. It is now possible to protect your hair without fearing the damage the heat can cause. This flat iron has a temperature range of 170-450°F, suitable for your particular hair texture and type.
Pros:
Heats quickly
Less hair damage
High quality
High precision
Cons:
Styling your hair can now be a quick and straightforward task with the HSI Professional Glider Ceramic Flat Iron that heats up within seconds and evenly distributes heat to prevent damage caused by hot spots. This flat iron is equipped with ceramic coated plates, which help smoothen your hair and reduce frizz. The narrow plates allow you to create beachy waves, thus giving you a different look. Flaunt your curly hair and wait for the lovely compliments!
Pros:
Heat-resistant gloves included
Adjustable temperature
Frizz-free
Adds shine
Cons:
Might not have an automatic-shut option.
Here is a buying guide that will help you make the right purchase. These tips will help you decide which flat iron can work best for your hair based on its texture and type.
How To Choose HSI Flat Irons
If you are someone who travels frequently, a small and lightweight iron is what you must look for before your purchase. If you don't travel as much or use your hair tools only at home, you can opt for a bulkier flat iron. The width of the plates you choose is dependent on the length and thickness of your hair.  For short, thick, or fine hair you must use a flat iron with narrow plates ranging  from ½ inch to 1 inch in width. For those with long hair, you must look for an iron with wider plates to cover more surface area in less time.
The type of flat iron you buy depends on how often you use your flat iron. If you use it very frequently, you must look for something long-lasting, durable, and highly flexible.
You must look for a flat iron that has an auto-shut option in case you forget to turn off the tool. Some HSI products also provide additional gloves that protect your hand from burns.
Flat irons should ideally have multiple heat settings for you to control the temperature you think is ideal for your hair. Most flat irons come with a temperature range of 170-450°F, making them ideal for those with fine and coarse hair.
Ceramic and tourmaline iron plates are commonly used as they have microsensors that allow even heat distribution to the hair. Titanium and ceramic plates have the ability to heat up at different speeds. Ceramic irons heat up faster from the inside to outside, whereas titanium plates work the opposite. However, titanium plates heat up faster. It is also observed that titanium irons require more negative ions than ceramic, thus helping in eliminating frizz in a better and quicker manner. Do note that titanium irons cost more than ceramic irons.
The size of the cord should be long enough to allow ease in use, it is better if the product has a swivel cord, to allow flexibility.
How To Use HSI Glider Flat Iron
Step 1: Make sure your hair is dry.
Step 2: Divide your hair into sections using hair clips.
Step 3: Move your flat iron through one section and allow it to slide downwards.
Step 4: Allow the flat iron to remain near the roots for a while to get rid of the frizz.
Step 5: Use the various techniques for forming curls, beachy waves, or to straighten the hair simply.
Step 6: Use a hair spray to allow the hair to remain set for long.
We are certain that you must be excited to try these fantastic hair tools now that you know all about the 7 best HSI flat irons. An HSI iron is known to work efficiently on all hair types, hence making it one of the best brands for flat irons. You must be delighted to look at the various other benefits that you get apart from the fantastic styling it offers. You will also be able to see the shine, volume and life in your hair, once used. It protects your hair from damage and ensures an even distribution of heat. So, what are you waiting for? Grab your favourite HSI flat iron and experience the greatness that these flat irons offer.
Why Trust StyleCraze?
The author, Vaishnavi Kothuri, is a hair care enthusiast whose passion lies in reviewing hair care and styling products as they hit the shelves. Her extensive research on HSI flat irons and the customer feedback on different products of the brand helped her narrow down a list of the best options for her readers. Her recommendations are based on plate size, usability, safety, temperature settings, cord length, plate material, and other such factors.
Frequently Asked Questions
Is HSI a good flat iron?
Yes, HSI flat irons are easy to use and boast impressive features, making them an excellent choice. These irons don't damage the hair, instead, they protect your hair from heat damage. They also provide shine to the hair and help prevent frizziness.
Which heat setting should I use for my hair?
The heat setting chosen depends on the thickness and length of your hair. If you have coarse, thick hair, you must set the temperature to 400-450°F for ideal results. If you have fine hair, you should style your hair at a temperature below 200°F.
How can I make use of the dual voltage?
The dual voltage allows you to use the iron in another country as well. You can buy these kinds if you travel a lot and might face issues due to the change in voltage.
Does a flat iron damage hair?
No, it doesn't.  Most flat irons have ceramic and tourmaline plates made with microsensors that prevent hot spots and allow water molecules to enter your hair and thus prevents frizziness.
Recommended Articles
Best Flat Irons For Thick Hair
Best Flat Irons For Natural Hair
Best Hair Straighteners For Silky And Healthy-Looking Hair
Best Flat Irons For Short Hair – Reviews And Buying Guide