10 Best Hula Hoops For Kids That Improve Balance And Stability – 2023
Give these hoops to your kids and help develop their motor skills and balance.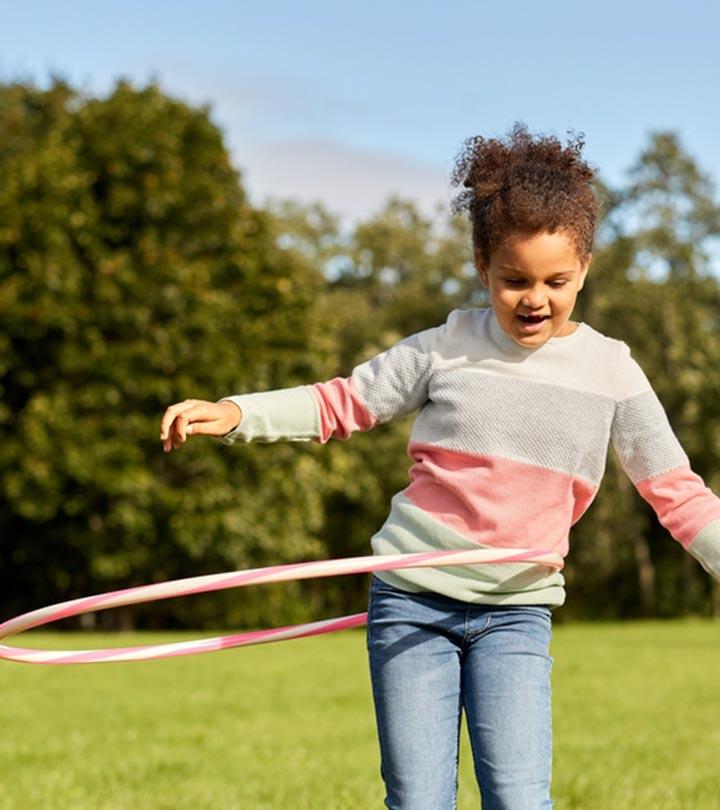 Who knew a colorful and circular toy could be more than just fun and games? That's right; the simple yet marvelous invention, that is the hula hoop has more than just one benefit. Not only does it help kids to steer away from digital screens, it also accelerates the growth and development of motor skills and coordination while improving body awareness and balance. While many believe the hula hoop is a lonesome activity, this cannot be further than the truth! Many kids use the hula hoop in groups to play with them collectively, helping them better peer relationships while teaching them team building.
With so many perks with the added advantage of being fun, a hula hoop is a must-have addition to every kid's toy box. If you're in search of the perfect one for your kid, you're at the right place. Here are our picks of the 10 best hula hoops for kids, and we're sure you'll find your child's next playtime pal in no time!
10 Best Hula Hoops For Kids To Help Better Their Core Strength
Are you tired of your children physically growing out of their toys? If yes, you must get them this kid's hula hoop that effortlessly adjusts itself to your child's unstoppable growth! The detachable hoop design allows you to customize its size to fit your child's needs. Not only is it adjustable in size, but also weight. Simply stuff the insides of this hollow tube with sand or stuffing and increase its weight as you please. Made from durable, high-quality plastic, these hula hoops are made to last and can withstand the wear and tear that comes with playtime.
Pros
Detachable hoop design
Durable, high-quality plastic
Adjustable weight
Can be adjusted 2 different diameter sizes
Cons
Some may find it difficult to assemble
Price at the time of publication: $13.72
The ArtCreativity Twist Hoop is a set of six colorful hula hoops. Each hoop comes with eight detachable pieces that are easy to assemble and store. They are made of durable plastic and have hollow interiors. You can fill the interiors with sand to increase the hoop's weight ideal for the strength training of your kids.
Pros
Durable
Colorful
Easy to assemble and store
Adjustable size
Customizable weight
Contains six hula hoops
Cons
Price at the time of publication: $23.97
Give your kids the perfect excuse to ditch their e-screens and enjoy time outside with this hula hoop! For the healthy development of your precious one's mind and body, give them this tool that will improve coordination, support gross motor skills development, enhance confidence, and even social skills, when used to play group games. The unique feature of this children's hula hoop is that it comes with butterfly and rose patterns that increase friction while adding a touch of fun and quirk to its design. The adjustable size allows you to use this one with a diameter of 23 or 27 inches, and you can also add sand, grains, or other stuffing to customize its weight. Lastly, the environmentally safe and non-toxic materials make this one a must-buy!
Pros
Increased friction control
Adjustable weight and size
Improves coordination and social skills
Environmentally safe and non-toxic materials
Cons
May not be ideal for beginners
Price at the time of publication: $10.99
The Flames 'N Games Kids Hula Hoop is made from a strong PVC tube that gives it a firm feel and imparts improved momentum. This lightweight, responsive hoop has a diameter of 35 inches and a thickness of 20mm. It features a pin-lock system that allows you to fold it and carry it conveniently. It is designed with sturdy glitter tape and ultra-grip cloth tape that provide optimum grip and a classic feel to the hoop. It improves your kid's balance and enhances their mental and physical health.
Pros
Suitable for beginners
Lightweight
Responsive
Easy to store
Great grip
Travel-friendly
Cons
None
Price at the time of publication: $39.99
Now, you can join in on the fun with this child-size hula hoop that adults can also use. It features a patented, wavy design that makes it easy to hula hoop for anyone, regardless of their level of experience. The 36-inch wide, versatile hula hoop is made using a durable plastic core and has 9 detachable sections that allow you to assemble, dismantle, and store this interactive toy quickly.
Pros
36-inch wide diameter
Patented, wavy design
Anti-slip protection
Durable plastic core
Ideal for kids and adults
Easy to assemble, dismantle, and store
Cons
The weight nor size can be adjusted
Price at the time of publication: $11.3
Is your precious princess into everything pretty and playful? If the answer is an undoubted yes, you must give her this little girl hula hoop! Crafted with the delicate colors of pink and blue, it comes with a 6 detachable design with an adjustable weight and size feature. This one stands out from the crowd because of its improved locking mechanism that ensures the detachable pieces won't come off, even during intense acrobatic activities. Ergonomically designed for a seamless hula hooping, it contours itself perfectly around your child's waist with each spin. In addition, it is also made of premium, non-recycled plastic that makes it ideal for both the indoors and the outdoors.
Pros
6 detachable design
Ergonomically shaped
Adjustable weight and size
Premium, non-recycled plastic
Improved locking mechanism
Suitable for indoors and outdoors
Cons
Some might find the one to be a bit too heavy
The Spinsterz Hula Hoop is made of durable polyethylene tubing which makes it heavier compared to other hoops in the market. Being slightly heavy, it helps develop core strength and improves your kid's muscle power. The hoop is 32 inches in diameter, but it features an easy-to-use push-button connection system that reduces its size by half. This upgraded colorful exercise gear is sure to add value to your child's playtime.
Pros
Durable
Heavier weight
Easy to maneuver
Adjustable size
Cons
None
Price at the time of publication: $39.95
Be spoiled for choice with this child hula hoop that is available in 3 lively colors! No more rummaging through the internet for new toys that will grow with your child, as you can customize this hula hoop's size and weight to your child's requirements. Made from a sturdy material, the detachable 8 piece design is easy to transport and can transform with ease from a diameter of 25.6 inches to one of 26.5 inches. Simply match and twist to assemble the pieces of the portable hoop or twist and pull to dismantle!
Pros
Easy to transport
Twist lock design
Sturdy material
Available in 3 lively colors
Customizable weight and size
Cons
You may have to blow hot hair with a hairdryer or add hot water between the detachable links to take the pieces apart.
Price at the time of publication: $12.98
Is there a better way to help your child engage in an entertaining physical activity than with brightly colored hula hoops? Yeah, we didn't think there was either! Give them this children hula hoop and watch them as they find creative ways to occupy themselves mentally and physically with this godsend of a toy! Like the ones we've mentioned above, this too comes with customizable weight and size options so you and your family can enjoy this one for years to come. Easy to assemble and dismantle, it comes with a butterfly design that makes it more attractive and enhances friction, providing non-slip protection.
Pros
Butterfly design
Non-slip protection
Easy to assemble and dismantle
Customizable weight and size options
Cons
May not be ideal for beginners
The last yet worthy addition to our list of the 10 best hula hoops for kids is this one from Waxden. An ideal companion to high-performance activities like gymnastics and obstacle courses, it comes with a sturdy construction that does not fall apart easily. Made from non-toxic and skin-loving materials, you can be sure that your kid will not complain of skin irritation or allergies. The easily adjustable size and weight options with its anti-snap buckle ensure this is a must-have kid's toy.
Pros
Anti-snap buckle
Sturdy construction
Adjustable size and weight options
Ideal for high-performance activities
Made from non-toxic and skin-loving materials
Cons
And there you have it! Our list of the 10 best hula hoops for kids. If you're still unsure which one to bring home, keep scrolling as our extensive buying guide will help you pick the perfect one.
What To Consider When Buying A Hula Hoop For Kids
Adjustable size and weight
As your child grows into a wonderful young adult, it is crucial that their toys adapt to their growth. Hence, it is ideal to invest in hula hoops that are fully customizable to your child's needs. Most hula hoops for kids can be adjusted to diameters between 22-27 inches, and this is ideal for kids who are 3 years and older.
Hula hoops can also be weighted. Since many of them are made of young children or toddlers, they can be too light or flimsy. As your little one grows, you can add to the weight by filling the hula hoop with sand, rice, beans, or other types of stuffing.
Easy to store, assemble and dismantle
One thing that needs to be ranking high on your list of priorities when looking for a hula hoop for kids is that it needs to be easy to store, assemble, and dismantle. It helps greatly if it comes with detachable parts, so you can easily attach and take them out. You can also store them away neatly in a safe space for future use.
Kid-friendly, non-toxic materials
Since your child might be spending every waking hour with a new toy that might pique their interest, you must buy one made from safe materials. When you're purchasing a hula hoop for your kids, get a lightweight design that is designed using kid-friendly, non-toxic materials.
What Are The Benefits Of Hula Hooping For Kids?
There are numerous benefits of hula hooping for kids, and some are as follows
Coordination – Hula hooping requires children to move their trunks separately from the limbs, maintain stability and flexibility, and this helps with improving coordination.
Improve core strength – The upper, oblique, and upper back muscles are all activated when kids hula hoop. This improves core strength along with posture and endurance.
Improved social skills – There are many group games one can play with a hula hoop including obstacle courses, hula hoop relay, and hula hoop hopscotch. This allows kids to communicate with others of the same age group and dapple into creativity and imagination.
Why Trust StyleCraze?
Shreya Vishwanathan is a health and fitness enthusiast. She suggests fun and interesting activities for kids to stay healthy and active. Her recommendations for the best hula hoop for kids help improve balance and stability. She checked multiple online reviews and user feedback before picking the bst products for the list.
Frequently Asked Questions
How do you use a hula hoop for kids?
•  Attach all the hula hoop parts to make a circle.
•  Ask the child to step inside the hula hoop.
•  Pull the hula hoop up to your back, above your hip.
•  Keep your hands outside the edge of the hula hoop.
•  Move the hula hoop in a circle and move along with it.
•  Try to touch your back with the hoop surface while moving and develop the right posture slowly.
•  Keep spinning and push the hoop upwards with your hips.
How long are kids hula hoop?
The size of the kids' hula hoop is 28 to 30 inches.
Is hula hoop good for children?
Yes. Exercising with a hula hoop helps children to burn calories and aid in weight loss, manage childhood obesity, improve and strengthen their muscles, and enhance muscle and joint coordination.
How do you keep a hula hoop up?
Keep spinning the hula hoop and push it upwards simultaneously to keep the hula hoop up. And whenever it touches your belly, give it a firm push with your hips, either in side-to-side directions or from the front, to get it back up.
How do you exercise with a hula hoop?
Hula hoops are great exercise tools. You can use them to perform several exercises like the standard standing twist, rolling reach, arm circles, tree press, V-sit, Russian twist, and squats. Use the hoop as a prop to stretch and work out strenuous exercises daily to build your physical strength. Hula hooping is a fun way to get kids moving while helping them build coordination, balance and aerobic fitness all at the same time.