The 9 Best Humidifiers For Eczema-Prone Skin – 2023
Keep your skin moisturized, hydrated, and breakout-free even in the cold winter season.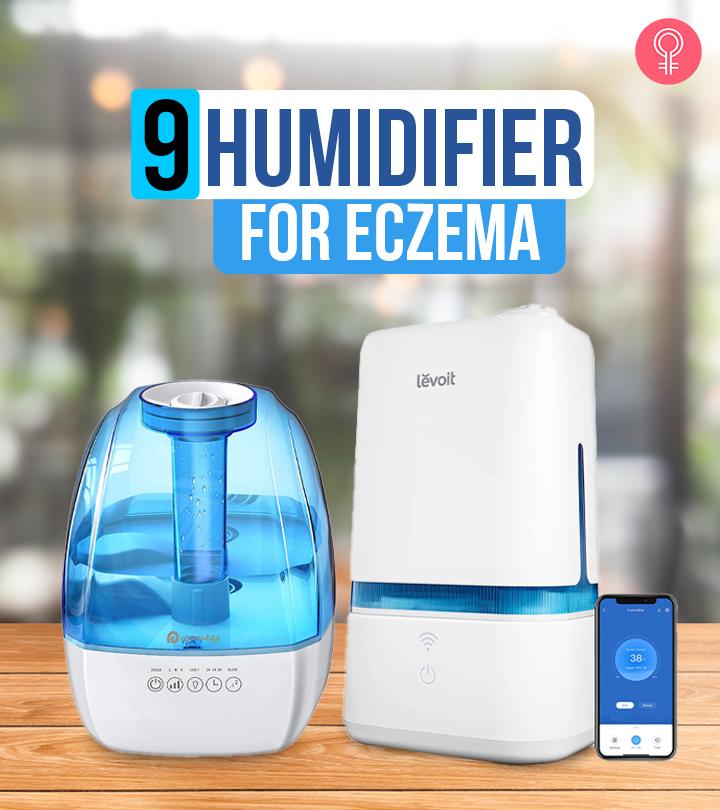 Keeping skin hydrated, healthy, and glowing during dry winter months isn't an easy task. So, now you have every reason to get the best tried-and-tested humidifier for eczema. Wondering why is that? Humidifiers maintain moisture levels as cold winter winds don't have enough moisture to keep skin hydrated. In addition to that, heaters also remove extra moisture from the environment. So, if you're someone who has eczema, we know how tough it gets during winter. If you're ready to find a remedy for it, go ahead and check out the top 9 humidifiers that will make it easy to deal with eczema. Now bid goodbye to dry, itchy skin this winter!
Top Picks
How Do Humidifiers Help Fight Eczema?
Essentially, humidifiers release moisture into the atmosphere. The emitted moisture keeps the surroundings moist, repairing a dry atmosphere. As eczema is triggered by dryness and humidifiers prevent these dry environments, these devices work wonders to help you prevent and get relief from the symptoms of eczema like itching. They improve skin conditions and prevent flaky skin or cracked skin. Dermatologists recommend that a 30 to 50 percent humidity level is ideal for eczema-prone skin.
Now that you are aware of the best humidifiers you can buy to relieve eczema, here's how you can use them.
How Do Humidifiers Help Fight Eczema?
Essentially, humidifiers release moisture into the atmosphere. The emitted moisture keeps the surroundings moist. These devices can help prevent and relieve the symptoms of eczema and soothe sensitive skin. They improve skin conditions and prevent flaky or cracked skin. Dermatologists recommend that a 30 to 50% humidity level is ideal for eczema-prone skin.
Humidifiers are available in two different variants.
What Are The Different Types Of Humidifiers?
1. Warm Mist: A warm mist humidifier produces warm steam and keeps the surroundings warm.
2. Cool Mist: A cool mist humidifier produces cool vapors and cool steam keeping the surroundings cool. These humidifiers are often ideal for people with sensitive skin and eczema-prone skin.
9 Best Humidifiers
Pros
Quiet operation
Easy to operate
Long-lasting
Large water tank capacity
Cons
Alleviate allergy symptoms and sinus with the GENIANI Huron Cool Mist Humidifier. This humidifier cum diffuser uses essential oil and makes you feel relaxed and stress-free. The top-fill design of the water tank allows you to fill the water in two different ways – either by removing the lid and filling the water or directly pouring the water into the hole. In addition, the humidifier comes with a built-in intelligent sensor that optimally helps maintain comfortable humidity levels. This humidifier will produce only a 38dB noise level delivering noise-free operation. You can also go through this video detailing a reviewer's experience of using this humidifier before buying it.
Best For: Allergy relief and any skin type
Specifications
Weight: 2 pounds
Water tank: 4 L
Auto shut-off:  Yes
Features
Top-fill design
Broad space coverage
Humidifier cum diffuser
Pros
Easy to fill
Easy to clean
Portable
Less noise level
Cons
The light may be a bit dim.
Get relief from dry skin, nasal congestion, and night cough with the LEVOIt Humidifier With Cool And Warm Mist. It is designed with a built-in humidity sensor that automatically adjusts the mist level. Many reviewers love this humidifier as its large tank capacity provides constant humidity for up to 60 hours. In addition, these humidifiers come with convenient remote control features. The warm mist is ideal for getting relief from cold and flu, while the cool mist prevents skin dryness and eczema. You can check this in-depth review for more information on this humidifier
Best For: Large space, adults, kids, and pets
Specifications
Weight: 3 pounds
Water tank: 6 L
Auto shut-off:  Yes
Features
Large tank capacity
Broad space coverage
Noise-less operation
Pros
Long-lasting
Automatic humidity adjust
Remote control operation
Cons
None

Get rid of dryness with the raydrop Cool Mist Humidifier. It comes with a sleek design and has a dial knob control that allows you to control the indoor humidity in your room. Many reviewers agree that this humidifier improves air quality and provides relief from the discomfort of congestion and skin dryness, thereby keeping the skin less irritated. It can also soothe eczema-prone skin. In addition, it comes with a smart LED indicator and auto mode shut-off feature. If you want to know more about this humidifier, make sure to  check out this video detailing a tester's experience with it.
Best For: Kids, adults, office rooms, and bedrooms
Specifications
Weight: 14 pounds
Water tank: 70 L
Auto shut-off: Yes
Features
Dial knob control
Space-saving design
Noise-less operation
Double insulation
Pros
LED indicator
Easy to operate
Sleek and portable humidifier
Cons
Regular cleaning might be a bit tricky
Add humidity to the air with the Elechomes Warm And Cool Mist Humidifiers that offer an overall calming user experience. This humidifier effectively keeps your skin hydrated, relaxes your mind, and makes the plants conserve moisture. It prevents dry skin, and its continuous cool mist might also prevent eczema. The device supports up to 55 hours of cool mist mode, and a double rotating nozzle covers a wide area of up to 755 sq ft. In addition, the device produces 20dB of sound and is made of child-friendly materials, making it ideal for maintaining the indoor humidity level in nursery rooms.
Best For: Adults, kids, and plants
Specifications
Weight: 3 pounds
Water tank: 5 L
Auto shut-off: Yes
Features
Top refill design
Low noise mode
Wide coverage area
Pros
Easy to use
Easy to clean
Built-in sensor
Cons
May require high maintenance
Get relief from dust mite allergies, congestion, headaches, sinus, dry skin, and snoring with the LEVOIT Smart Wifi Cool Mist Humidifier. This humidifier is designed with ultrasonic mist technology that spreads ultra-fine mist, humidifying the room while also preventing damp furniture and wet floors. In addition, you can also control this humidifier with the free VeSync app and special voice control assistants that make this device hands-free.
Best For: Babies, adults, kids, and pets
Specifications
Weight: 5 pounds
Water tank: 4 L
Auto shut-off: Yes
Features
Turns off light in sleep mode
Quiet operation
Essential oil tray
In-built sensor
Voice control using a smart app
Pros
Dual mist output
Wide area coverage
Low noise level
BPA-free material
Cons
Sensors may show you marginal errors
Pros
Easy to clean
Waterproof
BPA-free
Cons
None
Get relief from dry skin, cold allergies with the Pure Guardian Ultrasonic Cool Warm Mist Humidifier. This lab-tested humidifier is designed with ultrasonic technology that produces a cool mist with the ultra-quiet operation. It runs up to 100 hours and covers 380 sq ft with proven expertise. In addition, the rotating nozzle dispenses mist in every direction. You can also add essential oils that create aromatherapy keeping your environment comfortable. Moreover, the Silver Clean protection and UV-C light fight against mold growth on the tank surface.
Best For: Living rooms, bedrooms, and kid's rooms
Specifications
Weight: 1 pounds
Water tank: 5 L
Auto shut-off: Yes
Features
Ultrasonic technology
Aromatherapy tray
12-hour timer
Pros
Wide area coverage
Low maintenance
Dial knob function
Cons
None
Pros
Easy to assemble
Easy to clean
Leak-proof tanks
Low noise
Cons
No indication of empty water tanks
*The prices provided in this article are based on the latest available information. However, they may vary due to changes in pricing by the seller and/or promotional offers.
Humidifiers add moisture to the air, which prevents health issues like allergies, asthma, congestion, and eczema symptoms. The moist air also helps your skin stay healthy and hydrated. Here are some important things to consider before buying the best humidifiers for eczema-prone skin.
Things to Consider Before Buying The Best Humidifiers For Eczema-Prone Skin
Go for a humidifier that has an ergonomic design and ensures hassle-free usage. It should be lightweight, have adequate tank capacity, and be easy to clean. The humidifier must suit people of all ages, from kids to the elderly. It should be suitable for all skin types and helps in allergies and rash prevention. It should keep your skin barrier hydrated and eliminate the dryness that triggers eczema symptoms. Additionally, it should also help to fight chest congestion and give nasal sinus congestion relief too.
The best humidifiers have innovative features such as filter-free operation and a 360-degree rotating nozzle. It ensures the air moistener covers every corner of your room. Humidifiers with auto shut-off features ensure one doesn't have to constantly monitor the machine. Some air misters have an intelligent sensor that optimally adjusts to comfortable humidity level. Finally, look for a humidifier that acts as an air diffuser to provide uniform airflow throughout your living room.
The air humidifier size should depend on your room's dimensions. For bedroom or medium-sized living rooms, go for tabletop humidifiers which are smaller in size. Conversely, for larger area rooms, one must choose air misters of bigger size and capacity. It is also essential to buy a humidifier of adequate tank capacity. It will ensure that the moistener operates smoothly for more extended periods while you enjoy a good night's sleep. In addition, more tank capacity will save you from frequent refills.
The best humidifier for eczema-prone skin should require less maintenance and operate noise free. It should offer enough room coverage with high mist that provides your skin hydration and keeps it healthy. The in-built sensors should make the air adequately moist without leaving a damp feel. The best humidifiers should be made of good quality ABS material and be durable. Lastly, some air moisteners may use essential oils to hydrate your skin. This helps to prevent skin dryness which causes eczema.
Now that you are aware of the best humidifiers you can buy to relieve eczema, here's how you can use them.
How To Use The Humidifier For Eczema
Keep the humidifier running in the room as long as you are in it. You can also turn on the humidifier half an hour before going to the bedroom. Make sure the size of the humidifier is compatible with the size of your room.
Clean the humidifiers regularly, especially if you are eczema-prone. Otherwise, built-up mold may worsen your eczema.
With a wide range of models available in the market, choosing the best type of humidifier for your room that provides eczema relief or soothes the pain from eczema and skin inflammation, could become puzzling. To make your selection easier, here are some key factors to note that will help you buy the best humidifier for eczema.
How To Select The Best Humidifier For Eczema
Room capacity: A small- to medium-sized humidifier is ideal for a bedroom or nursery room or smaller square foot area. Tabletop or room humidifiers are ideal for a single room. Similarly, a medium- to large-sized humidifier will suffice large rooms or a large square foot area. Console humidifiers do this job well.
Water tank capacity: How often are you ready to refill the tank? Usually, the humidifiers come with a tank capacity of anywhere between 1 liter to 20 L. Consider how long you wish to use the humidifier each day. If you are planning to use the humidifier while you sleep at night without running out of mist, pick one that runs for a longer duration and has a higher tank capacity.
Noise level: It's a fact to be accepted that humidifiers make noise, and you can't expect them to produce 0dB. But, you can always pick a humidifier that produces less sound or has a setting with a sleep mode feature. Ultrasonic cool/warm mist humidifiers are often considered quiet operation humidifiers.
Maintenance ease: Humidifiers need refilling regularly, and for refilling, you need to carry the whole unit or the tank itself, depending on the model design. Make sure that the device you selected is portable. Likewise, it would be best to clean the humidifier regularly to keep it mold-free as there are chances that molds, mildews, and bacteria will grow easily inside the humidifier. So, the device you select should be convenient enough for thorough regular cleaning.
Why Trust StyleCraze?
Aditi Naskar, the author of this article, is a certified health and wellness expert. Her vast knowledge in this domain helps her recommend the best products for her readers. She went through several reviews on brand websites and trusted online forums and researched the products deeply to curate this list of the best humidifiers for eczema. These products keep your skin hydrated and soft even during those chilly winters.
Frequently Asked Questions
What kind of water should be used in the humidifier?
You should always use soft or distilled water in any humidifier. Usually, hard water consists of sodium and other minerals that might damage the humidifier in the long run.
Should the humidifier be placed on a specific spot in the room?
Ideally, place the humidifier on a level surface, a minimum of 3 feet from your bed, 2 feet above the floor level, and at any corner or center of the room. However, avoid placing the humidifiers close to wooden surfaces where the moisture can damage the wood. Avoid placing it in direct sunlight.
What is the difference in the effect between cool and warm mist?
The cool mist humidifier makes the temperature difference faster even in a large room and quickly spreads the cooling effect throughout the room. In contrast, the warm mist humidifier does not use a fan and is less able to raise the temperature fast.
Does humidity make eczema worse?
Eczema worsens with an increase or decrease in humidity. It is recommended to maintain a moisture balance in humidity and remain comfortable.
Should eczema be kept moist or dry?
Dry skin makes eczema worse so it is better to keep the area moisturized using skin care routine products.
How long does it take an eczema flare-up to clear out?
Eczema flare-ups usually get cleared within one to two weeks when you follow a good skin care regimen.