Keep Your Skin Hydrated With These 13 Best Humidifiers For Dry Skin In 2023
Get these best-reviewed humidifiers to keep dryness at bay and hydrate your skin.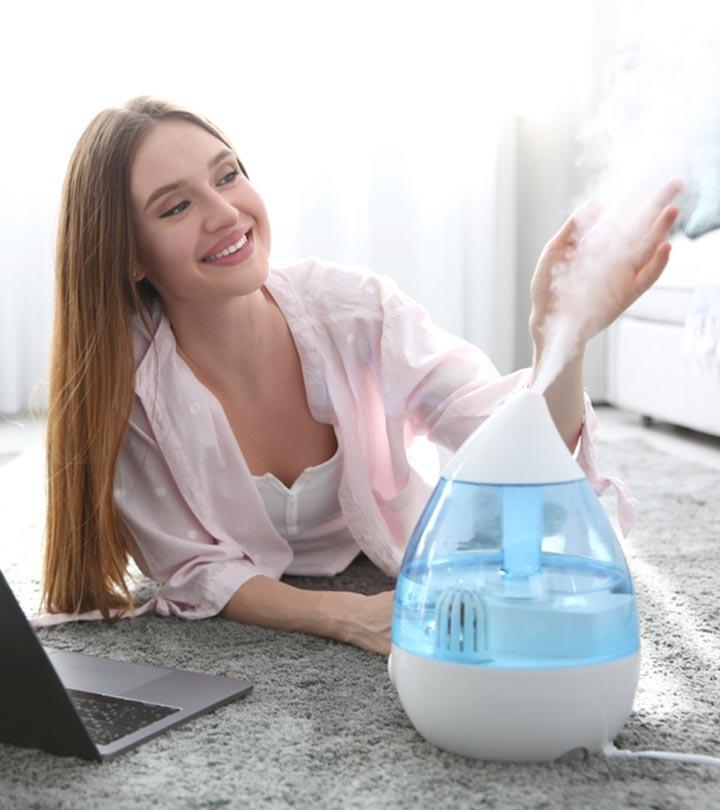 When your skin loses moisture for reasons such as allergies, the environment, or the flu, it dries up. You can use the best humidifier for dry skin to combat this issue. It is critical to take care of your skin because it plays a vital function in protecting you from diseases. Consider how a humidifier can assist with dry skin: Since the skin absorbs moisture from the surroundings, the mist emitted by a humidifier into the air can be readily absorbed by your skin to stay hydrated. Plus, a humidifier aids in the relief of cold, sinus, and allergy symptoms, allowing you to obtain a decent night's sleep even on the most difficult days.
When looking to invest in one of these devices, you will notice that finding a good humidifier to help with dry skin can be quite challenging. To help you out a little, we have compiled a list of the top 13 humidifiers designed for dry skin and sinuses that can ensure that your skin remains healthy and well-hydrated, no matter what. Check them out below!
13 Best Humidifiers For Dry Skin In 2023 To Keep Dryness At Bay!
What's better than a humidifier that dispels dryness in your room? A humidifier that also doubles as an aromatherapy diffuser and brings to you the goodness of a night light so that you don't need to invest in a night lamp! And that is exactly what you get when you pick the URPOWER Aromatherapy Essential Oil Humidifier. Operating on an advanced ultrasonic diffusing technology, this cool mist humidifier for dry skin breaks water and essential oil molecules into fine particles that are easy for the skin to absorb. And with that, not only does your skin derive the benefits of essential oils, it also feels hydrated while the room feels pleasant to be in. It comes loaded with features such as timer settings, auto-shut-off, and LED light that can be changed into 7 different colors to help you change the ambience of your room as you please!
Pros
It can also be used as a night light.
It has a large, 500 ml capacity that makes it function for up to 10 hours.
It comes with an adjustable mist mode.
It has a noiseless, whisper-quiet operation.
It has an auto shut-off feature.
Cons
Some may find the light too bright despite being on the lowest setting.
Price at the time of publication: $17.99
When you need a humidifier that strikes a perfect balance between functionality and portability, this mini-USB humidifier from MOVTIP is your best bet. Its compact design makes it very easy for you to carry it to anyplace with a plug point. It has two modes that you can switch between with just a single button. The first mode continuously sprays for 12 hours and the second mode sprays at an intermittent duration of two seconds which will last up to 18 hours.
Pros
It has a large capacity reservoir of 500ml.
The reservoir has a strong seal that prevents the water from leaking out.
It has a built-in water level sensor that will switch off the humidifier when the water goes below the safe level.
It is available in multiple color variants.
Cons
You cannot add any essential oils or perfumes to the humidifier.
Price at the time of publication: $15.29
 If you have a date coming up, it is only natural about wanting to look your best. This facial humidifier for dry skin and nose will show that dry skin is nothing to be afraid of. You can see your skin transform in just a few minutes! It is designed with an atomizing lamp and a new sonic atomizer that features a micro-steam technology to hydrate and purify your skin in just one simple step. The moisture helps in unblocking pores to improve skin tone. To make the best out of it, keep your face at an ideal distance of 25-30cm from the steamer. Watch this YouTuber's honest review to get a better idea about the product and its features.
Pros
It is BPA-free.
It is an ideal solution for sinus issues and strained eyes.
It also helps in getting rid of fine lines, pigmentation, acne, and blackheads.
You receive full-powered steam in just 30 seconds
The nano-steam helps in penetrating your skin more efficiently than regular steam methods.
It has a patented inner cleaning system that claims to give your skin 100% clean and purified steam.
Cons
You might experience plastic odor during the first few uses.
Price at the time of publication: $35.99
In need of a humidifier that provides your skin an instant relief from dryness and tension? This air humidifier for dry skin is the way to go! It moisturizes the air around you which provides the necessary moisture for your skin. When in low operation mode, it runs up to 25 hours continuously and up to 12 hours on high mode. It provides temporary relief from dry throat, nasal congestion, and cough by eliminating dry air. You can change the direction of the mist with its 360° rotating mist nozzle. This video will give you a better insight into the qualities of the product.
Pros
It is ideal for medium-sized rooms.
The touch control panel makes it easy to operate the device.
To keep things quiet, it is equipped with low-noise beeps to notify when it turns on/off.
It has a detachable and easy-to-fill water tank which makes for easy refills.
It shuts itself off when the water level is low or when the water tank is removed.
It comes with a cleaning brush which makes it very convenient to clean the humidifier.
Cons
Price at the time of publication: $39.99
If you have a small room and are in need of a bedroom humidifier for dry skin, then this MistAire Studio Ultrasonic Cool Mist Humidifier is what you should buy. It has a small reservoir of 0.7-liters (34 fl. oz.) that is enough to last up to 10 hours with continuous operation. It has two modes— a high mode that can last up to 7 hours by spraying 80 ml/hr and a low mode that lasts up to 10 hours by spraying 60 ml/hr. And the best thing? It operates with extreme discretion.
Pros
It has a soft glow light which makes it easy to operate in dimly lit rooms.
It automatically shuts down when the unit runs out of water.
Owing to its small size it takes less space on your nightstand or desktop.
All of its functions can be operated with just a single button.
Cons
The moisture tube could form mold after a certain duration.
Price at the time of publication: $29.98
If you're looking for a good humidifier for dry skin that also rates well on the cuteness factor, look no further than this adorable mini humidifier by LtYioe. Designed to be portable and lightweight, this humidifier in a cutesy pink color operates on a USB power supply, which makes it extremely easy to use it just about anywhere. When your skin feels dry in the car, at work, or your room, you can simply plug it in to your PC and expect it to banish the dryness by humidifying the air in the room to an optimal level. Not only that, the soothing mist also relaxes and calms. It also has a faint night light that helps promote a peaceful sleep.
 Pros
It comes with a 1-button control for convenient use.
It has an ultra-quiet operation.
It has 2 spray modes and an auto-shut-off feature.
The night light can be set to be colorful.
It is convenient to carry while traveling.
Cons
The 1 button operation might initially feel confusing.
Price at the time of publication: $13.99
Humidifying your room in style is this 2-In-1 Cool Mist Humidifier by Mooka that comes with several benefits such as wrinkles, dry skin, insomnia, and nose bleed. This bedroom humidifier for dry skin features a 180° nozzle that lets you control the intensity of the mist as well as the direction in which you would want the mist to go. It has a capacity of 250 ml, and this allows the humidifier to operate for around 21 hours. Producing less than 28 dB of sound, this facial humidifier for dry skin won't disturb your sleep at all as it operates quietly. This humidifier is extremely easy to clean and is also extremely safe to use. Among other convenient features are its auto-shut-off feature and the red LED light. 
Pros
It has a sleek and stylish design.
It can also help relieve nasal congestion.
It has a 180° rotatable nozzle to set the desired direction of the mist.
It can run up to 21 hours.
Cons
It might require frequent refills.
Price at the time of publication: $25.95
This room humidifier for dry skin from Honeywell in a minimalistic white color can add an element of beauty to your living space while spreading the pleasant aroma of pure essential oils. What differentiates this air humidifier for dry skin from others is that it comes with an essential oil tray that makes for a designated place for drops of essential oil. It also features a refill light that alerts you when the humidifier runs out of water, while the auto-shut-off feature ensures that it turns off automatically without interrupting your sleep. Giving out mist to keep indoor humidity level between 40 to 60%, this humidifier helps provide cough and congestion while also keeping your plants healthy. With all the features that this humidifier for dry skin on the face comes loaded with, it is definitely worth investing in. 
Pros
It operates quietly.
It has a top-fill design for convenient refills.
It does not require a filter.
It has an illuminated water window.
It auto shuts down when the water level is below the minimum requirement.
It offers relief from cough and congestion.
It comes with an essential oil tray.
Cons
It can be difficult to clean the inner tube.
Price at the time of publication: $57.98
If your days get busy and you already have a lot on your plate, you need a vaporizer or humidifier for dry skin that is easy and convenient to operate like this one. With a top fill mechanism, all you need to do is remove the lid of the humidifier to fill the tank with water. Offering up to 13.3 hours of working time on the highest setting, this is definitely one of the best humidifiers for dry skin. It also comes with 4 misting modes and time settings so that you have complete control over how much mist gets released so as to maintain optimal moisture level in the air at night. 
Annētta McBain, an esthetician with an experience of 7 years, stated, "If your days get busy and you already have a lot on your plate, you need a vaporizer or humidifier for dry skin that is easy and convenient to operate like this one."
Pros
It has a waterless auto shut-off.
It features a sleep mode.
It comes with 4 mist levels to optimize the amount of humidity.
It is quieter than 28 dB so as to not interfere with your sleep.
It comes with easy touch control.
It comes with an LED light in different colors.
Cons
The nebulizer on this diffuser may not be as efficient.
Price at the time of publication: $39.09
Children's skin is extremely susceptible to the weather outside; this Safety 1st's humidifier for dry eyes and skin will ensure your kids have smooth and healthy skin. What makes it stand out is that it has two rotatable mist outlets which can be oriented in the direction you want. Owing to its quiet ultrasonic operation, you can rest easy that your children will not be disturbed by the humidifier. It has a rotatable knob that lets you adjust the level of mist to the required amount. Watch this video for a thorough understanding of the product.
Pros
On low settings, it can continuously generate mist for up to 24 hours.
It does not have any filters making it easy-to-clean.
It turns off automatically when the water tank becomes empty.
It operates quietly.
Cons
You cannot add essential oils to it.
Price at the time of publication: $29.79
Relief from dry air means relief from dry skin. This beautiful-looking AquaOasis™ Cool Mist Humidifier is one of the most effective humidifiers for dry rooms on the market as it provides relief in just a few minutes. It has a large 2.2-liter water tank that can generate mist for up to 24 hours between refills. You don't have to worry about manually shutting it down when the tank becomes empty, it has an automatic shut-off feature to do that. 
Pros
It is safe to be used in your kids' room during the night.
It does not have any filters to keep the maintenance cost in check.
You can sleep undisturbed by the humidifier owing to its near-silent operation.
It has a simple dial to change between the multiple levels of mist settings.
It has a 360° rotatable nozzle to change the direction of the mist.
Cons
The nozzle opening is pretty small, so you might find it difficult to clean it thoroughly.
Price at the time of publication: $49.95
If you're on the lookout for a portable humidifier and want one that is tiny so as to be able to conveniently carry it around, this one's for you. With 2 mist modes that this humidifier features, you have the liberty to either choose continuous misting or intermittent misting. It also comes with a built-in auto shut-off feature so that the humidifier turns off automatically when the water is lower than a level that's thought to be safe.
Pros
It has a 1-button control.
It has a multi-color night light.
It comes with 2 mist modes— continuous and intermittent misting.
It can be conveniently carried while traveling.
Cons
It does not diffuse essential oil.
Price at the time of publication: $19.99
If you are looking for a vaporizer or humidifier for dry skin, LALAYA Facial Steamer is your best. You don't necessarily have to go to a spa to treat your dry skin, you can do it right from the comfort of your home. It acts as your personal skincare expert as it provides multiple facial treatments like reducing acne, weakening pigmented spots, removing sinus congestions, and more! It uses an advanced PTC ceramic heating element that vaporizes water and provides strong steam in no time. The nano steam particles are combined with ionic particles that can penetrate your skin 10x more than the normal ones. 
Pros
It is ideal for oily, dry, and neutral skin types.
This facial steamer can generate steam for up to 12 minutes.
You can control the steam volume using its dedicated button on the front.
It doubles as both a facial sauna and an inhaler (both, mouth and nose inhaler attachments provided in the package).
It has an auto-shutdown feature for the times when the steamer runs out of water for your safety.
Cons
It is made from plastic and may look cheap.
Price at the time of publication: $26.99
There you go! That was our list of the 13 best humidifiers for dry skin. But before you buy any of these, you should probably learn a few important things about humidifiers. If you have never used one before, you should continue reading to know more about the humidifier benefits for skin and how to actually choose the best one for you.
The Best Humidifier For Dry Skin – A Buying Guide
Considering the various types of humidifiers on this list, it is natural that you would find it difficult to choose the right one. Don't worry, this buying guide will help you in choosing the right one.
Duration and mist settings
The duration of the mist generated could be a deciding factor if you are someone who has extremely dry skin and uses the humidifier during the nights. When you feel like the air is extremely dry which causes your skin to be dry as well, you can opt for the humidifier to operate at the highest setting for longer hours. This brings the humidity level in the air to an optimum range of 40 to 60% that helps keep your skin hydrated.
A good humidifier for dry skin should feature a movable nozzle. This is because a nozzle will let you control the direction of the mist. How does this help? If you decide to sit towards the left side from where the humidifier is placed, you would derive maximum benefits when it directs the mist in your direction as well. And so, a nozzle that helps you control the direction in which the mist is released is recommended.
Do you know that certain essential oils can help with dry skin while also offering plenty of other health benefits? For dry skin, the best kinds of oils that you can choose out of would be rosemary essential oil, frankincense, geranium, and lavender essential oils. In addition to hydrating your skin, these essential oils have a calming, relaxing, and de-stressing effect.
Benefits Of A Humidifier For Dry Skin
The lack of humidity in the environment around you is what results in your skin losing its moisture. A humidifier basically generates mist and releases it into the room to balance the humidity. This helps your skin retain its moisture and prevents it from drying up. It keeps your skin from scaling, itching, and cracking, and prevents it from leading to other skin-related issues.
Why Trust Stylecraze
Vaishnavi Kothuri is a hair care and skin care enthusiast who enjoys experimenting with products and keeping up with current beauty trends. She uses her expertise to curate this list of the best humidifiers for dry skin after considering parameters such as tank capacity, materials, low-noise operation, and more. Each product listed was carefully handpicked and will help add moisture to your skin, keeping it glowing and plump.
Frequently Asked Questions
Do humidifiers help with dry skin?
Yes, they do. Humidifiers release mist to the environment around which helps the skin to receive its share of moisture to prevent dryness.
Is a humidifier good for dry skin?
Yes! Using a humidifier is one of the easiest and safest ways to skincare.
Does sleeping with a humidifier on, help dry skin?
Sleeping with a humidifier on during the night is extremely beneficial. Not only does it help improve your skin but it also prevents you from catching a cold or flu.
Is a cool or warm mist humidifier better for dry skin?
Out of the two, a cool-mist humidifier is better to treat dry skin.
Is it bad to sleep with a humidifier every night?
No, it is extremely safe to sleep with the humidifier turned on every night given that you clean it regularly.
How do I clean my humidifier?
Since most humidifiers easily collect mold when you use water and/or essential oil in them, it is imperative that you clean your humidifier so that you get to breathe air that is free of any infectious agents. You can pour water and vinegar in your diffuser and let it sit for an hour before pouring it out and then cleaning your diffuser with a dry cloth. Ideally, your humidifier should be cleaned every week.
Recommended Articles
How To Keep Your Skin Hydrated?