10 Best Humidifiers Of 2020 For A Healthier Home And Healthier You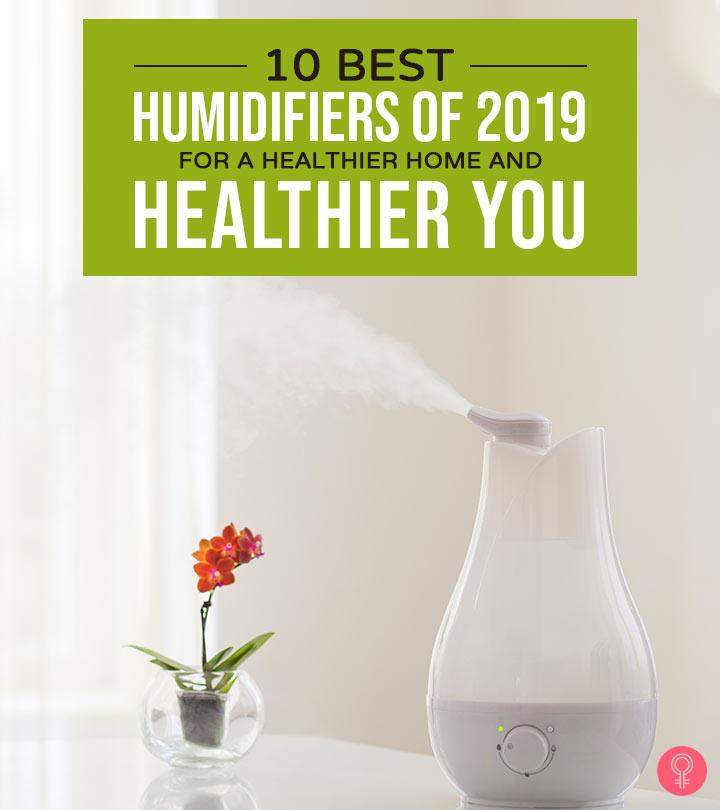 Low humidity levels and dry air can irritate the body. During winters, the air inside your house gets dry. This happens because cold air cannot hold as much moisture as warm air. Low humidity levels can worsen allergies, dry skin, and susceptibility to cold and flu.
Dry air is not only a problem during winters but also during summers when your AC is on. Humidifiers can help soothe these problems caused by indoor dry air. They are used to add moisture to the air. A humidifier is a must-buy to avoid dry air and airborne viruses and bacteria. For your convenience, we have compiled a list of top 10 humidifiers that will help you breathe easier
Check out our comparison table of the top 3 humidifiers if you are hard-pressed for time. But if you want to know in detail, keep on reading.
Top 10 Best Humidifiers Of 2020
This Ultrasonic Cool Mist Humidifier safely humidifies the air for up to 16 hours and is an ideal choice for your bedroom. It comes with a high and low-speed setting that makes it easy to adjust the mist direction and speed to cater to your comfort level. The 1.5-liter water tank provides ideal coverage. This makes it the best humidifier for the bedroom, offices, and other medium-sized rooms.
This humidifier comes with an optional night lamp that offers a soothing glow at night for maximum relaxation. The automatic shut-off feature turns off the humidifier automatically when the water level is low, or the water tank is removed. This humidifier is compact and can be kept on a table or shelf. You get an AC adapter and disk cleaning brush with this product. This product is one of the bestselling humidifiers on the market.
Pros
Hassle-free assembly
Easy to fill the water tank
Compact
Optional night light
Super quiet
Detachable AC power adapter
Cons
Difficult to clean
Leakage problem 
This humidifier is an excellent pick for your baby's nursery. This whisper-quiet humidifier runs up to 24 hours. It comes with a one-gallon removable tank that can easily fit under the bathroom sink, making it convenient to refill. The antimicrobial material reduces bacteria and mold formation up to 99.96%.
This ultrasonic cool mist humidifier humidifies areas up to 500 sq.ft. For more natural breathing and a good night's sleep. Though this humidifier does not require any filter, it is advised to purchase a demineralization filter with this unit. This humidifier comes with an auto shut-off sensor, which means when the water level is low, it automatically shuts off. It has to be placed on a water-safe surface at least 3 feet off the ground.
Pros
Whisper-quiet
Runs up to 24 hours
Prevents bacterial growth
360-degree lid
Doesn't require a filter to function
Auto-off
Cons
Small capacity
Leaking issues
The Vicks humidifier is a warm mist humidifier, which is an ideal pick for winter and especially for cold and flu season. You can keep this in your bedroom, baby nursery, kids' bedrooms, or any other place where you seek congestion relief. The tank of this humidifier has a boiling chamber that emits a steam vapor and produces a 95% bacteria-free mist for up to 12 hours. It is the best warm mist humidifier for kids.
Its whisper-quiet operation guarantees sound sleep. It comes with a medicine cup that you can fill with Vicks vapor steam or any other liquid inhalant. It comes with an auto shut-off function when the tank is empty. The translucent tanks help to identify the level of water left in the tank. This humidifier comes with a 1-gallon tank capacity that can run up to 12 hours per filling. This product comes with a 3-year warranty.
Pros
Whisper-quiet operation
Filter-free operation
Provides congestion relief
Comes with a medicine cup
1-gallon tank capacity
3-year warranty
2 output settings for ideal comfort.
Cons
Frequent cleaning required
This Honeywell humidifier comes with UV technology and kills 99.9 % of germs in the water. The evaporative technology blows moisture off a wicking filter, helping it evaporate into the air quickly. The best thing about evaporative technology is that there are no issues of over-humidification as you cannot release more moisture into the air than it can hold. Its large recessed tank handle makes this humidifier easy to carry.
The water tank has a reasonably wide opening, which makes it easy to clean. This humidifier maintains the humidity levels in your home between 40% to 60%. Do not use essential oil in the tank of any humidifier as it has the potential to damage the humidifier and void the humidity. The energy requirement for this humidifier is 60 watts.
Pros
Kills 99.9% of bacteria in water
Dishwasher safe
Easy to carry
Easy to fill the tank
Easy to clean
Keeps indoor humidity levels between 40% to 60%
Cons
The bottom is easily detachable, which can cause spills.
The Everlasting Comfort Ultrasonic Humidifier is a large room humidifier and is designed to cover an area up to 400 sq.ft. It has a 6-liter tank with a powerful mist output of up to 270 ml/hr. The large tank allows you to enjoy the mist up to 6 days before refilling. This is the best room humidifier that features an essential oil tray, where you can add your favorite essential oil similar to an oil diffuser.
The humidifier comes with a 360-degree rotatable nozzle and fully adjustable mist and steam output knob. This feature allows you to control the humidity level of your room and decrease the risk of illness, germs, and bacteria by keeping the relative humidity above 43%. The auto shut-off feature turns off the humidifier automatically when the water depletes, preventing damage to the unit and keeping you safe. This unique air humidifier doesn't need a filter to function and can be used with regular tap water. Please note that using hard water with any dust humidifier can cause a white dust problem. Hence, it is better to use distilled or demineralized water in the humidifier. 
Pros
Large capacity
Auto shut-off
Whisper quiet
Built-in diffuser
Economical
Cons
The tank does not last long.
The URPOWER Ultrasonic humidifier comes with a misting capacity of 5 liters, which allows for a full night of humidifying. Its sleek body design makes it a perfect decoration in any corner of your house. To choose the sleep mode, just long-press the power button.
It comes with an automatic switch-off button, so when the water depletes in the tank, the humidifier will shut off automatically, preventing any instances of overheating or short circuits. This device offers you full control with three mist modes. It's working time is 14 to 17 hours.
Pros
Sleep mode
Adjustable mist
Aesthetically designed
Auto shut-off for safety
Whisper-quiet operation
Cons
The built-in filter slips out of place. 
This console-style AirCare humidifier provides coverage up to 3600 sq feet. It comes with a digital humidistat that maintains your desired humidity level with digital accuracy. The humidifier automatically shuts off when the desired humidity level is reached, or the unit is empty. This humidifier comes with a 3.6-gallon tank capacity and offers up to 36 hours of run time. This energy-efficient device comes with casters, which ensures easy mobility.
Pros
Digital display
Up to 3600 sq ft coverage
6-gallon tank capacity
4 fan speed with auto mode
Customizable humidity setting with auto-shutoff
Cons
Bulky design
Replacing filters is expensive.
Tao Tronics Ultrasonic Cool Mist Humidifier hydrates and purifies the air with the purest water. The 3.5-liter tank is neither too large nor too small and is just ideal for most homes/bedroom/living room/office or any indoor space with an area between 107 to 322 feet. This humidifier can run for 10 hours continuously, without refilling. The built-in ceramic filter is designed to purify tap water, reduce bad odor, and save you from dry, itchy skin and dry sinus symptoms.
The twin 360-degree rotatable nozzles help cover greater areas and produce mist independently and more efficiently. The classic dial knob helps you not only turn it on and off but also increase or decrease the mist level. The LED indicator helps indicate its working level. It turns red when the water level is low in the humidifier. The humidifier will automatically shut off when the water is depleted.
 Pros
Dual 360-degree rotatable nozzles
Whisper-quiet operation
10 hours of continuous mist without refilling
Built-in ceramic filter
LED indicator
5-liter water tank
 Cons
Levoit humidifiers come in both warm and cool mist options. This humidifier comes with a 5.5-liter tank, which allows it to be uninterrupted for up to 36 hours in mist level 1 before the next refill. It can easily cover a medium-sized room. This device not only offers the benefits of a humidifier but also works as an aroma diffuser. All you have to do is add a few drops of essential oil to the aroma pad placed inside the aroma box for an extra touch of relaxation and fragrance at home. Levoit, as a brand, is known for its minimalist and elitist design, and this product is no exception as it fits seamlessly into your house. The adjustable dual nozzles help evenly disperse the mist in any direction.
This humidifier comes with a Relative Humidity(RH) Indicator and Ambient Temperature Indicator on display, which assist in keeping a tab on your surroundings. The humidifier auto maintains the humidity levels based on the temperature of the surroundings when putting on the auto mode. You get an option to choose from 5 mist levels, or you can just press and hold the Humidity Button to set a specific % RH. This humidifier comes with a remote that controls all the functions on the device for convenience and accessibility.
Pros
Quiet
Elegant and minimalist design
Easy to use and clean
Aromatherapy
Touch control panel and remote access
36 hours of uninterrupted mist 
Cons
Stream tube cap not sturdy.
This portable humidifier is easy to refill and clean due to its arc-shaped tank and separate design. It is easy to lift and carry around for refilling. It offers a comfortable and secure grip than other round humidifiers. This ultrasonic humidifier lowers the noise level to 32 dB for quiet humidification. It is ideal for office spaces or the baby room. The 2-liter water tank allows up to 10 hours of working time in low mist. It provides up to 200 sq.ft coverage for bedrooms, offices, and other medium-sized rooms.
The soothing dim night light offers maximum relaxation while sleeping. This humidifier comes with an automatic shut-off feature for increased safety. The mist adjust button allows you to adjust mist direction and speed to fit your comfort level. No filters are required for this humidifier, and hence, there is no hassle of filter replacement. This humidifier comes with a 365-day replacement warranty and 60 days money-back guarantee.
Pros
Whisper-quiet operation
2-liter water tank
Automatic shut-off for increased safety
2 mist setting levels
No filter needed 
Cons
Dry air can lead to an array of problems. It not only affects your health but also spoils your home's infrastructure and decor. It also disturbs your sleep. Humidifiers are a great buy if dry air is keeping you up at night. We have reviewed and compiled the above list of top 10 humidifiers on the market, which will help you breathe and rest easier.
Let us now understand why and when we should use humidifiers.
Why Use Humidifiers?
Dry air is bad for your skin and can cause respiratory issues over time. It can lead to irritation in the eyes and nose in an otherwise healthy person. Using humidifiers for adding moisture to the air can counteract this problem.
People might encounter respiratory issues during the summer months as well when the weather is hot, and the air contains more allergens. To seek respite from this, people resort to air conditioners, which circulate dry air and remove moisture from the air. However, most people use humidifiers during winters when the cold air dries your skin, nose, lungs, and lips.
Proper humidity levels are essential for your good health. Very dry or very humid air can affect your health as well as the condition of your home. If your home air is loaded with moisture, it can encourage the growth of mold and mildew, which can lead to health issues and can also cause potential damage to your home. On the other hand, dry air that is devoid of moisture has its issues. Thus, it is crucial to maintain proper humidity levels inside your house. Humidifiers work great to combat dry air problems inside the home.
The benefits of humidifiers may include:
Prevent Influenza: Laboratory studies indicate that aerosolized influenza survives for a longer time at low relative humidity conditions (1). Studies also point out that humidifiers might reduce the risk of catching the flu (2). Research has found that humidity levels above 40% quickly deactivate virus particles.
Help Loosen Congestion: Dry air can make congestion worse. It makes the mucus dry and thick, which clogs the nasal passages. This may cause a stuffy nose, sore throat, and sinus pain. Humidifiers can help break up phlegm in your nose and chest.
Hydrate Your Hair And Skin: Dry skin is common in winters since the air is dry, and humidity levels drop drastically in cold weather. Dry skin is more fragile and cracks and wrinkles more easily. Using a humidifier can help balance the level of moisture in the air, which may help reduce the occurrence of dry and cracked skin.
May Help Relieve Asthma And Allergy Symptoms: Humidifiers may help reduce allergy and asthma symptoms. Dry air worsens things for those with asthma or prone to allergies. Humidifiers, if used in conjunction with a high-quality indoor purifier, may help alleviate allergy and asthma symptoms.
Reduce Snoring: Snoring is a result of constricted airways. If the air is devoid of moisture, a person's airways are not sufficiently lubricated, which can make snoring worse. Adding moisture to your room's air by running a humidifier at night may help relieve some symptoms.
Keep Your Scalp And Hair Healthy: Your hair is made up of collagen. Therefore, a certain amount of moisture is required to keep your scalp and hair healthy. Dry air can make your scalp dry and irritated, just like your skin. Lack of moisture can make your scalp itchy and worsen dandruff. Prolonged exposure to dry air can even make your hair dry and brittle. Thus, it is essential to maintain humidity levels for healthy scalp and hair.
There are several ways to increase the humidity levels in your house. Some people use a pan of hot water on the stove or hang a wet towel near the heater. But most people prefer using mechanical humidifiers to do the job. There are different types of humidifiers available on the market. Here's a list of the most popular humidifier technologies. 
Types Of Humidifiers
Warm mist humidifiers are best suited to alleviate symptoms of cold and flu. Warm mist humidifiers are not only quieter than their counterparts but also require lesser space than them. The air that comes out of a warm mist humidifier is said to be cleaner than that from a cold mist humidifier. One drawback of these humidifiers is that they require frequent cleaning and are also difficult to clean. Also, since these emit warm or hot steam, they have to be kept out of reach of children and pets.
Cold mist humidifiers diffuse pleasant room-temperature mist throughout your room. They use a filter to catch impurities and minerals. Cold mist humidifiers are available in evaporative or ultrasonic technologies. These humidifiers are believed to work better in larger areas and warmer climates. People feel that cool mist is easier to breathe, and these humidifiers are easy to clean as well. The only problem with cold mist humidifiers is that they make a lot of noise. Also, maintenance for the cold mist humidifiers is more as the filter needs to be changed frequently to avoid algae and mold formation.
Evaporators, also known as wick humidifiers, take air in through an internal fan, which then runs it through the wick filter that is saturated with water. The air that gets pushed out helps to maintain a perfect balance of humidity in the room. Evaporators need frequent cleaning, and the wick filter needs to be changed every three months. This is important to avoid any bacteria or mold formation. This type is cost-efficient when compared to the central humidifier, but the only problem is that it works only in one room at a time.
These humidifiers are the most expensive, but they also cover your entire house. Since they do not emit any steam, there is no chance of anyone getting burned in the house. These humidifiers come in two styles "drum style" and "flow-through style." They are built in the home's heating/AC unit. They are the biggest humidifiers available. When not in use, you should drain the water and restrict the airflow to the humidifier. It should be cleaned once a year, and if you are going for the drum style, clean the drum and tray once a month.
Ultrasonic humidifiers are classified as cold mist humidifiers, which means that they are kid-friendly. But are also available in a warm mist version. They use a metal diaphragm at an ultrasonic frequency. They produce cold mist with the help of these ultrasonic vibrations. These are an ideal choice for you if you have kids at home. They do not make much noise and use less energy. Also, you need not worry about changing the filters, as is the case with other humidifiers. The price of an ultrasonic humidifier depends on the size you pick and the area you want to cover.
People often confuse a diffuser for a humidifier. The two are entirely different devices. Let's understand the difference between the two.
Humidifier Vs Diffuser
Diffusers
Diffusers are generally small devices engineered for aromatherapy. A diffuser mixes a few drops of essential oils with water stored in the tank and distributes it in the home environment. People use diffusers for a variety of reasons, a few of which are listed below:
The essential oils are believed to enhance the mood.
Purifies the air within your home.
It can combat health issues by reducing the number of bacteria and fungus in a room.
It can reduce snoring.
Help you sleep better.
Good for dry skin.
Special lighting features help alleviate mental fatigue and boost energy levels. 
Humidifiers
Humidifiers, on the other hand, are devices designed to maintain the humidity level in your home. They come in different sizes and different varieties. Humidifiers release humid air into your home, which helps you breathe better, relieves dry skin, and improves cold and flu symptoms.
To make your shopping experience hassle-free, we have prepared a list of a few factors that you should consider before you hit that buy button. Make sure that you pick models that suit your room dimensions and space requirements. Make a note of the following points for a satisfying purchase experience.
Humidifiers Buying Guide
Ease Of Cleaning: The moisture that comes out of the humidifier should be safe to breathe. To ensure this, you must keep your humidifier clean. Drain, rinse and dry the unit every day. Use vinegar weekly to remove any residues. You can use a bleach solution to disinfect the unit. Follow the manufacturer's instructions and rinse thoroughly. Follow the same cleaning routine before and after storing your humidifier for the season.
Noise: Noise could be a concern if you are using a humidifier in your bedroom or workspace. Like any mechanical device, humidifiers make noise. For quieter spaces like your bedroom and office, you can use an ultrasonic humidifier, which is known to make less noise as the sound waves generated are at a higher frequency range than that of human hearing.
Coverage Area: When shopping for a humidifier, you need to decide if you want a single room coverage or multiple room coverage humidifier. If you want humidification for a single room or a small-sized or medium-sized area, such as your bedroom or office, you can go for a tabletop humidifier, also known as a room humidifier. Whereas, if you are looking for humidification for your entire house or a larger area, a console humidifier or whole-house humidifier would be an ideal choice. A console humidifier can deliver moisture to spaces as large as 3000 sq feet.
Cost: Cost is one of the main variables that a buyer considers while shopping. Portable humidifiers are the least expensive. These models are priced between $20 to $200 and beyond. The price will depend on the features and size of the humidifier that you choose to buy. Console humidifiers are a bit more expensive than their counterparts. They can cost around $100 to $250 because of their size.
Energy Use: People opt for energy-efficient devices to reduce their electricity bills. Cold mist humidifiers, unlike warm mist humidifiers, do not require extra electricity to heat the water. Hence, they have less impact on your power bill. The power requirements of a warm mist humidifier are not very high. It just needs almost the same amount of electricity required to heat an electric teapot, so you may not even notice the difference. Console humidifiers, on the other hand, are large devices. Hence, their energy requirement is also high.
Humidifiers are a boon to combat the dry air within your house. Take your pick from the above list and share your experience with us in the comments section below.
Expert's Answers for Readers Questions
Why do I need a humidifier?
A humidifier helps in maintaining the indoor humidity level. It can help combat and improve a lot of health and skin issues that occur due to dry air. The dry air that is devoid of moisture is not only bad for your health but can also affect your home's infrastructure and interior. Humidifiers help your wooden flooring and furniture last longer. They prevent the wallpaper from cracking and static electricity from building up.
What is the ideal humidity level that I should maintain?
A humidity level between 30% to 50% is considered to be healthy and ideal. Low humidity levels below 30% can increase the likelihood of spreading cold and flu viruses. It can also lead to respiratory issues. On the other hand, humidity levels higher than 50% can make your home a breeding ground for bacteria and mold, dust mites, and pests. So, both high and low levels of humidity can lead to a plethora of health issues. Thus, we recommend you to maintain humidity levels between 45% to 50%.
Are humidifiers safe for children's rooms?
Humidifiers are known to ease a lot of problems caused by dry air. These devices need regular maintenance to provide benefits. Make sure you clean the humidifier thoroughly and operate it as per the instructions so that it doesn't become a health hazard. Warm mist humidifiers emit steam, which can burn your child. Keep them out of your children's reach. Also, before introducing a humidifier in your child's room, do consult your doctor and ask for the ideal humidity levels to be maintained.
Is it safe to leave a humidifier on all night?
There are no studies to counter the use of a humidifier throughout the night. You can run a humidifier throughout the night, provided you take caution to maintain ideal humidity levels in your room by running it at the desired speed.
What type of water do I use?
The Environmental Protection Ministry cautions against using regular tap water in your humidifier as doing so can lead to mineral build-up and increase germs in your home environment. But the good news is that many humidifiers are now coming with mineral cartridges that absorb most of the mineral content from the hard water so that it is not released in the air. Mineral content, when released in your home air, may solidify as an unhealthy irritant known as white dust.
Recommended Articles
2 sources
Stylecraze has strict sourcing guidelines and relies on peer-reviewed studies, academic research institutions, and medical associations. We avoid using tertiary references. You can learn more about how we ensure our content is accurate and current by reading our
editorial policy
.
The following two tabs change content below.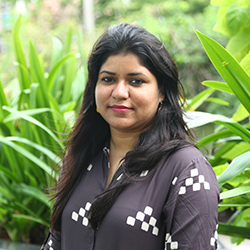 Latest posts by Neha Raghuvanshi (see all)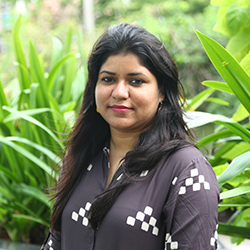 Neha Raghuvanshi
Neha has 5 years of experience in teaching. She has written research papers that have been published in national and international journals. Over the years, she has assumed many roles in the education sector. As her passion lay in writing, she decided to switch careers and start writing for digital media. In her free time, Neha loves to dance, attend talk shows or seminars, and paint. She is a bibliophile, feminist, environmentalist, and animal liberation activist.