10 Hyaluronic Acid Eye Creams For Healthy & Sparkly Eyes – 2023
Reduce puffiness and enhance your eye health to improve the sparkle in your eyes.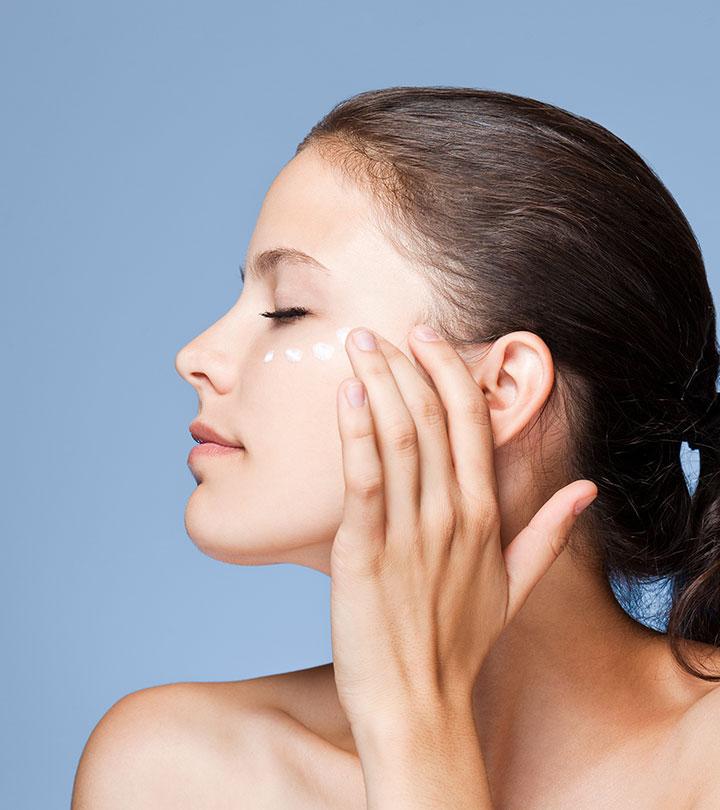 With advancing age, the first signs of aging show up around our eyes in the form of wrinkles, dark circles, and pigmentation. The best hyaluronic acid eye creams can combat these signs with ease. Furthermore, some these clinically-proven creams keep your eyes healthy, sparkly, and ready to glow. They are the best expert-recommended remedy for skin that struggles with inflammation and premature aging, along with those morning puffy eyes due to sleep deprivation and skin deterioration due to free-radical exposure.
Fine lines, wrinkles, bags around the eyes, puffiness, etc., are all little signs that show up around your eyes as your age. It is because the skin around your eyes is most delicate and sensitive. Hyaluronic acid keeps your skin moisturized and plump to reduce the signs of aging. Check out our list of the best hyaluronic acid eye creams that will help rejuvenate the skin around your eyes and make them sparkle. Some of these are expert recommended, so, keep scrolling to take your pick!
What Does An Eye Cream With Hyaluronic Acid Do?
Also known as hyaluronan, hyaluronic acid is a substance produced by your own body. Clear and somewhat gooey in consistency, hyaluronic acid is found in greater quantities in the skin, connective tissue, around your eyes. Hyaluronic acid is responsible for retaining water in your skin and keeping your tissues moisturized, as proven by peer-reviewed studies. Hence, hyaluronic acid eye creams have a proven track record in clinical settings. They help rehydrate your delicate skin, plump it up, and minimize the appearance of wrinkles, fine lines, and other signs of premature aging.
10 Hyaluronic Acid Eye Creams For Dry, Tired Eyes
Feel like you're old before your time, and you've got crow feet on your face to boot? Well, that's not how you have to feel here on out. With dermatologist-tested hyaluronic acid eye creams like Neutrogena's Rapid Wrinkle Repair Eye Cream, you can visibly reduce the appearance of fine lines, wrinkles, and premature aging! The secret ingredient in this scientifically-formulated anti-ageing eye cream is retinol. Retinol increases collagen production and new blood vessels in your skin, which significantly reduces skin aging and improves your skin tone. Cosmetologist Georgia Smith says, "This is a great formula as it contains lots of active ingredients for a multifunctional effect. They help in hydrating the skin, reducing pigmentation, and lessening the appearance of dark circles." Thanks to this retinol and hyaluronic acid eye cream, you can kiss your blemishes, dark spots, and tired-looking eyes goodbye and say 'hello, again' to a youthful glow!
Pros
Targets fine lines, wrinkles, dullness, and dark spots
Dermatologically tested
Free of parabens, mineral oils, and dyes
Suitable for mature skin
Ideal for puffy eyes and dark circles
Cons
May not be suitable for sensitive skin
This L'Oreal Paris hyaluronic acid eye cream contains the top 3 ingredients associated with skincare and rejuvenation — hyaluronic acid, pro-retinol, and vitamin C. It offers deep hydration, fluid retention, and protection to the delicate skin barrier locking in moisture for 24 hours at a time. The results-driven formula is easy to apply and fast-absorbing, leaving your skin supple, soft, and silky, without a greasy and sticky film. While hyaluronic acid aces the hydration department, retinol boosts collagen production, and vitamin C takes care of uneven pigmentation and skin tone with proven efficacy.
Pros
Contains pro-retinol, hyaluronic acid, and vitamin C
24-hour hydration
Eye area rejuvenation
Visible results within a week
Non-greasy
Doesn't clog pores
Free of paraben and mineral oil
Tested for allergies
Cons
May not work well with make up
May cause peeling
Price at the time of publication: $5.46
If you're struggling with dry, worn down, and tired delicate skin, then you have a hydration problem that needs immediate attention. The great news is that e.l.f's Holy Hydration Eye Cream is scientifically formulated with hyaluronic acid and peptides. Not only does it contain hyaluronic acid, but it also is infused with peptides. Peptides are amino acids that help build collagen and elastin in the skin, making it firmer and softer, with visible results. It's non-greasy and lightweight, which makes it perfect to wear under make-up, too! Have a look at this video to learn more about the product and the reviewer's experience.
Pros
Deeply moisturizing and hydrating
Non-greasy and fast absorbing
Suitable for all skin types
Cruelty-free and vegan
A little goes a long way
Cons
May not be effective in treating wrinkles
May not be suitable for sensitive skin
Price at the time of publication: $9.99
When you think of a Mario Badescu hyaluronic acid eye cream,  you can be sure that the formula is highly researched, vetted, and result-oriented. Their best-selling lightweight formula includes aloe vera, a soothing balm for all skin styles, especially sensitive, delicate skin. It offers a hyaluronic acid boost that pumps your skin with hydration and helps retain moisture, giving you smooth skin throughout the day with proven efficacy. The safflower seed oil contains fatty acids, which help unclog pores and are anti-inflammatory. Euphrasia extract helps brighten up your skin, treating those dreaded dark circles with their skin tone evening properties. It is proven to deliver visible results, is great for daily wear, and can be used under makeup too! Here is an informative video that tells you more about the product and the tester's experience.
Pros
Can be used daily
Retains moisture
Suitable for sensitive skin
Brightens skin
Cons
Contains parabens
May not help all skin types
Price at the time of publication: $18
Japan's Hada Labo Tokyo Age Correcting Eye Cream has been clinically tested for visible results, which show over 90% dark circle reduction in just 4 weeks! That's just the tip of the iceberg with this hyaluronic acid eye cream. While it contains super hyaluronic acid, which takes care of the deep hydration your tired delicate skin needs, it also contains collagen, which is tested to keep your skin plump, young, and supple, reducing the appearance of fine lines. But the star of this scientifically formulated hyaluronic acid eye cream is caffeine. Caffeine is known for its anti-inflammatory properties and its ability to treat acne-prone skin, sun damage, dark circles, and premature aging. Nothing like a shot of the caffeine cream to wake you up!
Pros
Suitable for all skin types
Lightweight
Opthamologist tested
Safe for contact lens usage
Free of mineral oils, parabens, and dyes
Deeply moisturizing
Cons
May not show visible results right away
Price at the time of publication: $19.19
With the richness of natural oils, vitamins, and peptides, TruSkin Hyaluronic Acid Eye Cream truly is a dermatologically-tested hyaluronic acid eye cream that delivers total skincare and protection for the delicate skin around your eyes. Healing, anti-ageing ingredients include a blend of lipid-rich sunflower, coconut, and avocado oils, with hyaluronic acid, cucumber extract, and licorice, all of which help treat redness and inflammation. It also contains vitamin C, which promotes collagen production and improves skin resilience, protecting it from free radicals. Vitamin B5 also fortifies the skin barrier and promotes skin elasticity and moisture retention. And finally, the icing on the cake, glycolic acid, is loaded with barrier-protective antioxidant benefits.
Pros
Neutralizes free radicals
Great for morning skincare ritual
Contains antioxidants and peptides
Reduces redness and inflammation
Cruelty-free
Cons
The scent may be overpowering for some
Price at the time of publication: $12.97
Want to cut through all the fancy packaging and slogans and get some good ol' skincare? DERMA-E's Hydrating Eye Cream is reputed for visibly reducing deeper wrinkles in volume, area, and depth. Not only does it hydrate and plump your skin, thanks to the moisture-magnet hyaluronic acid, but it also firms and tones your skin and minimizes crow's feet. It also contains pycnogenol, an antioxidant, which is tested to reduce puffiness around your eyes. While vitamin A supports skin cell health and contributes to younger-looking skin, vitamin C supports collagen production. The vitamin E in this formula helps retain moisture, making this hyaluronic acid eye cream locked and loaded!
Pros
Helps plump, soften, rehydrate, tone, and smooth skin
Vegan
Cruelty-free
Gluten-free and soy-free
Suitable for sensitive skin
Supports collagen health
Cons
May require more than a few applications for long-lasting moisture
Price at the time of publication: $17.32
This dermatologist-recommended hyaluronic acid eye cream provides moisture control for an entire day with its powerful blend of fragmented hyaluronic acid, caffeine, and La Roche-Posay thermal spring water. We love this one because it is not only a power-packed skincare solution but because it offers a cooling sensation when applied, immediately refreshing your mood. It also happens to be a scientifically formulated lightweight gel that doesn't make your delicate skin area sticky or greasy. With anti-aging ingredients known to visibly reduce the appearance of under-eye bags and puffiness, it is easily absorbed, long-lasting, and tested for sensitive skin and eyes.
Pros
24-hour moisture control
Diminishes appearance of under-eye bags and puffiness
Can be used daily
Cool, refreshing texture
Anti-fatigue
Fragrance-free
Suitable for all skin types
Cons
Price at the time of publication: $36.99
If you're someone who needs or likes to wear makeup regularly and wants to keep your delicate skin to remain healthy and well-treated, try this one. This dermatologically-approved eye cream with hyaluronic acid enhances makeup application, as it doubles up as an under-eye tint and skin moisturizer. While you get the benefits of color correction and sheer coverage that you need as a base for your cosmetic layers, you also get 24-hour hydration. It contains professional-grade squalene and purified water for deep moisturization and improved skin texture.
Pros
Reduces appearance of dark circles
Color correcting and sheer coverage
24-hour hydration
Free of parabens, phthalates, PEGs, minerals, and fragrance
Vegan and cruelty-free
Cons
Some may find the consistency to be a bit too thick
Price at the time of publication: $21.99
If you're on the hunt for a product with natural anti-ageing ingredients, then Balance Me Wonder Eye Cream is a no-brainer for you. According to reviewers, this 100% natural, cruelty-free, and vegan formula reduces the appearance of dark circles and puffiness, while treating saggy and dehydrated skin. Hyaluronic acid performs as the super hydrator, cucumber oil, which is rich in linoleic acid, and vitamin E, helps soother, nourish, and calm your delicate skin. But the special appearance award goes to witch hazel, an astringent famous for reducing inflammation and redness. Overall, this scientifically-formulated product gives your eyes a lively, fresh, and rested appearance. Sometimes, the best thing to do is to go all-natural, and with this professional-grade wonder eye cream with hyaluronic acid, it certainly seems like a good decision!
Pros
100% natural
Instant hydration
Ideal for tired-looking eyes
Can be used daily
Vegan and cruelty-free
Suitable for all skin types
Cons
May not be suitable for sensitive skin
Price at the time of publication: $30
Knowing how to treat your eyes to the very best hyaluronic acid eye cream is crucial. Our buying guide will offer tips on what to buy, how to use it, and why is it good for you!
How To Choose The Best Hyaluronic Acid Eye Cream

Before you buy a clinically-tested eye cream with hyaluronic acid for your under eye skin, it's important to know why you need it, and what your skincare concerns are. When you are younger, you want to focus on clogging of pores, exposure to freed radicals and sun damage. As you grow older, your concerns are more focussed on fine lines, wrinkles, ageing skin, and sagging. Depending on your age, you can decide the degree of damage repair you require.
Knowing your skin type is crucial when picking out a hyaluronic acid eye cream. Normal to dry skins will require different ingredients versus combinations to oily skin. If you have normal/combination skin, use clinically verified vitamin E and shea butter to nourish and fortify skin. For oily skin, non-comedogenic formulas with ingredients like chamomile, green tea extract, and witch hazel. Dry skin will benefit from a formula that includes elements that lock in moisture and hydration like ceramides, hyaluronic acid, and glycerin. If you have sensitive skin or allergies, you must consult a dermatologist for recommendations on hyaluronic acid eye creams that work best for you.
Once you have ascertained what kind of treatment you need, the next step is making sure your hyaluronic acid under eye cream has the right mix of ingredients with clinically proven results. As always, look at the fine print and the reviews, and check what's in your under-eye cream. Ingredients that we want in our hyaluronic acid under eye cream include jojoba oil and vitamins C, E, and K. Make sure all the ingredients are safe to apply near the eye area.
How To Use A Hyaluronic Acid Under Eye Cream
Step 1– Make sure your face is washed, and clean before application.
Step 2 – Take a small amount of your under eye hyaluronic acid cream or gel in your fingers.
Step 3 – Apply gently onto your under eye skin, from the innermost end to the outermost, all around your orbital socket.
Step 4– Check if your cream can be applied on your eyelids as well, and follow the same procedure.
Step 5 – Lightly dab the area, to ensure that the gel or cream has been absorbed.
Benefits Of Using Hyaluronic Acid For Eyes

Aids healthy and supple skin – Hyaluronic acid binds water to help retain moisture in the skin, which leads to healthier, softer skin
Relieves dry and irritated under-eye skin – Hyaluronic acid contains ceramides and glycerine to moisturize and hydrate skin
Tightens skin – This wonder ingredient is used to firmdelicate skin and helps with the appearance of tightness in the skin.
Helps with skin aging– Use eye creams infused with hyaluronic acid to increase skin cell production, offer a plumping effect and reduce deeper wrinkles and fine lines.
Treats pigmentation– When combined with vitamin C, hyaluronic acid increases cell turnover and fades dark spots and hyperpigmentation.
Why Trust StyleCraze?
Kirtana Divakar, the author of this article, is a skin care enthusiast who loves to try skin care products made of premium quality ingredients. She conducted deep research to know more about the best hyaluronic acid eye creams. She browsed hundreds of reviews to provide the readers healthier and brighter skin with her recommended products. These eye creams combat the visibility of aging signs and keep the skin around the eyes hydrated.
Frequently Asked Questions
Why Is Hyaluronic Acid Eye Cream Good For You?
Hyaluronic acid eye cream is a great form of skin care, because hyaluronic acid is a great source of skin hydration. It rapidly hydrates dry skin, reduces the appearance of fine lines, aging, and dark circles, and prevents dullness and puffiness.
Does hyaluronic acid help with under eye wrinkles?
Hyaluronic acid is a great source of hydration for your skin. This helps plump up your skin and brightens your under-eye area, which is likely to reduce the appearance of dark circles. While your eyes get a dewy look, the wrinkles, and fine lines around your eyes are relieved, thanks to deep hydration, and subsequent plumping.
Is hyaluronic acid good for eye skin?
Yes. Hyaluronic acid is considered a powerhouse ingredient for skin care, and is known for its ability to provide deep hydration.
Is it OK to use hyaluronic acid every day?
Yes, you can apply it daily. Just make sure that your skin is damp and clean, when you are applying it. Lock that acid in by following it up with a moisturizer.
Can we put hyaluronic acid eye cream on the upper eyelids?
Yes, apply hyaluronic acid to your eyelids to reduce droopiness, and sagging and keep your eyes hydrated.
Recommended Articles: