12 Best Hyaluronic Acid Serums Available In India
Achieve the plump skin of your dreams with this skin-friendly ingredient. Want dewy, hydrated, soft, and smooth skin? Include a hyaluronic acid serum in your skin care routine. Hyaluronic acid is a blessing for dry, damaged, and mature skin. It holds up to 1000 times its weight in water and helps lock in moisture to plump the skin and reduce fine lines and wrinkles. Just a few drops of this miraculous ingredient can help tackle various skin concerns, like tight skin, dry patches, wrinkles, and fine lines. If this has got you interested, check out the 11 best hyaluronic acid serums available in India.
12 Best Hyaluronic Acid Serums In India
The Olay Luminous Niacinamide + Hyaluronic Super Serum works wonders for dry skin types. The potent active hyaluronic acid attracts and binds water to the skin to hydrate it, and the 99% pure niacinamide and vitamin B3 strengthen the skin barrier to reduce water loss. The non-greasy formula penetrates 10 layers deep into the skin to enable fast absorption and offer smooth and glowy skin. This lightweight serum is also enriched with provitamin B5 and vitamin E. It hydrates the skin and claims to brighten it within eight weeks of use.
Pros
Quickly absorbed
Non-greasy
Lightweight
Paraben-free
Sulfate-free
Phthalate-free
Petrolatum-free
Mineral oil-free
Cons
None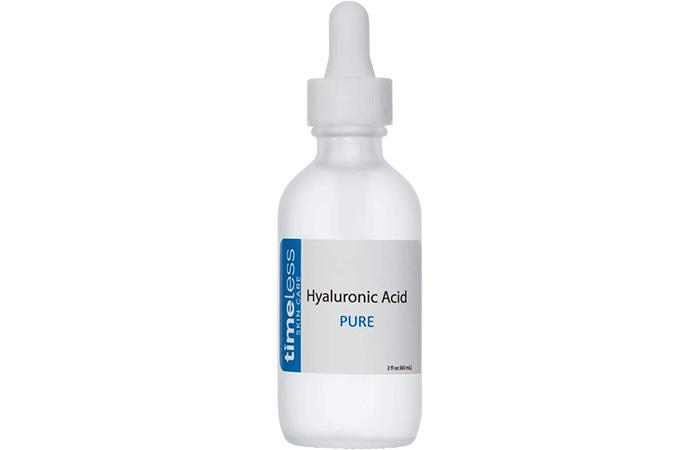 The timeless Hyaluronic Acid is a non-greasy serum that deeply hydrates dry, parched skin. It contains 1% pure hyaluronic acid (the highest concentration) that rehydrates the skin and boosts its moisture levels to make it supple and glowing. This serum penetrates your skin cells and helps to moisturize, replenish, and repair them from within to make your skin look firm and younger. It also reduces age spots with regular use.
Pros
Paraben-free
100% natural and vegetarian
Cruelty-free
Dye-free
Fragrance-free
 Cons
Not suitable for acne-prone skin
Price at the time of publication: ₹2333.0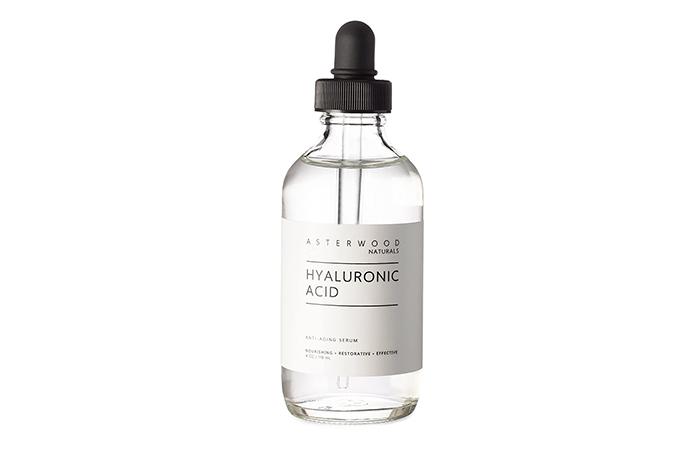 The Asterwood Naturals Hyaluronic Acid gives your skin an intense hydration boost and leaves it feeling supple and plump. This fragrance-free serum reduces fine lines, wrinkles, saggy skin around the eyes, and blemishes or dark spots on the skin. It enhances the natural radiance and elasticity of your skin to make it firm and younger-looking. This hyaluronic acid serum diminishes age-related skin problems and improves your skin texture.
Pros
Alcohol-free
Paraben-free
Oil-free
Fragrance-free
Not tested on animals
100% vegan
Cons
None
Price at the time of publication: ₹4779.0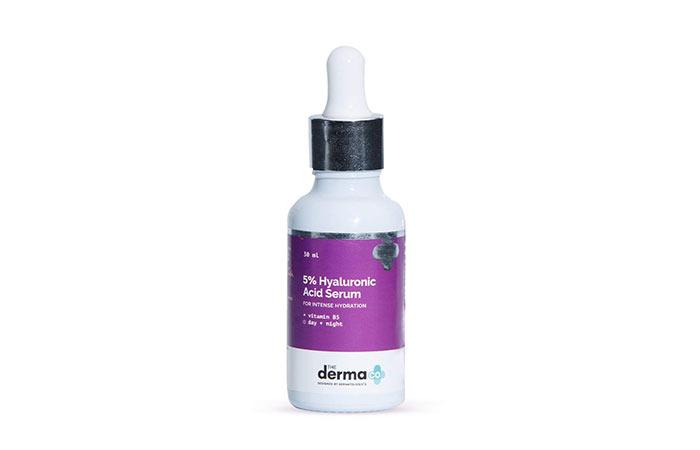 The Derma Co 5% Hyaluronic Acid Face Serum is formulated with 5% hyaluronic acid that intensely hydrates your skin to make it soft and supple. It minimizes the appearance of fine lines and wrinkles, locks the moisture in your face, and keeps it moisturized for a really long time. The serum also strengthens the skin's barrier and helps build the skin's immunity against free radical damage. It is suitable for all skin types.
Pros
Paraben-free
Sulfate-free
Mineral oil-free
Dye-free
Suitable for all skin types
Cons
None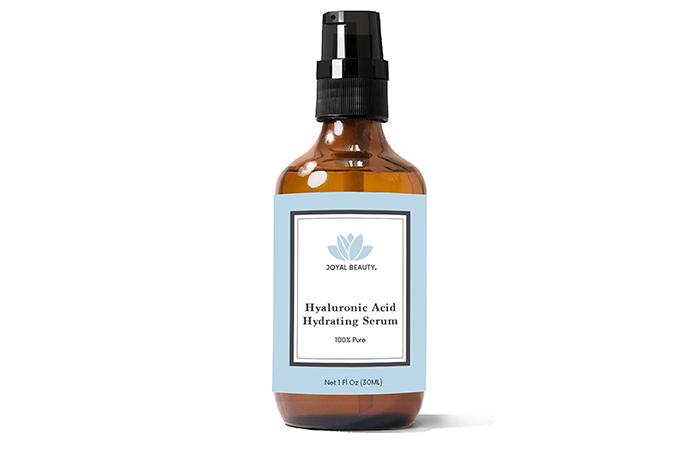 The JOYAL BEAUTY Hyaluronic Acid Hydrating Serum has 4% hyaluronic acid that boosts the hydration levels and elasticity of your skin and imparts a natural radiance. This anti-aging serum is safe to use on all skin types, especially around the delicate areas, such as the eyes. It is all-natural and organic as its ingredients are derived from vegetables. This serum is quickly absorbed into your skin without leaving any oily or greasiness behind.
Pros
100% vegan
Alcohol-free
GMO-free
Paraben-free
SLS-free
Phthalate-free
Gluten-free
Fragrance-free
Cruelty-free
Cons
Takes time for visible results
Price at the time of publication: ₹13.95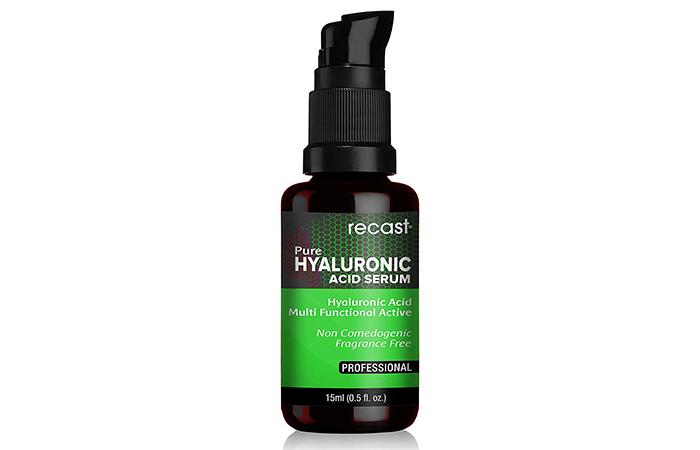 The recast Pure Hyaluronic Acid Serum has high moisture-preserving properties that help you achieve hydrated and supple skin. It penetrates your skin to deeply hydrate it from within and make it feel fresh and younger-looking. This weightless serum is absorbed instantly into your skin and does not leave any residue or greasiness behind. It contains hyaluronic acid and multi-functional active agents that make your skin soft, smooth, and plump.
Pros
Absorbed instantly
Non-comedogenic
Alcohol-free
Chemical-free
Fragrance-free
Cons
Expensive for the quantity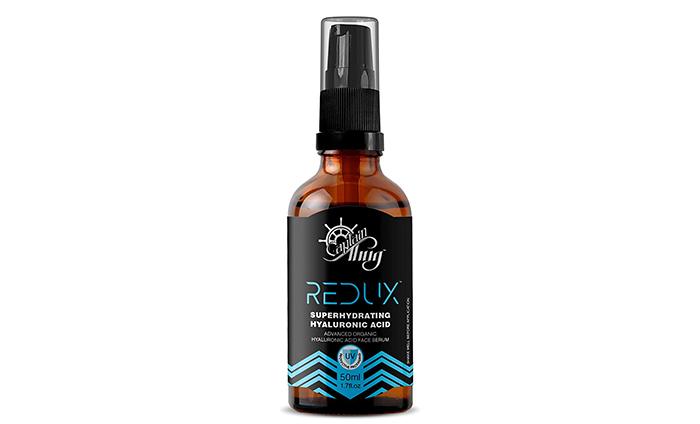 The REDUX Super hydrating Hyaluronic Acid contains five forms of hyaluronic acid with different molecular weights to provide a hydration boost at multiple levels. While the low molecular weight hyaluronic acid works on the lower layers of the skin to hydrate it and help it absorb other topical products better, the high molecular weight hyaluronic acid locks in moisture and protects the skin from oxidative damage.
This is one of the best hyaluronic acid serums that make your skin brighter, supple, smoother, and firmer. It helps repair mature skin by toning and infusing moisture to soothe and plump it up and reduces wrinkles and fine lines. This product contains red marine algae extract that helps it penetrate the skin layers. Other botanicals like argan oil and gotu kola extract reduce the signs of aging and enhance collagen production to tighten and firm the skin.
Pros
Natural and organic
Contains 5 forms of hyaluronic acid
Silicone-free
Paraben-free
Not tested on animals
Cons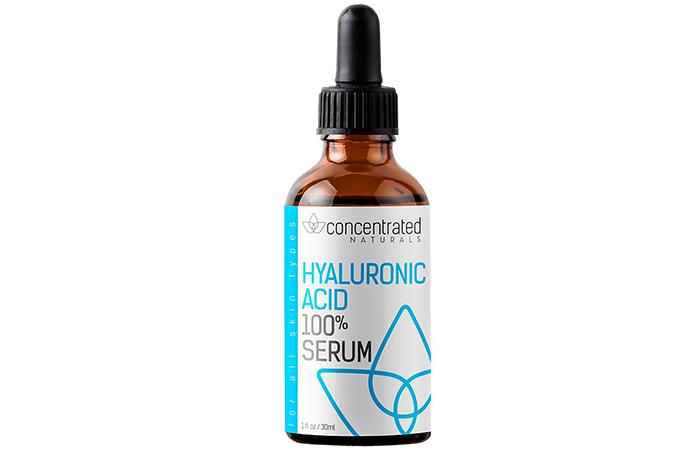 The concentrated Naturals Hyaluronic Acid 100% Serum should be your ideal pick if you want flawless, radiant, and healthy-looking skin! This serum helps reduce the appearance of wrinkles and fine lines by stimulating new cell growth and promoting collagen production in your skin.It also helps diminish dark spots, hyperpigmentation, sunspots, blotchiness, pigmentation associated with hormones, birth control pills, and other signs of aging and dullness. This serum instantly boosts hydration and strengthens the skin barrier to make it smooth and supple.
Pros
No harsh chemicals
No fillers
Paraben-free
Sulfate-free
Dye-free
Fragrance-free
Cons
Price at the time of publication: ₹25.99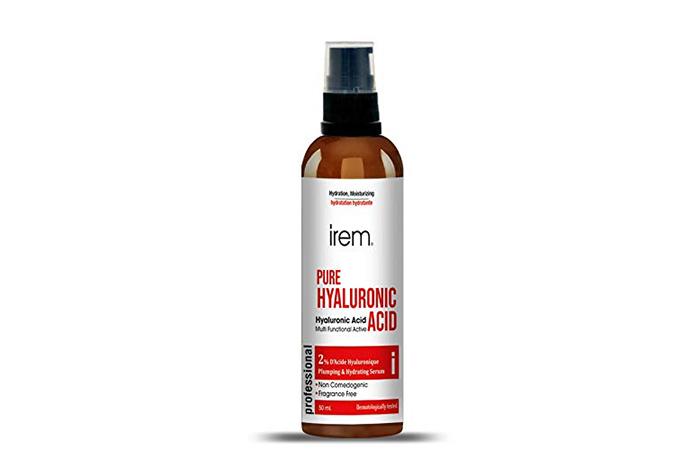 The irem Pure Hyaluronic Acid is a concentrated formula that is gentle on your skin and gives it the much- needed hydration. It replenishes the moisture levels of your skin and stimulates healthy cell growth to make your skin smooth, healthy, and young-looking. This potent serum works as an anti-wrinkle, anti-aging treatment that plumps up your skin and reduces fine lines and wrinkles. It is suitable for all skin types and does not contain harmful chemicals or fillers.
Pros
Suits all skin types
Chemical-free
No fillers
Paraben-free
Silicone-free
Cons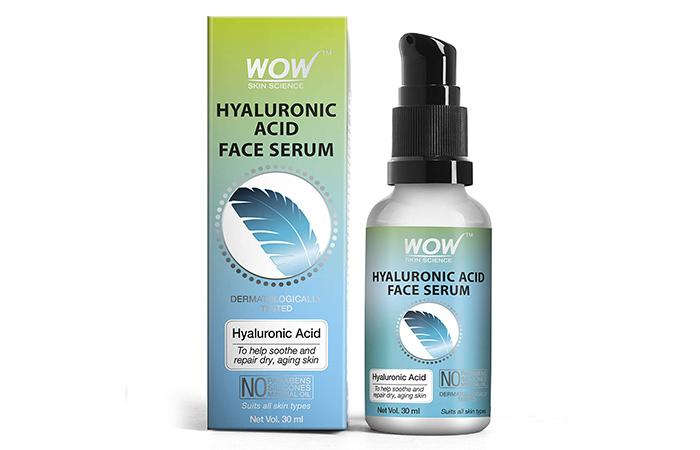 The WOW Skin Science Hyaluronic Acid Face Serum deeply hydrates the skin to boost its natural renewal process. It supports the skin's collagen structure, increases its elasticity, and makes it supple and radiant.
This is one of the best hyaluronic acid serums in India as it replenishes moisture with a potent blend of hyaluronic acid and silanetriol that controls dryness, wrinkles, and uneven complexion. This serum repairs your skin by evening out the fine lines and wrinkles. It also forms a protective barrier to prevent sun damage, retain moisture, and improve the skin's healthy radiance and suppleness.
Pros
Paraben-free
Silicone-free
Mineral oil-free
Dermatologically tested
Cons
May not work for extremely dry skin.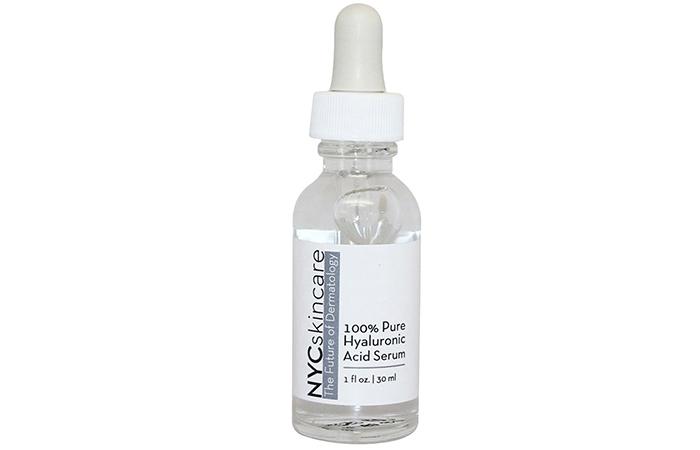 Use the NYCskincare 100% Pure Hyaluronic Acid Serum for naturally radiant and supple skin. It locks in moisture and rejuvenates your skin to make it look plump and youthful. This serum reduces the appearance of crow's feet, fine lines, lip lines, neck creases, smile lines, and forehead wrinkles. It boosts radiance and firmness and makes your skin smooth and soft. This serum penetrates your skin instantly and hydrates it, evening out the skin tone and texture.
Pros
Paraben-free
Sulfate-free
No synthetic fragrances
No synthetic dyes
Petrochemical-free
Not tested on animals
Developed by dermatologists
Cons
None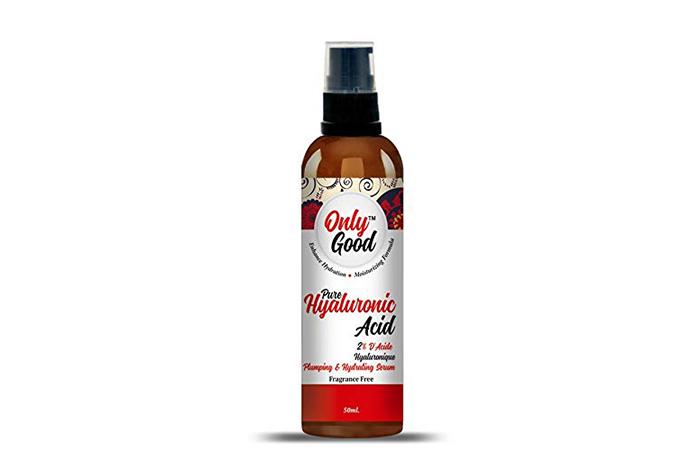 The Only Good Pure Hyaluronic Acid Serum helps replenish the hydration in your skin to reduce wrinkles and make it firm. This lightweight formula is absorbed instantly and does not leave any residue. It refreshes your skin, reduces dullness, and restores elasticity. This 2% hyaluronic acid serum includes low molecular and high molecular hyaluronic acid for multi-level hydration. It revitalizes the skin's outer layer, reduces inflammation, supports collagen production, and improves skin tone and texture.
Pros
Lightweight
Absorbed instantly
Fragrance-free
Paraben-free
Mineral oil-free
No synthetic dyes
Dermatologist-tested
Cons
None
In the next section, we have listed the benefits you can gain from including hyaluronic acid in your skin care regimen.
Benefits Of Hyaluronic Acid For Skin
Provides Intense Hydration: Hyaluronic acid acts as a humectant. It draws moisture from the surrounding environment and locks it in to provide long-lasting hydration to the skin and make it supple.
Heals Wounds: Hyaluronic acid aids faster healing of wounds by reducing inflammation and stimulating the body to build more blood vessels in the injured area. It also reduces the size of the wound and provides pain relief.
Protects The Skin: As we age, the protective layer of our skin deteriorates, making it prone to environmental damage. Hyaluronic acid strengthens the skin's barrier and protects it from the sun, pollution, and other harmful aggressors.
Boosts Firmness: Hyaluronic acid is known to boost moisture, which, in turn, helps enhance skin elasticity. Thus, regular use can help in firming the skin.
Diminishes Fine Lines And Wrinkles: It reduces the appearance of fine lines and wrinkles by retaining moisture in the skin. It also promotes skin cell regeneration by offering extra hydration and enhancing skin barrier function. This leads to healthy, smooth, plump, and radiant skin.
Lightens Blemishes And Pigmentation: Once there is increased skin cell turnover or regeneration, hyaluronic acid also helps reduce and prevent blemishes and pigmentation.
When it comes to picking the best hyaluronic acid serum, here is what you should consider.
How To Choose The Best Hyaluronic Acid Serum
Check The Concentration Of HA
Most brands contain hyaluronic acid (HA) in 0.25-4% concentrations. For best results, pick one with a concentration of at least 2%.
Most serums have only one form of hyaluronic acid, but to achieve the best results, buy one that has a mix of these three types:
Lower weight molecules: They penetrate deep into your skin to boost the skin's elasticity and reduce fine lines and wrinkles.
Mediumweight molecules: They retain moisture slightly slow the skin's protective barrier.
Higher weight molecules: They stay on the skin's surface to make it look hydrated, supple, and healthy enough to hold moisture in the outer layer.
Go For A Combination Of Ingredients
Hyaluronic acid serums work amazingly well in combination with the following ingredients:
Ceramides – to help build skin's protection barrier
Niacinamide – a form of vitamin B3 to reduce pores, fine lines, and wrinkles and improve skin tone and overall health
Retinol – to boost skin cell regeneration and turnover and improve skin tone
Peptides – to encourage collagen production
Vitamin C – a powerful antioxidant that helps protect your skin against free radical damage
Ensure that the hyaluronic acid serum you pick does not contain parabens, silicone, synthetic dyes and fragrances, harmful chemicals, and mineral oils. 
That was our list of the best hyaluronic acid serums available in India. No matter your skin type, these products are sure to give your skin the much-needed hydration, suppleness, and natural radiance. Include this magic potion in your skin care regimen and say hello to flawless skin!

Recommended Articles