12 Best Hyaluronic Acid Serums With Vitamin C For A Younger-Looking Skin We all want bright and glass-like skin, but many fail to achieve that in our prime years. All thanks to the best hyaluronic acid serum with vitamin C that works effectively to achieve youthful skin. As we age, our body fails to produce hyaluronic acid, resulting in dry skin and premature aging signs. Therefore, adding a good amount of hyaluronic acid to our skin care regimen works in our skin's favor. Also, vitamin C, another magic ingredient, combats dark spots and hyperpigmentation. So, nothing is better than investing in a product filled with the richness of both elements. These 2-in-1 serums are great alternatives to products that satisfy the partial needs of your skin. So, scroll down and learn more about these serums that maintain your skin's hydration level while preventing dark spots.
Top 12 Hyaluronic Acid Serums With Vitamin C – 2022 Review With Buying Guide
The Loreal Paris Revitalift is infused with 1.5% hyaluronic acid and vitamin C. It is a lightweight gel serum specially designed for dry skin. The fragrance-free formula combines low-molecular and high-molecular hyaluronic acid to promote multi-depth hydration. Hyaluronic acid visibly plumps your skin and reduces aging signs such as wrinkles. On the other hand, vitamin C, with its antioxidant properties, plays an integral role in boosting your skin's natural radiance. Use this serum and achieve firmer, dewy, and healthier skin within one week of regular use. As the serum absorbs easily into your skin, it can be used under makeup as a primer to get a dewy, hydrated glow.
Pros
Combats aging signs
Lightweight
Can be used as a primer
Smoothens the skin
Leaves no residue
Dermatologist-tested
Fragrance-free
Paraben-free
Mineral oil-free
Allergy tested
Cons
Might feel sticky
Might cause a burning sensation
The Tree of Life Hyaluronic Acid Serum works miraculously on dry skin. It is formulated with plant ingredients filled with natural benefits. The lightweight formula is packed with hyaluronic acid that locks your skin's natural moisture and promotes elasticity. Vitamin C lightens the hyperpigmented spots and red patches. With regular use of this serum, achieve an even and healthy-looking complexion. To attain the best results, follow up with a hydrating moisturizer after applying the serum to your face and neck.
Get a clear idea about how the serum works from this youtube video.
Pros
Plant-based ingredients
Suitable for all skin types
Lightweight
Imparts dewy glow
Non-greasy
Does not irritate the skin
Value for money
Paraben-free
Cruelty-free
Dermatologist-tested
Cons
Regain your youthful radiance with the Yeouth Hyaluronic Acid Plus. It is formulated with hyaluronic acid that targets the three main signs of aging – loss of collagen, damage from environmental radicals, and formation of wrinkles and fine lines. In addition, hyaluronic acid works effectively to boost hydration in your dull skin. This potent serum is infused with vitamin C and tripeptide 31, which treat dark spots, discoloration, and hyperpigmentation. Tripeptide 31, a peptide that offers retinol-like benefits to your skin, effectively improves skin texture, and promotes firmness and elasticity. With regular use, you will be amazed at your healthy, smooth, and supple skin.
Click here to watch an honest video review of the serum.
Pros
Suitable for all skin types
Promotes skin elasticity
Combats aging signs
Reduces sun spots
Fragrance-free
Sulfate-free
GMO-free
Paraben-free
Cruelty-free
Cons
None
The TruSkin Hyaluronic Acid Facial Serum is punched up with pioneering antioxidants – an ideal product for your dull, sensitive skin. It is infused with vitamins C and E, green tea, and hyaluronic acid. Hyaluronic acid, a potent humectant, and antioxidant-rich Gotu Kola boost moisture into your skin, treat skin issues, and plump your skin. Green tea extract soothes your skin by fending off any radical damage. Vitamin C boosts collagen production and even tones your skin, and vitamin E creates a barrier to prevent harmful rays from penetrating your delicate skin. This serum also contains aloe vera and jojoba oil that help replenish your flaky, damaged skin. Also, the potent anti-agers enhance your skin's overall elasticity and complexion.
Pros
Boosts collagen production
Protects the skin from UV rays
Combats aging signs
Diminishes acne scars
Value for money
Cruelty-free
Cons
Unpleasant smell
Watery consistency
Sticky
Is your dull skin the reason for your dwindling confidence? The Eva Naturals Hyaluronic Acid Serum is what you need. It is packed with hyaluronic acid that defies aging, treats inflammation, and smoothens your skin. Hyaluronic acid penetrates deep inside your pores and hydrates your skin, ensuring it retains the natural moisture and imparts a dewy look. Antibacterial ingredients like chamomile and lavender oil promote skin elasticity, prevent sagging, and treat acne issues. The serum is also infused with vitamins C and E, marigold extract, and COQ10, which fight against harmful UV rays and free radicals to maintain your skin's natural complexion. Also, it diminishes the appearance of fine lines, stretch marks, and scars.
Pros
Combats aging signs
Imparts a dewy finish
Reduces acne
Prevents UV damages
Diminishes dark spots
Non-comedogenic
Cruelty-free
Paraben-free
Sulfate-free
Formaldehyde-free
Mercury-free
Animal oil-free
Polyethelene-free
DEA-free
TEA-free
MEA-free
Cons
Does not absorb easily
Might burn your sensitive skin
Unpleasant smell
The Amara Beauty Serum is formulated with hyaluronic acid extracted from the seeds of the Cassia Angustifolia plant. It creates a hydrating barrier to protect your skin from external drying agents. This impenetrable barrier promotes plumper, healthy, and glowing skin and reduces the appearance of fine lines and wrinkles. Vitamins C and E with anti-aging properties diminish dark spots and impart a radiant glow to your skin. This serum seeps right into your skin without leaving any sticky residue.
Take a quick look at the video to get a detailed review of the serum.
Pros
Suitable for all skin types
Reduces wrinkles and redness
No sticky residue
Long-lasting
Vegan
Cruelty-free
No artificial colors
Fragrance-free
Cons
If you are wondering about switching to a serum that contains only clean ingredients, Insta Natural Hyaluronic Acid Serum is what you need. This hyaluronic acid-rich serum provides deep hydration and soothes your irritated, flaky skin. It is infused with jojoba oil and aloe vera extracts that prevent skin discoloration and diminish aging signs. Vitamin C and green tea extracts combat the environmental aggressors and strengthen the skin's natural barrier. These antioxidant and hydrating ingredients work together to plump your dull and dehydrated skin. The lightweight formula contains no irritants and provides a cooling sensation that soothes your stressed skin.
Pros
Lightweight
Prevents skin discoloration
Combats aging signs
Provides a cooling sensation
Leaves no residue
Paraben-free
Mineral oil-free
Formaldehyde-free
Synthetic dyes-free
Petroleum-free
Polyethelene Glycol-free
DEA-free
MEA-free
TEA-free
No added preservatives
Cons
Unpleasant smell
Runny consistency
The Vichy Laboratories Liftactiv Supreme H.A. Serum is a wrinkle corrector with 1.5% pure hyaluronic acid that adds adequate moisture to your skin. It is infused with vitamin C and Vichy Volcanic Water that fight against environmental aggressors and protect your skin health. The lightweight formula absorbs easily into your skin and reduces wrinkles by 47% and fine lines by 60% after six weeks of regular use. This serum imparts a sheer finish, leaving your skin plump and youthful. It is fragrance-free, paraben-free, and non-comedogenic, making the product suitable for sensitive skin.
Pros
Lightweight
Non-sticky
Gentle formula
Can be used as an eye serum
Reduces wrinkles and fine lines
Non-comedogenic
Fragrance-free
Allergy tested
Paraben-free
Dermatologist tested
Silicone-free
Cons
None
The Simplified Skin Hyaluronic Serum is a unique blend of active ingredients, such as hyaluronic acid, vitamins C and E, jojoba oil, aloe vera, and green tea. It visibly plumps, softens, and smoothens your skin. Vitamins C and E treat uneven skin tone and improve the texture of your skin, while hyaluronic acid adds essential moisture to your skin. Green tea extracts treat acne issues and inflammation, while jojoba oil controls excess sebum production to check the formation of new pimples. This serum promotes collagen production, shrinks enlarged pores, and prevents severe breakouts.
Pros
Suitable for all skin types
Treats acne
Non-greasy
Alcohol-free
No additives
Paraben-free
Cruelty-free
Sulfate-free
Fragrance-free
Cons
None
Your skin might feel parched with age, and a high-quality serum can help regain its natural elasticity. The Offernova Beauty Concentrated Hyaluronic Acid is a nature-powered formula containing natural ingredients that can restore the elasticity and vitality of your skin. It contains hyaluronic acid that nourishes your skin and leaves it toned and firm. This product is enriched with vitamins C and E that help protect the skin from free radicals, reverse the signs of aging, and minimize sunspots. It also contains jojoba oil and aloe vera that effectively fade pigmented patches and promote a dewy glow. This non-comedogenic serum fills in your fine lines and wrinkles, enabling you to achieve instant smooth-looking skin. The lightweight formula is specifically designed for sensitive, mature, and acne-prone skin.
Pros
Lightweight
Non-sticky
Combats aging signs
Reduces pigmentation
Non-comedogenic
Vegan
Cruelty-free
Paraben-free
Fragrance-free
Suitable for sensitive, mature, and acne-prone skin
Cons
None
The Lyfetrition Hyaluronic Acid Serum is fortified with the combined power of hyaluronic acid and vitamin C. It alleviates wrinkles, deeply moisturizes your delicate skin, and protects it from harmful UVA and UVB rays. This product also stimulates collagen production, imparting a tighter and more elastic texture to your skin. It is packed with organically sourced jojoba oil, witch hazel, vitamin E, aloe vera, wildcrafted green tea, and geranium essential oil that fight aging signs and diminish the harmful effects of pollution and dust on your skin. The gentle formula is devoid of irritants and suitable for oily skin.
Pros
Lightweight
Combats aging signs
Protects the skin from U.V. rays
Relieve irritation
Reduces inflammation
No sticky residues
Paraben-free
Fragrance-free
Artificial dye-free
Cons
None
The PHL Naturals Hyaluronic A.C. Serum works wonders for saggy, dry skin. It is formulated with multi-weight hyaluronic acids that hydrate your skin and rebuild its youthful radiance. The gentle, anti-aging formula treats blemishes while enhancing the elasticity and firmness of your skin. The serum also contains a rich blend of vitamins C, D, and E, aloe vera, and witch hazel extracts that multiply the cellular growth and help you retain dewy, glowing skin when you enter the mature years of life. It helps you achieve an even skin tone, leaving your skin feeling refreshed and rejuvenated within seconds.
Pros
Suitable for all skin types
All-natural ingredients
Non-greasy
Reduces blemishes
Combats aging signs
Imparts dewy glow
FDA approved
Cruelty-free
Fragrance-free
SLS-free
Paraben-free
Cons
If you do not want to waste your money and strongly wish to achieve the glowing skin of your dreams, check out the following section. Our buying guide will help you choose the right product according to your skin type.
Things To Consider When Buying Hyaluronic Acid Serum Having Vitamin C Ingredient
Know Your Skin Type: Identify your skin type and choose a product specifically formulated for the kind. For example, if you have oily skin, opt for a serum that is richer in vitamin C as it contains antioxidant and anti-inflammatory properties. On the other hand, apply a serum richer in hyaluronic acid if your skin is always dry.
Ingredients To Avoid: Certain ingredients are always harmful to your skin, whether you have sensitive skin or not. For example, parabens, sulfates, alcohol, mineral oil, and phthalates can damage or irritate the skin. Also, stay away from formulas that contain synthetic dyes and fragrances.
Other Skin Care Products To Buy: Only a serum is not enough to treat your damaged skin. Therefore, add other skin care products to your regimen to maintain healthy skin throughout the year. A good-quality cleanser, toner, and moisturizer make up a solid skin care routine. Also, a sunblock with high SPF is the cherry on top, as it prevents tan, sun spots, and pigmentation.
Purchasing a serum infused with the goodness of both hyaluronic acid and vitamin C is a good investment. But remaining mindful of the right way of application is crucial. Therefore, go through our next section to learn how to use a serum properly.
How To Use Hyaluronic Acid Serum With Vitamin C To Get Beautiful Skin
Use A Gentle Cleanser –  Pour a small amount of cleanser on your palms and gently lather your face using gentle pressure. Pat your face dry with a soft towel.
Apply Toner – Pour a few drops of hydrating toner onto your palms or a cotton pad to remove your dead skin cells. Use it twice a day for best results.
Apply Hyaluronic Acid+Vitamin C Serum – Pour 3-4 drops of the serum on your fingertips, warm it up, and apply evenly on your face and neck. Tap on your skin lightly and smoothen out the serum. Avoid rubbing too hard and let the product absorb on its own.
Use A Moisturizer – Apply your moisturizer on top of the serum. Look for a lightweight cream in the daytime and opt for a thick, creamy product for your nighttime routine.
Wear A Sunscreen –  It is mandatory to use sunscreen with high SPF to avoid sun damage. However, you can skip this step at night.
 Your skin comes in contact with radical aggressors that feeds off the healthy nutrients, leaving it dull and dehydrated. Therefore, taking care of your skin is indispensable. The best hyaluronic acid serum with vitamin C can help you achieve the skin of your dreams. A few drops of this serum can go a long way to nourish and hydrate your dull, dry skin. Hyaluronic acid keeps your skin moisturized and plump, while vitamin C treats uneven skin tone, blemishes, and hyperpigmentation. Therefore, these ingredients are a perfect duo that makes up a holy-grail product. However, simply a serum will not be enough for a long-lasting result. Build a skin care regimen with other products, such as cleanser, toner, moisturizer, and sunscreen, and follow it religiously to make your skin healthy, radiant, and youthful.
Why Trust StyleCraze?
Vaishnavi Kothuri, the writer of this article, is a certified skin care specialist. After thoroughly researching e-commerce websites and product reviews, she has listed the best hyaluronic acid serums with vitamin C. In addition, she has also listed the steps to maintain a good skin care routine and has provided her expert advice on selecting the right serum for your skin type.
Frequently Asked Questions
Can we apply the hyaluronic acid serum with vitamin C daily?
Yes. Hyaluronic acid serum with vitamin C is a potent and gentle formula that can be used daily.
Is it safe to use the hyaluronic acid serum with vitamin C on sensitive skin?
Yes. Hyaluronic acid and vitamin C complement each other. These ingredients can create an effective skin care routine for sensitive skin. They are safe for sensitive skin types, but if you are allergic to any ingredients, stop using the serum immediately.
What is the best time to apply the hyaluronic acid serum with vitamin c on your face to get immediate results?
Applying hyaluronic acid serum with vitamin C at night before sleep is always better. This is because your skin is stress-free and not exposed to harmful environmental aggressors when you sleep. Therefore, these ingredients can effectively repair your damaged skin at night. You may also use the serum in the morning, but follow up with sunblock before stepping out to prevent UV damage.
Which products should we not include in our daily skin care routine when using a hyaluronic acid serum with vitamin C?
When using hyaluronic acid with vitamin C serum, avoid any products with harsh chemicals, like alcohol and fragrances. Skip products with high concentrations of glycolic, salicylic, and lactic acids.
The following two tabs change content below.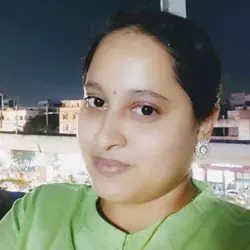 Vaishnavi is a techie-turned-content writer and a certified skin care coach. She did her postgraduation from Vignan Institute of Technology...
more