16 Best Hydrating Eye Creams Of 2023: Benefits & Buying Guide
Get rid of those stubborn lines and boost moisture into your under eyes.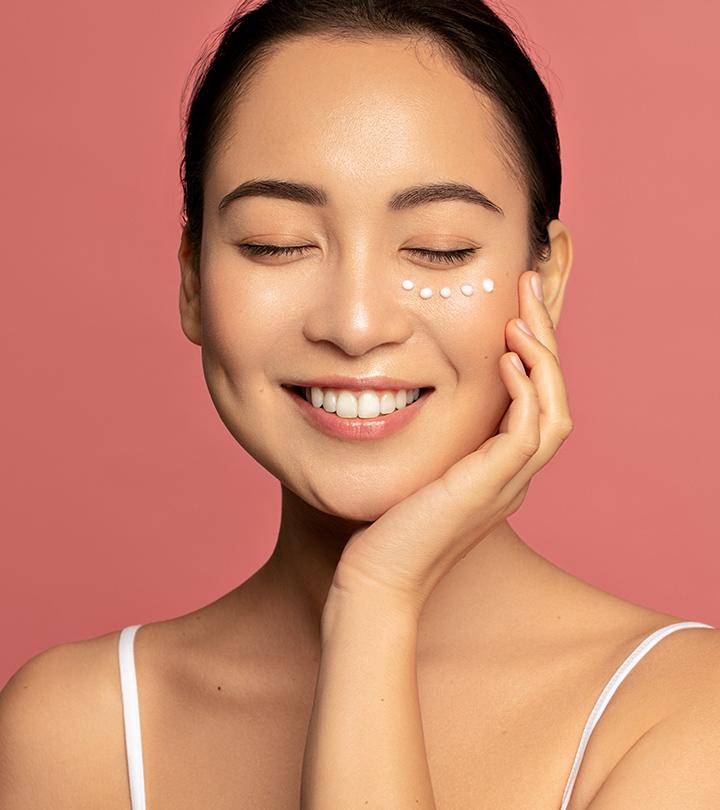 Sudden temperature drops and low humidity can cause the skin under your eyes to dry up. Although totally normal, the seasonal changes that bring about puffiness and redness under your eyes can be annoying. To battle the forces of nature, you need the strength of the best hydrating eye cream at your side. Since the skin around your eyes is thinner and has no oil glands in the area, it makes it drier than the rest of your body. Plus, significant factors like lack of sleep, diet, and stress can lead to your skin becoming dehydrated. Due to this, your eyes show the first signs of aging and wrinkles. To combat that, you need the perfect hydrating eye cream. Opt for creams that contain glycolic acid, salicylic acid, or hyaluronic acid that keep your eyes hydrated. If you want to go for more natural options, you can go for creams that contain aloe vera, botanical oils, and antioxidants. Also, avoid creams that are high in preservatives, dyes, or fragrances, as they can irritate the skin under your eyes. To make your search easier, we have curated a list of the best hydrating eye creams out there that can keep your eyes soft! Please scroll down below to see what they are!
What Does Hydrating Eye Cream Do?
The job of a hydrating eye cream is to keep the sensitive area around the eyes moisturized so that skin problems caused by excessive dryness such as itchiness, irritation, flaky, and crepey skin do not occur. Dry skin is also the main culprit that causes the appearance of signs of aging such as premature lines and wrinkles and using the best hydrating eye cream combats this problem too. Eye creams also help in battling puffiness and tiredness and help keep the skin smooth and supple around your eyes.
Keep Your Under-Eyes Supple And Smooth With The 16 Best Hydrating Eye Creams
If you are looking for a hydrating eye cream that does its job seriously without any frills, this is the first choice for you. Designed as a gel-based cream that glides on easily on the soft under-eye skin and absorbs quickly, this eye cream with a lightweight formula provides hydration in minutes. Suitable for all skin types, this drugstore eye cream is packed with hyaluronic acid that hydrates instantly and keeps the moisture locked in for up to 24 hours. This means that you will not have to worry about constantly moisturizing your under-eye skin by simply applying this eye cream once in a day. It is formulated to be non-irritating and hypoallergenic, which is great news for those with sensitive skin in general. Plus, this sensitive eye cream brightens up your under-eye region and makes you look energized and rejuvenated. Nichelle Temple, an esthetician, says, "The eye cream is packed with licorice extract that brightens the skin around the eyes and Vitamin complex B3 and E that smooth out the skin for a well rested look." Watch this video for more information about the product and the tester's experience.
Pros
Gel-based formula that is lightweight
Absorbs quickly
Locks in moisture for up to 24 hours
Hypoallergenic
Suitable for sensitive skin
Brightens the under eye region
Non-irritating
Recommended by dermatologists
Cons
Contains alcohol that might clog pores for some
Who said a blend of hyaluronic acid is only for your face? This Neutrogena Hydro Boost Eye Gel-Cream is packed in with this ingredient that is considered to be the holy grail as far as hydration is concerned. Designed to literally feel like water for your skin in the under-eye region, this gel-based cream feels like water and gel on the skin, making it absorb quickly while locking in moisture as well. Tested by ophthalmologists, this dermatologist-recommended eye cream is great for daily use and does not clog pores. Apply it before you go to bed or layer it with your favorite eye make up – this non-comedogenic eye cream does the job both ways and helps boost your skin's natural ability to retain moisture. Say bye to dry skin and fine lines in the under-eye region with this hydrating under-eye cream. Go through this video review for a detailed understanding of this results-driven, expert-recommended product.
Pros
Gel and water-based formula
Non-comedogenic
Tested by ophthalmologists
Free of dye
Free of oil
Fragrance-free
Long-lasting and intense hydration
Absorbs quickly
Cons
Might not be suitable for extremely sensitive skin
The Obagi Clinical Kinetin+Hydrating Eye Cream is highly beneficial in rectifying signs of aging. The kinetin+complex has been designed to eradicate eye wrinkles, crow's feet, sagging skin, puffiness, and fine lines around the eyes and renew the skin with a youthful look. It acts as an emollient to delicate skin and plumps it up. The ceramides and lipids in this serum repair the skin barrier, relieve the skin of dryness, increase hydration, and curb the natural loss of moisture. The palmitoyl tripeptide complex softens scars, marks, and aging lines around the eye while increasing the skin's elasticity. The eyes look refreshed and bright with firmer, smoother skin.
Pros
Hypoallergenic
Brightening
Cruelty-free
Paraben-free
Scientifically proven ingredients
Dermatologist tested
Scent-free
Cons
Say goodbye to crow's feet, puffiness, and bags under your eyes with this hydrating eye cream that comes in the soothing formulation of a gel. For its ingredient list, the brand uses a unique, innovative formulation comprising plant stem cells with matrixyl 3000, hyaluronic acid, and amino acids that help in the formation of collagen, which restores the elasticity of the skin and prevents the premature appearance of wrinkles and lines. Ingredients such as frankincense and gotu kola make this hydrating eye cream rich in antioxidants, which prevents inflammation and therefore also reduces puffiness. Packed with peptides and extracts of cucumber, this eye cream also reduces the appearance of dark circles and helps soothe the skin around your eyes. Brownie points for this brand using natural ingredients that are not tested on animals, are free of parabens, and are suitable for most dry skin types. Evidently, reviewers experience the results-driven efficacy of this product backed by a whopping number of reviews on Amazon.
Pros
Rich in antioxidants
Reduces puffiness
Wrinkle reduction formula
Reduces appearance of lines and wrinkles
Reduces appearance of dark circles
Made of natural ingredients
Free of parabens
No animal cruelty
Suitable for most skin types
Cons
Some might experience a tingling sensation upon using it.
They say eyes are the window to the soul but you surely do not want them to let the world know about how many late nights at work you have had recently and how sleep deprived you truly are. Wake up your eyes with this hydrating eye cream that not only moisturizes but also plumps up the skin to reduce the appearance of puffiness and tired-looking eyes. Formulated as a gel, this has a soothing effect on your eyes and absorbs quickly into the skin, without feeling sticky. A combination of potent ingredients such as a blend of hyaluronic acid, peptides, pro-vitamin B5, and cucumber extract help the skin lock in moisture, reduce the appearance of fine lines, and soothe the skin to get rid of inflammation. A small amount of this good hydrating eye cream gives you intense hydration that lasts for up to 24 hours. Multiple reviewers have tested this product with a cream formula, vouching for its ability to provide visible results. Check out this video for detailed information on the reviewer's experience with this product.
Pros
Plumps up the skin
Contains botanical extracts
Reduces appearance of lines and wrinkles
Reduces inflammation
Provides intense hydration
Absorbs quickly without feeling sticky
Lightweight gel formulation
Cons
Might not be suitable for those who want to layer it with eye makeup
Looking for a powerful eye cream that will nourish and hydrate your delicate eye area? Look no further than the belif Moisturizing Eye Bomb! This fast-absorbing formula due to the microemulsion technology is enriched with Comfrey Leaf and Centella Asiatica (Cica) to soothe and calm the skin. It's perfect for dry or sensitive skin, as it provides intense hydration without feeling heavy or greasy. Plus, its lightweight texture makes it easy to apply and blend into the skin. With regular use, you'll notice a visible difference in the appearance of fine lines, dark circles, and puffiness.
Pros
Lightweight
Non-greasy
Gets absorbed easily
Can be used under makeup
Paraben-free
Sulfate-free
No synthetic fragrances
Suitable for all skin types
Clinically tested
Dermatologist-approved
Cons
None
Your quest for a heavy-duty, power-packed hydrating under-eye cream ends here with this product. With potent ingredients such as shea butter, niacinamide, squalene and neurosensine, a small amount of this soothing eye cream will comfort the sensitive area around your eyes in a jiffy. It has an easy gel and cream texture that is easy to apply and absorbs quickly into the skin. Suitable for even ultra sensitive skin types, this under-eye hydrator is dermatologically tested for allergies and free of oil and fragrances, plus is non comedogenic. The product has proven efficacy supported by clinical data. This product is also designed to be free from parabens, preservatives, and drying alcohol. Apply this under eye hydrating cream to the sensitive area around your eyes twice a day and see how it works its magic.
Pros
Suitable for ultra sensitive skin
Free of preservatives
Free of drying alcohol
No fragrance
Tested by dermatologists
No oils
Non-comedogenic
Allergy-tested
Cons
Needs reapplication for all-day hydration
Concocted to act like a caffeine kick for your under-eyes, this hydrating eye cream uses a potent cocktail of ingredients such as ashwagandha, holy basil, reishi mushrooms, turmeric, supergreens, and green coffee oil. These ingredients do not just make your puffiness disappear but also brighten your sensitive under-eye region and reduce the appearance of dark circles. A pea-sized amount of this powerful hydrating eye cream works like magic to keep your skin around the eyes moisturized.
Pros
Keeps puffiness at bay
Free of parabens
Free of sulfates
Free of mineral oil
Free of petrolatum
Free of formaldehyde
No animal cruelty
Contains supergreens and adaptogens
Cons
Some might not like its natural scent.
The DERMA E Hydrating Eye Cream is a nourishing and revitalizing eye cream that helps to hydrate and soothe the delicate skin around the eyes. It is formulated with hyaluronic acid, green tea, and vitamin E to restore moisture and promote a youthful, radiant appearance. Hyaluronic acid acts as a humectant in the skin, while green tea and vitamin E provide antioxidant protection and help to reduce the appearance of fine lines and wrinkles. With regular use, you'll notice a brighter, more youthful look around your eyes.
Pros
Suitable for all skin types
Paraben-free
Sulfate-free
Cruelty-free
Mineral oil-free
Petrolatum-free
Lanolin-free
Gluten-free
Soy-free
GMO-free
Vegan
Cons
The First Aid Beauty Hydrating Eye Cream is a nourishing and hydrating formula that targets the delicate skin around the eyes. It is formulated with hyaluronic acid, caffeine, and cucumber extract that help to reduce the appearance of fine lines and wrinkles, while also providing a burst of hydration to the skin. The caffeine helps to de-puff and awaken tired eyes, while the cucumber extract soothes and calms the skin. Use this eye cream daily to achieve a brighter, more youthful-looking eye area.
Pros
Suitable for all skin types
Non-greasy
Gets absorbed easily
Paraben-free
Sulfate-free
Gluten-free
Nut-free
Soy-free
Silicone-free
Can be used under makeup
Cruelty-free
Dermatologist tested
Cons
Not long-lasting hydration
What is better than just hydrating the skin around your eyes? If you also get to smoothen lines and wrinkles, of course! This hydrating under-eye cream is designed to do just that, and more. Its intensely hydrating formula keeps the skin soft but does not lead to greasiness, as it absorbs into the skin quickly. Infused with ingredients such as hyaluronic acid and vitamin C, this aesthetic hydration cosmetic (AHC) under-eye moisturizer is clinically formulated to make the skin around your eyes appear firmer and therefore, beat signs of aging. Collagen, copper, peptides, caffeine, and cucumber extract work to provide radiance to the skin to make it look brighter. Nichelle Temple, an esthetician, says, "Copper aids in the regeneration of skin cells, helping to boost collagen production. It is also anti-inflammatory and contains antioxidant properties." The eye cream encourages cell turnover and reduces the appearance of puffiness and under eye dark circles!
Pros
Intensely hydrating
Absorbs into the skin quickly
Firms the skin around the eyes
Contains collagen
Adds radiance
Minimizes puffiness
Minimizes dark circles
Cons
Might be a little pricey for some
Pick this thoughtfully-formulated eye repair cream if you are looking for a trusted treatment for your under-eyes as with its intense hydration formula, this under-eye emollient helps keep your skin soft. A combination of vitamins C and E and grape seed extract in the potent formula help to protect your skin from pollutants and environmental damage, which improves the natural texture of the skin. It is an effective cream that reduces the appearance of fine lines and wrinkles and locks in moisture for optimum hydration, nourishing your skin from within. This vegan product also helps combat photoaging and signs of aging from other factors, thereby making your under-eye skin look and feel good. It is an ideal choice for those looking for an ethical product as the brand does not do animal testing.
Pros
Improves skin texture
Protects against environmental damage
Protects against photoaging
Free of gluten
Free of paraben
Vegan
Cruelty-free
Cons
Some might find the product a little heavy on the skin.
Not just does this eye cream provide moisturization but it helps you tackle signs of aging by fighting the number one culprit for it, which is the sun. Containing broad spectrum SPF 15, this eye cream provides a shield for your skin against the sun using titanium dioxide, protecting it from aging. Plus it also helps in diffusing light to take the focus away from existing lines and wrinkles. Caffeine helps in fighting puffiness while retinol helps in the rejuvenation of cells. Fused with the goodness of vitamin C, it also brightens your skin. With its anti-aging features and ability to hydrate, this one is a win for those looking to buy a wonder product packed with features.
Pros
Contains broad spectrum SPF 15
Contains retinol to support cell renewal
Has anti-aging benefits
No parabens
No sulfates
Gluten-free
No mineral oil
No animal-derived ingredients
Cons
Formulated as a rich and intense moisturizer that melts into the skin to act as a double shield of hydration, this moisturizing eye cream smoothes lines and softens wrinkles in a jiffy. Using ingredients such as the Japanese white peony extract, silk extract, and hadasei-3 complex, this eye cream feels like silk on the skin and provides a cushioning effect for your under-eye area by blurring the appearance of lines and wrinkles. Packed with antioxidants and superfoods, this eye cream with a rich formula basically helps to keep your skin young and nourished. Pick this for a dose of intense hydration for your under-eye skin!
Pros
Rich texture
Packed with antioxidants
Melts into the skin and settles as a barrier
Blurs the appearance of lines and wrinkles
Contains protein complexes for a silky effect
Cons
May not be suitable for those looking for a light product that absorbs quickly
Looking for a no nonsense hydrating eye cream that does the job just right? This eye cream is your answer. Made of certified natural ingredients, they act as naturally occurring humectants that moisturize the skin around the eyes and keeps it soft while also refining it to improve its texture. Continued usage reveals younger-looking, nourished skin that looks and feels better. A blend of essential oils work to fight signs of aging while rose water and other plant-based ingredients add to the hydration and soothing effect.
Pros
Uses certified natural ingredients
Softens and smoothes the skin
Fights signs of aging
Contains essential oils
Plant-based ingredients to soothe the skin
Cons
May not pack long-lasting hydration
The innisfree Green Tea Seed Intensive Hydrating Eye Cream is a moisturizing eye cream that is specifically formulated to nourish and hydrate the delicate skin around the eyes. This lightweight cream is enriched with green tea seed oil and fermented green tea extract, which work together to provide intense hydration and nourishment to the skin. The formula is also infused with adenosine, a powerful anti-aging ingredient, that helps to smooth out fine lines and wrinkles.
This eye cream contains green tea leaf extract, which is known for its anti-inflammatory properties, and centella asiatica extract, which helps to strengthen and protect the skin's natural barrier. The formula gets absorbed quickly and leaves the skin feeling soft, smooth, and refreshed.
Pros
Paraben-free
Sulfate-free
Mineral oil-free
No animal-derived ingredients
No artificial fragrances
Gets easily absorbed
Cons
*The prices provided in this article are based on the latest available information. However, they may vary due to changes in pricing by the seller and/or promotional offers.
The skin around your eyes is one of the most delicate and thin surfaces, making it prone to dryness and premature aging. Therefore, it is vital to invest in a high-quality, hydrating eye cream. Here are some essential qualities to look for when buying the best eye cream.
How To Choose The Best Hydrating Eye Creams
Hydrating eye creams typically come in two intense formulations, gel based and thick creams. While gel formulas have a lightweight texture that absorbs quickly into the skin, thicker creams have a rich texture that glides on smoothly. If you have dry skin, go for a thicker eye cream. However, if you have oily skin type, opt for a cooling gel formula.
The kind of ingredients you choose must resonate with the benefits you are looking for your skin. For instance, choose ingredients like vitamin E, retinol, niacinamide, and vitamin C, which helps brighten up the skin and reduce dark circles. For intense hydration, look for ingredients like plant oils, shea butter, cocoa butter, and hyaluronic acid to retain moisture. In case you suffer from under eye puffiness or crow's feet, pick an under eye cream with caffeine and green tea.
It is best to avoid ingredients like parabens, sulfates, alcohol, and phthalates because the area around your eyes is particularly delicate. If you have sensitive skin, choose hypoallergenic eye creams. Also, avoid using any artificial fragrances, as they contain harmful elements that can cause irritation. Instead, go for natural options such as fruit extracts and essential oils like lavender, which heals your skin and provides a refreshing aroma.
Choose an eye cream that contains SPF to protect the delicate skin from the harsh UV rays. Pick an eye cream with an SPF 15 or more for optimal protection. You can also look for ingredients like proteins, peptides, and ceramides which help fight and delay the early signs of aging on mature skin.
And now that we have looked at the best hydrating eye creams that are our favorites, here is how you could choose the one that is best for you.
How To Apply Hydrating Eye Cream
Step 1: Always start by cleansing your skin. Remove all the dirt and grime from your face and start with a squeaky clean skin.
Step 2: Exfoliate your skin with your favorite product so that it takes out all the leftover impurities from your skin.
Step 3: Tone your skin to add a layer of hydration.
Step 4: Dab your serums on to your skin in this step for an added layer of hydration and skin nourishment.
Step 5: Moisturize your skin well by massaging in a good hydrating face cream.
Step 6: Take a pea-sized amount of your eye cream and apply it in tiny dots around your eyes with your fingertips.
Step 7: Gently use the tip of your eyes to lightly massage it in. Pay attention to being extremely gentle as the skin around your eyes is very sensitive.
Step 8: Go ahead and add some SPF if you are stepping out. You can also wear your makeup after this, if you want to.
If you are still wondering about the benefits of using a hydrating eye cream then here are listing a few.
What Are The Benefits Of Using Eye Cream?
It moisturizes the soft skin around your eyes and helps to keep it soft and smooth.
It helps fight aging as dry skin is a major cause of premature lines and wrinkles.
It can also help fight puffiness and tiredness to brighten up your eyes and dull skin.
It helps reduce the appearance of dark circles.
Why Trust StyleCraze?
Kirtana Divakar, the author, is a skin care aficionado and has the lowdown on hydrating eye creams. To make it easier for you, the author has come up with the above list of the best night creams after surveying different brands available on the market and going through user feedback at great lengths. She believes these creams play a crucial role in hydrating the sensitive area around the eyes and help prevent irritation, flaky skin, and signs of premature aging.
Frequently Asked Questions
How do you hydrate the skin around your eyes?
You can hydrate the skin around your eyes with the best hydrating eye creams that are especially designed to keep the delicate skin in that area moisturized.
Are eye creams really necessary?
Eye creams are formulated for the purpose of giving effective hydration to your under-eyes and also have added benefits such as fighting puffiness and the appearance of lines and wrinkles. Eye creams are the ideal way to keep the sensitive skin around your eyes moisturized and healthy.
Is there an eye cream that actually works?
Yes. Eye creams moisturize your dry under-eye skin, combat aging signs, reduce puffiness, and improve the appearance of dark circles.
Is Vaseline good for under the eyes?
Yes. Vaseline moisturizes and softens the skin under your eyes. It eliminates dead skin cells and improves the appearance of dark circles.
Can I put moisturizer around my dry eyes?
Yes. Put lightweight moisturizers rich in hyaluronic acid and collagen around your dry eyes to hydrate and soften the skin.
How often should you apply eye cream?
Yes. Apply eye cream twice daily to brighten the appearance of your eyes and keep the skin around your eyes hydrated and youthful.
What causes under-eye dryness?
The skin under your eyes is thinner than other parts of your face. Therefore, it has a low moisture-retention capacity and is more prone to radical damage. Therefore, the skin under your eyes tends to become dry and dull quickly.
At what age should you start using eye cream?
The skin starts to age and deteriorates from the early 20s. Therefore, apply eye creams in your mid-20s to prevent radical damage and combat premature aging signs.
Can you apply hyaluronic acid under the eyes?
Yes. Use products infused with hyaluronic acid to boost moisture in the skin under your eyes. This ingredient helps moisturize and brighten the under-eye area.
Recommended Articles