15 Best Hydrating Face Mists That Refresh Your Skin – Stylecraze (2023)
Nourish and hydrate your skin with organically enriched skin care products.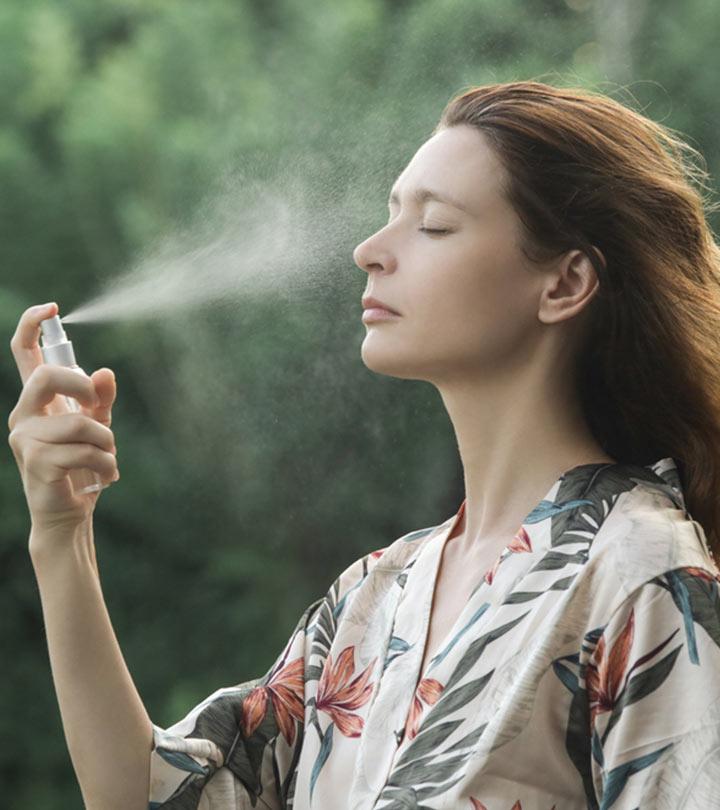 If you have thought of owning the best hydrating face mists, we will help you choose the perfect one. Face mist is a must when it comes to relaxing your face and keeping it refreshed after a long day. Your skin is exposed to external elements like chemicals, sun rays, and pollutions which needs to be cleansed and nourished the right way.
Face mists have revolutionized the skin care industry. They help open your pores and keep your skin free of dirt, dust, and pollution. These products nurture and refresh your skin with a lightweight formula. Here is a list of the 15 top-rated hydrating mists that bring your skin back to health. These also have got a good number of reviews on trusted online platforms which shows a positive people's experience. So, who is ready to flaunt flawless and gorgeous skin?
15 Best Hydrating Face Mists Of 2023 – Reviews And Guide
As the name of this face mist suggests, relish the "ultimate hydration" that it provides from the very first spray. Infused with a blend of bergamot and vitamin C, this hydrating mist for oily skin not only energizes your skin but also hydrates it. Also enriched with vitamin B3, it revitalizes your skin and strengthens the natural skin barrier, which is really good news for all those looking to lock in all the natural goodness!
Pros
Hydrating properties
Suitable for dry, combination, and oily skin types
Leaves skin looking radiant
Refreshing qualities
Cons
May not be suitable for sensitive skin. A patch test is recommended before use.
Price at the time of publication: $21.99
Acne-prone skin needs diligent care, a healthy diet, and gentle products. A brand synonymous with world-class products and is dermatologist-recommended, Neutrogena offers the calming and antioxidant-rich properties of good ol' turmeric in the form of an ultra-fine hydrating face mist for acne prone skin. Just a spray of this non-comedogenic and non-oily formula wakes you up and gives you the much-needed burst of freshness. All this without the worry of staining your clothes! So, what are you waiting for?
Pros
Suitable for combination, acne-prone, and dry skin types
Does not clog pores
Mineral oil, paraben, sulfate, and silicone-free
Not tested on animals
Cons
Some users may find the smell too strong for their liking.
Price at the time of publication: $11.99
Are you looking for something to boost your skin throughout the day as well as hydrate it? Look no further than this Coconut Water Hydrating Face Mist from Pearlessence. Cytokines in coconut water are helpful in promoting skin cell repair, thereby reducing signs of skin damage. This hydrating facial spray provides essential skin nourishment, making it an ideal choice for those with dehydrated skin. Just a spritz of this plumping mist will help revitalize and deliver anti-aging and soothing benefits. What's better is that it doubles as a makeup setting spray that gives you that coveted dewy look. Check out this video to learn more about this product and reviewer's experience.
Pros
Soothing and hydrating
Contains essential minerals
Contains vitamins
Can be used over makeup
Cons
May not be suitable for sensitive skin
Price at the time of publication: $22.99
You know your skin care product is 'honest' when the brand is verified to not employ the use of harmful chemicals in the formulation. Honest Beauty revive + refresh Elevated Hydration Mist is no exception. This hydrating mist for all skin types is blended with the soothing and hydrating extracts of aloe vera and a host of plant oils along with hyaluronic acid that helps retain moisture. Spritz this over a full face of makeup or over a cleansed face to give yourself a quick pick-me-up wherever you are!
Pros
Cruelty-free
Verified by toxicologists
Dermatologist-tested
Free from synthetic fragrances
Dye-free
Paraben-free
Cons
Some may find it slightly greasy
Price at the time of publication: $16.9
What is more attractive than seeing one of your favorite products labelled "Eco-Ethical Skin care"? A product that actually delivers on this promise. This hyaluronic acid mist not only hydrates your skin, but also helps cool it down. Enriched with hyaluronic acid that locks in the moisture, it also contains rosewater and coconut water that condition dry skin and impart a soothing effect. Use it as the first step in your daily skincare routine or over your makeup throughout the day, the choice is yours! Watch this video for more information about the product and reviewer's experience.
Pros
100% vegan
GMO, gluten, mineral-oil, petrolatum, sulfate, and phthalate-free
Infused with vitamin C and green tea
Suitable for dry skin
Cons
It may not be non-comedogenic.
Price at the time of publication: $11.75
By now it is pretty clear that even in 2023, it can be quite difficult to get the right product that is perfect for uneven skin type. Well, Eminence Organic Skin Care rights this wrong and how! Not only does it provide the revitalizing effect that toners or sprays are known for, but the stone crop juice hydrates skin and helps improve skin tone. The result is skin that looks fresh and moisturized for hours on end. This refreshing mist is a must-have for skin hydration, offering numerous face mist benefits as part of a good hydrating skincare routine. Grab yours now with just the click of a button!
Pros
Free from SLS, animal by-products, triclosan, GMO
No petrochemicals
No synthetic dyes
Cruelty-free
Cons
Price at the time of publication: $26.0
Beat dull and dry skin with none other than the Herbivore Rose Hibiscus Coconut Water Hydrating Face Mist! Infused with organic extracts of rose, coconut water, and hibiscus along with vegan hyaluronic acid, a spritz of this fine and heavenly cooling mist over your face will make you feel a marked difference. It also contains witch hazel, aloe water, Bulgarian rose oil, and grapefruit oil among other hydrating ingredients. The brand prides itself in producing skin care products that are all-natural and food-grade. It's totally safe to use on skin while also being kind to Mother Earth.
Pros
Contains food-grade and plant-based cold-pressed oils
Infused with steam-distilled essential oils that have a therapeutic effect on skin
Reusable and recyclable packaging
No animal testing
No harmful chemicals
Cons
May not moisturize over a long period of time.
Price at the time of publication: $34.0
If there is a product missing from your skin care routine, this is the one. This set of 2 facial mists for all skin types is infused with extracts of green tea and aloe vera that help soothe skin. Apart from imparting nourishment, this antioxidant-rich mist also helps protect your skin from any signs of skin damage, making you look more youthful as the days pass by. This lavender face mist contains ginseng extracts that calm the skin, while coconut extracts hydrate it.
Pros
Contains natural antioxidants that protect from skin damage
Suitable for all skin types
Cruelty-free
Sulfate-free
Can also be used as a setting spray
Cons
Some users found it slightly sticky
Price at the time of publication: $8
The e.l.f. Hydrating Coconut Mist with hyaluronic acid and vitamin E is the pick-me-up your skin looks for in the middle of the day or at the end of a very tiring day. Enriched with the goodness of coconut water and vitamin E, this mist moisturizes, refreshes, and nourishes your skin. And the best part is that this coconut water face mist is infused with a fragrance that is sure to leave you feeling fresh as a daisy!
Pros
Cruelty-free
100% vegan
Contains castor and coconut oils
Paraben-free
Cons
May leave your skin feeling slightly greasy
Price at the time of publication: $5.4
The dewy look was all the rage in 2023 and is here to stay. Thanks to this Glow Recipe Watermelon Glow Ultra-Fine Mist, this trendy look is just a spray away! A rich botanical blend of watermelon and hibiscus along with hyaluronic acid, it helps nourish skin and imparts a radiant glow. This glow-boosting mist also fights any signs of free-radical damage, evens skin texture, and offers instant hydration to your skin. Inspired by the Korean trend of fog-mist sprays, this ultra-fine mist sets your makeup with a glowy finish.
Pros
Makes your skin look bright and dewy
Clean beauty product free from harmful chemicals
Free from drying alcohols
Refreshing fragrance
Cons
Price at the time of publication: $30.0
The Optimized H2O Daily Super Youth Mist is a multipurpose mist for hair, scalp, face, and body. It has a pH of 5.0, making it an ideal product for your skin. It restores and replenishes moisture with its range of nutrients such as vitamin B3, B5, B6, B12, biotin, Vitamin C and E. It helps in reducing pore size, fading dark spots, and various signs of aging, to reveal radiant and healthy skin. It promotes collagen synthesis, improving the skin's overall elasticity. In addition, this hydrating mist with SPF also has UV protectors for your color-treated hair and moisturizes frizzy and limp hair to add bounce and shine. It works great for all skin types.
Pros
Suitable for all skin types
Works for hair, face, body
Non-greasy
Gentle on skin
Alcohol-free
Paraben-free
Sulfate-free
Preservative-free
Fragrance-free
Cons
None
Price at the time of publication: $17.95
A fine facial mist that moisturizes your skin and imparts a radiant glow too? We are here for it! This product comes infused with Hadasei-3 Anti-Aging Complex, a combination of rice, green tea, and algae, that makes you look more youthful with every passing day. Enriched with natural humectants, hyaluronic acid, and botanic oils, your skin is going to thank you for the burst of moisturization provided by this hydrating face mist spray.
Pros
Soothing and hydrating formula
Imparts a luminous glow
Can be sprayed over makeup
Contains plant-based oils
Cons
Price at the time of publication: $44.83
Hesperidin, ginkgo biloba, vitamin C, pomegranate seed extracts, and green tea are just a few of the ingredients that make this face mist as great as it is. Sodium PCA is an active ingredient of this hydrating mist with hydrosols that help reduce discoloration around the eyes and moisturize your skin deeply. The antioxidant-rich formula is effective in promoting an even skin tone and reducing the appearance of wrinkles and fine lines.
Pros
Reduces redness of skin
Can be used on your face, neck, arms, and chest
Softens skin
GMO-free
Cruelty-free
Cons
Some users have reported that the mist foams.
Price at the time of publication: $44.83
The nutirient-rich Algo Mist® Hydrating Seaweed Facial Spray is perfect for an on-the-go dose of hydration. This hydrating mist for sensitive skin is enriched with the goodness of the ginkgo biloba extract that lends a refreshing touch to the skin, the seaweed laminaria digitata that is a natural and potent source of vitamins, beta carotene, amino acids, and trace elements, all excellent for maintaining skin health. The lightweight formula is also enriched with vitamin C-rich orange extracts that restore the appearance of the skin, and aloe vera juice that is rich in minerals, vitamins, and skin-nourishing enzymes. The nourishing aloe vera face mist keeps the skin smooth and soft throughout the day and is perfect for all your outdoor adventures and indoor lounge sessions.
Pros
Adds glow
Suitable for air travel
Suitable for post-shave application
Sets makeup in place
Travel-friendly packaging
Paraben-free
Alcohol-free
Dermatologist-tested
Cons
None
Price at the time of publication: $44.5
Pomegranate extract, noni, mangosteen, acai, and goji. Need we say more? This Eight Hour Hydrating Mist comes infused with a rich blend of all these superfruit extracts along with rose, bergamot, lemon water, apple leaf extract, and coffee seed extracts. Together, this botanical blend helps soothe irritated skin and also leave it feeling refreshed. Awaken your skin with just a couple of spritzes and let the pleasant fragrance take you to your happy place when you wake up or any other time during the day.
Pros
Powerful blend of ingredients that provide effective antioxidant protection
Travel-size packaging approved by TSA
Ultra-fine facial mist
Cons
It may not moisturize skin deeply
Price at the time of publication: $25.0
This was a list of the 15 best hydrating facial mists available online. Before you can choose any one of these products, let us take a look how to make the right choice for you.
How To Choose The Best Hydrating Face Mist For Your Skin Type- A Buying Guide
With a new product being launched almost every other day, choosing the best hydrating face mist for your skin type can be a task that seems easier left alone than done. Fret not, for we have compiled a few of the most essential properties you need to look for to choose the best moisturizing face mist:
One of the most important concerns to address is to determine which face spray suits your skin type. If you have dry skin, make sure to get a hydrating facial mist for dry skin. The best hydrating face mist for acne-prone skin would be one that is non-comedogenic and alcohol-free. Some organic hydrating face mists enriched with vitamin E work wonders for sensitive and dry skin as it offers deep moisturization. Normal and combination skin types are also best pampered with facial mists that are infused with vitamins C and E and hyaluronic acid as it helps tone uneven skin, while also nourishing it.
This means that you should choose hydrating face mists depending on whether you want to use it as a toner, setting spray, or just as a pick-me-up in the middle of the day. From our list of the best hydrating face mists for refreshed skin you can use Tatcha Luminous Dewy Skin Mist or Glow Recipe Watermelon Glow Ultra-Fine Mist to set your makeup.
Some of the best hydrating facial mists are also formulated to address specific skin concerns such as discoloration, fine lines, skin irritation, blemishes, etc.
In addition to these, perform a patch test before trying a face mist to avoid any potential allergic reactions.
Why Trust StyleCraze?
The author of this article, Krati Darak, has a keen interest in researching and sharing products that cater to your skin's needs. It's important to keep your skin hydrated, which is why she recommends using these face mists. She looked through many products and reviews before settling on these hydrating face mists. She chose these based on additional skin care benefits, non-comedogenic properties, the absence of elements like paraben, and more.
Frequently Asked Questions
Why should I use a facial mist?
Face mists not only hydrate your skin, but also leave it looking and feeling supple and healthy. It can also help prime your skin for makeup or your daily skin care routine.
Can you use a hydrating face spray as a toner?
Yes, you can use a hydrating face spray as a toner right after cleansing your face. It can help revitalize your skin and moisturize it.
Can I use a face mist on acne-prone skin?
Yes, there are some hydrating face mists for acne-prone skin like Neutrogena Soothing Clear Turmeric Mist Refreshes & Hydrates Stressed Acne-Prone Skin that are formulated without using alcohol or other comedogenic ingredients.
Can I use face mist instead of moisturizer?
Yes. You can use a face mist instead of a moisturizer if you want a non-greasy look. However, you can combine both of them to achieve maximum hydration.
How often should you use face mist?
You can use a face mist twice daily, but apply it more frequently if your skin feels dry.
When should I apply face mist?
You can apply face mist by spraying it directly on your face by holding the bottle at arm's length. Apply a face mist before going to bed, after waking up, or before and after applying makeup.
Which is better: face mist or toner?
Both toner and face mist have very different purposes. A toner helps to cleanse your skin of dirt and extra oil, while a mist instantly adds moisture and freshens up your skin.
Can you use face mist over makeup?
Yes. The best part about a face mist is that it can be used at any point in the day. You can use it before makeup to prep your face or apply it after using makeup for a dewy and plump look.
Can rose water be used as face mist?
Yes, rose water can be used as a face mist. It is extremely gentle and adds hydration to your skin.
Recommended Articles: