10 Best Hypoallergenic Earrings For Comfortable Style In 2022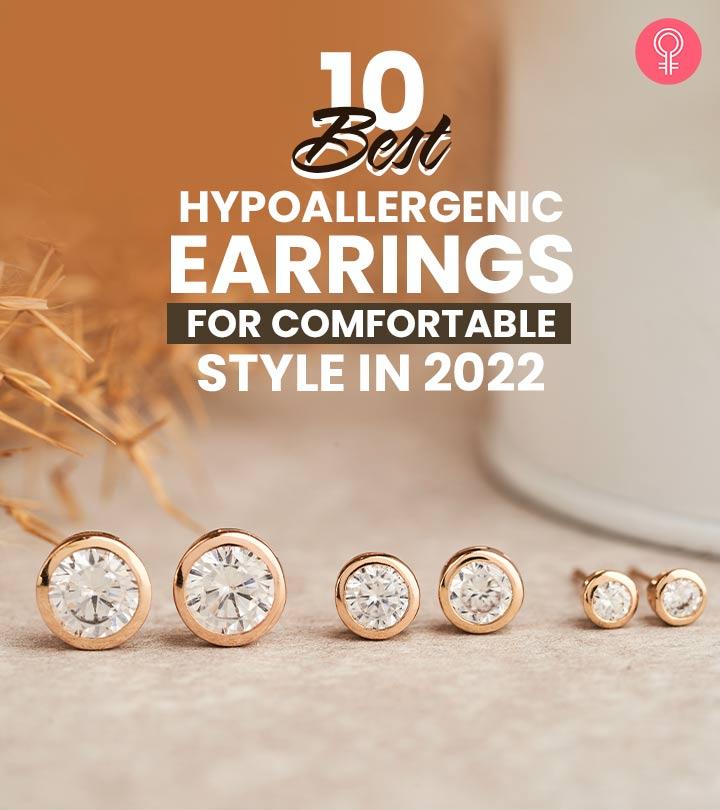 Picking an earring to adorn the lobules of your sensitive ears is a matter of hit-and-miss. If you experience sore ears now and then, using the best hypoallergenic earrings is your ultimate solution.
Unfortunately, those with sensitive ears are robbed of their chance to put on trendy earrings that are relatively inexpensive. But running after trendy pieces to fit in the fashion world can take a toll on your delicate ears. Because regular earrings contain nickel which is the most malicious allergen. It reacts adversely on sensitive skin and develops rashes and blisters. In severe cases, people experience burning sensations and need ointments to heal their earlobes. Since no one dresses up to end up in bed the next day, choosing only finer quality, hypoallergenic earrings that are less reactive is the best way to avoid allergic reactions.
If you are wondering which earrings are harmless, check out the list below to find the 10 best hypoallergenic earrings that are free of allergens, but are also extremely stylish.
What Are Hypoallergenic Earrings?
The term 'hypoallergenic' means that the product will not cause any allergic reactions. Therefore, hypoallergenic earrings are those studs, hoops, and rings that have the minimal risk of causing allergies to your sensitive ears. Made of pure metals, like gold, copper, and stainless steel, these earrings are the safest alternatives to trendy regular earrings that contain nickel and other common allergens. Nickel causes painful, itchy ears and even leads to the development of blisters. Switching to hypoallergenic earrings is a way of minimizing the chances of red swollen ear lobes.
If you have sensitive skin, you cannot go about buying every earring that you see in the markets. Trendy earrings often are made up of metals that irritate your ear lobes and turn them green. So, check out the following section to gather an idea about the relatively safer and hypoallergenic metals.
What Materials Are Best For Sensitive Skin?
Metals react differently on various skin types. As a result, some of us may be allergic to copper, and some might be allergic to nickel. Skin rashes, itchiness, and blisters are typical results of metal allergies. However, you can eliminate the allergies by opting for hypoallergenic earrings for sensitive ears. Let us learn about the metals that do not react to sensitive ears.
Sterling Silver: This alloy mostly contains silver in addition to other metals. Some sterling silver jewelry is nickel-free and is perfectly safe. However, some contain a small percentage of nickel that causes no severe infections.
Niobium: Niobium is a metal that is anodized in an electric bath. It does not contain any additives, like nickel or lead, and, therefore, is entirely safe for people with metal allergies.
Stainless Steel: It is an alloy containing chromium, steel, and nickel. Since nickel is a common allergen, choosing XC45 Steel or 430 Stainless is a better option. These alloys contain less than 1% nickel and are hypoallergenic.
Gold: Gold is found in varied karat counts. 24 karat gold is the purest of all. 14 Karat gold is very common. Such jewelry contains a mixture of palladium or copper with pure gold. Gold hypoallergenic earrings are best if you are willing to spend a little to ensure the least amount of allergic reactions.
Titanium: The metals of titanium are aluminum and vanadium. It does not contain nickel and is hypoallergenic. This lightweight metal is corrosion-resistant as well.
Copper: Copper is essentially hypoallergenic unless it is strengthened with nickel. Copper does turn your skin green, but that is due to the oxidation of the metal. Although copper jewelry is not of very high quality, it is harmless.
Brass: Brass is a combination of copper and zinc. It does not react to your skin but does not have a glossy look either.
Rhodium: Sterling-silver jewelry plated in rhodium does not contain nickel and is safe to wear. But, with time, the plating can wear out. So, opt for those earrings that have hypoallergenic metals underneath the rhodium plating to be able to wear them forever.
10 Best Hypoallergenic Earrings That Are Affordable- 2022 Reviews
If you are looking for a meaningful present to gift your dear ones this festival season, the UHIBROS hypoallergenic studs are the best choice. The earring box contains five pairs of studs available in 5 colors- Gold, Silver, Rose Gold, Black, and White. These studs are made up of 316L surgical stainless steel and are nickel and allergen-free. The Rose ones are plated with 14 karat Gold. They are coated with a protective electroplated finish that helps to retain their luster for a long time. For extra security, the earrings come with double-notched butterfly locks that hold the studs in place. These hypoallergenic allergy studs are incredibly versatile as you can wear them for tragus, helix, ear lobe, or cartilage piercings. On purchase, you will receive a maintenance card, a cleaning cotton card, and an alcohol cotton pad with the earrings. Do take off these studs before swimming and bathing to retain their shine and quality.
Pros
Suitable for daily wear
Double-notched locks
Can be worn on multiple piercings
High-temperature resistant
Contains fewer impurities
Contain cleaning pads
Nickel-free
Allergen-free
Anti-tarnish
Cons
Buy the Dwearbeauty Jewelry Stud Earring Set and adorn yourself with 6 pairs of fashionable studs. The set contains 3 pairs of opal earrings and 3 pairs of cubic zirconia earrings that never go out of fashion. Plated with high-quality brass, the 18 karat rose-gold studs are lead and nickel-free. All the studs are round cut with 2mm, 3mm, and 4mm diameters, respectively, and have 4 prong mountings. These studs, being hypoallergenic, cause the least allergic reactions and, thus, can be worn throughout the day. However, to maintain their luster, clean them with a clean polishing cloth. Additionally, keep them away from harsh chemicals and humid environments and remove them before bathing and swimming.
Pros
Easy to clean
Can be worn overnight
Value for money
Comfortable
Lead-free
Nickel-free
Cons
Can tarnish
Might turn your ear green
Add a bling to your basic outfit with the ComelyJewel Stud Earrings. This 5-pair earring set is made of high-quality 316L stainless steel that prevents irritation and itchiness. In addition, the stainless steel is rust and tarnish-free, making it a durable alternative. The studs come with firey flawless Cubic Zirconia stones that add to their spectacular elegance. They have a high-polished, strict metal electroplating finish. All the studs have large backs, making it easier for you to put them on and off. In addition, the set comes with 6 prong mountings that are entirely maintenance-free. These double-headed CZ design-headed earrings are those shiny classic pairs that you must have in your jewelry box.
Pros
Easy to wear
Comfortable
Maintainance-free
Rust-proof
Tarnish-resistant
Durable
Travel-friendly
Cons
Fastening the posts is hard
What is a better gift than a piece of dainty earrings that radiates good energy? The ChicSilver Celtic Knot Stud earrings are designed keeping the concept of good luck in mind. The simple design earring is cute, lightweight, and comfortable. The suds are crafted with high-quality and authentic 925 sterling silver and are nickel- and allergen-free. This timeless design is ideal for women of all age groups and is statement wear for those who wish to go minimal with their accessories. Be it a birthday party or a wedding ceremony, these Celtic Knot stud earrings are sure to complement all your looks.
Pros
Lightweight
Nickel-free
Comfortable
Does not turn ear green
Cons
The Vgaceti Titanium Earrings are effortless, chic, and simple earrings, mainly designed for everyday wear. They are made of titanium which is a sensitive skin-friendly material and is nickel-, cadmium-, and lead-free. The earrings are available in four designs- lightning bolt, moon, open heart, and star. The set comes with multiple posts and butterfly backs. To retain the luster of these titanium earrings for a long, store them separately and clean them with toothpaste and a brush.
Pros
Skin-friendly
Good for everyday wear
Secure posts
Affordable
Nickel-free
Cadmium-free
Lead-free
Cons
The Opomomo Stud Earring set consists of 4 pairs of round-cut cubic zirconia studs. They are rhodium-plated and are completely free from nickel. Each stud has classic friction butterfly backs that are sturdy and not easily bendable. The inlaid cubic zirconia makes it a versatile piece that can be worn on every occasion. The company's quality control department inspects each pair before shipping. From the price point, these earrings are totally cost-efficient.
Pros
Versatile design
Sturdy posts
Cost-efficient
All-day wear
Cons
None
The Kisspat Small Gold earring set contains 2 pairs of gold huggie hoops and 4 pairs of cubic zirconia studs. These earrings are nickel- and lead-free, and are made with authentic 925 sterling silver. They are even plated with 14K gold. The statement hypoallergenic hoop earrings are lightweight and have a diameter of 14mm. All the pairs come in premium finish and long-lasting colors. In addition, the pairs come with secured posts made from sterling silver that can be handled easily. Mix and match these earrings and create your own fashion statement.
Pros
Lightweight
Affordable
Perfect size
Long-lasting colors
Nickel-free
Lead-free
Tarnish-free
Cons
Might leave a black residue
Are you looking for adorable hypoallergenic studs that are in trend? Check out the Studex System 75 Hypoallergenic Earrings. These surgical stainless steel studs, coated with 24 karat gold electroplate, are safe for self-piercing. The studs are set with 3mm rainbow aurora borealis that look amazing. These earrings come with thin but sturdy gauze posts that hold the studs in place without hurting your lobes. These hypoallergenic earrings are sterilized before being packed and are ideal for regular wear. Additionally, they are nickel-safe, lead-, cadmium- and cobalt-free.
Pros
Easy to use
Suitable for self-piercing
Nickel-safe
Lead-free
Cadmium-free
Cobalt-free
FDA-approved
Cons
None
The Helicopchain Hypoallergenic Earring set comprises 9 pairs of zircon earrings and 9 pairs of round bead earrings. They are made of 316L stainless steel and are nickel- and lead-free. These rust-free earrings come in three sizes- 2mm, 3mm, and 4mm.
Additionally, the studs are built with the classic butterfly buckle design that securely holds them to your earlobes. To retain the quality of the earrings, keep them away from water or alkaline liquids. In addition, wipe it with alcohol to clean off the dirt.
Pros
Secured posts
Nickel-free
Lead-free
Does not corrode
Rust-free
Cons
Opal enjoys great popularity among people as it stands for hope and luck. Grab the Tsnamer Opal Stud earrings and receive 6 bright, fire studs in the set. These earrings are made from high-quality synthetic opals that are nickel-, lead-, and cadmium-free. The posts are made of authentic 925 sterling silver making them completely free from any allergens. Additionally, the studs are tarnish-resistant and great for all-day-long wear. Women of all ages can adorn their ears with these cuties and successfully pull off their best look daily.
Pros
Suitable for all-day wear
Comfortable
Nickel-free
Lead-free
Cadmium-free
Tarnish-resistant
Cons
None
Still unsure about which earrings to pick? Consulting your jeweler is important, but nothing beats a little personal research. Being aware of the metals used in the earrings is necessary. In the following section, we have focused on the factors that should be considered when choosing hypoallergenic earrings for yourself.
Factors To Consider While Buying Hypoallergenic Earrings
Look for jewelry that is made from high-quality metals such as surgical steel, medical-grade titanium, and platinum. These are less likely to cause allergic reactions and can be worn for an extended period. In addition, earrings made with these metals are not prone to breakage so they will last you many years.
Opt for earrings that are marked as Nickel-free. Nickel causes severe infections and is also responsible for swollen ears and greenish skin. If you are sensitive to some other material, try to avoid earrings made of them.
 Buy earrings with fewer embellishments as excessive ornaments irritate your ears' delicate skin. Also, stay away from pure metal jewelry as they are softer and are prone to damage.
It goes without saying, but make sure that the jewelry you are choosing had a very smooth finish that will not tug at your delicate skin or irritate it.
Flaunting trendy earrings is not something you can easily do with sensitive ears. Stylish earrings, made with low-quality metals, are relatively inexpensive but are prone to severe infections. Wearing them for a longer time is a task. Keenly observe how certain metals react to your skin. So, opting for the best hypoallergenic earrings is safe and they also give you a classic look. However, if you want to wear trendy earrings at times, here's a hack. Paint the posts of your earrings with clear nail polish and let them dry. This creates a temporary barrier between the nickel and your ears, thus saving them from getting infected. You can save yourself from all these hassles if you directly invest in a good hypoallergenic pair that are entirely safe to wear.
Why Trust StyleCraze
Srijani Roy Chowdhury, the article's writer, is a verified fashion enthusiast. She has invested a lot of time in minutely observing and studying the ingredients that make up the earrings mentioned above. She has listed the relatively safer metals that contain the least allergens. In addition, she also has laid down the steps or factors to keep in mind while purchasing a hypoallergenic earring.
The following two tabs change content below.