The 11 Best Hypoallergenic Mascaras For Sensitive Eyes – 2023
Lengthen and thicken your lashes without dryness or itching with these soothing mascaras.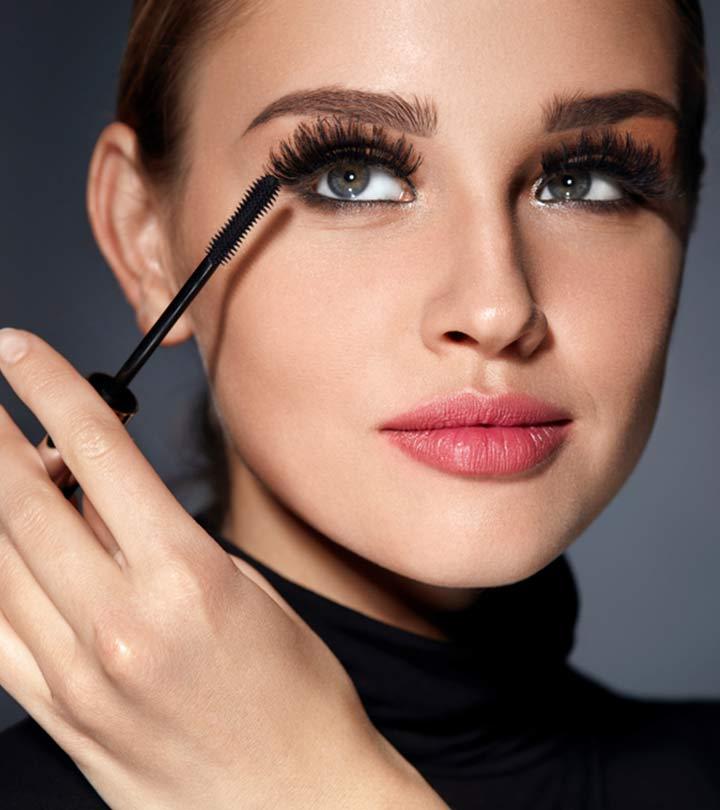 If you have sensitive eyes and skin, you must get your hands on the best hypoallergenic mascara out there. Mascara is something that you use almost every day and every time you step out. Choosing a mascara that is ophthalmologist-certified, free of allergens and has non-irritant properties is crucial for protecting your eyes. The chemicals used to formulate regular mascara might irritate your sensitive eyes making it a painful ordeal every day. When you choose a hypoallergenic mascara, you know what you are putting onto your eyes. It not only makes applying your mascara every day hassle-free but is also good for your eyes in the long term. To help you choose the right one as per your preference, we have shortlisted a few of the best hypoallergenic mascara options for you!
Best Hypoallergenic Mascaras For Sensitive Eyes
Goodbye itchy eyes, hello fuller, longer, and beautiful lashes! 4D Silk Fiber Eyelash Mascara by Tetyana Naturals has a silky smooth and advanced thickening formula that promises to boost volume and give your eyes a dramatic makeover without irritating the skin or contact lenses. Formulated to stay longer without smudging, flaking, or clumping, this rich and hypoallergenic mascara is what your eyelashes deserve to stand out! Go through this video review featuring a tester's experience of using the mascara for a detailed understanding of the product.
Pros
Deeply-pigmented, thick, and smooth formula
Waterproof, smudge-proof and non-flaking
Long-lasting
Adds volume, boosts the length
Non-toxic, gentle, and hypoallergenic
Suitable for sensitive skin and contact lenses
Cons
Expensive
Eyelashes may clump
With Full 'N Soft Mascara, your lashes will speak volumes! Staying true to the statement 'let your eyes do the talking', this lightweight and volume-boosting formula infused with vitamin E will rejuvenate the strands, making them look refreshed, bold, and stunning in a sweep. Also,  Maybelline hypoallergenic mascara is easy to remove as the formula prevents lash loss with its quick dissolve system. Promising no brittleness or clumps, only soft, nourished, and gorgeous eyelashes, it is one of the best hypoallergenic mascaras to amp up your makeup look for the day. Check out this video for a detailed review of the product.
Pros
Advance thickening formula
Nourishes with Vitamin E
Easy-to-remove
Defines eyes and adds volume
Clump-free, no brittleness
Ophthalmologist-tested
Safe for contact lens wearers
Cons
Made of 100% natural ingredients, bless your eyelashes with the bliss of nature. Gentle, hypoallergenic, and non-toxic, you needn't worry about losing those precious lashes anymore! Want long and thick lashes? Trust this natural hypoallergenic mascara by Fifth & Skin, not only to lengthen those lashes but also nourish them to grow longer and thicker. Since most mascaras contain chemicals that cause redness or irritation, NaturLash Mineral Mascara on the other hand is a good mascara for sensitive eyes, dry eyes, contact lens wearers, and those with eye conditions.
Pros
Organic hypoallergenic mascara
Non-toxic, gentle, smooth, and lash-nourishing formula
Lengthens lashes, adds volumes
Helps grow lashes thicker and longer
Suitable for sensitive and dry eyes
Cruelty-free, gluten-free, preservative-free, non-GMO, and vegan
Cons
Expensive
It may clump or turn goopy.
That moment when the mascara combs beautifully through the lashes, from roots to tips adding length, volume, and fullness effortlessly— beyond satisfying isn't it? Neutrogena Healthy Lengths Mascara not only promises that with its soft bristle brush but is ultra-nourishing too with Vitamin E, rice protein, and olive oil in the formula. Hydrating your lashes with its antioxidant-rich color, you get to enjoy an intense makeover and an outstanding definition with every single use! It is also easy to remove as it is water-soluble. Do you have sensitive eyes? This product is ophthalmologist and dermatologist-tested and is suitable for contact lens wearers too. Take a look at this video detailing a reviewer's experience of using the mascara to learn more about the product.
Pros
Ultra-smooth and nourishing formula
Strengthen eyelashes
Rich antioxidant pigment
Adds volume, length, and fullness
Clump-free, flake-free, and smudge-free
Dermatologist and ophthalmologist tested
Easy-to-remove
Cons
If you are going to flutter those lashes, make it worth it with this thickening mascara by Almay! Defining the shape of your eyes and making them stand out, this thickening hypoallergenic formula is clump-free, flake-free, and smudge-proof. Infused with vitamin B5 and aloe that conditions each strand, its unique-designed brush beautifully curls the lashes giving them a high-intensity look. Also, this Almay hypoallergenic mascara is ophthalmologist-tested, so it is suitable for sensitive eyes too. Moreover, it is not tested on animals, which makes it a good fur-friendly option for all.
Pros
Hypoallergenic and fragrance-free formula
Dermatologist-tested
Nourishes and conditions the lashes
It does not clump, flake, or smudge
Curls, adds volume, and length
Suitable for sensitive eyes and contact lens wearers
Cruelty-free
Cons
It's not easy to remove.
It may clump.
The Physicians Formula Rosé All Day Mascara comes with an ultra-blendable formula enriched with rose water, kakadu plum, and goji berry. The formula conditions the lashes while lifting and opening the eye area for a dramatic effect. The non-clumping brush combs the lashes to provide adequate coverage, volume, and length. The highly-pigmented formula also offers protection from harmful UV rays, blue light, and pollution. You may check out the product on Amazon as well to go through some unbiased reviews that will help with your purchasing decision.
Pros
Volumizing formula
Blendable formula
Strengthens lashes
Rich color payoff
Offers matte finish
Clump-free brush
Offers UV protection
Paraben-free
Gluten-free
Vegan
Cruelty-free
Safe for sensitive eyes
Cons
None
What's special about this Purely Radiant mascara? Firstly, it is a long-wear mascara, so you apply it once and forget about retouches for the rest of the day. Secondly, it is waterproof, which means your eye-makeup is sorted for all those beach getaways, yay! Silky smooth and easy-sweep on the lashes, this hypoallergenic mascara guarantees no clumps or chunks; only flawless and stunning eyelashes. So, if you are looking for a waterproof mascara for those beach selfies, get Purely Radiant 4D Silk Fiber Eyelash Mascara today!
Pros
Non-allergic 4D fiber mascara
Longwear
Waterproof
Silky smooth formula
No clump, globs, or chunks
Adds volume and definition
Cruelty-free
Cons
Expensive
It may not last long.
Is the fear of itchy, swollen, or red eyes giving you the mascara jitters? Reviva Labs Hypoallergenic Mascara may be the one for you. Why? Because, its formula is pH balanced, soap-free, and infused with the enriching quality of panthenol that intensely moisturizes and conditions the lashes. And as far as defining the eyes is concerned, the fiber-brush ensures the strands look longer and thicker. Yep, a perfect lash builder that won't smudge, flake or clump together, this mascara solution is also free of parabens, sulfates, and other harmful ingredients. Countless reviewers vouch for its quality and exceptional results, so definitely give it a try!
Pros
Gentle and hypoallergenic formula
Adds length and volume
pH balanced, soap-free, and tear-proof
Intensely moisturizing
No clumps, flakes, or smudging
Free from parabens and harmful chemicals
Cruelty-free and recyclable product
Cons
So voluminous, your eyes will pop! Making false eyelashes look blah in front of the stunning transformation it delivers, Cherish Mascara's highly-pigmented formula spells luxurious in every sweep. The lashes look longer and flawless, plus, it has a curved brush that perfectly combs out a natural curl making them look even more dreamy! But is this mascara ideal for contact lens wearers or sensitive eyes? Absolutely. Formulated with vitamin E complex, it provides intense nourishment to the eyelash follicles and prevents them from drying too. Water-resistant, sweat-proof, and long-lasting, there's no better combination of gentle and gorgeous for the eyes than this!
Pros
Silky smooth and luxurious mascara
Adds volume, thickness, and curls
Vitamin E complex provides deep nourishment
Water-resistant, sweat-proof, and non-toxic
Longwear and easy to remove
No harmful chemicals added
Cons
It's not waterproof.
It may be flaky.
Did you know eyelashes are prone to breaking too? So, if you are dealing with weak follicles, Almay Extreme Length Mascara's provitamin and anti-breakage formula will strengthen the lashes for you. And that's not even the best part about this mascara! What really makes it unique is the hourglass-shaped brush that is designed to comb every strand, making eyelashes look longer and denser instantly. This mascara is dermatologist-tested and all you need to get longer, shinier, and stunning lashes.
Pros
Lashes look longer
Anti-breakage formula
Provitamin ingredients provide nourishment
Clump-free and long-wear
Hypoallergenic and ophthalmologist-tested
Suitable for sensitive eyes and contact wearers
Cons
So, you think you can handle the "colossal lash" look? Because this hypoallergenic mascara doesn't joke when it talks about pumping up the volume on the eyelashes! Acting like a "sleeve", the solution envelopes every lash from roots to tips  building, defining, and giving it a full-volume look. The formula, on the other hand, is infused with iron oxide pigments that are rich, skin-safe, and allergy-tested. Guaranteeing no smudge or smear all day, this volumizing and lash lengthening hypoallergenic mascara is easy-to-remove and non-clumping too. The product also has multiple rave reviews on Amazon that are guaranteed to convince you to try it out!
Pros
Lengthen and strengthens lashes
Richly-pigmented and nourishing
Defines lashes and builds volume
Skin-safe and hypoallergenic
No smudge, smear, or clumping
Washes off easily
Cons
Still not sure which mascara to pick for sensitive or dry eyes? Get some tips from our buying guide below!
Buying Guide For Best Hypoallergenic Mascara
How To Choose Best Hypoallergenic Mascara For Sensitive Eyes?
If you have sensitive eyes, pick a mascara with the following features:
It should be hypoallergenic and should not be confused with natural mascaras that may have ingredients that could irritate the eyes.
Pick a classic-brush mascara over fiber brush so there are fewer chances of flakiness.
Choose a formula that is mild, gentle, waterproof, and smudge-free to not hamper the eyelash follicles.
Also, vitamin E-infused formulas nourish and condition the lashes making them stronger.
Cosmetologist, Rachel D'Angelo, says, "Mascaras for sensitive eyes have to be REALLY gentle on the eye area. When searching for the best mascaras for sensitive eyes, consider ingredients and how it was made. It may make sense to do some research and take your time shopping around to find the right mascara."
How To Choose Best Hypoallergenic Mascara For Dry Eyes?
If you have dry eyes, here's what you should look for in the mascara:
Since dry eyes mean lack of hydration, pick a mascara infused with vitamin E or other intensely nourishing ingredients like olive oil or vitamin B5.
The mascara should be creamy and moisturizing to avoid further drying.
Pick a solution that is clump-free and flake-free to prevent eye irritation.
Also, choose a mascara that is easy to remove so that you don't have to wash or clean multiple times, which could further cause dryness.
Why Trust StyleCraze?
The author of this article, Srijani Roy Chowdhury, is a makeup and fashion enthusiast who loves trying out different eye makeup products. She has curated a list of hypoallergenic mascaras after researching, checking reviews online, and trying some of the products herself. Her list of hypoallergenic mascaras is perfect for sensitive eyes as they are free of allergens and irritants. The mascaras included in the list promise a bold and dramatic look at events and parties.
Frequently Asked Questions
Is Maybelline Mascara Hypoallergenic?
No, not all Maybelline Mascaras are hypoallergenic, but Maybelline New York Full 'N Soft Mascara is.
Is Almay Really Hypoallergenic?
Yes, Almay Extreme Length Mascara and Almay Thickening Mascara are hypoallergenic.
Is Younique 4d Mascara Hypoallergenic?
No, Younique 4d Mascara is not hypoallergenic.
Is Hypoallergenic The Same As Non-Comedogenic?
No, hypoallergenic means the mascara is tested for allergies and won't cause any irritation where non-comedogenic means the product will not block pores.
Is Younique Epic Mascara Hypoallergenic?
No, Younique Epic Mascara is not hypoallergenic.
Is Too Faced Mascara Hypoallergenic?
No, Two-Faced Mascara is not hypoallergenic.
What Is The Least Irritating Mascara?
Neutrogena Healthy Lengths Mascara is a hypoallergenic mascara that guarantees to prevent eye irritation, itchiness, and swelling.
What Is The Best Brand Of Mascara For Sensitive Eyes?
Neutrogena Healthy Lengths Mascara, Maybelline New York Full 'N Soft Mascara, Almay Extreme Length Mascara, and Almay Thickening Mascara are some of the best mascaras for sensitive eyes.
Recommended Articles