7 Best Ice Cleats For Running (2023) – Reviews & Buying Guide
Enjoy frozen floors without hurting yourself with the right tools.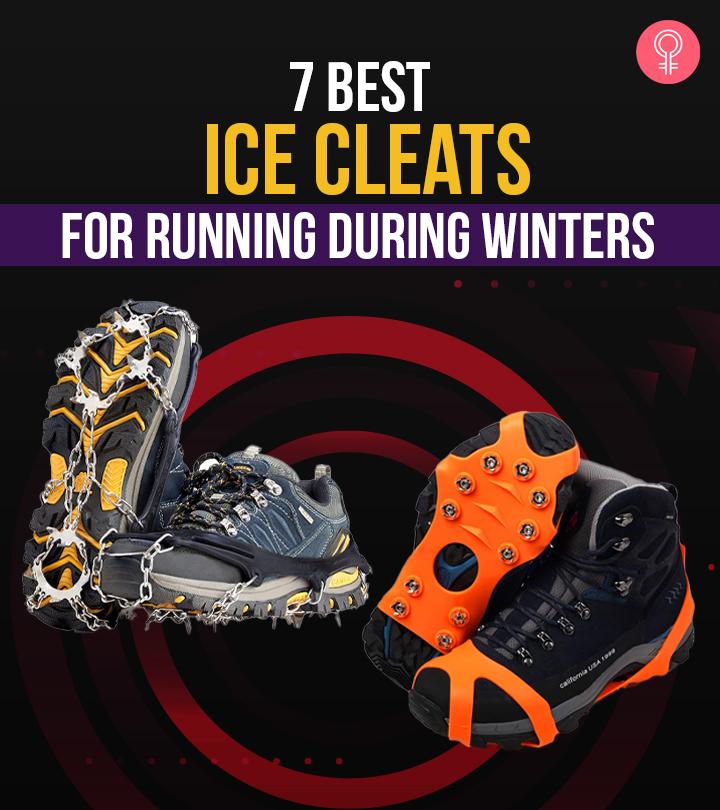 If running is your passion, then you must have the best ice cleats to assist you.
Be it rain or snow, runners know the importance of a good run. It plays a major role in improving overall physical health and enhancing your mental health. Cleats are tiny microspikes made of aluminum or steel that go on on the underside of your regular shoes. They prevent you from slipping on slippery grounds by providing good traction. These ground-gripping studs hold on firmly to the ground while you run or walk. These shoe cleats are not meant for concrete or wooden floors.
Here, in this article, we have scoured the internet for the best ice cleats for running that you can invest in. These are durable and available at all prices. So, go on and check them out now!
What Are Ice Cleats?
Ice cleats are affixed shoe contraptions with small spikes to avoid slipping or sliding on an icy surface or ground.  The ice cleats are mainly designed for outdoor activities during the winter. These spikes are mostly made from weather-proof aluminum or stainless steel.
There are many styles, designs, and types of ice cleats available in the market. However, here are the most popular ones.
Types of Cleats
Crampons: These types of ice cleats are meant for steep slopes and super icy grounds. They work in the same fashion as snow tire chains, providing traction and support to the feet. You can wear them for any outdoor recreational activity that demands better grip and balance.
Ice Cleats: They are best overall for a variety of winter outdoor activities. Usually, they come with a rubber frame that holds the steel studs, or spikes, even a coiled chain for better grip and bite.
Micro Spikes: They are good for going for a jog, running, or shoveling off the snow. It is a special slip-on harness that has small traction beads or spikes. They might not be a good option for people weighing below 120lbs as the bodyweight will not be enough to put pressure enough for good traction.
Ice cleats are a must for runners on a slippery, icy trail. Here are the 7 best ice cleats for running that keep you safe outdoors.
7 Best Ice Cleats For Running
Running on icy trails is safer with these 5mm thicker, thermoplastic elastomer (TPE) ice cleats from Cimkiz. They come with 19 superior-quality steel spikes and a detachable Velcro strap that snugly hold the cleat to the shoe and offer better traction while running, walking, or hiking on a slippery surface. You can even wear these sturdy, flexible cleats on angled terrain as well. These waterproof ice cleats are lightweight and portable, which makes them easy to pack and carry. And the adjustable straps make them easy to put on and off.
Features
Color: Black
Material: Stainless steel and TPE
Sports: Hiking, walking, fishing, jogging, climbing, and mountaineering
Pros
Stronger spikes
Can withstand extreme low temperature
Waterproof
Stretchable
Durable
Portable
Easy to put on
Budget-friendly
Cons
Price at the time of publication: $26.98
Easy to install, microspikes from HoFire offer unbeatable traction on ice and slippery surfaces. The ground-gripping steel studs bite the ice, giving you much-needed support while walking, running, hiking easy on a slippery surface.  These shoe cleats are versatile and can be paired with sneakers, boots, casual shoes, and even dress shoes. The stretchy material covers over the existing shoes and is easy to get on and off.
Features
Color: Black
Material: TPE material & rubber
Sports: Walking, running, ice fishing & hunting
Pros
Universal fit
Rustproof
Easy to put on
Durable
Budget-friendly
Does not damage the shoes
Easy on-off
Cons
Price at the time of publication: $8.59
Ceestyle's superior-quality crampons with 201-stainless steel, anti-slip spikes let you safely walk on icy pavements. These spikes offer unbeatable traction and stability, thanks to their uniformly placed spikes.  The thickened cold-resistant rubber further adds to the durability and flexibility. They are lightweight and portable to carry along while traveling. Plus, they are waterproof and rustproof.
Features
Color: Black
Material: Stainless steel and TPE
Sports: Whether Hiking, Climbing, Fishing, Shoveling snow
Pros
Lightweight
Portable
Waterproof
Rustproof
Easy to put on
Universal fit
Flexible rubber
Traction on all-direction
Cons
Minimal rear foot coverage
Price at the time of publication: $9.99
The strategically placed, super sturdy tungsten carbides spike of Icetrax V3 ice cleats is all you need while walking on icy surfaces. These specially designed cleats come with a unique snow traction tread for unmatched traction when walking on the snowy surface. The stretchable straps and stay-on-toe cap gripper snugly hug your shoes, providing stability. The flexible, lightweight, yet durable design makes the cleats easy to put on and off.  Plus, these cleats come with reflective heels for enhanced visibility.
Features
Color: Brown
Material: Tungsten carbide and TPE rubber
Sports: Walking, running, and outdoor activities
Pros
Secure fitting design
Lightweight
Durable
Additional snow traction thread
Stretchable straps
Easy to install
Waterproof
Comes with reflective heels
Cons
Rubber straps wear off
Tungsten spikes
Price at the time of publication: $25.99
The premium-quality stainless steel cleats Shaddock 24 with thermoplastic elastomer keeps your feet on the icy ground. These stretchable cleats offer a snug fit for a stable and firm landing on icy and slippery surfaces. The shoes are lightweight, waterproof, and have anti-slip spikes that offer all directional traction support during sports activities.
Features
Color: Black
Material: Stainless steel and Thermoplastic elastomer
Sports: Ice fishing, hunting, walking, jogging, hiking, running, snow shoveling
Pros
Lightweight Thermoplastic Elastomer
Anti-Abrasion
Super Elasticity
Easy to pull on and take off
Roll up for easy storage
Cons
Price at the time of publication: $16.99
The exclusively designed Ibely ice cleats offer extraordinary gripping. The 1.2mm abrasion-resistant steel coils pointed spikes offer multi-directional traction to easily walk over the snow without the fear of accidental slips. The stretchable rubber material tape strap snugly fits the shoes and is durable to last longer. These cleats are convenient to put on and take off and come in easy to store bag to carry along.
Features
Color: Black
Material: Rubber and steel coils
Sports: Hiking, fishing, hunting, walking, running, snow shoveling
Pros
Anti-slip
Portable
Abrasion-resistant
Stretchable tape straps
Multi-directional traction
Cons
Price at the time of publication: $16.88
The most versatile NewDoar ice cleats are made of excellent quality TPR 5mm rubber to even perform under -45 degrees. The 19-spike design ensures enough traction to avoid slips and falls. The wide heel plate with 3 spikes secures the downhill traction. These heat-treated spikes are corrosion resistance and strategically placed for balanced weight distribution. The ergonomically designed steel chain prevents movement from side to side, giving you a secure landing.
Features
Color: Orange
Material: Stainless steel, silicone, and TPE
Sports: Hunting, climbing, mountaineering, hiking, fishing
Pros
Ergonomically unique design
Multiple uses
Anti-slip
Durable
Heat-treated steel
Corrosion resistance
Secure downhill traction
Cons
Chains loops might snap open
Price at the time of publication: $19.99
That sums up the list of best 7 ice cleats available online. Most cleats offer unbeatable traction on icy roads, but there are few factors that makes
How To Choose The Best Ice Cleats For Running?
Before you decide to choose the best and most suitable ice cleats for running, you should check the following factors.
Traction: It is very important that you evaluate the level of traction based on the activity that you intend to use it for. The spikes should be strong enough and evenly distributed at the bottom of the shoes for better balance. The cleats should offer complete protection while walking on angled terrain.
Durability: The cleats should be made of high-quality material and supported with a superior type of rubber and elastic that lasts longer. The cleats should remain intact without getting cracked or snapped while using on rough and difficult terrain.
Flexibility: The cleats should be flexible enough while putting them directly or can be worn over the existing shoes or boots. The cleats should remain tight over the feet and feel comfortable during outdoor activities.
Why Trust StyleCraze?
The author, Aditi Naskar, has a diploma in health and wellness and loves to review fitness products. She has carefully listed these ice cleats for running based on user reviews and feedback on multiple forums and brand websites. These ice cleats are made of weather-proof aluminum or stainless steel to withstand harsh winters.
Frequently Asked Questions
Are running spikes good on ice?
Yes. Running spikes offer excellent grip on an icy surface. They provide adequate non-slip traction to your feet on the ice.
Can cleats be worn on concrete?
No. Cleats do not provide adequate grip on concrete. Wearing them on concrete damages the studs and makes you prone to slipping.
How do you walk on ice cleats?
• Wear your ice cleats.
• Keep your hands out of your pockets, free of balance.
• Take small steps while maintaining your core balance.
• Avoid rushing and running on the ice.
• Hold handrails for added support.
Can wear cleats outside of grass cause some knee problems?
Yes. Cleats offer rotational traction that imposes increased pressure on your ankles. They do provide additional support to your knee area and cause severe injuries.
Are crampons the same as ice cleats?
Yes. Crampons are metal spikes that grip the ice while climbing high-incline areas. They provide adept traction on the slopes and work like ice cleats. But crampons are usually bigger than cleats.
Recommended Articles