10 Best Ice Cream Makers – Reviews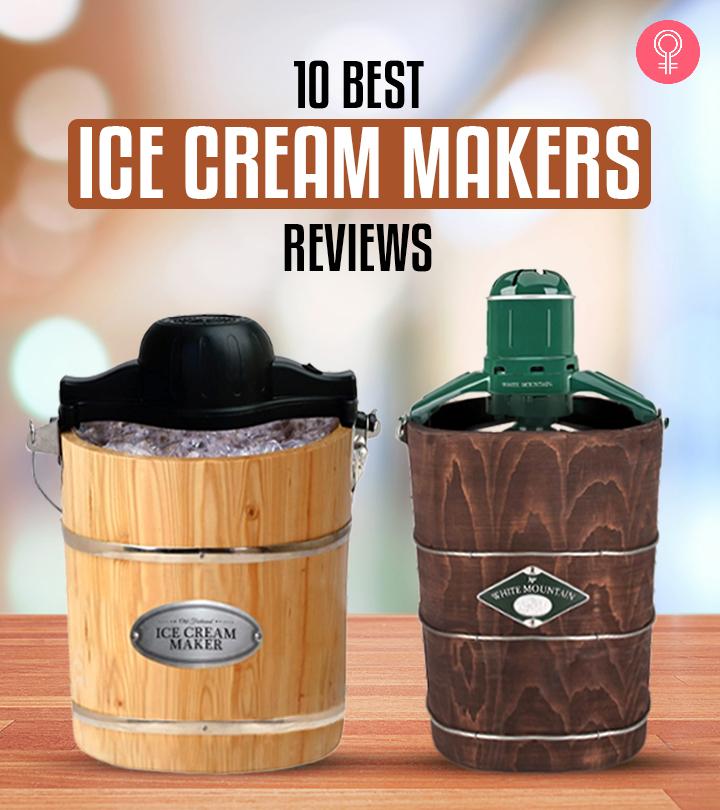 Does the image of ice cream make you drool? Then how about making your own ice cream right at home? If that sounds like a plan, you need an ice cream maker. This device gives you the freedom to whip up creamy and soft ice cream with classic flavors or experiment with new ones. These ice cream makers are not merely limited to creating soft serves but also allow you to prepare sorbet, frozen yogurt, custards, and granitas.
Here, we have listed the 10 best ice cream makers available online. Take a look!
10 Best Ice Cream Makers – Reviews
The Cuisinart Automatic Ice Cream and Sorbet Maker is a fully automatic ice cream machine. It uses its new and exclusive mixing paddle to churn frozen treats like sorbets, ice creams, and frozen yogurt in less than 20 minutes. It comes with a decent capacity for a family, and its double-insulated freezer bowl does not require ice.
The ice cream bowl attachment needs to be kept in the freezer for about 16 to 24 hours. You can shake it to check if it is completely frozen. The large ingredient spout makes it hassle-free to pour and add the ingredients. Its easy-lock transparent lid lets you keep an eye on the consistency.
You can easily push its unused cord directly onto the base and keep it off the counter. Additionally, the rubber feet ensure the base stays stable during the process. The ice cream maker is equipped with a heavy-duty motor. The device is made of BPA-free plastic.
Key Features
Large ingredient spout
Double-insulated freezer bowl
Specifications
Dimensions:50 x 9.00 x 11.25 inches
Weight:74 pounds
Capacity:5 quart
Warranty: 3 years
Wattage: 50 watts
Material: Thermoplastic
Cycle Time:< 20 minutes
Pros
BPA-free
Easy lock
Transparent lid
Fully automatic
Rubber feet for stable operation
Durable
Versatile
Cons
The Dash Electric Ice Cream Maker helps you make up to 1.6 cups of fresh, single-serving homemade ice cream in 30 minutes or less. The cooling bowl needs to be frozen beforehand. You may then follow by adding the ingredients and pushing the power button while the machine takes care of the rest. The machine is compact and lightweight. It also is easy to disassemble for hassle-free cleaning and storage. The set includes a mixing spoon that can be used to add toppings or to scrape and eat the ice cream right out of the bowl.
Key Features
Specifications
Dimensions:0 x 4.2 x 8.6 inches
Weight: 1pounds
Capacity:4 quart
Warranty: 1year
Wattage: 12 watts
Material: Plastic
Cycle Time: < 30 minutes
Pros
Lightweight
Single-serve option
One-touch control
Includes mixing spoon
Stackable parts
Rapid results
Easy to clean
Cons
The Nostalgia Electric Ice Cream Maker features a powerful electric motor that does all the work with no manual labor. You only need to add the mix of ingredients into the inner canister, place it in the middle of the outer plastic bucket, and follow it by layering the ice and salt on the sides – and the machine will do its work.
You can freeze the leftover ice cream in the canister that is accompanied by a see-through lid. Furthermore, the machine comes with a motor that securely locks it in place. Its easy-carry handle makes it extremely portable. This old-fashioned unit pairs well with all Nostalgia ice cream kits. The instruction manual also includes a bunch of different recipes that you can use.
Key Features
Easy-carry handle
Motor lock
Specifications
Dimensions:25 in x 12.25 in x 13 inches
Weight:15 pounds
Capacity: 4 quart
Warranty: 3 years
Wattage: 50 watts
Material: Aluminium and plastic
Cycle Time: Not mentioned
Pros
Large capacity
Sturdy
Easy to clean
Easy to store
Portable
Stable
Recipes included
Cons
None
The White Mountain Electric Ice Cream Maker comes with a powerful motor that can prepare six quartz of ice cream in 20 to 40 minutes. It features a triple-action dasher made of cast iron and beechwood blades that self-adjust to prepare ice cream with a smooth consistency. It also comes with a commercial-grade universal electric motor that allows a better torque for making high-quality ice cream.
The unit is very durable. Its combination of a stainless steel lid and canister along with the outer bucket is made with premium quality handcrafted dark stained pine wood. The bucket is bound by galvanized hoops.
Key Features
Powerful 12,000 rpm motor
Triple-action dasher
Specifications
Dimensions:4 x 13.3 x 20.6 inches
Weight:2 pounds
Capacity: 6 quart
Warranty: 5 years
Wattage: 1000 watts
Material: Pinewood and stainless steel
Cycle Time: 20 to 40 minutes
Pros
Durable
Easy to clean
Retains flavor
Sturdy construction
Fully automatic
Cons
The Hamilton Beach Automatic Ice Cream Maker offers versatility – you can use it for making frozen yogurt, sorbet, sherbet, ice cream, custard, and other frozen desserts. It is fully automatic. You only need to add the ingredients in a canister and layer rock salt and ice around them. The lock lid is easy to fit on top with a single turn.
Its smart design makes it easy to use even for beginners. Its capacity is ideal for families and special occasions. The ice cream maker comes with over 20 ice cream recipes to experiment with new flavors. This unit is ideal for anyone who wants soft serves or keto ice cream.
Key Features
Easy-lock lid
Fully automatic
Specifications
Dimensions:3 x 12.5 x 11.1 inches
Weight: 5 pounds
Capacity: 4 quart
Warranty: Not mentioned
Wattage: Not mentioned
Material: Metal
Cycle Time: Not mentioned
Pros
Easy assembly
Easy to clean
Retains flavor
Compact
Ideal for soft serves
Cons
The Whynter Upright Ice Cream Maker allows you to create varieties of customized sorbet, custards, gelato, and ice creams. It can be easily placed on your countertop. It comes with an LCD control panel that allows better control over the process. Its stainless steel construction is stylish enough to suit any kitchen decor. The churn blade creates ice cream with a perfectly smooth consistency. Its powerful built-in compressor eliminates the need to pre-freeze the bowl.
Once the frozen ice cream is ready, the unit's extended cooling function kicks into motion. It keeps the ice cream from melting and preserves its texture. It automatically stops the churning action too, and prevents motor damage due to overheating.
The ice cream maker comes with 3 modes, namely, Ice-Cream mode, Cooling-only mode, and Mixing-only mode. You can use the modes as per your convenience. The pause button allows you to check the consistency of your frozen dessert.
Key Features
LCD timer control
Motor protector function
Specifications
Dimensions:75 x 12.5 x 14.25 inches
Weight:25 pounds
Capacity:1 quart
Warranty: Not mentioned
Wattage: 180 watts
Material: Stainless steel
Cycle Time: Not mentioned
Pros
BPA-free
Built-in timer
Sturdy
No pre-freezing required
Easy assembly
Easy to clean
Retains flavor well
Cons
The Breville Smart Scoop Ice Cream Maker offers a 2-in-1 manual and automatic functionalities. It is a first-of-its-kind unit that senses the hardness of your ice cream based on your selection from one of the 12 in-built hardness settings. The ice cream maker also offers a pre-cool feature that allows you to cool your mixture at the required operating temperature. Its keep-cool feature keeps your frozen dessert at the perfect temperature for upto 3 hours before it is ready to serve.
The unit's mix-in feature allows you to add additional toppings or ingredients like chocolate chips or fruit bits. You can access both the manual and fully automatic functionalities by choosing any of the 4 pre-programmed settings.
Key Features
Automatic hardness settings
Pre-cool functionality
Specifications
Dimensions: 16 x 11 x 9 1/2 inches
Weight: 30 pounds
Capacity: 5 quart
Warranty: 1 year
Wattage: 165 watts
Material: Brushed stainless steel
Cycle Time: Not mentioned
Pros
Retains flavor well
Adjustable temperature control
Easy to use
Easy to clean
Durable
Removable lid
Quiet operation
Built-in pre-cool and keep-cool functions
Cons
Heavy
Messy ice cream removal
The Elite Gourmet Ice Cream Maker features a heavy-duty aluminum canister. It also has a powerful 90 rpm motor with a six-fin paddle for whipping the ingredients into a creamy consistency in less than 40 minutes. You can remove the motorized crank and replace it with an old fashioned hand crank. You may layer it with ice and rock salt for a thicker consistency.
This unit is highly versatile and can be used to make icecreams, sorbets, gelato, and frozen yogurt. It makes a great option for entertaining guests at parties, BBQs, or picnics.
Key Features
Classic die-cast hand crank
Motor with over-heat protection
Specifications
Dimensions: 40 x 18.50 x 13.40inches
Weight: 10 pounds
Capacity: 4 quart
Warranty: 1 year
Wattage: 500 watts
Material: Aluminium and pine wood
Cycle Time: 40 minutes
Pros
Easy to clean
Retains flavor well
Manual churning operation for a firmer consistency
Sturdy
Powerful motor
Cons
From making ice cream soft serves to frozen yogurt and Italian gelato to granitas, the Zoku Ice Cream Maker does it all. You can use it to make classic flavors or experiment with new ones. It creates a soft-serve within 10 minutes, and you can prepare a churned ice cream with a harder texture by freezing the soft serve for another 20 minutes.
This compact ice cream maker can easily fit onto your countertop and storage space. It requires no electricity to operate. It features a stainless steel bowl that doubles as a single-serving bowl for absolute convenience. You can also stick the bowl into the freezer for storing the ice cream. The set also includes a protective sleeve and a spoon for added convenience.
Key Features
Make-and-serve bowl
Compact 
Specifications
Dimensions: 6 x 3.6 x 8.25 inches
Weight: 4 pounds
Capacity: 15 quart
Warranty: Not mentioned
Wattage: Not applicable
Material: Plastic
Cycle Time: 10 to 20 minutes
Pros
BPA-free
Phthalate-free
Protective sleeve included
2-in-1 bowl
Quick operation
No electricity required
Cons
The Maxi-Matic Americana Ice Cream Maker is a compact unit. It allows you to churn out easy homemade ice cream in less than 40 minutes. It comes with a non-stick freezing bowl that allows quick-freezing for rapid results. It has a simple control panel. You do not need any chemicals, alcohol, or salt to make the ice cream.
The ice cream maker's motorized mixing paddle swiftly churns the mixture and effectively crushes all types of toppings or ingredients to give you a dessert with a creamy texture. It comes with a recipe book that includes different recipes for frozen yogurts, gelatos, sorbets, and ice creams. 
Key Features
Ingredient chute for ease
Quick-freezing double-insulated bowl
Specifications
Dimensions:2 x 8.9 x 7.9 inches
Weight:88 pounds
Capacity:5 quart
Warranty: Not mentioned
Wattage: Not mentioned
Material: Plastic
Cycle Time: < 40 minutes
Pros
Easy to clean
Rapid freezing
Sturdy
Non-stick bowl
Lock-in motor
Convenient ingredient addition
Motor with overheat protection
Compact
Recipe book included
Cons
Lid does not fit properly
These are the top 10 ice cream makers available on the market. Go through the following buying guide before making a purchase.
What To Consider Before Buying The Best Ice Cream Maker
Use: The kind of machine you would buy would depend on the intended use. For instance, an ice cream maker that produces a small batch of ice cream would suit an occasional use at home. Such a unit can also be less durable. However, you would need a long-lasting option if you plan to use it in a commercial setting or larger gatherings. 
Capacity: This factor also depends on how you intend to use the unit, your family requirements, etc. An ice cream maker needed only for special occasions would suffice with a 1.5-quart capacity. You may go for a unit with a larger capacity should your requirements be different.
Type: While a compressor ice cream maker works great for heavy use, a manual bucket-type or an automatic canister-type machine would suit a home environment. Keep in mind that a hand-cracked bucket-type machine is hard to use, and a canister-type machine needs to be frozen before use to make a batch.
Budget: Most ice cream machines are bought for occasional use, and you can make do with one that is reasonably priced. However, they may not last as long as their more expensive counterparts. On the other hand, if you have a decent budget and wish to use the ice cream maker more frequently, you may want to go for a durable unit at a higher price point.
Warranty: Warranty for your ice cream maker acts as a guarantee for your investment. While you can go for an extended warranty as well, ensure the unit has a minimum standard manufacturer's warranty.
Ice cream makers are available in different types. We have elaborated them in the following section. 
Types Of Ice Cream Makers
Hand-Cranked/Bucket-Type Ice Cream Maker: The hand-cranked or bucket-type ice cream maker is considered the best in terms of affordability. However, its manual functioning can turn tedious too. It involves using a mix of rock salt and ice in the bucket that must be changed for each batch. It has a container inside holding the ice cream. The entire churning process is done manually.
Canister-Type Ice Cream Maker: The canister-type model comes with an outer container having a cooling solution and the inner container filled with gel. Usually, the inner container needs to be kept in the freezer for 12 to 24 hours before use (this needs to be done for every batch). This is an affordable type of electric ice cream maker preferred for most homes. It typically takes 20 to 30 minutes to prepare the ice cream.
Compressor-Type Ice Cream Maker: As the name suggests, this type comes with an in-built compressor. Unlike its other electric counterpart, it does not require pre-freezing of its container. Just add the mix into the machine, and it takes about 20to 30 minutes to get ready. You can easily make multiple batches without a long wait. It is an expensive option and is largely suited for a commercial setting.
Electric Ice Cream Maker Vs. Stand Mixer
Both the electric ice cream maker and stand mixer can be used to churn ice cream. However, the process can differ.
Electric Ice Cream Maker
Most units come with a fully automatic functionality where you just prepare the mix and cool it down before transferring it into the ice cream maker and let the machine take care of the rest. Some models require pre-freezing the inner bowl, while others require the addition of ice and rock salt in layers around the inner canister.
Stand Mixer
Ice cream made in a stand mixer may not always have perfect consistency. Whip up the anglaise mixture by keeping the stand mixer on high until you see stiff peaks forming. Stop the mixer and add the toppings or ingredients. Continue blending on the low setting. Transfer into a freezer-safe container and cover with a lid. Freeze for 6 or more hours.
Conclusion
There are many factors to consider before buying your ideal ice cream maker. We hope this post of the best ice cream makers and the buying guide has helped you make a better purchase decision. Entertain your friends and family with sweet frozen desserts by choosing the best ice cream maker.
Expert's Answers for Readers Questions
What is the difference between Cuisinart ICE 20 and ICE 21?
The Cuisinart ICE 21 is the newer version of the ICE 20. Both share similar features except for a small change to the design. The ICE21 has a new paddle design that accelerates performance by 25%.
What is the best compressor-type ice cream maker?
The Breville Smart Scoop Ice Cream Maker is considered the best overall compressor-type ice cream maker. It comes with an in-built refrigeration system that allows you to prepare multiple batches of ice cream without any delay.
Recommended Articles
The following two tabs change content below.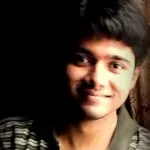 Latest posts by Ravi Teja Tadimalla (see all)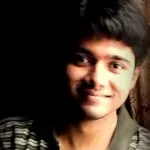 Ravi Teja Tadimalla
Ravi Teja Tadimalla is an editor and a published author. He graduated from SRM University, Chennai, and has been in the digital media field for over six years. He has a Professional Certificate in Food, Nutrition & Research from Wageningen University. He considers himself a sculptor born to chip away at content and reveal its dormant splendor. He started his career as a research writer, primarily focusing on health and wellness, and has over 250 articles to his credit. Ravi believes in the great possibilities of abundant health with natural foods and organic supplements. Reading and theater are his other interests.