10 Best Ice Packs For Knee Pain – Reviews & Buying Guide
Reduce swelling and relieve pain with these affordable, light, and durable ice packs.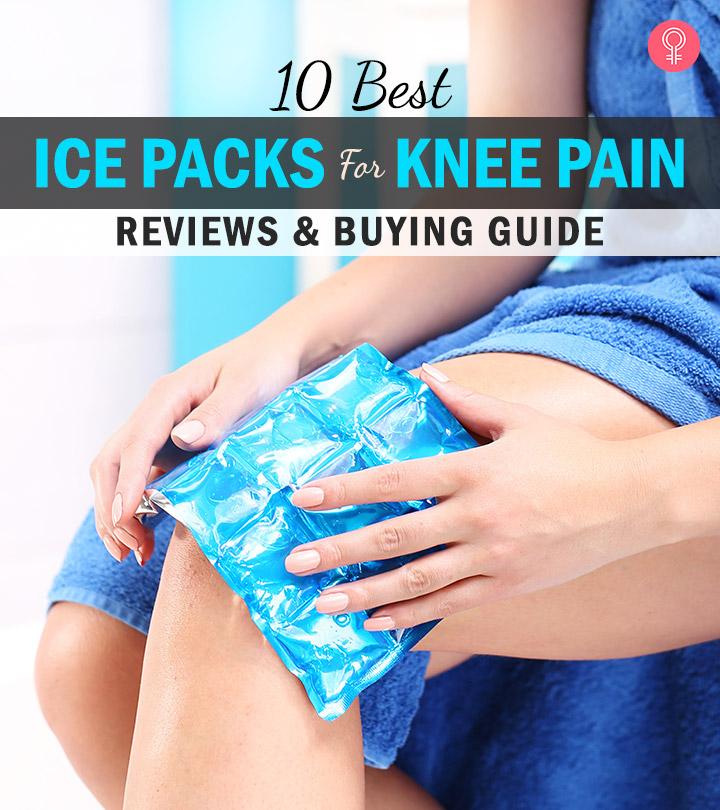 Get ready to say goodbye to swelling and inflammation of your knee because, in this article, we have put together a list of the 10 best ice packs for the knee since ice/cold therapy is an easy technique to ease the pain (1). Using the products we have listed below, you will experience instant relief if you are in the recovery phase of knee surgery. These packs will also speed up the healing process. We have also included a buying guide so that you don't have to struggle while picking the right one for you. So, check it out!.
Benefits Of Using An Ice Pack
It reduces inflammation.
It speeds up the recovery process post-surgery or injury.
It reduces swelling.
It provides instant relief from pain.
It slows down the nerve activity.
Ice packs can be used to treat:
Joint pains
Arthritis pain
Sprains
Tendonitis
Injuries
Now that you are aware of the benefits let's look at the top 10 ice packs for knee pain available on the market right now.
Top 10 Ice Packs For Knee Pain
Naturecure Universal Cold Wrap wraps for knees have a clay interior that stays cold for an extended period. It is suitable for shoulders, neck, forearms, wrists, hands, forearms, elbows, back, arches, heels, balls of the feet, forefoot, and ankles. It relieves soreness, pain from an injury, and inflammation. The prosperity clay cold pack stays cold longer than other ice packs as it contains bentonite. The best part about this product is that it is flexible, durable, portable, and lightweight. It conforms to any body part comfortably.

Pros
Includes 1 comfort pouch and 2 cold packs
Reduces swelling
Relieves pain from sprains and strains
Treats inflammation
Affordable
Cons
None

Price at the time of publication: $18.99
This flexible ice packs for knee pain can be used for hot and cold therapy. It works great for lower back pain, stiff neck and shoulder, period cramps, and post-surgery healing. The knee ice wraps around your body contours easily as it comes with an adjustable hook-and-loop strap that stretches to a 54" waist. It is great for the back, waist, shoulders, neck, ankles, calves, and hips. If you need further confirmation, check the video on Therapaq Flexible Ice Pack With Wrap For Hot & Cold Therapy.

Pros
Durable
Affordable
Recommended by physiotherapists and chiropractors
Perfect for shoulder and knee injury recovery
Ideal for post-surgery replaced hip recovery
Remains flexible even when frozen
Cons
None
Price at the time of publication: $10.53
Trek Proof Ice Pack offers therapeutic relief from soft tissue soreness, stiff joints, aching muscles, and menstrual cramps. Along with general aches, this product reduces swelling, inflammation, and headache. It is created using skin-friendly fabric with an adjustable strap, so you can use it all over your body. It is incredibly soft, flexible, and travel-friendly. It is the best knee ice wrap. If you are still unsure, check the video to see an honest review of TrekProof Ice Packs(2) With Strap.

Pros
Durable
One size fits all
Includes 2 hot and cold packs
Microwave and deep freezer-safe
Velcro closure
Home and office-friendly
Affordable
Cons
None

Price at the time of publication: $18.97
This product is made with high-tech TPU liner. It helps relieve pain and swelling. It is ideal for applying cold therapy to minor scrapes, bruises, muscle aches, sprains, headaches, and bruises. The best part about this product is that it wicks away moisture and lets you stay dry.

Pros
Latex-free material
Helps you recover from pain quickly
Leakproof material
Allows secure placement on the head, knees, and shoulders.
Cons
None
Price at the time of publication: $20.45
ColePak Hot & Cold Pack helps reduce swelling, inflammation, and muscle soreness. It includes two ice packs and one ice wrap holder to protect your skin from freezing. You can reuse the packs over and over again. It provides relief from swelling, bruises, injury, sore muscles, and headaches. The fabric is soft, skin-friendly, and leakproof. It offers comfort and stays flexible even when frozen. It is suitable for the knees, shoulders, hips, and ankles. The best part about this product is that you can wear it without having to hold the ice pack in place. Click on the video review to know more about the ColePak Hot & Cold Pack.

Pros
Secure fit
Insulated gel pack prevents frostbite
Can be molded to fit any body part
Lightweight
Non-toxic and safe-to-use fabric
Travel-friendly
Cons
The velcro loses its ability to stick after a point.
Price at the time of publication: $16.95
Vive Health Knee Ice Pack is a 2-in-1 hot and cold therapy pack that provides soothing relief for sore and injured knees. The non-slip material does not twist and stays in place while letting you be mobile. It treats inflammation and provides pain relief from arthritis, surgeries, and other knee conditions. This product comes with two ice packs – one in the front and one in the back for a customized therapeutic experience. It stays in place without slipping or twisting.

Pros
Secure fit
Soft and breathable fabric
Will keep your skin dry
One size fits all
Includes 3 non-toxic gel packs
Latex-free
Durable
Cons
Price at the time of publication: $26.95
This cold pack for knee is made of durable and soft material that stays flexible even when frozen. It is double sealed to prevent leaking. The 2-in-1 hot and cold pack offers therapeutic relief from knee pain, soft tissue soreness, stiff joints, inflammation, and aching muscles. It comes with an extra soft fabric wrap that is large enough to wrap around most body parts.

Pros
Medical-grade gel
CE and FDA-approved
Washable
Reusable
Hands-free design
Comfortable to use
Cons
Price at the time of publication: $14.8
Get relief from knee pain with the REVIX Knee Ice Pack. It is designed for knee cold compression therapy. This knee ice pack is structured such that the three ice packs are wrapped around your knees to make you comfortable. The knee cap comes with one big pocket and two small pockets. An adjustable knee brace secures the knee cap perfectly. It effectively relieves swelling, inflammation, sprain and thereby improves the healing time. You can use this knee pack for joint pain, knee pain, arthritis, ligament tear, and meniscus tear.
Pros
 Full-coverage
 Non-slip fabric pocket
 Flexible
 Reusable
 Durable
 Long-lasting
Cons
None
Price at the time of publication: $19.99
The Coldest Water Knee Ice Pack is designed for professional athletes in high performing sports. It is suitable for pain relief and injury treatment. This ice knee wrap can relieve knee sprains, iliotibial band syndrome knee pain, posterior cruciate ligament injuries knee muscle pains, ACL aches, sprains and tears, stiff knees, knee soreness, tightness, or dislocations, spinal relief, knee relief, meniscal tears, bursitis, tendinitis, tendon tears, and collateral ligament injuries. The material is very flexible and molds to your body effortlessly. It distributes coldness evenly and enables quick recovery.

Pros
Stays cold for a long period
Skin-friendly material
Stays in place without slipping
Very durable
Cons
Price at the time of publication: $59.99
BraceUP Hot & Cold Knee Wrap has an oversized pad that covers the entire knee for improved performance and maximum therapeutic comfort. The breathable inner layer allows airflow, keeping the area cool and dry. It is also perfect for treating sports-related injuries. The product is specially designed to relieve muscle pain and swelling. Its anti-slip design ensures a custom fit.

Pros
Strong velcro
Wraparound design
Can be used on any areas of the body
Durable
Cons
It doesn't stay cold for long.
Material is too thick.
Price at the time of publication: $16.99
There you have it – 10 best ice packs for knee pain. Now, let's check out the things you need to consider while buying an ice pack.
Features To Look For In An Ice Pack
1. Material
It is important to pick a material that is insulated enough to allow the pack to stay cool while being breathable. It should be pliable to fit your body contours perfectly. It should continue being flexible even after taking it out of the freezer. Make sure to check the labels as some brands use toxic substances in their products.
2. Durability
Durability comes into the picture if you are an avid user of ice packs. If you are an athlete who needs regular cold therapy for your knees, some brands design custom athlete ice packs. These are extremely durable as they are made of high-quality material with solid steamers.
3. Size
Make sure to choose the ice pack that fits in your refrigerator. Some come with adjustable straps, some with wraparound velcros, and some with no attachments at all. Depending on your needs, purchase one that fits you well.
4. Ease Of Use
If you prefer to rest during the cold therapy, choose ice packs that are flat with no attachments or straps and are very easy-to-use. But these are not durable.
If you are an athlete or want to move around, you will need ice packs that have straps or adjustable buckles.
Frequently Asked Questions
How long can I use an ice pack on the injury?
It is recommended not to use an ice pack on an injury for more than 20 minutes.
What is the best way to ice your knees?
The best way to ice the knees is with ice packs. To make ice packs, put cubes in a plastic bag and seal the top. Wrap the bag in a clean thin cloth. Apply ice for about 15-20 minutes with a 40-minute break between sessions.
Are ice packs good for recovery after knee replacement?
After knee surgery, swelling can last for three to six months. Ice packs are helpful for reducing inflammation and pain. It can increase blood flow to the damaged area.
What is better for knee pain – heat or cold compression?
The heat helps loosen the tight muscles and joints and relieves achy muscles. The ice packs help if you have inflammation or swelling. Choose any one of them depending on what kind of issues you are experiencing.
What is the fastest way to relieve knee pain?
Rest, ice, compression, and elevation are some of the most common and best ways of getting relief from knee pain. Rest will help you prevent aggravating the injury. Compression with a knee support can increase your comfort levels. Elevation will encourage blood circulation and reduces swelling. Ice packs can help reduce inflammation and swelling.
Recommended Articles
References
"Cold and compression in the management of musculoskeletal injuries and orthopedic operative procedures: a narrative review" Open Access Journal of Sports Medicine, US National Library of Medicine, National Institutes of Health.