The 13 Best Ice Rollers For Soothing and Glowing Skin – 2023
Soothe redness, inflammations, and offer a general massage to your face with handy tools.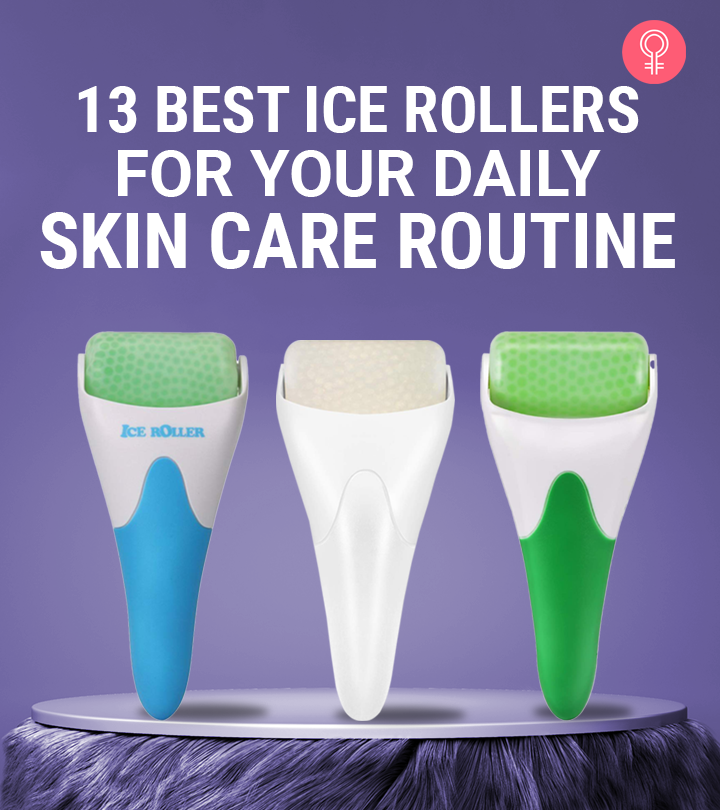 If you often wake up to a puffy face, you surely know how icing helps you get back to normal. However, applying ice cubes first thing to your skin in the morning might not be suitable, and that's why we have got you the best ice rollers for the face. Ice gives cold therapy that shrinks pores, reduces puffiness and acne formation, and tightens the skin.
Ice rollers are easy to use, and they provide a mess-free application to the face. In addition, they glide smoothly on the face and don't feel heavy or very cold. We have listed the 13 best ice rollers for the face below. Have a look!
P.S: Cool ice rollers in the refrigerator and avoid immediate usage of cold ice rollers to prevent skin pulling.
13 Best Ice RollersFor Your Daily Skin Care Routine
If you are struggling with puffy eyes, wrinkles, sagging face, acne scars, and irritated skin, the Esaroraice roller for the face and eyes is the perfect all-in-one solution for you. This cold therapy tool helps tone your upper arms, stimulate lymph circulation, improve dry skin, shrink pores, and relieve muscle pain in the neck and legs. This roller does not require batteries.
Pros
Easy to clean
Easy to use
Detachable roller head
Value for money
Cons
Does not stay cold for long.
Price at the time of publication: $18.99
The Latme Ice Roller helps shrink pores while promoting blood circulation to depuff your skin and imparts radiance. It also enhances your skin's ability to absorb the nutrients in skincare products. You can use it to revitalize your skin, relieve eye fatigue, reduce facial redness, and alleviate neck pain. This cold therapy massager can also aid in calming migraines, muscle pain, sunburn, hot flashes, and fever in menopausal women.
Pros
Easy to use
Sturdy
Value for money
Cons
Too big for the under-eye region.
Price at the time of publication: $11.99
Depuff your skin and get a spa-like experience at home with the Elizabeth Mott Ice Roller. This product is gel-filled and gentle on the skin. It helps in reducing puffiness, swelling, and redness on your face and under your eyes.
It comes with a detachable roller head that you can store in the freezer for cooling and reattach it when you are ready to use it. The gel-filled roller helps in reducing puffiness, boost circulation, minimize redness, and inflammation, and soothe irritation while tightening your skin and boosting radiance.
Pros
High-quality build
Ergonomic design
Detachable roller head
Rapid cooling polymer
Reduces inflammation
Offers quick cooling
Suitable for all skin types
Ideal for sensitive skin
Cruelty-free
Cons
None
Price at the time of publication: $15.99
The Fronnor Ice Roller is a therapeutic skincare tool that revitalizes your skin. It boosts blood circulation, imparts a natural glow, and effectively reduces the appearance of wrinkles and fine lines. This ice massager provides relief from redness, pain, and sun damage via cold therapy. It also helps your skin better absorb nutrients from moisturizers, oils, and serums. You can use it daily for instant relief from muscle pain, migraines, sunburn, and insect bites.
Pros
Ergonomic design
Value for money
Easy to use
Cons
Price at the time of publication: $8.99
The BTYMS Ice Roller revolutionizes your skincare routine by helping your skin absorb nutrients from products better. It helps calm the skin, minimizes pores, reduces puffiness, diminishes wrinkles, and soothes redness and inflammation. The inbuilt frozen bead of the roller is gentle on the skin. This ice roller also helps relieve muscle pain, tension, sunburn, bites, and migraines.
Pros
Lightweight
Comes with two rollers
Easy to use
Easy to clean
Cons
Price at the time of publication: $9.99
The Inotka Luxe Ice Roller is a high-quality device that helps you achieve smoother, brighter, and calmer skin. It helps reduce redness, dark circles, irritation, headache, puffiness, and swelling. This ice roller also soothes sunburns and sore muscles. It sculpts your face by reducing pore size, tightening your skin, and boosting blood circulation. It also helps stimulate the lymphatic flow and removes toxins from your body.
Pros
Easy to use
Easy to carry
Affordable
Cons
None
Price at the time of publication: $6.99
The SpanlaSkincoolIce Roller is a mess-free way to revitalize your skin every morning. Five to seven minutes of massage with this roller reduces the signs of aging, boosts skin elasticity, speeds up recovery from cosmetic treatments, soothes aching muscles, and reduces swelling. It also contracts blood vessels to tighten pores and diminish varicose veins.
Pros
Detachable head
Easy to use
Comfortable grip
Cons
Makes a loud squeaking noise.
Price at the time of publication: $5.99
Remove dark circles and bags under your eyes with the MAANGE Ice Roller. You can freeze this ice roller before using it on your face to shrink the pores and promote blood circulation quickly. The ice roller may effectively calm the pain caused by migraine and muscle strain. It prevents wrinkles, makes you feel refreshed, and may make your face appear thin, improving the complexion.
Pros
 Lightweight
 Portable
 Easy to use
 Refreshing
Cons
 May take a longer time to work for puffiness
Price at the time of publication: $11.99
The Kitsch Ice Roller is made of stainless steel and gives you a relaxing salon-like experience right at home. This massager stays cool longer than its plastic counterparts, ensuring better results while depuffing the face. The cool stainless steel surface boosts blood flow to the face, stimulating lymphatic drainage, and removes toxins. It alleviates under-eye bags, muscle soreness, and throbbing headaches while brightening your skin.
Pros
Easy to use
Value for money
Durable
Ergonomic design
Cons
None
Price at the time of publication: $13.44
The Marzahar Ice Roller is a multipurpose facial massager that features beads that retain temperature for a longer time, ensuring better results during the massage. A few minutes with the roller shrinks the pores, boosts blood circulation, and refreshes your skin. It also reduces puffiness, calms inflammation, and revitalizes dull, dry, and dehydrated skin.
Pros
Easy to use
Easy to clean and sterilize
Waterproof
Value for money
Cons
None
Price at the time of publication: $9.99
The BFASU Ice Roller takes you closer to younger-looking skin. It instantly reduces morning puffiness, dark circles, wrinkles, and crow's feet. It also eases tension and provides instant pain relief. At the end of your skincare routine, run this roller for a few minutes around your face and neck for soothing results.
Pros
Easy to use
Durable
Value for money
Cons
None
Price at the time of publication: $6.99
The ice roller from beauty By Earth is a versatile full-body beauty tool to alleviate puffy eyes, ease inflammation, tone your arms, enhance lymphatic drainage, calm irritation, and provide quick relief from neck stiffness. It uses cold therapy to stimulate blood circulation, sculpt contours, and tighten your skin, giving it a naturally healthy glow. It can be used daily post your skin care routine for better results.
Pros
Ergonomic
Detachable head
Battery-free
Easy to use
Durable
Cons
None
Price at the time of publication: $19.99
With the number of ice rollers available in various shapes, sizes, colors, and functionalities, it can be overwhelming to choose the perfect one that gives you the most bang for your buck. Here are some key factors to consider when choosing an ice roller for your face.
Important Factors To Consider Before You Buy An Ice Roller
Primarily, ice rollers are made of metal or plastic. While metallic rollers are more durable, plastic tends to be more affordable and portable. But metal rollers may cause frostbite when misused.
Most ice rollers feature a simple design – an inverted triangular shape with the roller head on top. However, double-headed rollers are also available. The double-sided rollers give you an extended reach around the under-eye region areas.
This is probably the most significant factor that determines the efficiency of your ice roller. While some may take up to 15 minutes in the freezer, others may take up to 2 hours to freeze. Also, note that the longer your ice roller stays in the freezer, the longer it shall take to defrost once out, and vice versa.
Why Trust StyleCraze?
The author, Shiboli Chakraborti, is a certified skin care coach. In this article, she has compiled a list of the best ice rollers for the face available right now. She thoroughly researched several products and scoured through their user reviews to find the best ice rollers that soothe and depuff your skin. Use these rollers in circular motions to boost circulation and improve your complexion.
Frequently Asked Questions
Are facial rollers a gimmick?
No, facial rollers may help boost blood circulation and help your skincare products penetrate the skin.
How long should you roll your face?
You should roll your face for at least 5 minutes for visible results. Do not do it for longer than 10 minutes.
Should I ice my face every day?
Yes, you may ice your face once a day. However, make sure that you do not leave an ice cube or an ice pack on a specific area of your face for more than a minute. If you have sensitive skin, avoid applying ice cubes directly altogether.
Is ice bad for your face?
It is not advised to use ice directly on your face as it may harm the capillaries present right under the skin.
Do ice face rollers help lose face fat?
While face rollers do not help permanently lose fat from the face, they may give your skin a temporary lift by reducing puffiness and enhancing its firmness.
Recommended Articles