8 Best Ice Skates – Reviews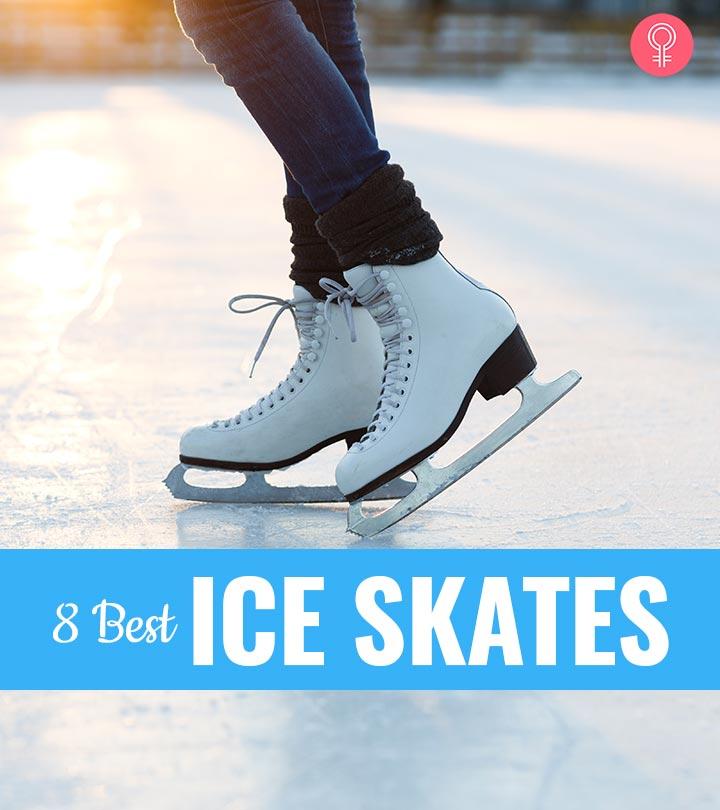 Winter is around the corner. If you are to keep yourself occupied in the cold, ice skating is the way to go. Ice skating is among the most popular and fun sports activities during winters. More than anything else, what you need is a good pair of ice skates. Here, we have compiled a list of the best ice skates you can find on the market. Take a look and pick your favorite!
8 Best Ice Skates
The Jackson Ultima Figure Ice Skates come with a reinforced vinyl upper and a padded tongue. They also have a rolled padded collar that provides support, warmth, and comfort. The blade of this skate is constructed from stainless steel that ensures easy maintenance and longer blade life. The skates from Jackson Ultima feature new fashionable PVC outsoles that require low maintenance. The skates have a fully lined cushy foam padding that ensures comfort and support. The foam padding minimizes potential tears and abrasion while skating.
Pros
Rolled padded collar for support, warmth, and comfort
Stainless steel blade ensures durability
Fashionable PVC outsoles
Lined cushy foam padding for comfort and support
Foam padding also minimizes abrasions
Cons
The American Athletic Ice Skates are ideal for an entry-level figure skater. The figure skates are tricot-lined, which makes them comfortable. These figure skates fit well and are easy to maintain. They are made of durable PVC boot. The skates include multi-layered ankle support and a form-fitting padded tongue. The skates come with a nickel-plated steel blade.
Pros
Comfortable
Fit well
Easy to maintain
Feature multi-layered ankle support
Cons
The Lake Placid Cascade Ice Skates are excellent for beginners. They come with a synthetic upper outer boot that provides firm ankle support. The skates also have reinforced ankle support and warm, woven, and quick-drying liners with comfort padding. The skates include a traditional lacing system. They have a stainless steel blade and a toe pick on both sides. These ice skates work great both indoors and outdoors. They are perfect for recreational ice skating and figure skating lessons.
Pros
Provide firm ankle support
Warm woven and quick-drying liners offer warmth
Great indoors and outdoors
Cons
None
The Rollerblade Bladerunner Ice Skates are ideal for recreation. They provide immediate comfort, convenience, and style. The skates are easy to wear and remove. They are lightweight and offer superior lateral support. The skates allow the perfect amount of forwarding flex for gliding around the skating rink or pond. They have a padded lining with Thinsulate that keeps the feet cushioned and warm. The cuff buckles of the skates allow a precise fit. The skates also have a lace closure system that keeps feet secure and adds additional support. Their stainless steel blades deliver consistent performance with the need for minimal maintenance.
Pros
Easy to wear and remove
Lightweight
Provide superior lateral support
Padded lining keeps the feet cushioned and warm
Cuff buckle allows for a precise fit
Lace closure system keeps feet secure
Stainless steel blades need minimal maintenance
Cons
None
The K2 F.I.T Ice Skates could be ideal for your partner. These men's skates have traditional lacing and allow one to customize their lacing. The skates have a K2 Soft Boot Technology that provides the highest level of performance and comfort. They have a Stability Plus cuff that offers complete support for one's feet. The skates have a Thinsulate liner that keeps the feet warm. They have an injection-locked stainless steel blade that is corrosion-resistant.
Pros
Soft Boot Technology for exceptional performance and comfort
Provide complete support to your feet
Thinsulate liner keeps feet warm
Corrision-resistant blade
Cons
None
The 5th Element Grace Ice Figure Skates are a perfect choice for beginners to intermediate level figure skaters. The skates are built for performance. They are reinforced and are cold-resistant. They have a vinyl coated upper and come with three lace locks. The locks ensure premium ankle support and comfort. The skates have a premium-quality stainless steel blade and front toe pick that allows for making a perfect turn on the icy surface.
Pros
Cold-resistant
Built for performance
Lace locks offer premium ankle support
Front toe pick for perfect turns on the ice
Cons
None
The Roces Women's Ice Skates are crafted with a plaid fabric upper and have anatomic padding. The skates have figure-style blades. They have a lace-up closure that makes wearing and removing the skates easier.
Pros
Anatomic padding offers better fit and comfort
Lace-up closure makes them easy to wear and remove
Cons
None
The American Athletic Women's Figure Skate comes with a fashionable cheetah print. The skates have a cushy foam padding and a fiber lining that provides warmth and comfort. The skates also feature a speed lacing system with a strap. They have multi-layered ankle support and a picked figure skate blade.
Pros
Cushy foam padding
Provide warmth and comfort
Multi-layered ankle support
Include a speed lacing system with a strap
Cons
None
These are the top eight ice skates available on the market. The following buying guide can help you make a better buying decision.
A Buying Guide
Check for the following factors before purchasing a pair of ice skates.
Support – The ice skates must provide ample support to your legs. A good pair of ice skates offers adequate support, a heel counter, and would be a perfect fit.
Ankle Support – Before buying a pair of skates, determine how they can support the ankles. Do they allow your ankle to move or provide the right amount of stiffness? A softer model is ideal for a recreational skater while a professional skater should go for skates that offer more support.
Heel Counter – Always choose skates that have a stiff heel counter. These heel counters support your ankles as well as provide the right fit.
Comfort – Always look for comfortable skates that will offer you the ease for skating on the ice. However, keep in mind that a brand new pair of skates will be uncomfortable initially due to their material. But as you continue to use them, they can get comfortable.
Style – The skates' style most often determines the activities you will perform with them. There are various types of skates – including racing skates that are designed to provide more speed, figure skates that are used in figure skating, and recreational skates that are ideal for beginners.
A pair of good ice skates can make your time on the ice more fun. They not only add comfort but can also enhance your performance. Pick your favorite pair of ice skates and start skating today!
Recommended Articles
The following two tabs change content below.

Latest posts by Sucharita Mishra (see all)

Sucharita Mishra
Sucharita Mishra has a Master's degree in Biotechnology and specializes in writing on Health and Wellness. She has worked on determining various heavy metals present in green tea for her Master's dissertation at CSIR- CFTRI, Mysuru. After completing her degree, Sucharita decided to pursue her passion for writing. She is addicted to all things black and aspires to become a bat one day.