14 Best Immersion Blenders – Reviews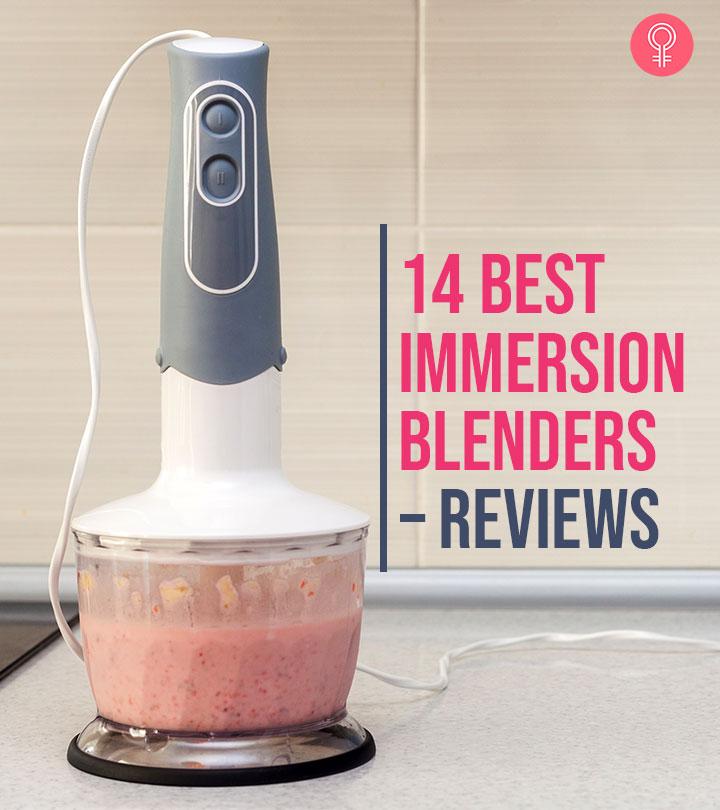 An immersion blender is compact and can easily fit any of your cabinets or sit on the kitchen counter without taking a lot of space. It is a convenient alternative to the traditional full-size blender. With minimal usage of extra utensils, an immersion blender can be used in any vessel. Instead of transferring the food to a stand mixer pot, an immersion blender allows you to mix the food in the same pot that you are cooking in. Here, we have listed the 14 best immersion blenders available on the market. Take a look!
Why Do I Need An Immersion Blender?
An immersion blender is useful for whipping, chopping, blending, or crushing food while you cook. It is easy to work with – you can hold it with a single hand for a long time while you whip. It is also compact and can be stored anywhere in your kitchen cabinet or the countertop. It is easy to clean and maintain, and the sturdy build ensures longevity. It can fit into any jar or pot for a quick whisk.
Check the top 14 immersion blenders in the following section.
14 Best Immersion Blenders – Reviews
The Mueller Austria's Ultra-Stick is a multi-purpose immersion blender with an ergonomic design. It offers you an anti-slip and comfortable grip while you hold the blender for a long time for blending. It has a copper motor that can withstand continuous full-blast use. The device can last three times longer than most other immersion blenders. It has a removable blending arm with fixed blade locks in its motor body for convenient and resourceful use. Its S-shaped stainless steel blades blend any ingredient quickly with a swift motion. It is versatile enough to make smoothies, milkshakes, baby food, soup, or whipping cream. It also includes whisking and frothing attachments.
Pros
Easy to use
Affordable
Anti-slip grip
Versatile
Cons
The Braun 2-in-1 Immersion Hand Blender is a durable and classic design. Its stainless steel blades have a unique bell-shade blending shaft for quick, finer results. This immersion blender has a turbo boost mode that accelerates the process. It can also chop smaller portions of vegetables, beat eggs, whip cream, and also puree to make sauces in any pot you want. It comes with easy mode changes. It also includes a 20-ounce beaker along with other whisking attachments.
Pros
Accelerated blending
High precision
Quick results
Soft, convenient anti-slip grip handle
Narrow head compatible with every pot
Easy to clean
Cons:
Not compatible with emulsions
Not sturdy
The Utalent 5-in-1 stick immersion blender has an 8-speed technology that allows one to beat and whisk eggs, make a puree, and make milk frothier. It also works instantly on baby food, smoothies, sauces, as well as soups. It comes with detachable attachments that are easy to clean and dishwasher-safe. The attachments are chemical-free and free of ETL and BPA as well. The immersion blender has a powerful and sturdy 250-watt motor and comes with a turbo speed button to whisk quicker. The 4-blade system ensures quick and even whisking. The blender also includes a mixing wand, milk frother, 500 ml food chopper, 600 ml beaker, and an egg whisker.
Pros
BPA-free
ETL-free
Noiseless operation
Accelerated blending
Dishwasher-safe attachments
Versatile
Cons
May break when used on harder food products.
The Braun 3-in-1 MultiQuick Immersion Blender has a 400-watt motor that is powerful and blends with precision with its stainless steel blades. This immersion blender is made with the world's first-ever smart speed technology – the more you squeeze the handle, the faster it blends. It is effortless to control with a single hand motion and has a soft anti-slip grip. You can detach all the attachments with a simple click. The blender also includes a 1.5 cup food processor, whisker, and a beaker.
Pros
Easy to clean
MultiQuick
Smart speed technology for convenience
Sturdy
Anti-slip grip handle
Mini-chopper included
Cons
None
The Allkeys Immersion Hand Blender is equipped with a high-speed and powerful 500-watt motor built of high-quality copper. It can seamlessly and quickly blend ingredients. You can blend everything ranging from sauces, soups, cakes, marinades, and juices to baby food and healthy smoothies. Its smart speed technology helps you handle it without the need for a lot of effort. It is compact and can be easily used with a single hand. It has four titanium blades that are tough enough to blend the hardest food ingredients with ease. The blades are anti-adhesion and corrosion-resistant. The blender comes with a blade guard that ensures the food does not splash out of the container. It also includes various blender attachments, a milk frother, and a 600 ml mixing beaker.
Pros
Smart speed technology for convenience
Anti-splash design
Titanium blades ensure longevity
Anti-adhesion blades
Corrosion-resistant blades
Easy installation
Compact design
Easy to clean
Versatile
Cons:
The King.Chef 7-in-1 Multifunctional Immersion Blender works faster, smoother, and with great precision with its strong and powerful 400-watt DC motor. The blender comes with 12-speed variations, turbo mode, and brushed stainless steel blades. It can blend, chop, whisk, whip, puree, and even emulsify. You can easily make fruit salads, whisk eggs, milkshakes, smoothies, chop or juice vegetables, and even make baby food. The immersion blender kit also includes a blender shaft, a stainless steel egg whisker, a food processor with three pieces of blades, and a lid.
Pros
Anti-slip grip handle
Anti-splash design
Accelerated blending
BPA-free
Easy to clean
Cons
None
The Cuisinart's Cordless Rechargeable SmartStick Hand Blender is cordless. It is portable and can be carried anywhere without restrictions. It is highly versatile and can be used to make smoothies, shakes, sauces, purees, meringue, or whipped cream. It includes whisk and chopper attachments, a thumb-activated on/off power button, and a 4-cup measuring cup.
Pros
Cordless use
Rechargeable
Portable
Convenient activation
Durable
Cons
The blades frequently get stuck.
The KitchenAid cordless immersion blender can blend up to 25 bowls of soup on a full charge. It has rechargeable lithium-ion batteries that deliver the best runtime and performance. It has an indicator light that signals when it needs a battery recharge. Its 8-inch removable blending arm, along with its 4-point stainless steel blade, can efficiently blend anything from smoothies to hummus. It comes with a safety switch that protects against any accidental trigger movement. The blender includes accessories like a blender arm, a blending jar with a lid, and a pan guard. These accessories are dishwasher-safe.
Pros
Cordless use
Portable
Quick charging time
Anti-slip grip handle
Dishwasher-safe attachments
Affordable
Cons
Difficult to clean
No food chopper included
The Braun MultiQuick 4-in-1 Immersion Blender has a powerful 350-watt motor. It is lightweight and has an ergonomic design for maximum flexibility. Its Power Bell technology consists of a unique bell-shaped blending shaft and durable stainless steel blades for faster and sustainable use. The Easy Click mode ensures all the blender's attachments can be easily detached with just one click. The blender also consists of a Turbo Boost option that accelerates the process and adds more power. The convenient soft grip allows one to ease this immersion blender for a long time. The blender includes a stainless steel blending shaft, a 20-ounce beaker, a whisker, a mashing accessory, and a 2-cup chopper.
Pros
Durable blades
Easy to clean
Easily detachable attachments
Accelerated blending
High precision
Cons
The YISSVIC Hand Immersion Blender comes with a 1000-watt motor that has 9-speed controls and a turbo mode. It can blend smoothies, protein shakes, milkshakes, soups, etc. within seconds. The immersion blender also has a stainless steel housing with a 360-degree motor body that can easily be inserted in any pot or vessel with convenience. It blends food smoothly and evenly. It includes a 700 ml beaker, a 500 ml food processor, a whisker attachment, and a splash guard to prevent spillage.
Pros
Anti-rust attachments
Versatile use
Dishwasher-safe attachments
BPA-free
Chemical-free
Low noise operation
Durable
Sturdy
Cons
May emit a burning smell if it overheats
Improper power button functioning
The homgeek Immersion Hand Blender has a powerful 500-watt motor. The motor is removable. This makes changing attachments easy. The two sharp blades of the blender can quickly and efficiently make baby food, soups, smoothies, whip creams or hummus, or juices. This immersion blender offers variable speed and instant turbo mode so that you can easily adjust the speed to fit different foods. It also has an ergonomic design handle that provides a non-slip and comfortable grip when blending.
Pros
Easy to clean
Dishwasher-safe attachments
Compatible with various foods
Affordable
Cons
The CHEW FUN Multipurpose Immersion Blender has an ergonomically designed handle, which makes it extremely convenient to hold. Its two simple push buttons allow you to control/adjust the speed as per your needs. It comes with a 500-watt motor that operates with low noise. You can use this immersion blender for blending juice, milkshakes, baby food, smoothies, whipping, beating eggs, and chopping veggies. Its detachable shaft makes cleaning and maintenance easy.
Pros
Low noise operation
Affordable
Versatile
Comes with a milk frother and an egg whisker
Cons
Overheating issues
Flimsy attachments
The BSTY 2-in-1 powerful hand immersion blender is equipped with a high-performing 500-watt motor that can blend ingredients within seconds. It has sharp stainless steel blades that work their magic on every food ingredient. It helps blend juices, smoothies, milkshakes, soups, and even baby food. It has 15-speed adjustments that are precisely controlled with ease and are compatible with different cooking needs. The immersion blender increases its power to blend food easily with its turbo boost function. It has an anti-splash design and a non-slip grip handle.
Pros
Easy to clean and store
Mess-free
Anti-splash design
Non-slip grip handle
Sturdy
Durable
Accelerated blending
Affordable
Cons
No warranty
Blades could fall off
The TIBEK SmartStick Hand Blender is powered by a heavy-duty motor that works faster and efficiently than most other blenders. It can seamlessly blend ingredients for sauces, soups, cakes, marinades, juices, puree food, baby food, and healthy smoothies. You can switch and adjust through the four speed levels with its speed intelligent detection design without having to pause the appliance. This blender comes with a LED indicator that displays the current speed.
Pros
Ergonomic design
LED indicator for speed change
Anti-adhesion blades
Corrosion-resistant blades
Anti-splash design
Non-slip grip handle
Long cord
Detachable attachments for easy cleaning
Cons
The motor is not powerful enough.
These are the top 14 immersion blenders available online. The following buying guide should help you make a better purchase decision.
What Should You Look For When Buying An Immersion Blender?
Motor: The efficiency of the motor determines a blender's capability to puree and blend ingredients in a certain amount of time. The more powerful the motor's torque, the faster it blends. Ensure you do not compromise on the motor's quality. The ideal range for the motor is 200 watts to 500 watts. A higher wattage is even better.
Weight: The weight of the blender is a major factor to consider. The lighter the device, the better. The ideal weight of an immersion blender should not exceed two kilos. You may also go for lighter variants.
Blade: You also must consider the blade design, material, and the number of blades. These factors determine the blender's efficiency. Blades made of stainless steel are durable and have higher sustainability. Also, ensure the blender has two or more blades to increase its capacity to function faster. A blade hood or shaft keeps the ingredients from spilling out.
Variable Speed Controls: Various food products and ingredients require various speed levels. Tougher food ingredients like carrots, radish, or coconut pieces need higher speeds to cut through their hard texture. Other ingredients like tomatoes or fruits can easily be pureed at lower speeds.
Durability And Build: Immersion blenders are meant to be compact as compared to countertop blenders. Look for an immersion blender that has a lighter body for ease of storage. Also, ensure it is made of durable material as it should sustain the power and fore of blending.
Comfort And Grip: Immersion blenders or hand blenders are known for their convenience and comfort. Make sure the blender you pick is lightweight so that you can hold onto it for a longer time. Also, see if the control buttons are easy to operate while you blend – they should be easily reachable without you having to struggle. A good anti-slip grip offers additional comfort while blending.
Blender Length: Pick a blender that has a taller wand that allows you to blend in deep pots. Blender length is an important aspect in case you are cooking large quantities of food.
Attachment Options: Most blenders today come with detachable attachment wands. Different styles of blades are used for different purposes, and these attachments are a potential use. Chopping blades, whiskers, various blade sizes, beaters, etc. are some of the attachments that come handy and must be included along with the immersion blender to make it versatile for use.
Corded vs. Cordless: This option depends on your usage and requirement. Cordless blenders might seem convenient when it comes to portability, but the corded variants are more powerful and sturdy and you do not have to worry about charging them often.
Immersion Vs. Countertop Blender
| Features | Immersion Blender | Countertop Blender |
| --- | --- | --- |
| Price | Affordable | Expensive |
| Speed Variations | Limited speeds | Many options |
| Wattage | Low wattage | High wattage |
| Size | Takes less space | Takes up more space |
| Design | Sleek and compact | Bulky |
| Cleaning | Easy to clean | Easy to clean |
| Attachments | Few detachable blades | Various attachments |
| Pulse | No pulse functions | Many quick pulse bursts |
| Blades | Smaller blades | Larger blades |
| Power | Less power | Powerful |
| Convenience | Portable and lighter | Stationary and heavier |
| Usage | Not effective on tough food items | Compatible with every type of food item, including ice cubes |
| Portions | Convenient for small quantities | Convenient for larger quantities |
Conclusion
An immersion blender is a brilliantly versatile kitchen appliance that takes up very little storage space. It is extremely handy and convenient to whip cream, puree soup, make baby food, froth milk, or beat eggs for your breakfast. The device can elevate your cooking to the next level. Choose from these 14 best immersion blenders today!
Expert's Answers For Readers' Questions
How do I clean an immersion blender?
Fill a tall glass with 3/4th full with soapy water and run the blender in this water for around 20 seconds or till it is clean. Repeat the process with clean water. Detach the attachment and wipe it clean with a paper towel or napkin.
Can an immersion blender crush ice?
No. It is better to avoid crushing ice with an immersion blender as it may damage or break the blades or may cause pressure on the motor.
Can you put an immersion blender in hot soup?
Yes, you can put an immersion blender in hot soup. But ensure you use a large or tall pot while you blend so that you do not spill the hot soup on yourself.
Will an immersion blender scratch pots?
No, an immersion blender will not scratch pots. The blender's bottom edge is covered with plastic, which makes it a safe choice to be used for any pot.
Recommended Articles