9 Best Quality In-Shower Body Lotions For Women
Gentle, skin-friendly, and lightweight skin care products for better nourishment.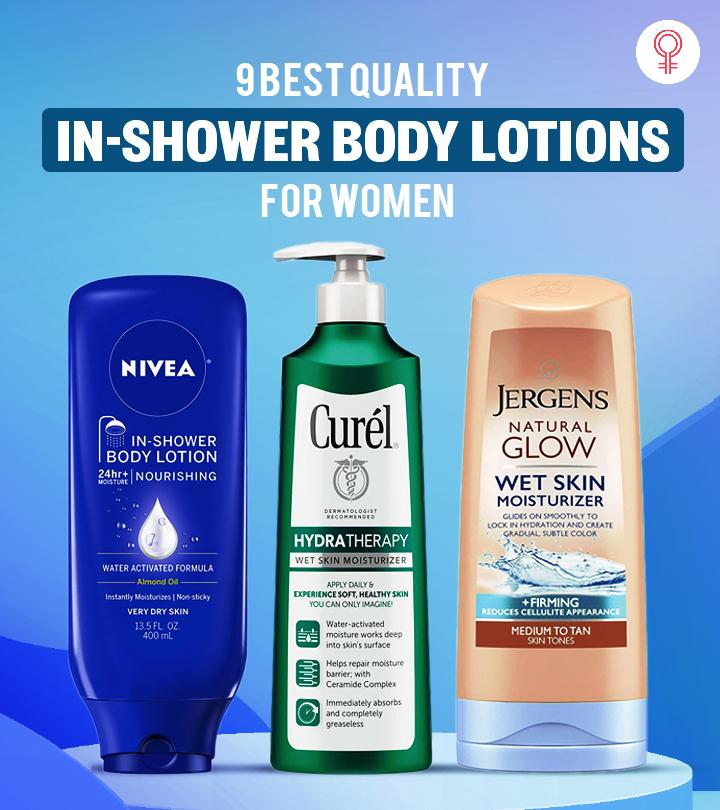 Do you feel applying a body lotion post-shower and waiting for it to be absorbed is a cumbersome process? Hold on, there is a way out! You can find the best in-shower body lotion for each skin type. These are water-activated body lotions that can be applied after you bathe, and all you need to do is pat your skin dry with a towel.
However, many brands are offering in-shower body lotions, but not all products can suit your skin type. Worry not! We can help you make your search easier. In this article, we have got you a list of 9 effective in-shower body lotions with impressive online reviews. So, scroll through the list and choose whichever you like!
9 Best In-Shower Body Lotions
The Hydra Therapy Wet Skin Moisturizer by Curel is specifically formulated for dry skin types. The dry skin-soothing formula is infused with potent ingredients like shea butter, eucalyptus extract, orange peel oil, ceramides, and glycerin. This skin-quenching lotion gets activated by water and penetrates deep into your skin. Add this product to your skin care routine to receive deep and intense hydration if you have dry and withered skin.
This in-shower lotion is super gentle and does not irritate or damage your skin. It can be used as part of your daily shower routine and provides three times more hydration than other lotions. The advanced ceramides in this skin lotion help replenish the lost moisture and fight the signs of aging, sun damage, dryness, and irritation. The lightweight formula has proven to deliver visible results and does not leave your skin with any greasiness, making it feel plump and soft. It has been tested for safety against skin irritation and has been rewarded the National Eczema Association Seal Of Acceptance.
Pros
Absorbs well
Non-greasy
Lightweight
Fragrance-free
Cons
Leaves residue on the washroom floor.
The Frida Mom Bump+Body In-Shower Lotion is suitable for irritated, itchy, and dry skin. The formula is infused with gentle emollients like shea butter that hydrates and soothes dry skin and grapeseed extracts that promote skin elasticity while healing skin. This dermatologist-recommended body care lotion also contains coconut oil that strengthens the skin barrier and softens the skin. The skin lotion gently soothes belly itchiness and restores the skin's youthful radiance. It is a pregnancy-safe formula, effective in conditioning stretched skin.
Pros
Pregnancy-safe
Dermatologist-tested
Pleasant fragrance
Cooling sensation
Cruelty-free
Cons
The Natural Glow Wet Skin Moisturizer by JERGENS is a skin-nourishing body lotion that is suitable for all skin types and ideal for medium to tanned undertones. This body lotion leaves behind a natural-looking deep bronze tan post-application. It is infused with elastin, vitamin E, collagen, ginseng brown extract, glycerin, coconut water, and shea butter. The coconut water, collagen, and elastin help reduce the appearance of cellulite within 7 days. Shea butter provides intense all-day hydration without leaving any greasiness.
This effective formula of this in-shower body lotion is rich in antioxidants and vitamin E, which help nourish and promote healthy-looking skin. It keeps the skin firm and improves its elasticity. This body lotion has a light and soothing scent, which will leave you feeling revitalized. The natural-looking tan color does not transfer or stain your towels. Moreover, this daily moisturizing lotion gives you glowing, toned, flawless skin which is summer-ready with regular use.
Pros
Natural tanner
Transfer-proof
Quick absorption
Refreshing scent
Non-greasy
Lightweight
Non-sticky
Dermatologist-tested
Cons
The Albertini Divine In-Shower Wet Skin Body Moisturizer is a beauty product that acts as an unscented skin hydrator. The formula is infused with vitamin B5 which strengthens the skin barrier, sodium PCA which boosts the moisture level and has moisture lock properties, and shea butter which improves the skin, giving it a silky, soft texture.
It replaces the natural moisture factor(NMF) in the body and reverses tight, flaky, dry skin. The skin lotion treats itchiness and smoothes skin by stimulating collagen production. It is lightweight in texture and free from any stickiness, making it suitable for daily use on soft skin.
Pros
Non-sticky
Fragrance-free
Sulfate-free
Cruelty-free
Cons
None
This in-shower tanning lotion is infused with natural ingredients such as hydrolyzed jojoba esters, sweet almond oil, and glycerin that deal with several skin conditions. The sweet almond oil provides instant hydration that keeps your skin deeply moisturized for up to 24 hours. This body lotion leaves behind a natural-looking golden tan post-application. It does not leave any blotchy or streaky residue on clean skin. Apply the product for three consecutive days to get impressive visible results. This skin lotion by St. Tropez is ideal for dry skin types.
Pros
Naturally derived ingredients
Natural tan
Transfer-proof
Absorbed quickly
Streak-proof
Pleasant scent
Paraben-free
Sulfate-free
Phthalate-free
Cons
Stains the floor
Long leave-in time
The Tropic Labs High Tide In-Shower Moisturizer is a non-sticky formula that visibly improves the skin's appearance after just one time use. It is infused with 5% inulin extracts that promote skin elasticity, strengthen the skin barrier, and boost moisture in your skin. This dry skin moisturizer also contains passion fruit oil that gives you smooth skin and reduces the appearance of fine lines. This lightweight, scientifically formulated lotion soothes flaky skin and relieves itchiness instantly making it ideal for dry and sensitive skin types.
Pros
Suitable for sensitive skin
Lightweight
Long-lasting effects
Non-greasy
Light, pleasant fragrance
Absorbs quickly
Cons
None
The theraplex Clear Lotion is specially formulated for sensitive and eczema-prone skin. It locks the natural moisture content in your skin by forming a protective barrier. This wet body lotion soothes dry skin and relieves itchiness, dryness, eczema, and irritation. This dry skin lotion has an extremely gentle formula that is dermatologist-recommended and does not leave any residue.
Pros
Absorbs well
Non-greasy
Lightweight
No residue
Fragrance-free
Hypoallergenic
Dermatologist-tested
Paraben-free
Sulfate-free
Silicone-free
Gluten-free
Lanolin-free
Preservative-free
Cons
May cause allergic reactions.
The Skin Nourishing Shower Cream by ELEMIS is enriched with potent ingredients like milk protein cocoon extracts, jojoba oil, camellia extracts, sunflower seeds oil, oat kernel extract, wheat germ oil, and macadamia oil. This creamy formula contains milk protein cocoons that nourish your skin gently without any stickiness post-application. The oat kernel extracts and camellia oil help soothe irritation and dryness without triggering acne-prone skin.
The skin's natural acid mantle is balanced by the macadamia oil present in the cream. It does not strip away the natural moisture from your skin and leaves it with a radiant shine. With regular use, this results-driven wet body lotion will make your skin soft and smooth.
Pros
Absorbed quickly
Smells good
Non-greasy
Lightweight
Non-sticky
Mild
Cons
None
The Ultra Moisture In-Shower Body Lotion by Olay has proven efficacy in treating dry and chapped skin. It contains shea butter, which provides intense hydration that lasts throughout the day. The wet body lotion leaves your skin smooth, super soft, and supple in just one wash. With regular use, this lotion will leave your rough skin 60 times smoother and healthy-looking.
Pros
Absorbs well
Non-greasy
Lightweight
Mild
Smells good
Cons
None
*The prices provided in this article are based on the latest available information. However, they may vary due to changes in pricing by the seller and/or promotional offers.
Why Trust StyleCraze?
The author, Shiboli Chakraborti, is a certified skin care coach who loves trying out different products. For this article, she has personally researched many in-shower body lotions for women before curating the above list. Shiboli has carefully browsed through online reviews and listed products that are effective and absolutely budget-friendly. Some of the products are fragrance-free, non-greasy, and leave no residue.
Frequently Asked Questions
Is there a lotion that you put on in the shower?
Yes, apply the NIVEA Nourishing In-Shower Body Lotion which soothes the drier parts of your skin and leaves them moisturized.
How does in-shower body lotion work?
In-shower body lotions are activated by water. The skin absorbs the nourishing ingredients in the lotion before the formula is rinsed off.
How can I hydrate my skin in the shower?
Use lukewarm water and an in-shower body lotion with a pH-balanced formula to hydrate and moisturize your skin while in the shower.
Does Olay make any in-shower body lotion?
Yes, Olay makes in-shower body lotions. The Olay Ultra Moisture In-Shower Body Lotion has a lightweight formula and keeps your skin hydrated. It offers moisture retention and keeps the skin soft and supple.
Do you have to rinse off in-shower lotion?
Yes, leave the in-shower lotion on for two or three minutes on the skin and rinse it off thoroughly.
Is in-shower lotion better than regular lotion?
Yes, in-shower body lotions have smoother consistencies than regular lotions and do not feel sticky on the skin.
Recommended Articles
Best High-Quality Body Lotions
Best Drugstore Body Lotions
Best Popular Spray-On Lotions And Moisturizers For Women
Best Shower Gels For Dry Skin
Best Body Washes For Every Budget