7 Best Indie Perfumes Of 2021 Loved By Women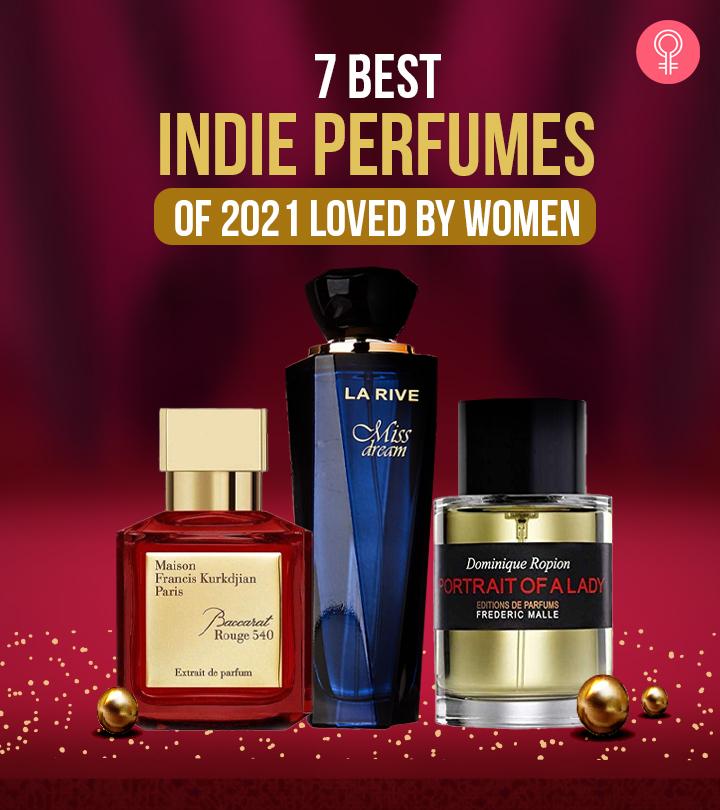 Big, expensive brands dominate the perfume industry. But with the independent beauty movement taking over the world in the last two decades, you can find INDIE perfumes becoming more popular. Indie perfumes are produced by smaller, independently owned brands who create imaginative and unorthodox fragrances.
In contrast to designer brands available in countless stores and duty-free shops, the indie or independent perfumes are made in smaller batches and sold only in specialty stores. Indie perfumers often set new trends with their innovative formulations and daring concepts. If you want to get your hands on one, check out our list of the 7 best indie perfumes for women. Scroll down!
7 Best Indie Perfumes For Women
The Pacifica Island Vanilla Perfume includes the freshness of natural and essential oils. It is infused with sultry Tahitian vanilla notes and includes the freshness of jasmine and honey and a touch of fruitiness. The base notes expel the freshness of tea to impart a unique energy. This perfume is paraben-free, vegan, cruelty-free, and toxin-free.
The TokyoMilk Dark Eau De Parfum has an enchanting and intriguing woodsy fragrance. The alluring woody scent contains notes of hibiscus, white tuberose, jasmine, and cardamom. A burst of citrus orange opens to layers of pressed petals and tea leaves. This blend revitalizes your senses and exudes a sensual feeling.
The Comptoir Sud Pacifique Vanille Blackberry Eau De Toilette contains the highest quality ingredients sourced from all over the world. The premium perfume features top notes of lemon and bergamot to create sensuous energy between warm and cool. The seductive heart notes consist of the freshness of rose, jasmine, blackberry, and pink berry. The base notes with a touch of musk, vanilla, and cashmere wood will captivate your senses and give you a burst of freshness on sunny days.
The La Rive Miss Dream Eau De Parfum is a sweet, sexy, oriental fragrance in a sophisticated bottle. The top notes feature a mix of exotic fruits, crisp bergamot, and tangy currant with cassis. The heart notes are a blend of milk, jasmine, sandalwood, magnolia, and rose, while the seductive base notes of tonka beans and vanilla will last a long time.
This perfume's amber floral fragrance brings out the richness of saffron and jasmine. It was created by Maison Francis Kurkdjian and skillfully blends the notes of amberwood and ambergris that give way to fir resin and cedar. You can wear this perfume in the evening or night for a special date.
Penhaligon's London Lily Of The Valley Eau De Toilette is made in England using the finest ingredients to create a feminine scent stays for a long time. The floral green fragrance has top notes of bergamot, Amalfi lemon, and geranium. The middle notes include the blooming freshness of the valley like lily, rose, ylang-ylang, and jasmine. The captivating base notes of sandalwood and oakmoss will leave you mesmerized.
Portrait Of A Lady is a timeless perfume that resonates with today's attitude. The irresistible scent is utterly captivating and expresses modern grace with top notes of sensual rose. It starts with a powerful scent of citruses sweetened by fruity pineapple. Blackcurrant, raspberry, and clove feature in the middle notes to express joy and pleasure. The exuberance of patchouli, sandalwood, and frankincense is expressed in the base notes.
 Now that you know about the exquisite fragrances that define the personality of women, pick any of the best indie perfumes listed above. Our favorite is the Pacifica Island Vanilla Perfume as its alluring scent mesmerizes the senses. Choose your favorite and enhance your sensuality!