11 Best Infrared Massagers For Sweet Relief From Aches – 2023
They emit red-blue light that penetrates your muscles deeply to eliminate all tiredness.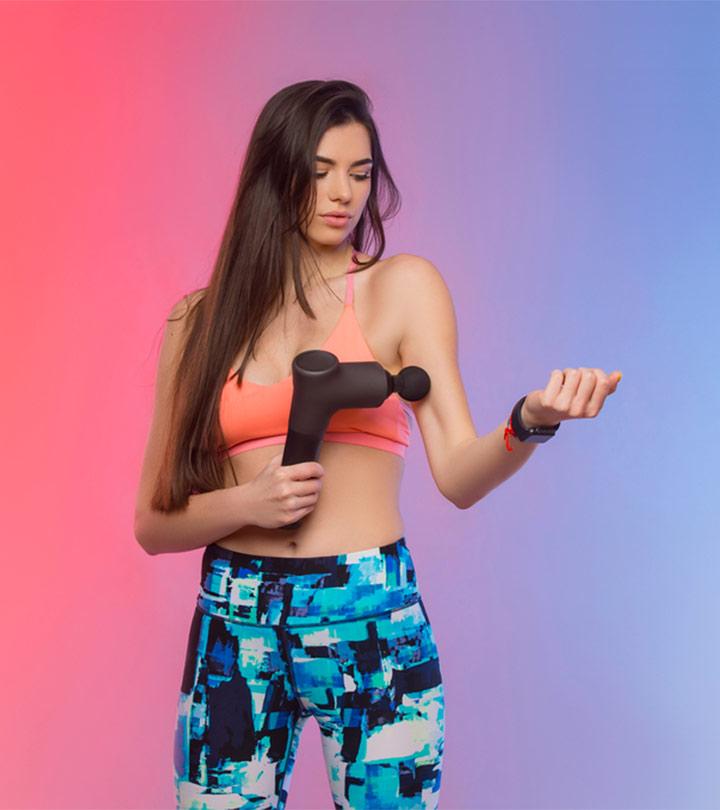 Pollution, advancing age, and exposure to blue lights from our computer screens cause a lot of damage. The best infrared massagers can take care of such issues and provide some relief. These devices emit wavelengths that penetrate the skin to fight signs of aging, increase blood flow, relax the stiffened muscles, and reduce toxin accumulation in your body. They are extremely versatile devices that provide instant relief after a hard day's work. With a good-quality infrared massager in hand, you no longer have to spend a fortune on professional massages. So, to get your hands on one of these god-send devices, check out our list of favorites given below.
How Does An Infrared Massager Work?
An infrared massager uses infrared or red-blue light to treat any issues related to the skin and the body. As humans, we can't see it but in comparison to normal light, it is longer in wavelength. Penetrating deep into the skin, this light reaches the melanin to dissolve it, soothe redness, and heal other skin issues such as wrinkles and fine lines. Along with this light, heat is also emitted, raising body temperature. This can open up your arteries and increase blood flow. As we suffer with many toxins in our environment these days, these massagers clear out waste from the blood and allow oxygen in. Increasing the levels of nitrous oxide in the body, these massagers also relax your heart to keep you stress-free.
Minimize Muscle Tension With The 11 Best Infrared Massagers In 2023
Our feet deserve a lot of love as they carry us around all day. One way to treat them is to invest in this infrared foot massager by Nekteck. Just turn it on with your toe and if you find the height to be off, you can adjust it by choosing between 3 levels! 6 massager heads with 18 nodes relax muscle tension and regulate blood circulation in your feet. If you're a little extra tired, you could also turn on the heat function which can help reduce foot pain. A carrying handle and storage cord allows you to enjoy a relaxing time in your home or office with no hassle! Nekteck's infrared blood circulation foot massager is also covered with a breathable fabric to keep you sweat-free.
Pros
Portable
Adjustable height
Gentle heating feature
6 massager heads with 18 nodes
Reduces pain, relaxes muscles, and increases blood circulation
Breathable fabric
Cons
Might not be ideal for people with high arches
Price at the time of publication: $37.99
RENPHO's infrared back massager is a dream come true if you suffer from constant backaches. It is cordless to save you the trouble of messy wires and you can charge it by simply placing it in its dock. This handheld infrared body massager features 5 interchangeable nodes and can be used for a general or a deep tissue massage, depending on your condition. With a powerful motor that allows 3,600 pulses per minute, the high frequency massage gives your back muscles much-needed relief. 4 massage modes and 5 levels of speed are available so you can easily customize your experience for a soothed feel. The next time you find yourself stressed at work, just use this bad boy and give yourself a massage! You can go through this unbaised review on YouTube to get a clearer idea about the product.
Pros
Powerful motor allows 3,600 pulses per minute
Anti-slip grip
Wireless with charging dock
Can be used for deep tissue massage
5 interchangeable nodes and speed levels
High battery capacity
Cons
Some may find it to be heavy
Price at the time of publication: $29.99
The FORTHiQ Cordless Knee Massager is a cordless infrared all-rounder knee massager that reduces pain from swelling, stiff joints, stretched ligaments, and muscle injuries. It has three massager modes as low, high, and automated therapy, with an automatic switch for changing the intensity of vibrations. It is lightweight and weighs only 0.7 kilograms which can be easily tied around your knees. It has three heat levels of 105°F, 122°F, and high heating mode for up to 140°F, which you can adjust as per the intensity of your pain. It also has an LED touch panel for smooth operation and is equipped with a 3000mAh battery with USB-C fast charging cable. This portable knee massager can be carried anywhere and can be worn on the shoulder and elbow as well.
Pros
Cordless
Lightweight
LED touch screen
Easy to operate
Skin-friendly
Rechargeable battery
Extendable straps
Cons
The battery might not last long.
If you're on the lookout for some good infrared foot massagers, try this one by Belmint as it is portable and easy to operate. 6 massage heads with 18 rotating nodes target pressure points on the base of your foot for relaxation. The heat function is soothing and helps increase blood flow for optimum relief. As the mesh lines the massager, it is breathable and will keep your feet sweat-free. With an adjustable height feature, you can easily choose between 3 levels and no matter what your foot size, the massager accommodates it. If you struggle with plantar fasciitis or chronic nerve pain, try this infrared leg massager by Belmint.
Pros
6 massage heads and 18 rotating nodes
Heat function increases blood flow
Adjustable height
Accommodates all foot sizes
Targets pressure points for relief
Portable and easy to operate
Cons
Feet might slide down during massage
Price at the time of publication: $55.99
Fancy a little at-home spa for your tired feet? Yosager's infrared heat foot massager is like your very own masseuse as it removes muscle tension with the help of water. Its special oxygen bubble function relaxes feet and accelerates metabolism with the infrared light sterilizing the skin and melting away stress. 4 massage rollers lie under the pressure points of the foot and as they are not motorized, you can move your feet around to enjoy them. Exfoliating loofah disks work to remove dead skin from your foot in a natural manner and a small diffuser is also present so you can add some healing salts of your choice. As there is a PTC heating semiconductor, temperature is maintained along with insulation protection for a safe yet comfortable foot massage.
Pros
Relaxes feet and speeds up metabolism
Exfoliating disks remove dead skin
Prevents overheating
Diffuser to add healing salts
4 massage rollers to stimulate pressure points
Cons
Can't accommodate sizes higher than a men's 10
Price at the time of publication: $39.99
RENPHO infrared vibration foot massager uses a combination of water, massage rollers, and heat to give your feet a much-deserved holiday. The built-in PTC heater system heats up quickly but maintains a safe temperature with multi-insulation protection. 3 massage nodes and bubble jets target your foot's acupuncture points to relax your feet. Containing wheels, a handle, and a drainpipe, the Foot Spa Bath Massager is easy to use and clean. With a LED control panel, you can easily set the time limit and adjust other features. And if you prefer adding epsom salts or herbal oils, the massager also features a herbal box for the same.
Pros
Quick heating to save power
LED control panel for easy view
3 electric massage rollers and powerful bubble jets
Anti-leakage
Easy to clean
Herbal box to add salts
Cons
The basin might be too high for some
Price at the time of publication: $109.99
This highly effective infrared heat wand penetrates the skin deeply to reduce aggravated pains. With red light therapy, you can increase blood flow to the affected area and help speed up recovery time. To stimulate deep tissue circulation, the light penetrates layers of the skin without any harmful UV rays. For a painless, easy, and safe treatment, you can rely on this infrared wand massager that is handheld and allows speed adjustment. So the next time you're faced with knee or joint pain, a session with this professional quality Handheld Heat Wand will kill all your aches.
Pros
Penetrates the skin for deep tissue stimulation
Painless, easy, and safe
Cord allows continuous use
Can be used to treat particular affected site
Adjustable speeds
Convenient to hold and use
Cons
High heat might melt things around
Price at the time of publication: $39.99
Hunt Heat's infrared cordless heating pad can be wrapped around your abdomen and back to relieve muscle fatigue and aches. The belt is extra large and can be adjusted with double-layer elastic straps for convenience. Even if stretched or folded multiple times, this infrared light massager belt won't lose its shape. For optimum safety, there is a built-in thermal protection nodule if any of the 3 heat settings get too high. If you or someone you know suffers from arthritis, stiff joints, back pain or menstrual cramps, using this belt will provide relief by decompressing the spine.
Pros
Provides relief in back, waist, and abdomen
3 adjustable heat and vibration settings
Adjustable straps to fit all sizes
Built-in thermal protection
Retains shape if stretched or folded
Decompresses spine
Cons
Battery placement might be uncomfortable for some
Price at the time of publication: $79.99
For anyone that suffers from lower back issues due to sitting for too long, nothing works as well as a belt that provides infrared heat massage. This one by ARRIS runs on a powerful battery and provides 5 heat and vibration settings. By targeting the affected site, the back brace works to relieve stress and increase blood flow for easy movement. The adjustable wrap with thick straps fits sizes between 19 and 49-inches and can be worn even while working! Don't worry about the Lower Back Heating Pad overheating as it has a built-in thermal protection module for your safety.
Pros
5 heat and vibration settings
Relieves stress and increases blood flow
Thick adjustable straps
Built-in thermal protection
Fits waists between 19 and 49-inches
Powerful battery
Cons
The velcro might be weak and difficult to fasten
Price at the time of publication: $49.98
A massager for tired eyes sounds too good to be true, right? But CINCOM's got one of the most effective infrared heat massagers for your eyes and it combines heat with vibration for pain relief. You can also connect the device to your Bluetooth to play some music and relax before bed. With 3D simulation massage technology, this eye mask can help reduce eye fatigue, dry eyelids, and myopia. An adjustable headband and high-quality comfortable fabric is comfortable on your skin for a soothing yet high-tech experience. A single click starts up the eye massager which provides 5 massage modes with 6 intensities. You can even fold it in half for easy storage to carry it along with you on flights! Whenever you have trouble sleeping, just pop this on and treat your eyes with a massage.
Pros
USB charging feature
Can be connected to Bluetooth
5 massage modes and 6 intensities
Adjustable headband and comfortable fabric
Foldable and portable
Reduces eye fatigue and increases blood flow
Cons
Some may find it uncomfortable to sleep with
Price at the time of publication: $65.99
Knee pains can catch anyone off guard and they might come about due to old age or an accident. In these situations, this infrared heating knee massager by UTK will come to your rescue. Built with a carbon fiber heating element, this knee brace emits far-infrared rays to deeply penetrate the skin for relief and circulation. Fitted with 6 natural jade stones that release negative ions, the brace promotes oxygen flow and soothes your mind. The PU leather is high quality and wraps around flexibly with a premium velcro. Choose between 3 heat and time settings for some heat treatment on stiff knee joints to alleviate muscle soreness.
Pros
6 natural jade stones promotes oxygen flow
Deeply penetrates skin for relief
High quality durable and waterproof leather
Adjustable with velcro
3 heat and time settings
Auto shut-off feature
Cons
Some may find it uncomfortable as it needs to be plugged in to work
Price at the time of publication: $79.97
Now that we've looked at the best infrared massagers on the market, let's dive into how you can choose the best one for yourself.
How To Choose An Infrared Massager
You will need to pick an infrared massager depending on how much pain you're in and where it is located.
Handheld infrared massagers feature multiple detachable nodes with varying vibration, heat, and speed settings. Convenient to use, they can be used for pain relief in the back, neck, shoulders, legs, and arms. You can choose between wired and cordless options but this kind may be a little heavy.
Infrared lamps or wands use red light therapy to supply heat to the body and can penetrate the body deeply for muscle relief. Lamps can be used on larger areas of the body to help improve blood circulation.
If you struggle with foot aches and pains, an infrared foot massager which uses infrared rays is your best bet. These devices contain vibrating nodes with adjustable speeds and are covered with a mesh to allow your feet to stay sweat-free. Some kinds also feature bubbling water to provide relief and relaxation to tired feet.
Infrared eye massagers look and feel like a sleeping mask which can be adjusted with the help of an elastic strap. They also emit infrared light to relax your eyes and improve blood circulation. This is an ideal choice for people suffering from myopia, dry eye, or anyone that spends all day in front of screens.
Finally, braces can be used to target pain in the back or knees as they are adjustable and can be fastened with a strap. Using infrared technology, the wrap heats up to provide relief for stiff muscles and increases blood flow allowing for ease of movement.
After you've picked an infrared massager according to the level and site of pain, let's learn how you can use it to obtain some much-needed relief.
How To Use An Infrared Massager
When you're plugging it in, ensure the massager is switched off. Choose the massage node according to the intensity you prefer, and select the speed and vibration. Using both your hands, guide the massager to wherever you feel pain on your body. You can even switch the heat function on for some added relief. However, don't go over an area for longer than 5 minutes.
Switch the lamp on and as it heats up, place whichever area of your body feels pain directly in front of the red light. For larger areas like your back, you can sit with your back facing the lamp. Wands can also be guided the same way handheld massagers are.
Place your feet gently in the foot indents present, and sit back after switching the foot massager on. On the LED display, select a time, vibration, heat, and speed setting while you relax. If you leave it on for too long, the massager will shut off on its own for safety purposes. A time limit of up to 10 minutes is ideal. Those that use water require you to pour water into the tub and drain it after use.
Wrap the eye massager around your head and adjust the straps so that it's not too tight or loose. Switch it on by pressing the sensor in the front and select your preferred setting. There are general settings as well as those designed for sleep. If you have difficulty falling asleep, you can turn on some light music or listen to a guided meditation with the built-in Bluetooth.
If you have a knee or back ache, wrap the suitable brace by fastening it with the velcro. Choose your heat and vibration levels, and sit down and relax.
Now, let's look at all the benefits infrared massagers have to offer so that you can reap them all in your next session!
Benefits Of An Infrared Massager
An infrared massager helps improve blood circulation owing to the heat emitted from red light. Better blood flow keeps the heart and body healthy and active.
If you struggle with stiff or tight muscles, an infrared massager can do wonders in relieving them. The warmth releases endorphins which contribute to feelings of lowered stress and pain relief.
Vibration coupled with heat can cause the body to sweat and help eliminate toxins. This way, both your pores and blood are cleaned of waste.
A session with an infrared massager can promote the production of collagen which keeps the skin looking youthful and firm. It can tone your skin to make it smoother and rid it of fine lines and wrinkles.
Infrared light treatment can also increase serotonin levels in the body which has a direct effect on your overall mood. You will notice yourself being happier, stress-free, and able to sleep better.
You can also use infrared massaging to reduce recovery time after injury and inflammation after heavy exercise. Muscle pains can decrease faster than natural and your muscles will also be strengthened in the process.
Damaged cells and bones can be repaired quickly if exposed to infrared rays. Formation of the connective tissues increases, and this helps one recover from major accidents faster.
With our lives becoming increasingly sedentary, some muscle aches and pains are inevitable. However, we are at such a modern standpoint that there's a solution to almost every problem. This is where infrared massagers come into play. Highly versatile and equally effective, these devices are a blessing for anyone who finds their muscles to be fatigued on the regular. Using red light therapy, you can easily melt away the stress of a long day with this device that can target any area. Our comprehensive list and guide highlighted some of the best on the market. The next time your muscles suddenly attack you with a bout of pain, you know where to turn.
Why Trust StyleCraze?
Shreya Vishwanathan, the author of this article, is a fitness and health enthusiast and loves to help people live heatlhier, fitter lives through high-quality products. To find the best infrared massagers for her readers, she researched, visited several online forums to check product reviews, and curated a comprehensive list of the best available on the market. These listed products are affordable and can combat signs of aging and reduce toxin accumulation.
Frequently Asked Questions
Are infrared massagers effective?
Yes, infrared massagers use red light to relieve stiff and tired muscles, improve blood circulation, and speed up recovery in inflamed muscles.
How often should you do infrared light therapy?
You can use an infrared massager about 3 to 5 times per week, more if you suffer from chronic and unbearable pain.
What types of massage can you get with an infrared massager?
This depends on the massager and the nodes available, but you can avail a general, acupuncture, and deep tissue massage among many others. You can use a massager to target a large area of the body or a specific part.
Do infrared massagers improve blood circulation?
Yes, as infrared massagers use red light, the heat that is emanated from this can improve blood flow to the brain and reduce stress.
How long can you use an infrared massager?
Use an infrared massager for 15 minutes to avoid overheating. Let the device cool and use it again.
What are the side effects of infrared massaging?
Excess infrared massaging may cause mild discomfort due to heat, lightheadedness, low blood pressure, and irritation.
Can infrared damage your eyes?
Yes, prolonged exposure to infrared radiation may cause damage to the retina.
Recommended Articles
Best Neck & Shoulder Massagers For Quick Pain Relief
Best Back Massagers For Knots
Best Handheld Massagers To Relax Your Muscles
Best Percussion Massagers That Are User & Travel-Friendly
Best Electric Hand Massagers For Pain Relief