11 Best Infrared Sauna Blankets – 2023 (Reviews & Buyer's Guide)
Experience the perks of a rejuvenating steam bath without stepping out of your home.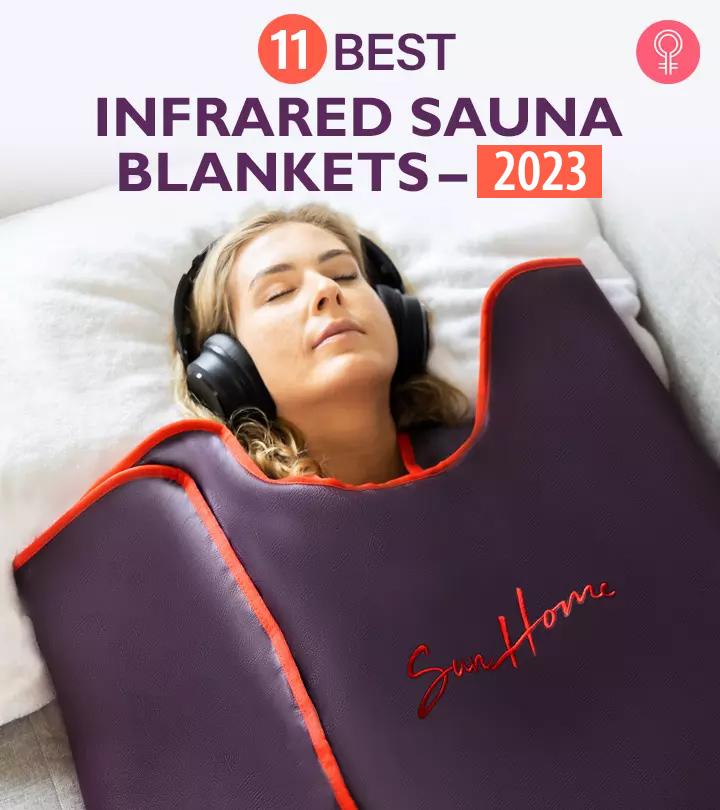 There is nothing like a relaxing sweat session that rejuvenates you! Especially with the best infrared sauna blankets, you can easily calm your senses, relax your mind, and get rid of body toxins without moving an inch from your favorite spot at home. An infrared sauna blanket is a travel-friendly device that helps you experience an infrared sauna without breaking the bank at a spa. The customizable heat settings span 150 to 180° F, offering an intense sweat session.
The sauna blanket must be set in a heat-proof area at your home as you enter the setup wearing comfortable, lightweight, and moisture-wicking clothes. You can control the blanket with a controller pad that helps you customize heat settings as per your needs. The best infrared sauna blanket helps improve blood circulation and metabolism, reduces aging signs, and recovers hurt muscles.
Now that you know what an infrared sauna blanket is and its benefits, take a look at the products available online at affordable prices. Scroll down!
The 11 Best Infrared Sauna Blankets Of 2023
5.0
If you are wondering how to get started with at-home sauna sessions, the SunHome Infrared Sauna Blanket might be what you need. This infrared sauna blanket helps get rid of toxins while eliminating anxiety, stress, and premature signs of aging. A sauna session with this blanket can strengthen your immune system and synthesize antibodies. It helps produce calming and happy chemicals like dopamine and serotonin to unwind after a tough day and balance your body's cortisol levels.
This premium product is the most effective option to improve your sleep schedule and make you feel relaxed. It also reduces chronic pain, eliminates stiffness, and removes inflammation. The PU leather and waterproof layers do not cause skin irritation. The premium-quality velcro cover offers enough room to relax inside the sauna blanket. This product comes with climate and timer controls that help customize your preferences for a steamy bath.
Key Features
Climate and timer controls
Low EMF heating
Industrial-grade velcro
Pros
Ergonomic design
Reduces stress
Combats aging signs
Improves cortisol levels
Improves skin elasticity
Cons
None
The Vanell Infrared Sauna Detox Blanket absorbs far-infrared rays. These rays enter the skin with the blanket's unique penetrating power and promote blood circulation and metabolism. It helps relax muscles and joints while relieving stress from your shoulders, hips, waist, and legs. This device features a security protection switch that disconnects the power in 0.01 seconds during a circuit issue. It comes with two-zone temperature control, which can be adjusted from 86 to 176°F as per your requirement. The Oxford cloth material is lightweight, waterproof, and odorless, and the waterproof PVC fabric is stretchable, offering the perfect sauna experience.
Key Features
Security protection switch
2-zone temperature control
Pros
Lightweight structure
Stretchable fabric
Waterproof material
Relaxes muscles and joints
Relieves stress
Accelerates blood circulation
Improves metabolism
Cons
None
Achieve the perfect sauna experience with the Cocoarm Portable Steam Slimming Blanket. It is flexible, stretchable, and opens like a sleeping bag. This far-infrared sauna blanket features a long and wide cover design that helps customers stretch and bend inside the blanket as per their needs. It is made with top-graded PU material and waterproof PVC, which is safe and has tensile capabilities that keep you comfortable in any sleeping position.
This sauna therapy blanket is equipped with a protective temperature control feature which automatically disconnects when the device is heated up to 85°F. It also gives off an alarm for a minute to alert you in case of abnormal heating. The entire setup is suitable for synthesizing metabolism, burning fat, eliminating unwanted toxins, and improving blood circulation.
Key Features
Protective temperature control
Premium-quality zipper
Anti-leaking protection switch
Extra-long cable
Pros
Top-graded PU fabric
Waterproof design
Burns fat
Relieves fatigue
Sturdy
Cons
None
The SilkFun Infrared Personal Sauna Blanket uses the best far-infrared heating therapy, which heats your body's internal tissues to improve its metabolism. The entire setup helps you detoxify and relieve your muscles. The outer layer of this at-home infrared sauna blanket is made of premium-quality Oxford cloth, and the inner layer comes with a waterproof PVC material. The zipper design accommodates every body shape and size easily.
This blanket comes with a two-zone safety control box that automatically disconnects the power when the temperature is too high. The remote-control switch help customize the temperature as per your needs. This sauna blanket improves your sleep, metabolism, and blood circulation. It relaxes your muscles and prevents painful cramps. You can easily heat the front and back of the sauna at the same time within three to four minutes.
Key Features
Premium-quality Oxford cloth
Two-zone safety control box
Stretchable zipper design
Efficient remote control
Pros
Quick-heating
Waterproof material
Accelerates blood circulation
Relaxes muscles and joints
Aids in detoxification
Cons
Flimsy remote control cover
The TOPQSC Sauna Blanket enables the thermal energy to penetrate within the deeper layers of the tissues causing blood vessels and capillaries to dilate while improving blood circulation and metabolism and eliminating unwanted toxins. It is built with an environment-friendly and top-graded Oxford cloth, while its inside comes with a waterproof PVC material. This sauna blanket remains intact in every sleeping position. It issues an alarm for a minute and disconnects the line in case of thermal abnormality. The setup comes with a double zipper structure which helps you remain comfortable while relaxing inside the cocoon-shaped blanket.
Key Features
Deep penetrating ability
Double-zipper closure
Alert alarm
Pros
Easy to use
Environment-friendly fabric
Sturdy
Durable
Value for money
Cons
Not suitable during pregnancy
The REVIIV Sauna Blanket Pro helps you customize temperature during your sauna treatment without moving. It produces calming chemicals that help you relax, feel stress-free, and remain comfortable. This far-infrared sauna blanket is seven times more detoxifying than regular heat and sweats out toxins better than regular saunas. It also improves the balance of thermal energy in your body while increasing blood flow temporarily.
This sauna blanket is made of carbon fiber heating wires that keep the structure flexible and support your body shape. The wide velcro strap fastens the blanket around your body, and the non-toxic interior and exterior materials are suitable for sensitive skin. This device soothes muscle soreness, reduces inflammation, increases blood circulation, calms anxiety, and improves premature signs of aging. You can also travel around the world while carrying this product blanket.
Key Features
Premium carbon fiber heating wires
Wide velcro strap
Pros
Non-toxic material
Improves sleep quality
Reduces aging signs
Improves thermal body balance
Reduces anxiety
Portable
Cons
None
The LifePro Far Infrared Sauna Blanket calms your body, relaxes your mind, and improves sleep. It regulates your body's thermal energy balance and increases blood circulation. This sauna blanket helps eliminate body toxins and improves your immune system. It stimulates tissue regeneration to reduce pain from injuries, chronic pain, inflammation, or cramps. This lightweight sauna blanket can be carried anywhere. It lowers cortisol levels while releasing endorphins. The setup comes with an easy-to-access controller, five detox wraps, a head towel, and a carrying bag. Check out this brief YouTube video from a health enthusiast for more information.
Key Features
Easy-to-use controller
Accessible detox wraps
Pros
Affordable
Improves blood circulation
Reduces chronic pain
Eliminates skin inflammation
Increases endorphins
Durable
Cons
None
The Ejoyous Portable Sauna Blanket offers infrared ray therapy that improves blood circulation and metabolism and removes body toxins. If the temperature goes over 85°F, the blanket stops heating further and disconnects the power automatically. This far-infrared sauna blanket is made of premium-quality PU and waterproof PVC material that keeps you comfortable while the heating wire ensures wide coverage and suitable stretchability. This setup is great for beauty enthusiasts, people with postpartum issues, and rehabilitation patients. It relieves joint pain and reduces stress. The advanced remote control buttons are easy to operate and help you feel relaxed in different sleeping situations.
Key Features
Premium-quality PU material
Advanced remote control
Pros
Ergonomic design
Waterproof material
Reduces joint pain
Value for money
Cons
None
The HigherDOSE Infrared Sauna Blanket helps detoxify, promotes glowing skin, and boosts your mood by producing calming chemicals. It features an automatic timer that switches off after an hour of use. This at-home sauna blanket also automatically turns off when the temperature reaches 80°F. The budget-friendly design comes with eight adjustable temperature settings and a handheld controller for easy operation.
This blanket offers crystal therapy as the tourmaline and amethyst layer generates negative ions to combat free radicals. The far-infrared heat penetrates and offers full-body detoxification while reducing inflammation and healing your skin. The charcoal, clay, and magnetic layers flush out impurities, balance heat, and improve blood circulation. The upper PU leather cover is waterproof, fire-proof, melt-proof, and stays in place. The zipper closure offers a spacious experience and helps you exit the blanket easily. Check out this YouTube review to know more about the product.
Key Features
Crystal therapy
Sturdy tourmaline and amethyst layer
Well-built upper PU leather cover
Zipper closure
Adjustable temperature settings
Handheld controller
Pros
Budget-friendly
Combats free radicals
Waterproof
Fire-proof
Melt-proof
Spacious design
Easy to use
Cons
None
The NAIZEA Portable Infrared Sauna Blanket is made of premium-quality Oxford cloth, which is soft, waterproof, and odorless. The setup offers the right amount of comfort in any sleeping position. The temperature can be adjusted from 86° to 176°F, with two-zone temperature control. The far-infrared rays penetrate the skin and expand the blood vessels, accelerating blood circulation and metabolism and getting rid of bodily toxins. This sauna blanket also helps relieve stress from stiff muscles and joints while relaxing your entire body. The safety protection switch inside the setup disconnects the power in 0.01 seconds if there is a problem with the circuit.
Key Features
Premium-quality Oxford cloth
Safety and protection switch
Two-zone temperature control
Pros
Ergonomic design
Waterproof material
Stretchable fabric
Relieves muscle stiffness
Cons
None
The ETE ETMATE FIR Sauna Blanket offers great thermal comfort in the subcutaneous tissues while increasing blood circulation and metabolism. The high-quality PU and waterproof PVC material make this product one of the best infrared sauna blankets available online. The soft material helps you take any sleeping position, and the heating wire withstands stretches or bends. The security warning setting turns the device off after reaching 85°F. This blanket helps in detoxification and relieves muscle stiffness and soreness.
Key Features
High-quality PU material
Security warning setting
Pros
Ergonomic design
Waterproof
Sturdy
Value for money
Cons
None
Price at the time of publication: $141.99
There are many blankets available online, but not all are suitable for your needs. So, without further ado, let us delve into the factors you need to consider before shopping for infrared sauna blankets.
How To Choose The Best Infrared Sauna Blanket
Material: Make sure that the material of your at-home infrared sauna blanket is comfortable and durable. It is also recommended to choose a material that can be easy to clean and remove sweat stains.
Features: Your at-home infrared sauna blanket must be well-equipped with the latest technology, including temperature customization and timer settings. Some other special features, such as individual heating zones, are also preferred. Make sure you have full control of the temperature and other settings inside the blanket.
Maintenance: Choose the best infrared sauna blanket that is foldable and easier to maintain and store. Most infrared sauna blankets are made keeping the industry standard of 180 cm in mind, which is easy to store at home.
Affordability: Investing in a slightly expensive infrared sauna blanket with better features is wise. Hardcore sauna enthusiasts may prefer powerful blankets with more effect, while others may want to purchase blankets with a gentler experience. Different preferences and desires in choosing these infrared sauna blankets may increase or decrease prices.
It is also important to know how to use infrared sauna blankets the right way to achieve optimum results. So, let us understand the steps of using an infrared sauna blanket properly.
How To Use An Infrared Sauna Blanket
Step 1: Set the at-home infrared sauna blanket on the bed, couch, or heat-proof surface.
Step 2: Gently attach the controller pad and plug in the device.
Step 3: Make sure you wear moisture-wicking clothes and keep a bottle of water to stay hydrated while inside the sauna.
Step 4: Step inside the sauna blanket and wrap yourself up with it without leaving any corners, more like a cocoon. Remain in the same way for 30 to 40 minutes.
Step 5: After using the sauna blanket, disconnect and cool it off before folding the fabric for storage.
Every good experience comes with safety measures that help you relax while staying alert. Take a look at our safety tips on using the best infrared sauna blankets.
Infrared Sauna Blanket – Safety Tips
Consult Your Doctor
While infrared sauna blankets do not cause any permanent damage to your body, it is better to seek medical clearance from your doctor before using one.
Avoid Alcohol
Before using the blanket, do not drink alcohol, as it may heat your body, causing heat stroke and dehydration.
Mini Sessions
Begin with mini sessions to confirm that your body, especially your skin, is not reacting adversely to the far-infrared sauna blanket. People with sensitive skin must be careful about the material used in the sauna blanket.
Hydrate Yourself
Since your body loses water and sweat, staying hydrated inside the sauna is recommended. This habit will also keep you from feeling lightheaded, dizzy, and unwell.
Purchasing a sauna blanket is one thing, and keeping it as good as new after several uses is another! So, use a sauna blanket with care and follow the tips listed below for better maintenance.
Tips To Clean An Infrared Sauna Blanket
Wipe the blanket thoroughly with an antibacterial wipe or spray after every use.
Deep clean the at-home infrared sauna blanket after five to ten uses with a mixture of homemade white vinegar, water, and essential oils.
Leave the blanket unzipped and air dry it well before folding.
Although far-infrared sauna blankets are safe to use, there are certain health risks you must know about before opting for one. Check out below what they are.
Health Risks And Precautions While Using A Far-Infrared Sauna Blanket
Neurological Issues: If you have medical conditions related to nerve and motor functions, do not use a far-infrared sauna blanket. Your failure to respond to heat might cause heat burns and inflammation.
Pregnancy And Postpartum period: Do not use the sauna blanket during pregnancy or if you are undergoing postpartum issues. Consult your doctor before opting for an infrared sauna treatment.
Age-Related Restrictions: Do not opt for the sauna blanket if you are aged and prone to spells of dehydration and dizziness. Also, avoid the blanket if you have sensitive and mature skin.
Weak Immunity: If your immune system is compromised, consult your doctor before buying an infrared sauna blanket.
Heart Conditions: Avoid using an infrared sauna blanket if you experience cardiovascular issues or heart arrhythmia.
You can easily relax your body and get rid of toxins from the comfort of your home with the best infrared sauna blankets. Choose a product with a spacious design and the best protection in any sleeping position. You should also be careful about the temperature settings, as too much heat may result in dehydration, heat stroke, and inflammation. Steer clear of products that may cause allergic reactions and strip the natural oils of your skin.
Why Trust StyleCraze?
The author of this article, Aditi Naskar, has a diploma in health and wellness. She curated this informative content after carefully browsing through the reviews of the blankets on various e-commerce websites. She has also jotted down the most significant factors to consider while purchasing sauna blankets. The infrared sauna blankets listed above are comfortable and durable and come with adjustable heat settings that help you use them as per your needs.
Frequently Asked Questions
Are infrared sauna blankets good for you?
Yes, infrared sauna blankets are great for you as they help improve metabolism and blood circulation and get rid of body toxins.
Do infrared sauna blankets help with chronic pain?
Yes, infrared sauna blankets help with chronic pain and reduce muscle and joint cramps while relaxing your body.
Can you lose weight with an infrared sauna blanket?
No, you cannot permanently lose weight using an infrared sauna blanket. However, these blankets reduce puffiness and detoxify your body, which helps in weight loss.
How many calories do you burn in an infrared sauna blanket?
You can burn up to 600 calories in a 30 to 40 minutes session with an infrared sauna blanket.
Why am I so tired after infrared sauna treatments?
An infrared sauna treatment makes your body go through a cardiovascular workout while removing toxins. This can make you feel tired as your body adjusts to heat therapy.
Do I need to wear clothes when using an infrared sauna blanket?
Yes, wear moisture-wicking clothes while using an infrared sauna blanket to protect your skin from excess sweat and heat.