5 Best Infrared Sauna Blankets Of 2022 – Reviews & Buying Guide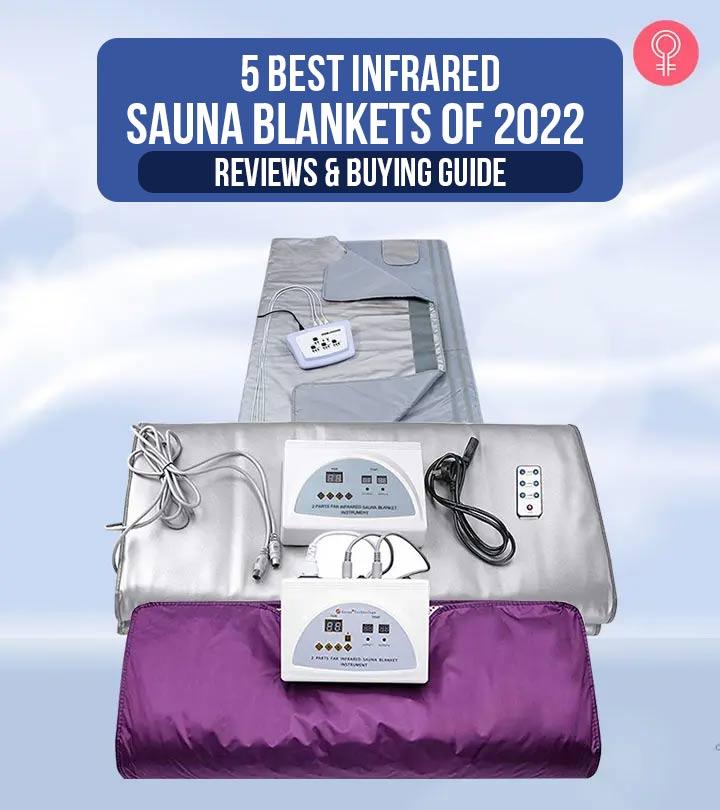 Not everybody has a sauna or spa house nearby to relax and pamper themselves, so the cool thing to do is invest in the best infrared sauna blanket for automatic heating at home. In the daily spiral of juggling between our work hours, entertainment, and self-care time, we hardly find time to think and do something apart from our routine. Taking care of our body's muscles and joints is equally important, as is skincare and haircare that we continuously spend big bucks on.
In order to sweat it out as a scintillating massage, far-infrared blankets can pretty much do a great job at relaxing you on the weekend. Imagine squeezing into a blanket and almost dozing while it does an excellent job of cleansing your body thoroughly, along with a massage-like experience. These charged blankets make use of light to generate heat. It is hard to find the best brands or companies as trusting these bi-products can be hard. That is exactly why we have put together a helpful list of the 5 best far-infrared sauna blankets along with buying guide and reviews so that you find the one with the most appropriate functions for yourself.
What Is A Far-Infrared Sauna?
An infrared sauna uses light to generate heat. They are also known as far-infrared saunas due to where the infrared waves fall on the light spectrum. A typical sauna warms the air, creating steam that warms your body. But an infrared sauna warms your body directly without affecting the air around you. However, the heat generated creates a similar result; both steam and infrared saunas will cause you to sweat profusely.
An infrared sauna blanket is most attractive for the sheer convenience and ease of use that it offers. You can wrap it around you, in the comfort and privacy of your home, and enjoy the sauna benefits for as long as you like and whenever you want. Here are a few more advantages of using a far-infrared sauna blanket, particularly for your health.
Benefits Of Using A Far-Infrared Sauna Blanket
1. Improved Blood Circulation
A short 20-minute session in a sauna blanket can help promote blood circulation and provide several benefits. The heat helps dilate blood vessels and capillaries, aiding blood flow to different parts of your body. It improves the appearance of your skin and makes you look less tired.
2. Muscle Pain Relief
With a hectic work life or physically laborious jobs, some downtime for the body is much-needed. A sauna blanket can help soothe stiff, tired muscles and aid pain relief. Lying wrapped in a sauna blanket for even a single session provides intense relaxation to sore muscles.
3. Not As Hot As A Regular Sauna
A lot of users find regular saunas a little too hot to be comfortable due to sensitive skin or low tolerance. For such users, far-infrared sauna blankets are preferable because these are never as hot as the temperature in a regular sauna. Since the light directly warms your body, a session in the sauna blanket feels far more tolerable.
4. Relaxation
Infrared sauna therapy is also useful for dealing with stress. It helps balance cortisol levels and boosts relaxation, leaving you refreshed and rejuvenated.
5. Affordable
Compared to regular visits to the spa or salon, a sauna blanket for home use gives you the freedom to enjoy a sweating session as frequently as you want to without breaking the bank. Spas are expensive and a luxury activity for most of us. But sauna blankets are a relatively affordable, one-time investment that offers you more benefits and more extended returns.
6. Burns Calories
The weight-loss claims from using a sauna are debatable as most of the weight is water weight due to sweating. You will regain it once you rehydrate after your session. However, infrared saunas can penetrate your skin more deeply and have a more significant impact on your metabolic rate. This means that a single half-hour session may help you burn off 200-600 calories.
Now that we are aware of the benefits, let's take a look at the top 5 far-infrared sauna blankets.
Top 5 Far-Infrared Sauna Blankets
Gizmo Supply 3 Zone Far-Infrared Sauna Blanket contains an upgraded heating element composed of Japanese carbon fiber. The improved material takes up the strength of infrared rays to 9.87 um. The inner material is waterproof PVC, while the outer layer is high-quality PU, which is water-repellent and easy to clean.
The sauna blanket has three independent heating zones for your upper body, waist, and lower body. You can adjust the temperature based on your comfort, ranging from 30-85 oC. The soft material of the blanket makes it highly tensile in various positions.
Pros
Soothes sore muscles
Burns calories
Built-in timer
3 heating zones
Waterproof
Easy to clean
Foldable and easy to store
Value for money
Durable
Safe and easy to use 
Cons
None 
Gizmo Supply 2 Zone Far-Infrared Sauna Blanket has two independent heating zones: one for your upper body and waist and another for your lower body. You can adjust the temperature based on your comfort, ranging from 30-70 oC. The soft material of the blanket makes it highly tensile in various positions.
The sauna blanket has an upgraded heating element made of Japanese carbon fiber. The improved material takes up the strength of infrared rays to 9.87um. The inner material is waterproof PVC, while the outer layer is high-quality PU. It is water-repellent and easy to clean.
Pros
Burns calories
Soothes sore muscles
2 heating zones
Built-in timer
Easy to clean
Waterproof
Value for money
Safe and easy to use
Foldable and easy to store
Durable
Cons
May not fit taller users. 
ETE ETMATE 2 Zone Far-Infrared Sauna Blanket uses infrared heating therapy, which is absorbed by the body. Infrared heat treatment provides a deep thermal effect on subcutaneous tissues. It helps in the dilation of blood vessels and capillaries. This boosts blood circulation and aids the body in eliminating toxins and metabolic waste.
The sauna blanket is made of environmentally-friendly Oxford cloth, with waterproof PVC on the inside. The material is flexible and tensile in all positions. The temperature setting is adjustable between 95 and 167 oF. It is safe to use every 2-3 days.
Pros
Provides pain relief for sore muscles
Eco-friendly material
Adjustable temperature settings
Inbuilt timer
Easy to use
Suitable for home and commercial use
Easy to clean
2 heating zones
Value for money 
Cons
TTLIFE 2 Zone Far-Infrared Sauna Blanket provides a host of benefits for your physical health with just 10 minutes of use. It releases 9-14um of far-infrared radiation, which causes a natural thermal reaction in your body. The blanket boosts sweat elimination and aids healthy weight loss.
The temperature is adjustable between 35 and 75 oC, and an inbuilt timer lets you enjoy a quick sauna session of 15 minutes or detox for as long as an hour. The high-quality PU material is waterproof and stretches flexibly in various positions. The sauna blanket is particularly useful for boosting systemic blood circulation and dredging the meridians.
Pros
Inbuilt timer
Adjustable temperature settings
Value for money
Waterproof material
Suitable for home use
Easy to use
Low maintenance
Foldable for easy storage
2 heating zones 
Cons
May be unsuitable for plus-sized users.
May not be durable. 
HUKOER 2 Zone Far-Infrared Sauna Blanket offers multiple benefits for different kinds of users. Apart from boosting blood circulation, the device is perfect for invigorating tired muscles after a long week or achieving pain relief for sore joints. You can also use it anytime you want to relax. The intense sweating also helps tone and sculpt the body.
The security protection switch on the sauna blanket is a safety upgrade that protects you from harm in case of a circuit issue. The eco-friendly Oxford cloth on the outside and waterproof PVC on the inside increase the safety and comfort features of the device.
Pros
Safety feature
Inbuilt timer
Adjustable temperature settings
Provides pain relief
2 heating zones
Easy to clean and maintain
Waterproof
Odorless 
Cons
May not heat enough for all users.
Quality control issues 
Choosing the best infrared sauna blanket is essential if you are looking to gain maximum benefits from your investment. This buying guide should help you determine the essential features to look at while purchasing a sauna blanket. 
How To Choose The Best Far-Infrared Sauna Blanket
1. Material
Make sure first to check the material of your sauna blanket. It should be durable, soft, comfortable, and heat-resistant and have a flexible tensile capability to withstand varying sleeping positions. The most recommended materials include waterproof PVC on the inside and polyurethane on the outside.
2. Heating Zones
Most of the best infrared sauna blankets offer two or three heating zones to target your entire body and provide the best results. A blanket with three heating zones individually targets the upper body, the midsection, and the lower body. Additionally, it helps if these heating zones can be controlled independently of each other. You can then set a different temperature for each zone, depending on your requirements.
3. Temperature Range
A flexible and adjustable temperature range allows each user to customize their sauna treatment according to their own comfort and tolerance. The standard range offered by most models is 77 to 80 oC or 160 to 170 oF.
4. Memory Function
While this is considered more of a bonus feature than a necessity, it would improve your sauna blanket experience immensely. The memory function lets the device remember the temperature or the time selected in the previous session, so you don't have to set your preferences each time you use the blanket.
5. Inbuilt Timer
The relaxation felt while using an infrared sauna blanket may lull us into a sense of calm and make us lose track of time. An inbuilt timer lets us relax without any worries about overheating, dehydration, or skin burns. The timer will turn off the device automatically and keep you safe from harm.
6. Budget
This is another vital consideration as infrared sauna blankets are not exactly cheap. Look for a model from a reputed and trustworthy brand, and choose the blanket that offers you the most value for your money.
7. Dimensions
For taller and plus-sized users, it helps to note the height and width of the blanket before making your purchase. Make sure that there won't be sizing issues later on, and the blanket fit should be comfortable rather than snug.
You got your brand new sauna blanket home and are really excited about using it. Before you do, read these handy tips and tricks that will help you keep the unit clean and working perfectly for a long time.
Tips To Clean And Care For Your Far-Infrared Sauna Blanket
Only clean the device when it is unplugged and completely cooled down after you have used it.
Prepare a solution of 1/4th cup water and 3/4th cup distilled vinegar to clean the blanket.
Gently wipe the blanket all over with a piece of cloth soaked in this solution. It works as a sanitizer and keeps your blanket smelling fresh.
Make sure that the unit is completely dry before folding the blanket for storage.
Remember to repeat the process after every sauna session.
Wear thin pajamas or wrap a towel around you for sanitation purposes as well as to avoid potential skin burns in case of overheating.
A sauna blanket is generally considered safe to use as long as you keep in mind certain precautions associated with using one. 
Health Risks And Precautions To Take While Using A Far-Infrared Sauna Blanket
As a beginner, it is safe to start with 15-20 minute sessions and allow your body to acclimatize to the sensation over time. You can gradually increase your time in the blanket to 45-60 minutes.
Restrict using the blanket to a maximum of three times a week to allow your body to rest and adjust between treatments.
Keep the temperature settings to low-medium to avoid overheating or injury.
Make sure to drink lots of water before a session to keep your body well hydrated. Excess sweating may cause dehydration if you use the blanket after low fluid intake.
If you have any health conditions you are concerned about or are pregnant, make sure to consult with your GP before opting to use an infrared sauna blanket.
People with skin disorders, heat sensitivity, fever, implants, or undergoing prescription medication should avoid using the blanket without professional medical advice.
Visiting your nearby sauna or spa to pamper yourself might not always be possible. To get the comfort of a sauna in the comfort of your own home, you need the best far-infrared sauna blankets. These products will efficiently take care of your body's muscles and joints. With these blankets, you can enjoy a relaxing weekend. Simply wrap it around your body for as long as you feel like to enjoy the sauna benefits. They soothe sore muscles, are durable, waterproof, and easy to clean. Consider the material, heating zones, temperature range, memory function, dimensions, budget, and inbuilt timer while choosing the best far-infrared sauna blankets.
Why Trust Stylecraze
Sakshi Bahal is a professional product writer who has conducted in-depth research on user reviews and product listings to compile this list of the best far-infrared sauna blankets. She has also included a buying guide and discussed the pros and cons of each product. In addition, this article explains the benefits of using far-infrared sauna blankets and the health risks and precautions to consider while using the product.
Recommended Articles
The following two tabs change content below.