9 Best Insoles For High Heels To Relieve Heel Pain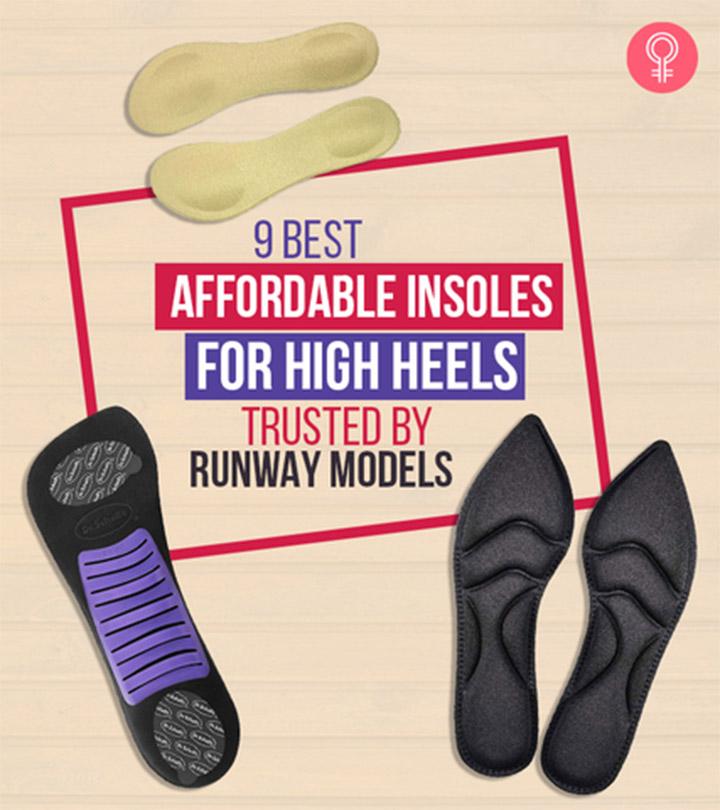 Unfortunately, most women experience a lack of confidence while wearing high heels or sky-high stilettos because of the pain it causes due to long hours of wearing. However, with the best insoles for high heels, it is possible to alleviate foot pain and have a more comfortable wearing experience. These insoles relieve you from achy joints, sore foot muscles, blisters, and pressure. In addition, they support you in carrying your shoes well, preventing slippage. Unlike bulky insoles, these ultra-slim options prevent discomfort and are lightweight. If you are looking for that insole that goes well with your high heels, you are at the right place. This article lists the 10 best insoles for high heels that are comfortable to wear. Have a look!
9 Best Insoles For High Heels
Are you standing on your feet all day or walking on those gorgeous heels? These sponge shoe pads from Furtaa have got you covered. These extremely soft and durable insoles protect your feet and provide instant relief from pain and ache. Their ergonomic design supports your heels and the metatarsal bone. They also offer arch support to prevent blisters, calluses, heel pain, spurs, and sore feet. You can trim the insoles to customize them as per your needs. These high-heel inserts come with glued pads that stick to the shoes and offer firm support. These insoles can fit both casual shoes and heels.
Pros
Washable
Can be trimmed
Durable
Soft and spongy
Cons
None
These affordable, soft, and moisture-wicking high-heel insoles from Pnrskter are specially designed for pointed shoes. Their 5D convex design with ultra-comfy, soft foam pads support the feet and provide shock absorption. The soft-padded insoles come with a breathable, anti-odor upper that keeps your feet fresh. Moreover, these are extremely lightweight and come with a trimming line.
Pros
Anti-odor lining
Instant relief
Easy trimming
Removable
Washable
Reusable
18-month post-sales service
Cons
These high-heel insoles from Xianews are perfect for keeping your foot game discreet while alleviating pain. The soft, spongy shoe pads provide instant relief from heel grinding, discomfort, metatarsal pain, heel spurs, and arch pain. These trimmable insoles are designed for your high-heel footwear to provide all-day comfort. The soft, breathable, and durable insoles are made of sponge and come with a self-adhesive outer that prevents slipping. Besides their cushiony texture, these heel protectors prevent blisters. Their arch support reduces stress while walking, running, and standing.
Pros
High elasticity
Durable
Breathable fabric
Lightweight
Self-adhesive outer
Trimmable
Money-back guarantee available
Cons
Padding could be too thin
May crowd your toes
Dr. Scholl's High Heels Invisible Cushioning Insoles are great for improving mobility. These heel inserts are clinically proven to alleviate pain, fatigue, and discomfort caused by high heels. Their cushion flex technology balances the pressure throughout to reduce stress on the feet and provide arch support. Moreover, their ¾ foot length design does not crowd toes. Their super-soft cloth keeps your feet dry and cool throughout.
Pros
No trimming required
Clinically-proven pain relief
Invisible
Do not crowd the foot
90-day money-back guarantee available
Cons
No heel cups
May feel tight
Say goodbye to pain with the podiatrist-approved Bringsine Velvety insoles. These anti-slip, high-quality silicone gel insoles reduce friction and prevent blisters. Their sleek design enables them to fit seamlessly with most shoes. Moreover, the soft fabric and gel insoles absorb shock and reduce pressure to provide utmost support to the metatarsal bone. These insoles keep muscle fatigue and foot pain at bay.
Pros
Self-adhesive
Washable
Reusable
Ultra-thin design
High-quality silicone gel
Cons
Reduce pain and fatigue while wearing high heels or stilettos by inserting these premium non-slip gel insoles from Vivesole. These cushiony soft insoles provide great support for shoes with heels with a height of 2 inches or more. They distribute the pressure and provide support to the feet for all-day wear. These orthopedic high heel inserts relieve you from Morton's neuroma, bunions, metatarsalgia, aching legs, knee pain, overpronation, heel spurs, plantar fasciitis, and other forms of discomfort.
Pros
Self-adhesive
Silicon insoles
No trimming required
Cushiony soft
Fit shoes of any size
Cons
None
The pain-relieving technology with patented metatarsal padding makes these high heel insoles from Heelho great for treating metatarsal pain. They help distribute the pressures of the ball of the foot and provide lasting comfort by reducing heel pain. These are great for boots or shoes and provide gentle arch support and fit correctly over your metatarsal bone to relieve you from heel pain. They have a non-slip feature and resist odor too.
Pros
Non-slip
Arch support
Odorless
Come with an adhesive base
Cons
Balancing your foot with these ¾ length thin shoe insoles from Happystep is pretty easy. Their cushiony texture provides lasting comfort to your heels and the balls of your feet. Additionally, they are super-lightweight and thin and fit perfectly into most high heels and sandals. Their adhesive tape ensures proper placement and no slipping. Moreover, you get two amazing prints and two-color options from this pack of four insoles.
Pros
Super-lightweight
Thin
Self-adhesive
Gel padding
Non-slip
Cons
None
From flats, loafers, and boots to high heels, sandals and pumps, these silicone cushion insoles from Autpro are great for a comfortable wear. These medical silicone insoles prevent rashes and are a perfect fit for sensitive skin. Whether you stand or dance in your heels, these insoles lift your feet and prevent blisters, pain, fatigue, and metatarsal ache. Moreover, their self-adhesive function offers a tight fit and keeps them from slipping off.
Pros
Non-slip
Self-adhesive
Arch support
Cons
None
Insoles support your feet and let you wear high heels throughout the day. Here are some other benefits of wearing insoles with high heels.
What Are The Benefits Of Wearing Insoles With High Heels?
Alleviate pain and discomfort in the feet, back, knees, and hips.
Realign your feet and improve posture.
Provide arch support and improve heel cushioning to reduce fatigue.
Wondering how to insert these insoles? Well, the process is simple. Read ahead to understand how to insert these insoles in your fashionable high heels.
How To Insert Insoles In High Heels?
Take out the heel's original insole and measure the widest part of the foot. Mark with dots on the insole.
Trim the insoles along the dotted line and insert them in the shoes.
For a two-part insole, follow the steps mentioned above. Then place the arch area insert, leaving a two-finger width from the back of the heel of your shoe.
It's now time to know what you must consider before choosing the best insoles for your high heels. Continue reading.
How To Choose The Best Insoles For High Heels?
Choosing insoles for your high heels is determined by the issues you are facing.
In case you suffer from pain or inflammation around the balls of your feet, opt for insoles with arch support. These reduce the pressure on metatarsal bones and minimize pain.
Soft insoles would be great to provide support and flexibility if you have high arches.
¾ length insoles are especially suited for those suffering from bunions. Plus, these insoles create room inside the shoes for added comfort.
Look for insoles with cupped heels if you have been dealing with heel spurs for a while.
Love high heels, but hate the pain that comes with it? Don't fret! Insert either an all-encompassing insole or targeted cushion to alleviate pain and make your sky-high heels way more comfortable. We recommend Dr. Scholl's High Heels Invisible Cushioning Insoles for its unique slim design and flexi-spring arch support. In case you are looking for something lightweight, go for the Happystep 3/4 Length Thin Shoes Insoles. Browse through the above links and grab the best insoles for your gorgeous pair of chic stilettos!

Recommended Articles