The 10 Best Insoles For Running Shoes (2023) – Stylecraze
Reduce the added pain in your soles and prevent injuries while climbing and running.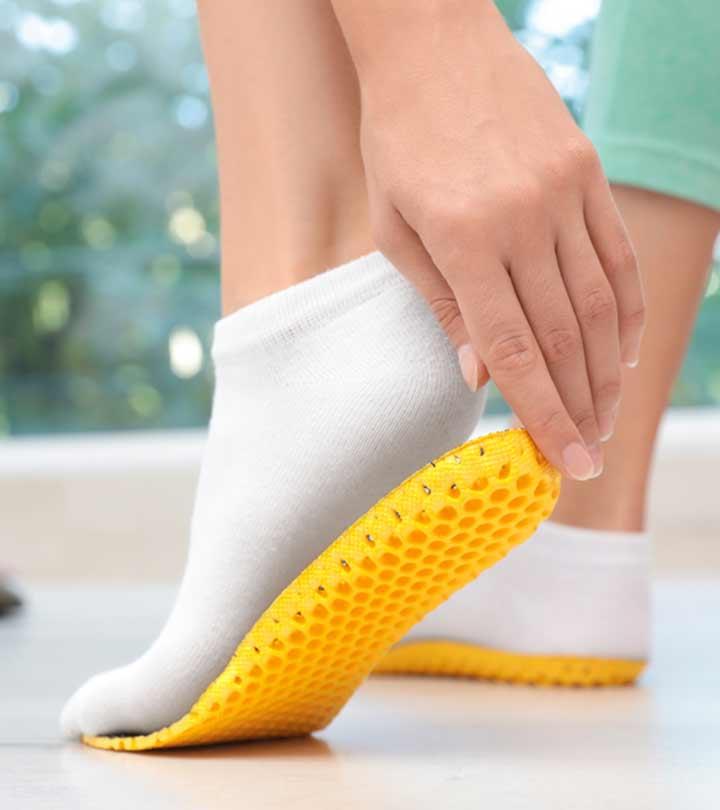 Replacing insoles can be a good practice to make your shoes last longer; however, searching for the best insoles for running is excruciating. Regular in-built insoles in shoes tend to get flattened and worn out over time, leading to long-term aches in your ankles and feet. Besides this, it can also increase your chances of getting injured while running or climbing on rough surfaces. To avoid this unfortunate situation, good insoles are made from high-quality fabric to help cushion your feet perfectly while reducing excessive friction with the ground. To help you pick the right one for your feet, we've compiled a list of the best insoles in the market. Please take a look and make your pick.
Benefits Of Insoles For Running
Insoles keep your feet comfortable and prevent foot injuries. Here are a few benefits:
Minimize foot fatigue
Enhance foot comfort
Improve your body posture
Improve performance
Minimize pressure on the feet
Provide arch support
Prevent blisters, irritation, and discomfort
Now, let's check out the top insoles recommended for running.
10 Best Insoles For Running
These insoles from Walk-Hero distribute your weight evenly and realign your skeletal system. The top-quality EVA body reduces friction and shock while running and keeps the feet cool post a run.
The insoles drastically reduce foot pressure and relieve soreness. They provide pronation control and are suitable for conditions like plantar fasciitis, flat feet, overpronation, supination, arthritis, foot, heel, arch, and knee pain, and bunions. The semi-rigid arch support improves balance and relieves foot pain, while the deep heel cupping stabilizes your foot. Apart from running shoes, you can reuse these versatile insoles in your cleats and dress or casual shoes.
Pros
Arch support
Shock-absorbing
Ideal for flat feet
Odor-free
Non-slip
Reusable
Easy to wash
Cons
Low cushioning on ball of foot
Price at the time of publication: $18.99
Flat feet or overpronation with low or medium arches need extra support during the run. Without proper arch support, you can end up with shin splints or plantar fasciitis. The premium, full-length insoles from Physix Gear Sport offer a soothing solution for your orthopedic issues. They are made of high-quality, durable, layered EVA foam and PU material and feature deep heel cradles for enhanced stability. The ergonomic, non-slip design supports your feet and posture while offering arch support. The low-profile, ultra-thin design eases discomfort and improves your performance.
Pros
Absorbs shock
Superior material
Lightweight
Non-slip
Prevents blisters
Doctor recommended
Ergonomic design
Comes with money-back guarantee
Cons
Price at the time of publication: $10.78
Dr. Scholl's Athletic Series Running Insoles are the best solution for runner's knee, shin splints, and plantar fasciitis. Their innovative design with triple-zone protection coupled with ActivePerform technology lessens the impact by 40%, protecting your feet, knees, and shins from injury.
The cushions on the balls of the feet distribute pressure through push-off, while the reinforced arch support improves the weight transition from landing to push-off. The deep heel cups work as shock absorbers, cutting down impact with every step. These insoles are treated with SweatMAX technology that minimizes foot odor, keeping you fresh throughout the day. Here's a detailed review video for more information.
Pros
Reduces pain
Shock absorbing
Reinforced arch support
No odor
Moisture-wicking
Cons
Arch support digs into the skin.
Price at the time of publication: $15.65
These full-length Sof Sole Insoles Gel Shoe Inserts improve fit and comfort in activewear shoes and are ideal for running, walking, or casual outings. These orthotic insoles have a contoured neutral arch for a perfect fit in casual or athletic footwear. The lightweight gel pads provide cushioning in the heels and the forefoot does not feel bulky. It also has moisture-wicking properties, that help prevent odor by absorbing excessive moisture, maintaining temperature, and keeping the feet dry.
Pros
Gel form
Durable
Arch and heel protection
Prevents odor
Moisture-wicking
Cons
Might not suit all foot shapes
[multi_buy_now_btnasin="B08J7R2V67″amz_affilate="tsr-fitness-20″walmart_affilate=""]
The Currex Runpro Dynamic Insole enhances the comfort and support of running shoes and reduces impact to prevent injuries, pain, and discomfort. It has a cushioned heel cup for a perfect fit. The moisture-wicking insole prevents bad odor, keeping your foot refresh. The 3D dynamic arch supports the anatomy of your body and improves your posture. Watch this video for a thorough understanding of the product.
Pros
Shock-absorbing
Moisture-wicking
Odor-free
Fits all shoes
Cons
Price at the time of publication: $47.95
The Natural Foot Orthotics Stabilizer Inserts provide pain relief in the back, feet, and legs, preventing the need for surgical procedures. The semi-rigid plastic body and biometric design reestablish the four-foot arches and help manage plantar fasciitis, lower back pain, foot pain, and joint pain. You can enjoy a stress-free workout day with these insoles minus the pain.
Pros
Absorbs pressure
Pain-free
Durable
Do not require trimming
Lifetime warranty
Cons
Price at the time of publication: $99.95
These insoles from SuperFeet have slimmer heels and short arch length for metatarsal support in women's feet with a shoe size range between 6.5-8. They are made with Aerospring dual comfort foam that is moisture-wicking and improves your stride. The advanced heel-impact technology pod distributes the impact and improves your steps, while the cushioned support from heel to toe provides responsive support.
Pros
Durable
Moisture-wicking
Long-lasting
Odor-free
Cons
May not be suitable for broad feet
Price at the time of publication: $52.66
 These shoe inserts from Protalus are designed to support your subtalar joints to minimize stress on the ankles, knees, and hips. The patented Tri-planar support system minimizes the effect of lateral changes of motion. The inserts are made of a moisture-wicking material that provides maximum comfort and superior heel and foot alignment and reduces impact. The anti-slip ridges ensure the insoles do not slip during running.
Pros
Comfortable
Anti-slip ridges
Antibacterial
Cons
None
Price at the time of publication: $47.96
These insoles from Flame Boost are designed for high-impact sports, thanks to their flexibility and high arch support. They have shock-absorbing gel and heel pads to improve cushioned comfort. The top layer of the insoles is covered with a velvet finish that helps absorb moisture and keeps your feet odor-free.
These foot inserts prevent all foot-related stress and minimize pain in your joints, back, and knees. The anti-slip design prevents friction and protects your feet from blisters that are caused by continuous rubbing. These insoles are perfect for all athletic activities, including running.
Pros
Flexible
Shock-absorbing
Breathable cover
Cushioned support
Odor-free
Cons
May not be suitable for broad feet
Price at the time of publication: $29.99
These orthotic inserts fit your running shoes perfectly, giving you the comfort and support you need while running. They have high arch support and deep heel cups for plantar fasciitis support and reduced heel pain. The non-slip velvet material gives a plush feeling and keeps your feet cool, while the silica gel cushion under the heel provides support. You can trim these insoles to fit your shoes better.
Pros
Reinforced arch support
Durable
Moisture-wicking
Trim to fit design
Non-slip
Lasting comfort
Cons
Price at the time of publication: $30.39
Insoles vary in terms of thickness, support, and material. Runners need the perfect performance-enhancing insole to stay at the top of their game. In the below section, you will get guided support to know about the usability of these insoles to allow you to make a better choice.
How To Choose The Best Insole For Running
Support: How your feet interact with the ground affects your entire body. Your foot contact with the ground sends up pounds of pressure that gets absorbed by your bones, ligaments, tendons, and muscles. Having the proper footwear with the best support underneath your feet is important. So, buy insoles that provide high-impact support for added convenience and comfort.
Purpose: It is very important to define the purpose of your purchase. People with plantar fasciitis or flat feet should use firm arch support. Athletes who need to run a lot should use more cushioned support.
Cushioning:Insoles that are well-cushioned promote shock absorption and impact reduction while running. Cushioned support also provides firmness and enhances comfort.
Stability: The right shape is very important to keep your feet in place. Look for insoles with an ergonomic design and proper heel cups to prevent any injuries.
Material: Runners need support and cushioning at the heels to prevent injuries or pain. Foam insoles provide cushioning to the heels, while gel helps in reducing impact and stress.
Why Trust StyleCraze?
The author Aditi Naskar holds a diploma in health and wellness and is a fitness enthusiast. She has done extensive research and read many online reviews to compile the best insoles for running, making your choice easy. The listed insoles can effectively reduce excessive friction with the ground by perfectly cushioning your feet and are a must-have if you run regularly.
Frequently Asked Questions
Are gel insoles good for running?
Yes, gel insoles reduce pressure on your feet and increase bounce. This enhances your speed.

How often should you replace running insoles?
Insoles generally last for six months, after which they need to be replaced.
Can insoles make you run faster?
Insoles help manage pain or stress on the feet, improve your footwork, and enhance your speed.
Can we wash running insoles?
Yes, you can wash your running insoles.
How do I know if I need insoles?
You need insoles if you experience foot pain and swelling after simply walking or standing for some time.
Do insoles make a difference in running?
Yes. Insoles provide the right cushioning to your heels and reduce your foot fatigue. In addition, they decrease foot strain to ensure increased running efficiency.
Do professional runners use insoles?
Yes. Many professional runners use insoles to improve their posture and foot balance while running. Insoles also prevent stress fractures, so they are highly significant for runners.
Are custom insoles worth it?
Yes. Custom insoles are beneficial, especially for those who underwent knee, lower back, or hip surgeries. They fit your feet perfectly and offer the best comfort. In addition, they usually last for two to three years, and some even for five years.
How long do insoles last?
Insoles last for 5 months to one year.
What are the benefits of insoles?
Insoles provide arch support, enhance heel cushioning, improve body posture, and ensure reduced muscle fatigue and strain. In addition, insoles prevent blisters and foot irritation.
What is the difference between insoles and orthotics?
Insoles provide adequate cushioning to your feet and resist excessive foot strain and shock, while orthotics relieve foot pain and evenly distribute pressure throughout your feet.
Recommended Articles