5 Best Instant Bronzers For A Streak-Free Sun-Kissed Glow
Put all your tanning worries to rest with these products for a natural-looking golden glow.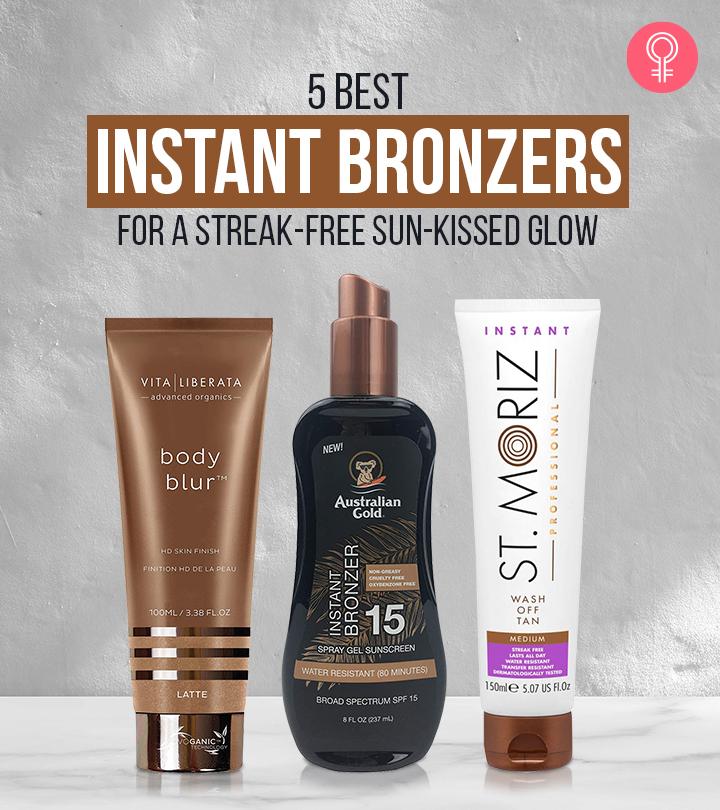 Did a last-minute party invitation leave you no time to hit the tanning parlor? If yes, we have you covered. The best instant bronzer can do the job and get you party-ready within minutes. You can now achieve the perfect sun-kissed glow without having to sit out in the sun or use a self-tanner at home. Not only are these instant bronzers super affordable and easy to use, but they also do not stain your clothes or bed sheet. In addition, they are skin-friendly and do not cause any breakout or irritation. Check out our list of the best instant bronzers to get a natural-looking glow. Keep scrolling!
5 Best Instant Bronzers In 2023
This body bronzer from Australian Gold gives an excellent temporary tan, while its SPF15 protects your skin from sun damage. It gives you an incredible caramel glow instantly. The golden bronze formula is infused with a cocoa seed butter, sunflower seed oil, and olive oil that intensely hydrate the skin and impart a flawless tinted glow. This self-tanning spray gel is also enriched with antioxidant-rich tea tree oil, vitamin C, and kakadu plum extracts that fight free radical damage.
Pros
Creamy texture
Quick absorbing
Provides a radiant complexion
Creates an instant glow
Works as a bug repellent
Cruelty-free
Non-greasy
Water-resistant
Oxybenzone-free
Chocolaty fragrance
Cons
Price at the time of publication: $6.99
Get this light-reflecting tinted lotion from Vita Liberata, which doubles up as a BB cream. This luxury skin tanner is formulated with natural ingredients that provide incredible sunless tan. This natural tan accelerator blurs imperfection, softens blemishes, and evens out the skin tone. The organic extract of shea butter, aloe vera, vitamin E, hyaluronic acid, and glycerin work together to nourish skin, deliver natural radiance, and give a streak-free flawless look instantly. Aloe vera, hyaluronic acid, and glycerin are powerful humectants that prevent moisture loss. Moreover, they protect the skin from free radical damage, fight signs of aging, and naturally plump skin for a brighter look. You can also check this YouTube video for a complete idea about this glow booster.
Pros
Cruelty-free
Paraben-free
Sulfate-free
Alcohol-free
Perfume-free
Allergen-free
Streak-free
Cons
Not transfer-proof
Not water-resistant
Price at the time of publication: $45.0
The cutting-edge formula of Coco & Eve Sunny Honey Bali Bronzing uses Cellushape technology for a non-sticky coverage. The tan enhancer gives you a natural sunless glow in 2 hours without nasty streaks or blotches. Its toxin-free, natural formula infused with virgin coconut oil, amino acids, antioxidants, and other botanical extract, provides anti-aging benefits while blurring pigmentation and stretch marks. Moreover, its transfer-proof formula does not stain your clothes and gives an incredible beach babe glow. With this pack, you also get a kabuki brush and mitt for even and easy application. Besides a flawless look, this vegan bronzer gives a fruitilicious smell of tropical Balinese mango and guava. If you want to know more about the results, take a look at this review on YouTube.
Pros
Lightweight
Transfer-proof
Streak-free
Non-sticky
Fast-drying
Washable
Easy-to-apply
Pleasant smell
Summer glow
Toxin-free
Vegan
Cruelty-free
Cons
Price at the time of publication: $49.5
Achieve a natural-looking healthy tan anytime of the year with this instant body bronzer from St. Moriz. This medium-toned sunless tanning lotion dries fast to give immediate results with a streak-free finish. The tan enhancer lotion retains the healthy complexion all day long by being waterproof and transfer-resistant. It also does not stain your clothes. You can wash off this natural-looking tan at the end of the day during a shower.
Pros
Dermatologically tested
Salon-tested
Streak-free
Waterproof
Fast drying
Lasts all day
Cons
None
Price at the time of publication: $13.39
The Isle of Paradise gives you a disco-ready glow in just no time. The fast-acting bronzer helps you get a fake tan look with a luminous finish in just a couple of minutes and lasts for 24 hours. This natural-looking bronzer has a sheer formula that dries into a matte finish. The shade suits light to medium tone the best. Its oxy-glow complex aided with avocado, chia seed, and grapefruit oil give deep moisturization with fine shimmery brightness. Though this tan extender does not claim to be transfer-proof or water-resistant, it stays put quite well for a long duration.
Pros
24-hours coverage
Luminous finish
Transfer-proof
Easy to wash off
Streak-free
Vegan
Cruelty-free
Cons
Price at the time of publication: $24
Body bronzers are a great way of getting that sun-kissed tan effortlessly and commitment-free. But to get the best benefit, you have to choose just the right product. Check out the section below to know how to get the best formula for your skin type and color.
How To Choose The Best Instant Bronzer
Color: You have to find just the right shade. Too dark or too light may look artificial. The ideal shade is one or two shades darker than your natural skin color.
Ingredients: Avoid ingredients like paraben, phthalate, sulfate, mineral oil, silicones, erythrulose, and PUFAs. These chemicals can cause free-radical damage or acne.
Hydration: Bronzers should contain moisturizing and nourishing ingredients that provide skin care benefits. Look for ingredients like vitamin C, olive oil, almond oil, aloe vera, etc.
DHA-free: Dihydroxyacetone or DHA is the active ingredient in most body tanners that gives that brown tint by reacting with your skin's natural amino acid. But DHA enhances the damage caused by free radicals, causes skin irritation, and gives off an overpowering smell.
Fragrance and alcohol content: Avoid formulae with alcohol and fragrance if you have dry and sensitive skin.
Streaks and stains: Look for a quick-absorbing, transfer-proof, and easy to blend formula that does not stain or streak.
Why Trust StyleCraze?
Baishali Bhattacharya is our in-house certified expert in makeup techniques who is always on the lookout for the leading bronzers that will leave you with perfect sun-kissed skin. She tried out multiple bronzers and curated this list of premium quality bronzers that are skin-friendly and affordable and provide a quick tan. These bronzers are made with natural ingredients such as cocoa seed butter, sunflower seed oil, and olive oil that hydrate your skin and leave you with a flawless, caramel glow.
Frequently Asked Questions
Does instant bronzer tan faster?
Yes, instant bronzers tan faster than self-tanners. They develop completely almost instantly. However, it also fades fast and stays on for one or two days.
Is Instant bronzer the same as self-tanner?
No. Even though an instant bronzer gives a sun-kissed glow just like a self-tanner, the color from a bronzer is only temporary.
Does instant bronzer turn you orange?
No, instant bronzer will give a slight tan but will not turn you orange. It will give you a nice instant color that looks natural and shiny.
How long does an instant bronzer take to work?
An instant bronzer takes 2 to12 hours to show the right tanned color on your skin.
How long does an instant bronzer last?
The tan of these instant bronzers leaves the glow for 1-2 days and then can be washed off with water.
How long after using an instant bronzer can I shower?
Wait for at least 2-3 hours after using instant bronzer before you shower. You might see some golden glow wash down the drain, but don't worry the process will give you a fantastic glow. However, some instant bronzers wash away completely when you shower. So, do read the label of your product before you wash yourself.
Do instant bronzers wash off?
Yes, instant bronzers are just like makeup so they wash off; they wash off easily and give back your natural skin color.
Recommended Articles