10 Best Inversion Tables – Our Top Picks Of 2020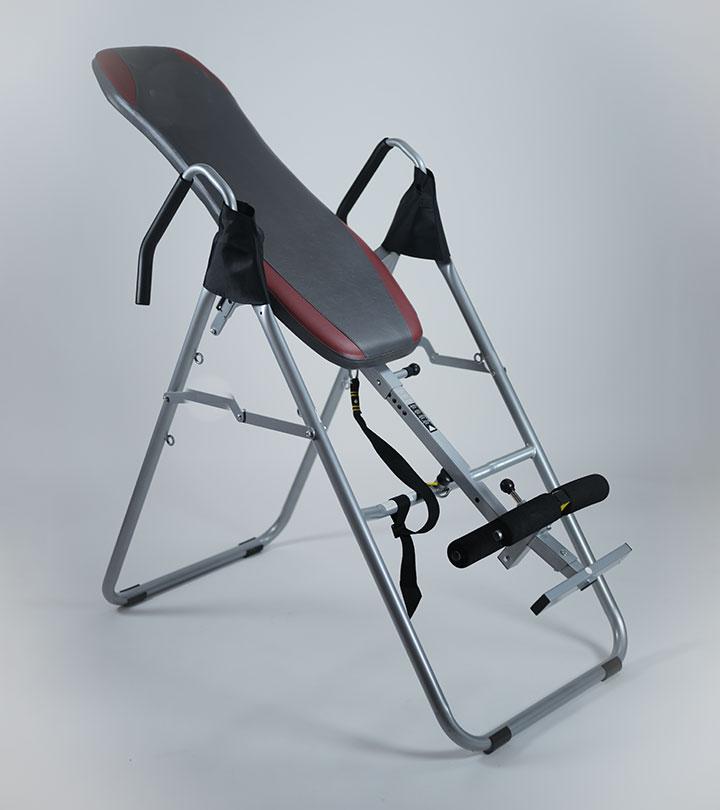 Inversion therapy is a process used for stretching the spine and getting relief from back pain. It works by suspending the body upside down, using various equipment, such as inversion tables, inversion chairs, and gravity boots.
This article deals specifically with inversion tables. Read on to learn more about inversion tables, their benefits, possible risks, and things to keep in mind before you hit the 'add to cart' button.
What Is An Inversion Table?
An inversion table is an equipment used in inversion therapy. It is a swiveling table that allows a person to hang their body upside down in a secure manner, with their back supported on a bed. It looks quite similar to the standing position, except you are upside down.
What Is An Inversion Table Used For?
The idea behind inversion therapy is that inversion shifts your body's gravity, which, in turn, eases the pressure off your back and offers traction for your spine. Inversion therapy is particularly helpful for people who experience chronic lower back pain, poor circulation, sciatica, or scoliosis, as well as other conditions, such as neck-related pain and pressure or herniated discs.
Here are our top 10 picks for the best inversion tables. Take a look!
Top 10 Inversion Tables For Back Pain
Innova ITX9600 Heavy Duty Inversion Table has several features that make it a class apart from regular inversion tables. The large backrest pad and soft touch foam handlebars allow for a comfortable, easy, and secure inversion. It also features a true balance system that lets you find your unique center of gravity. The six angle pin system is easy to adjust and gives you a safe and consistent inversion.
The equipment is highly flexible, with a triple adjustable structure that makes it easy for individual user shapes to enjoy smooth inversion therapy. You can adjust the headrest pad, the footrest, and the height of the device to correctly manage the center of gravity according to personal comfort.
Pros
Reversible ankle holding system
6-pin angle selection system
Soft foam handlebars
Comfortable backrest pad
Adjustable headrest pad
True balance system for easy inversion
Ergonomic ankle holding system
Height adjustable
Cons
None
Ironman Gravity 4000 Inversion Table has a robust tubular steel frame and a scratch-proof powder-coated finish. The backrest is made of memory foam and covered in vinyl. It ensures that your head and back have optimal comfort during inversion. The floor stabilizers are made of tough rubber and won't skid during use.
There are extra-long safety handles on the side – you can use them to return more easily to the upright position after inversion. These also have vinyl safety covers. Ankle holders are molded ergonomically to give you added stability and comfort. This model is ideal for users who are seeking relief from back stress or want to stimulate their circulation.
Pros
Height adjustable
Can be folded for easy storage
Supports up to 350 lbs weight capacity
PVC equipment mat included
Memory-foam backrest for more comfort
Patented ratchet ankle locking system
Comes with lumbar pillow
Inverts up to 180 degrees
Cons
None
Health Gear ITM5500 Advanced Technology Inversion Table not only gives you all the benefits of advanced inversion technology but also lets you enjoy a soothing vibrating massage with heat therapy while you do so. The 4-inch memory foam backrest comes with contour fit for extra support.
It has an adjustable vibrating massage pad that can be removed easily, so you can enjoy a massage even on your recliner as you binge on Netflix. The side inversion pin allows you to conveniently switch inversion positions between 20, 40, 60, and 90 degrees. The leg rollers are covered in high-density foam to protect against calf pinching. The table can be folded and stored neatly when not in use.
Pros
Lightweight and portable massage pad
Integrated hand controller
Foldable for easy storage
Built-in wheels for better portability
4 position side inversion pin system
Easy height adjuster
Up to 300 lbs weight capacity
Easy-to-assemble
Cons
May be uncomfortable for larger sized users
Innova ITM4800 Advanced Therapeutic Inversion Table is another device with the double feature of inversion therapy and heat massage. The massage pad here is adjustable and offers isolated vibration and heat through multimode massage settings. The large backrest pad and handlebars of soft-touch foam let you enjoy a comfortable and relaxed inversion session.
There's also a true balance system that lets you micromanage and find your unique center of gravity. Using the true balance structure is easy and helps you personalize the headrest pad, height, and footrest of the device to your requirements. The protective cover for the equipment is patent-pending and features an adjustable six angle pin system.
Pros
Horizontal heat & massage lumbar pad
6-pin angle selection system
True Balance System for easy inversion
Ergonomic ankle holding system
300 lbs user weight capacity
1-year warranty
Adjustable height
Cons
More serious inversion therapy users prefer the Teeter EP-560 Inversion Table. It is FDA-registered and claims to help with multiple conditions, such as muscle tension, back pain, herniated disc, muscle spasm, and sciatica. The backrest has a firm but comfortable, contoured surface, which helps give your spine a better stretch and maximum relief from pain. The design is efficient such that you can return to an upright position using simple arm movements to shift your body weight.
The wrap-around ankle cups are another unique feature, and they are made from patented specialty foam. Additional accessories include an adjustable lumbar bridge that adds deeper traction to the device for your lower back and helps to square misaligned hips. Removable acupressure nodes give trigger point relief and ease muscle tension.
Pros
FDA-registered device
Foldable for easy storage
Easy 5-step assembly
300 lb., 4ft 8in- 6ft 6in user capacity
Comfortable to use
Durable, high-grade parts
Stretch assist handles for more support
Cons
Invertio 130 Adjustable Folding Inversion Table lets you enjoy all the benefits of inversion therapy within the privacy and comfort of your home. It provides immense therapeutic relief from back pain when used regularly. It provides premium-quality construction while allowing you to customize the way you use and control it. The device is made of durable tubular steel, is sturdy, and offers steady non-skid support on any surface during inversion.
As for comfort, the device offers supportive foam padding on the backrest, headrest, as well as ankle supports. It is easy to personalize according to requirements and can accommodate users of 4'10" to 6'6″ in height. The handrails allow you to return to an upright position with ease and safety. The ankle supports lock quite securely, so you don't have to worry about any mishaps.
Pros
Fully adjustable for height
Comfortable backrest and ankle support
Accurate inversion control
Easy-grip handrails for safe rotation
Foldable
Portable
Cons
Expert assembly may be required.
Design may need improving.
Yoleo Gravity Heavy Duty Inversion Table is designed to promote blood circulation and improve posture while soothing pain and injury. The design is a blend of several features that come together to give you a safe and comfortable inversion. The steel frame makes the equipment stable and sturdy. A precision chuck buckle with a safety lock pin system gives you added security while inverting.
The precision rotation system grants you total control over the inversion. Returning to the upright position is as easy as shifting your body weight with simple arm movements. The backrest is large and comfortably padded with memory foam, and a lumbar support pillow is also included if you choose to use it.
Pros
Foldable for easy storage
Easy-reach adjustable ratchet ankle locking system
Ergonomic design
Supports user weight up to 300lbs
Portable design
True balance system for easy inversion
Cons
Not durable enough
Shoulder pads may feel uncomfortable.
Exerpeutic 225SL Inversion Table has a heavy-duty steel frame for unmatched support. It also features a patent-pending Airsoft ankle holder that provides maximum comfort during inversion. A 3-position rear crossbar allows you to adjust the inversion angle easily. There's also an accessible palm-activated Surelock adjustable ratchet ankle locking system feature.
The equipment comes with an additional lumbar pillow for extra support for your lower back, if needed. The ratchet mechanism with a double lock feature lets you enjoy a worry-free and safe inversion. To ease further worries, it is also UL safety certified. The backrest is made of soft foam that soothes your back and provides secure support. It can be adjusted for height from 4'9″ to 6'6″.
Pros
No-pinch airsoft ankle holder
Sure lock ratchet system
3-angle adjustable crossbar
Removable lumbar pillow
Comfortable foam backrest
Can be folded for storage
Cons
Bulky design
Does not offer full inversion.
Harison Inversion Table for Back Pain Relief has a stable heavy-duty integrated steel frame. The ergonomic design of the 3D memory foam backrest fits your waist curve well and provides comfort and relaxation for the whole body during inversion. It not only relieves back pain but also soothes pain and pressure on your neck. The true balance design adds more stability and ensures a more secure inversion.
The height and the inversion angle are adjustable and can be tweaked according to the needs and requirements of individual users. There's a 4-angle position control pin for this purpose. The handlebars are covered in full loop foam, giving you a better grip when returning to the upright position.
Pros
30-day trial
1-year free replacement
Supports user weight up to 300-350 lbs
Allows flexible 20°-180° vertical inversion
Fully adjustable for height
Ergonomic design
Cons
Not sturdy enough
Expensive
Body Vision IT9825 Premium Inversion Table has a thoughtful design with an attractive, sleek structure. The new updated model includes several innovations, such as a broader and longer upholstered backrest, as well as a comfortable head pillow. It also has a removable lumbar pad that can be adjusted to target the upper, middle, lower back, neck, and shoulders. Alternatively, you can remove the padding entirely for using elsewhere, say your favorite lounge chair.
Choose from 20, 40, 60, or 90-degree inversion angles using the convenient 4 position side inversion pin. You can do it quickly and easily, without needing a lower strap or having to get off the unit. The IT9825 is gentle on your ankles and calves – all credit to the sur-lock easy in/out ankle support system and high-density foam leg rollers.
Pros
Removable headrest pillow
Removable lumbar support pad
Sur-lock ankle support system
Fully adjustable for height and inversion angle
Supports user weight up to 250lbs
Cons
Expert assembly required
Not sturdy enough
Now that you've read up on the best options for inversion tables in the market, take a look at what you need to keep in mind before you make the purchase. After all, inversion tables do not come cheap. Hence, take time to do the research and make an informed, smart decision.
Things To Consider Before Buying An Inversion Table
1. Construction And Capacity
It is vital to check out the construction before purchasing any health equipment, especially when the apparatus is designed to hold you upside down. If built poorly, you could potentially suffer severe injuries during inversion. Make sure that the device is solid steel, padded with good quality foam for extra safety. Keep industry standards in mind when reviewing the design. As for the weight capacity, remember that most inversion tables offer up to 300 lbs.
2. Range Of Motion And Safety Features
For new users who are just starting with inversion therapy, it makes good sense to practice inversion to 45 degrees at the most. With more experience, one can slowly consider increasing the angle to 90 degrees for better results. Also, first-time users should strictly practice inversion in the presence of someone, preferably a trained professional. Keeping these facts in mind, check out what safety mechanisms are in place for your protection. These include good quality straps, padded foam, and flexible inversion angles.
3. Additional Features
In a competitive market, all manufacturers are forced to innovate, and this results in more attractive features across models. As a consumer, you get to take your pick from ankle cushions, nylon straps, heat-insulated vibrating massage pads, lumbar support pillows, and more. It's no longer strictly about inversion quality, although that is the first thing you need to be satisfied with.
4. Price
Your budget will have an integral role in finalizing the inversion table you choose to bring home. Keep that in mind when looking at various models because the price is sure to rise with each additional feature. Decide what are the non-negotiable things you want from your equipment, and start from there based on how much you can afford to spend.
5. Warranty
An inversion table is something you will be using for a long time. And that will cause a fair amount of wear and tear. Make sure that you prefer products with more extended warranty coverage, so you are protected against any manufacturing defects.
 While there are several benefits of inversion therapy, relief from back pain is the most common solution that people use inversion tables for. Let's take a look at all the advantages you could enjoy by investing in an inversion table. 
Benefits Of Inversion Tables
1. Relief From Back Pain
The process of inversion is a blessing for back troubles. Inversion helps to elongate the spine and increases the space between the vertebrae. This eases pressure on the discs, nerve roots, and ligaments, which leads to relief from back pain.
2. Relief From Joint Pain
At the end of a heavy workout session, people sometimes feel stress in their joints. Inversion therapy can help reduce the build-up of excess pressure on the joints. Hanging upside down helps elongate and stretch not just your spine but also the muscles around the stressed joints. This makes it a boon for people with arthritis. Additionally, inversion therapy corrects misalignments that may have occurred as a side effect of some other activity.
3. Purification Of The Lymphatic System
Inversion also helps drain out toxic fluids from the lymphatic nodes. These fluids usually travel in a single direction. Hanging upside down not only stimulates the lymphatic system but also helps eliminate pain-causing waste fluids.
4. Improved Blood Circulation
Inversion, being anti-gravity, promotes better blood circulation. This helps nutrients reach throughout the body and significantly reduces your chances of developing varicose veins. Additionally, inversion tables can also help with decongesting the internal organs of the body.
5. Improved Breathing
In our everyday posture, blood fills our lower lungs because of gravity. Inversion helps fill up the upper lungs. This results in more oxygen being produced. Inversion therapy also strengthens the diaphragm, improving the way we usually breathe.
6. Other Benefits
Inversion therapy has been considered in research to be an effective conservative treatment for sciatica to avoid surgery. It also helps with better blood circulation to the brain, resulting in improved brain function, notably in concentration and memory. Inversion therapy has also been reported to help with insomnia, PMS, poor digestion, and low immunity.
If you are a first-time user or new to inversion therapy, read on to know the basic steps to use an inversion table correctly.
How To Use An Inversion Table
Start with a test inversion. Your first inversion should always be at a small angle for a short period. Make sure that there is no pain in the back, knees, heart, or head. It is wise to take this caution even if you have been cleared for inversion by your doctor.
Also, for your first inversion, try doing it in the presence of someone, and not when you are home alone. You need to be confident about being able to return to the upright position on your own before you start inverting solo. There have been quite a few unfortunate incidents, with people getting stuck upside down and unable to move until someone came in to help.
According to experts, a full 180-degree inversion is not necessary for the best results. Even as far as 60 degrees can reduce pressure up to 100% compared to standing normally.
There are several ways to use an inversion table. You can use the bars on your inversion table to brace yourself and stretch while inverting. Twist yourself from one side to the other as you go down for a deeper stretch. Or you can repeatedly press your lower back into the backrest. Another exercise on an inversion table would be to bend your knees and open your hips.
The period of inversion can slowly be increased depending on your endurance. But try doing it more frequently for better results. Start with inverting for 30 seconds, which can gradually go up to 5 minutes. Please note that research says your muscles relax by 35% in the first 10 seconds of inversion.
Some chiropractors recommend that rather than inverting for a long span, try inverting for some time, return to the upright position, and then try a second round of inversion. This helps train the brain and the body to retain the benefits of inversion for much longer.
As with any health-related devices, it is crucial to learn about the risks surrounding the use of inversion tables.
Risks Of Using Inversion Tables – Are They Safe For Everyone?
Do not take up inversion therapy for back pain or any other health condition without consulting a medical professional.
Inversion tables are not suitable for the following individuals – those with high blood pressure, hypertension, glaucoma, conjunctivitis, cerebral sclerosis, inner ear problems, obesity, fracture, osteoporosis, hernia, or pregnancy. Inversion therapy might aggravate the symptoms related to these conditions or put you at risk. The reason is that hanging upside down lowers your heart rate and increases blood pressure. This can put pressure on your inner ear and eyeballs.
Inversion therapy takes a while to adjust to, so it is better to start with shorter durations and smaller angles and gradually increase the time, angle, and frequency. Be careful that you do not overexert yourself as that may increase the risk of injury.
That was our round-up of the 10 best inversion tables of 2019 and things you need to be informed about before you invest in one. Have you ever tried inversion therapy? Which of these models did you like best? Let us know your thoughts in the comments section below.
Expert's Answers For Readers' Questions
How long should one invert for?
As a beginner, you can start inversion therapy with short periods of 1-2 minutes per session and increase gradually only according to your comfort. You can go up to 3-5 minutes per session slowly. You must focus on the frequency rather than the duration of inversion.
How often should one use an inversion table?
With inversion therapy, frequency helps more than duration. You should practice inversion several times a day, including after waking up, after a workout, or before bedtime.
What is the best angle for inverting?
For your initial sessions in inversion therapy, try sticking to the minimum level, and give your body at least a few weeks to get used to it. A 20-30 degree angle is a decent starting point while your body adjusts with the feeling of being inverted and the operation of the inversion table.
Should I be doing anything while inverted?
You can choose to simply stretch the back while staying inverted or try a few exercises for better stretching if needed. Some people want to do ab crunches, torso rotations, or inverted squats. But it is recommended that you undertake inversion and related exercises only after consulting your doctor.
Recommended Articles: