11 Best Ionic Hair Dryers – 2021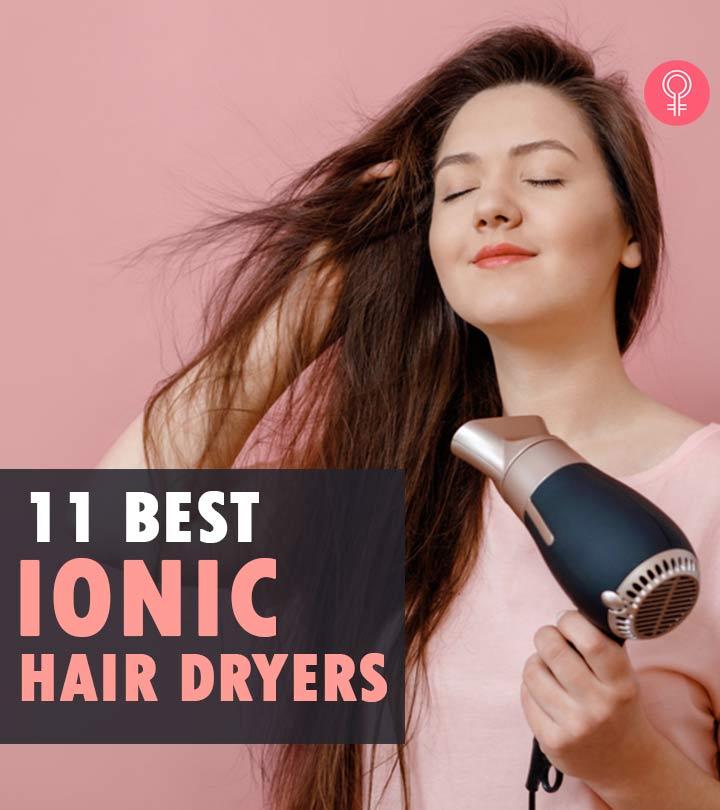 Some people are blessed with hair that can be easily air-dried without the hassle of using any heat styling tools like the dreadful hair dryer. Fortunately, for those of us who do need to use a hair dryer to dry and style our mane, ionic hair dryers exist! Ionic hair dryers work by transferring negative ions to the hair, which attracts the positive ions in the water to help the hair dry faster and make it smoother. This process also helps seal the hair cuticles to retain moisture and reduces frizz as well as the drying time. Check out the list below to find the best ionic technology hair dryer for your daily morning routine.
11 Best Ionic Hair Dryers Available Right Now
Conair 3-In-1 Styling Hair Dryer With Ionic Technology uses ionic technology to reduce frizz substantially. This styling system features three attachments to create the perfect look for all hair types. These include a detangling brush, a styling comb for straight styles, and a thermal bristle brush for hair volume and waves. It also has 2 heat/speed settings as well as a cool shot button to lock styles into place. This hair styler is powered by an 1875 watt motor that is efficient for quick and powerful styling. It also features a hinged filter for easy maintenance and dual voltage for worldwide travel. 
Pros
Value for money
Suitable for all hair types
Adds volume
Prevents lint build-up in the device
Lightweight 
Cons
Attachments may not fit snugly to the hair dryer
The NITION Negative Ions Ceramic Hair Dryer has a ceramic-coated air outlet grill that is infused with nano silver, argan oil, and tourmaline that are very helpful in leaving the hair looking smooth, shiny, healthy, and frizz-free. This hair dryer comes with 3 different attachments – a diffuser, a comb, and a concentrator. It also has 3 different heat settings (low/medium/high) along with 2 wind speed settings (low/high) and a cool shot button. It also has a powerful 1875 watt motor that produces a strong airflow to dry your hair without making much noise.
Pros
Lightweight
Easy to maintain
Powerful
Durable
Versatile setting options 
Cons
May get overheated with prolonged use
The Andis Fold-N-Go Ionic Hair Dryer is a portable hair dryer with ceramic drying technology. The ceramic and tourmaline ionic technologies used in this hair dryer create smoother, silkier hair in less drying time. It is a versatile hair dryer that is ideal for traveling as it has a unique foldable handle that can be easily folded up to be packed in a small suitcase. It runs on an 1875 watt motor that can dry and style your hair in a breeze. This hair dryer also includes a concentrator that focuses the flow of air to a concentrated area of your hair for quicker results. 
Pros
Portable design
Lightweight
Affordable
Retractable cord
Reduces frizz 
Cons
The Remington Compact Ionic Travel Hair Dryer uses ionic technology that conditions the hair for an anti-static shine. This hair dryer has a powerful and high-performing motor and fan. Its speed and heat settings have an ECO option that helps save energy while still drying your hair beautifully. This hair dryer also has other great features such as a removable air filter, 3 heat settings, 2 speed settings, and a hang-up loop. 
Pros
Lightweight
Affordable
Versatile settings
Portable design 
Cons
The HOT TOOLS Signature Series Ionic Salon Hair Dryer is created with exceptional direct ionic technology that helps reduce frizz to give you shiny, healthy-looking hair. An 1875 watt motor provides a powerful airflow that allows you to style your hair in no time and enjoy salon-like blowouts. This dryer features ceramic technology that emits far-infrared heat to help seal the cuticle for over-styling protection. This hair dryer has 6 heat/speed options that provide styling versatility and great performance on different hair types and textures. It also has a cold-shot button that helps set the style with a cool burst of air for a longer-lasting hold. This appliance also comes with a bonus concentrator and diffuser attachment that can be used for enhanced blowouts or defining natural waves. 
Pros
Lightweight
Versatile heat settings
Comfortable to handle
Value for money
Durable construction 
Cons
Attachments may not fit snuggly
The KIPOZI Professional Ionic Blow Dryer uses ionic technology that keeps the natural moisture of your hair and protects it from heat damage. This salon hair dryer allows you to style your hair at home. It has 3 heat settings and 2 speed settings that allow you to find a suitable flow speed and heat that is ideal for your hair type. This hair dryer also comes with a diffuser attachment for adding loads of volume and a concentrator that helps reduce frizz. They can be used to style many different textures of hair. 
Pros
Lightweight
Easy to handle
Heats up quickly
Convenient cord wrap 
Cons
The MANLI Professional Negative Ionic Hair Blow Dryer uses the innovative GALLOP Motor that has a high rotating speed and high torque. Its upgraded AC motor is 600 g lighter than the traditional hair dryers. Hence, it reduces the burden on your arms when you use it. This hair dryer adopts a U-shaped heating wire that distributes heat evenly, keeps the temperature constant, and quickly dries the hair while preventing the heat from damaging it or creating frizz. This  hair dryer provides 3 temperature settings (hot/warm/cool) and 2 speed settings (soft/fast) along with a genius cool air shot button. 
Pros
Lightweight
Prevents heat damage
Value for money
Does not get overheated
Easy to clean 
Cons
Takes a long time to dry hair completely
The Lassie Ionic Hair Dryer is an 1800-watt hair dryer that creates a powerful airflow and uses the resulting combination of power and speed to make drying and styling your hair quicker and easier. This dryer has hot and cool settings along with 2 speed settings that are versatile and can protect your hair from damage. This hair dryer comes with different attachments like the Lassie curly hair diffuser, which can be used to circulate air to the ends of your hair while diffusing the airflow to prevent frizz. There are also 2 concentrators that focus the airflow to blow air directly on the hair for smooth, sleek styles. 
Pros
Lightweight
Easy-to-clean removable filter
Head massager included
Adds shine
Smoothens the hair
Dries hair quickly 
Cons
The SHRATE Professional Salon Negative Ions Hair Blow Dryer uses the innovative inner cylinder design and 18 centrifugal dust-free fan blades that do not accumulate dust for life. This blow dryer has 3 settings, i.e., cold/hot/strong wind modes, that can be used according to the user's preference. With the cold air switch, you can switch between hot and cold airflow with a single tap. This hair dryer also has three special types of electromagnetic nozzles – smooth nozzle, standard nozzle, and diffuser nozzle – that can be used for various hairstyles. This  hair dryer has a high concentration of negative ions (20 million ions) that protect the hair, improve its  water retention capacity, and groom it while retaining a lot of moisture. Prolonged use of this product can improve the shine and softness of your hair. 
Pros
Lightweight
Long cord
Foldable
Easy to maintain 
Cons
The LARMHOI Professional ionic Blow Dryer uses negative ions technology that eliminates frizz and keeps the hair humidity-resistant by maintaining its natural moisture. This gives your tresses a silky smooth and full-bodied texture. This hair dryer has 2 speed settings (high/low) and 3 heat settings along with a cool shot button for complete drying and styling. There are also 2 different sizes of concentrator nozzles included with this appliance for faster drying and precise styling. This blow dryer is designed with a double-safety removable filter, so your hair will not get sucked into the blow dryer easily. It is also easy to clean. 
Pros
Lightweight
Affordable
Easy to clean
Comfortable to use 
Cons
The KENLOR Professional Hair Dryer has a 1600-watt AC motor that delivers a strong airflow to dry the thickest hair in no time. This hair dryer adopts ionic and bio-ceramic technology to release 5 million moisturizing negative ions combined with far-infrared heat to reduce static and make your hair soft and smooth. With the constant temperature protection function, you can prevent overheating damage to your hair. There are three modes of cold/hot/strong wind that can be used. There is also a cooling switch that can be used to switch between hot and cold air with one click. This hair dryer also comes with a standard nozzle and a concentrated nozzle, both of which can be used for various hairstyles. 
Pros
Lightweight
Portable
Affordable
Easy to clean
Versatile design 
Cons
l Loud
l May suck hair into the vent
Ordinary hair dryers can cause damage to your hair as they can easily get overheated when used constantly. This is the reason why an ionic hair dryer should be considered as they use negatively charged ions to attract the positive ions of your wet hair to help it dry faster and reduce frizz. They lock in moisture to give you smoother hair that is less prone to breakage. Check out the list above to buy the best negative ion hair dryer that is perfect for you. 
Frequently Asked Questions
Is ionic or ceramic hair dryer better?
Ceramic hair dryers use ceramic heating elements to heat up the air and create even, controlled heat. Ionic hair dryers work by generating predominantly negative ions that work to break down the water molecules on the hair. If you are looking for an option that causes the least amount of heat damage, go for an ionic hair dryer.
Are ionic hair dryers bad for your health?
Ionic hair dryers are safe when used in moderation. Any hazards associated with ozone and electromagnetic fields can easily be avoided by using ionic hair dryers in a well-ventilated room.
Are ionic hair dryers good for fine hair?
Yes, ionic hair dryers can be good for fine hair as they can help with reducing fizziness and providing volume when used with the right attachments.
How do I choose a good hair dryer?
Before choosing a hair dryer, it is important to determine your hair type and texture to understand what kind of blow dryer best suits your hair's needs.
Recommended Articles
The following two tabs change content below.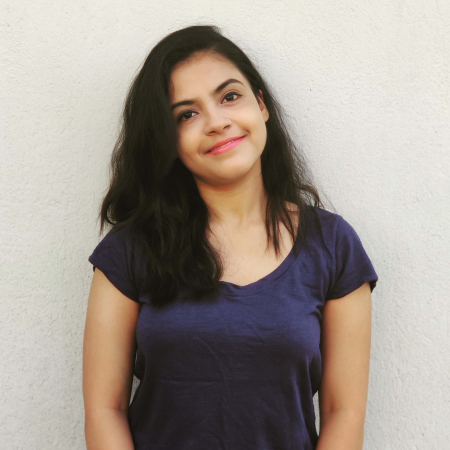 Oyendrila Kanjilal has a Master's Degree in English Literature. As a Beauty and Lifestyle writer, she writes about everything that the modern woman needs to know about grooming and self-care. She also reviews makeup, skin care, and lifestyle products to help readers make the best purchase. She is a trained classical dancer and loves binge-watching web series of different genres.