13 Best IPL Hair Removal Devices You Can Use At Home – 2023
Have a long-lasting hair-free experience with skin-friendly formulations without breaking the bank.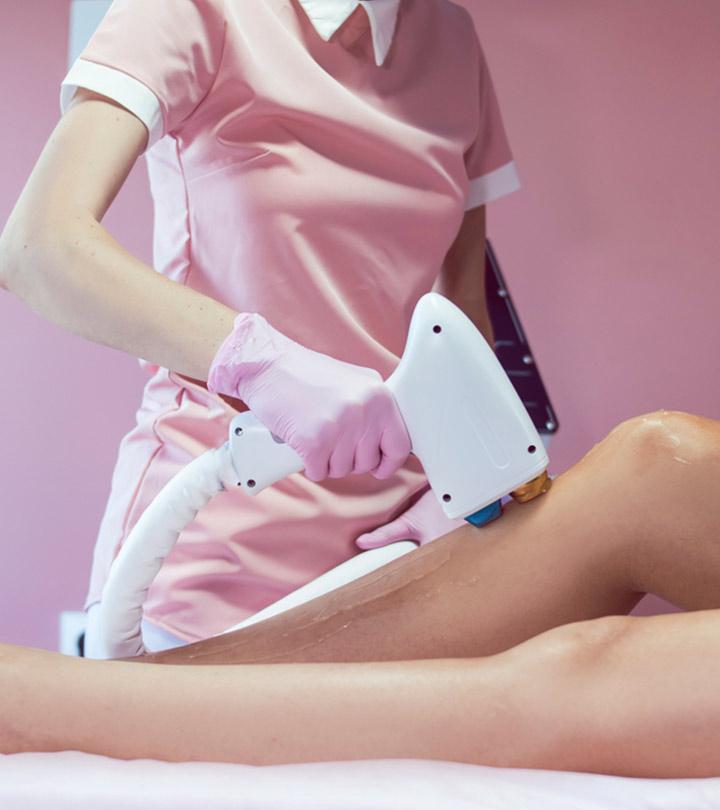 If you are someone who is sick of tweezing, shaving, and waxing, you may have already contemplated opting for a more permanent form of hair removal. IPL hair removal is one such option that uses light therapy to target hair follicles and converts it into heat below your skin's surface, and by doing so, hair growth is drastically reduced. IPL is different from laser hair removal, and there are major differences between the 2 forms of hair removal. IPL offers longer-lasting results, and many are also fit for use at home. Since IPL machines can be used at home, they are much easier and safer than other forms of laser hair removal. Keeping all of these points in mind, go through our article to read more into this and see if IPL is right for you.
What Is An IPL Hair Removal Device And How Does It Work?
Deciding to invest in an IPL hair removal at-home machine means you should already be aware that these devices take time for results to show. A healthy waiting period could be anywhere around 4 to 6 weeks. The IPL technology uses a more unfocussed energy around the hair and skin area, thus differing from laser. IPL is a broad spectrum light that scatters across the skin and directs itself at melanin to permanently reduce regrowth of hair.
We must also note that an IPL hair removal machine is not suitable for all skin or hair colors, the ideal candidates for these devices are those with dark body hair and contrasting skin tone – meaning lighter complexion. A higher level of melanin on your skin can easily be detected by the machine which may cause skin damage. Since you wish to dabble in the technical tidbits of body-care, it is in our best interest that we help you with the best IPL hair removal reviews of 2021 that will help you narrow your preferences.
Dr. Rosmy Barrios, MD and medical advisor for the Health Reporter, says, "Unfortunately, using this device on dark skin can cause harmful effects such as blistering or skin discoloration."
Zap Your Body Hair With These 13 Best At-Home IPL Hair Removal Devices
If you're planning to get your hands on an IPL hair removal device, this home IPL machine from XSOUL will help you zap those unwanted body hair. Professionally designed to provide you a salon-like finish, the device's 500,000 flashes will remain lifelong. To meet all the purposes of your at-home IPL treatment, this machine comes with 5 energy levels and 2 modes. Auto-mode releases continuous flash compatible for face, underarms, and bikini-line; whereas the manual-mode gives off one flash and is designed for back, arm, and leg hair removal. Since the home IPL hair removal technology promises more of a permanent solution to a hairless surface, you are advised to follow up an 8-week treatment in order to achieve optimal results.
Pros
Does not hurt the skin
5 energy levels to match skin tolerance
2 modes – auto and manual
Lifelong endurance up to 500,000 flashes
Cons
Price at the time of publication: $99.99
The Krovena IPL Hair Removal System comes with 6 energy levels and 2 modes to remove hair painlessly on different parts of the body. With up to 999,999 flashes, this IPL hair removal system is deemed to provide you with the closest-to-permanent hairless skin. Developed under professional expertise, this machine is a bang for your buck as it results in painless, harmless, and the most convenient hair removal session as compared to shaving, waxing, or epilating. With its 6 intensity light technology, you can set and adjust to these emissions at your pace and patience.
Pros
Painless and safe
6 energy levels and 2 modes
Easy to use
Portable
Cons
Might take time to show results
Price at the time of publication: $99.99
The Braun Silk-Expert comes with a whopping 400,000 flashes and 10 intensity levels. This means the IPL laser treatment for hair removal will last long, almost up to 22 years straight. The IPL beauty machine uses SensoAdapt technology with UV protection which examines your skin tone and adapts the flash intensity for the safest and most effective permanent hair removal. Its precision head helps you focus and reach smaller areas to zap the follicles without much hassle. Clinically tested to be painless as well as procure faster results, the device also comes with an automatic skin tone sensor and 3 comfort modes— normal, gentle, and extra gentle for beginners or those with sensitive skin. Click on this demo video of Braun Silk-Expert Pro 5 At-Home IPL Hair Removal System – PL5137.
Pros
400,000 flashes
10 intensity levels
Automatic in-built skin sensor to test tolerance
Comes in 3 comfort modes
Travel friendly
Cons
Price at the time of publication: $349.99
This IPL laser hair removal device stands out from the rest with its super cool features — pun intended. This IPL hair removal at home device is referred to as an "ice cold epilator" that uses an ice cold compress head to tactically remove hair from the body. The cooling effect is inculcated to reduce chances of redness and burning sensation during or after the zapping session. A larger cooling area is said to reduce the size of pores when using the device to make the hair removal process pain-free. The maximum flash count for this machine is 999,999 that is enough for a lifetime. There are 5 energy settings devised into the making of the item. The higher the level, the greater the strength of the flash, resulting in better results.
Pros
Relieves pain and redness using cold compress
Up to 999,999 flashes
5 energy settings
Brings faster results
Cons
May take time to work with thicker hair
Price at the time of publication: $86.99
Another great device for permanent hair removal is this one from Innza. This clinically-tested IPL home treatment provides visible results in 8 to 12 weeks with a stark stunted hair growth pattern. With about 5 intensity settings, this handheld device ensures the light or flashes are perfect for your skin and hair type. The auto and manual modes in the hair removal IPL machine help remove hair from any part of the body, big or small. Its continuous light bursts help speed up the process of hair removal from arms, or legs, whereas the manual mode gives you the control and precision needed for hair to be removed from difficult areas.
Pros
Lives up to 999,000`flashes
2 modes for faster and precise application
Results in quick visible changes
Portable
Easy to hold
Cons
Price at the time of publication: $98.99
DEESS' GP590 is one of the best devices for IPL laser hair removal at home as it is designed with the perfect combination of icy cool and intense pulsed light source technologies. The machine generates the light required for hair removal while the cooling mechanism heals and reduces the heat created during the process, leaving you with a soothing and relaxing feel. The flashes of the light are recorded to be 0.9/s to be able to treat a big area within minutes! What's more astonishing is that the device comes with an unlimited flash count. Not only is it effective with the speed and flash mechanism, the system is also designed with an in- built skin sensor to protect your skin. Go through this video to check the detailed review of DEESS IPL Hair Removal System – GP590.
Pros
3 changeable UV filters
Separate cooling system
Unlimited energy flashes
Skin tone sensor technology
Cons
Price at the time of publication: $299.99
This IPL laser hair removal handset is an adorable little device ideal for travel. The hair removal system adopts a clinically-proven technology used by dermatologists and salons for IPL sessions. It emits a warm light energy that is instantaneously absorbed by hair follicles, making them dormant. The device comes with 999,999 flashes and 5 adjustable levels with 2 modes. The design is handy and portable, almost resembling an epilator.
Pros
Cost effective
999,999 flashes
5 levels of light intensity
2 modes for selective body parts
Travel-friendly
Cons
Longer waiting period for best results
Price at the time of publication: $39
The Aminzer IPL hair removal system already stands out as it is powered with 10 intensity levels. Not only is it charged with 999,900 flashers, it is also deemed effective to 97.6% of people who tried this device. The 10 energy levels are created to help users have multiple options during sessions. This at-home professional hair removal technology brings about best long-lasting results within 8 to 12 weeks. To suit your aesthetic needs, this device comes in a gorgeous emerald green shade as well as an onyx black. It is one of the best IPL hair removal devices as its FDA-approved system uses fastest and efficient technology to give you best results within a 2-month period.
Pros
FDA approved
10 intensity levels
999,900 flashes
Guaranteed results in 2 months
Cons
May cause ingrown hair for some
Price at the time of publication: $79.99
The IPL laser hair removing system from Keuiogo is prevents and decelerates hair growth. The IPL technology incorporated in the device breaks the hair cycle and with gradual use, you will notice hair-free surfaces with its 999,999 energy flashes. The system runs on 5 levels to adjust to your skin type settings with light photons that only act on the melanin in hair follicles. You can also adjust the intensity level and speed by the size of the area you wish to cover in a session! To keep you in the loop, the LCD screen on the device displays the remaining flash count, energy level, and mode.
Pros
999,999 flashes to last a lifetime
5 energy levels
Slows hair growth
Special light photon aims at dark hair follicles.
Cons
Manual could be difficult to follow.
Price at the time of publication: $32.99
The Aopvui IPL Hair Removal comes with 9 adjustable energy levels to customize your hair removal process from low to high. In addition, it is equipped with the fastest IPL technology that claims to remove full body hair in just fifteen minutes. This IPL machine is equipped with 999,900 flashes that come with two modes to adjust to your different skin areas. Not only is it compact in size, but it is also easy to use.
Pros
Clinically proven
Easy to use
Portable
Painless
User-friendly
Cons
Not suitable for dark skin tones or white, grey, blonde, and red hair colors
Price at the time of publication: $99.88
This IPL treatment for hair removal machine comes with 999,900 flashes and an advanced technology to effectively zap hair follicles. The handheld device has 5 adjustable gears as usual to suit your skin's preference. Being an at-home unhairing machine already deems itself as a nifty, cost-effective item. As for the results, you can expect a time span of 8-to-12 weeks for visible vanished hair traces. This IPL laser machine for home use also diminishes the chances of activating ingrown hair.
Pros
Fast results
999,900 flashes
Cost-effective
Slows down growth of hair and ingrown hair
5 levels
Cons
Device gets too hot at times.
Price at the time of publication: $69.99
Free your skin from unwanted hair with this professional IPL machine that quickly gets absorbed by your hair follicle while entering into a dormant period to help you achieve permanent hair removal. The mechanics of the device lie in its 5 energy levels and 2 flash modes ideal for all parts of your body where you'd like your hair removed. With enough control and 999,999 flashes, you can expect to have smooth and soft skin after a dedicated number of at-home IPL sessions with this machine. Within 4 to 8 weeks, you will notice 75% of the hair has disintegrated.
Pros
999,999 flashes
Noticeable 75% changes within 8 weeks
5 energy levels to suit your skin
2 modes to cover larger or smaller areas of the body
Cons
Price at the time of publication: $59.99
Our last recommendation consists of an icy touch to the design. Sapphire Ice technology is used in this Imene IPL machine to provide you with an absolute pain-free treatment. It incorporates Super Hair Removal (SHR) mechanism for smoother results and no uneasiness. With 12 energy level settings, you are in-charge of the intensity settings that provide you maximum comfortability. There is also an added benefit of super energy mode which is the highest level of intensity that also works faster. Higher the energy, faster will the results be!
Pros
999,999 flashes
12 energy level settings
Ice cooling feature
SHR technology is included
Cons
Results vary based on particular skin and hair colors.
Price at the time of publication: $289.99
Body hair removal remedies is easily one of the most sought-after markets online and offline. Oftentimes, we go through some excruciatingly painful techniques in order to unearth the hair from the skin leading to further rupturing of the skin tissues. IPL, on the other hand, is painless and does not affect your skin if used correctly. Therefore, the above list makes up for some of the best at home IPL hair removal devices. Though, IPL technology could be a new feat to venture, that is why we've helped you figure out what you should look for in your own IPL hair remover.
Things To Consider When Buying An IPL Device
If you fall on the darker skin tones side of the skin color spectrum, it would mean you have a higher level of melanin. Now, high melanin gets easily picked up by the device and could eventually cause more damage to your skin. If you're in doubt about whether you fall on the darker or lighter sides of the color umbrella, you can check out the Fitzpatrick skin type scale which helps classify skin types and their sensitivity in more detail.
As stated prior, these devices pick up melanin traces, thus, naturally light blonde, red, white and grey hair usually contain little to no pigment, so IPL typically will not be as effective on these hair colors. Those with pale to medium skin tone with dark hair are the best candidates for IPL.
The number of flashes or flash counts means the number of times the device can emit a flash. Most machines have a minimum of about 100,000 however, recent models do promise you a lifetime of usage without any replacements required.
A higher number of intensities will give you the control to use the device on your comfort and sensitivity of the skin.
IPL technology also isn't suitable for pregnant women, those with special skin conditions, or those undergoing particular treatments. If you have tattoos or permanent makeup then these IPL flashes will be ineffective as well.
Whether you fall in the criteria for a good IPL hair removal session, always make sure to do a patch test on a small area of your skin to see if it is befitting to your needs.
It is extremely crucial to know how to use an IPL device so that you don't end up doing it the wrong way. Here's a guide on how to use an IPL device for best outcomes.
How To Use IPL Devices?
Before getting started, you'll need to shave the area you wish to treat with IPL. As for IPL hair removal to work effectively, some trace of hair is required to allow the light to detect the melanin which is why waxing or epilating is not advised.
You may run the risk of burning your skin if your hair's too long and unshaved.
To get the most out of IPL, maintain a chain of regular sessions per week.
Dr. Rosmy Barrios, MD and medical advisor for the Health Reporter, says, "It is also very important to avoid tanning the areas where you plan to remove hair in the sun for at least a month before each photoepilation procedure."
Why Trust StyleCraze?
The author of this article, Vaishnavi Kothuri, is a skin care enthusiast and believes that those who are tired of tweezing, shaving, and waxing on a regular basis should definitely check out these IPL hair removal devices. These offer longer-lasting results, and many are also fit for use at home. The list contains well-reviewed and high-quality products curated after thorough research. She has chosen the best ones for her readers to help them get hairless, smooth skin with each use.
Frequently Asked Questions
What's the difference between IPL and laser hair removal system?
Laser treatments use different technology and light sources to target a focused area. The laser technique is considered more powerful than IPL but, for at-home purposes, an IPL machine with regular sessions will result in diminished hair growth pattern.
Is IPL hair removal safe?
IPL is considered a safe method to remove and reduce body hair provided the exact instructions are followed as stated in the manuals. Initially, you may feel a certain amount of heat due to the flash emissions, however, setting the intensity level will help you get adjusted to it. In any case of redness or any irritation or discomfort, it is safe to opt for a device that provides cooling benefits.
Does IPL hair removal hurt?
The flashes emit quickly within nanoseconds and are painless in most cases, however on the off chance you may find your skin to be heated or being flicked at, though it is still a pain-free situation if compared to traditional methods of hair removal.
Who can use an IPL hair removal device?
People who have a contrasting skin to hair color ratio are the ideal audience for these devices. So if you have pale to medium skin tone and darker body hair, then an IPL machine will do you justice although an IPL hair removal for dark skin is yet to be designed.
How many IPL treatments does it take to see results?
IPL technology takes time to reap noticeable changes, thus you could expect a waiting period of 4 to 6 weeks.
How quickly can I expect results?
IPL results are not instant, therefore you would be required to wait for 4 to 12 weeks to see any visible changes on your skin
Can IPL be used in pubic areas?
Yes, IPL is safe in the pubic region, especially on the bikini line. However, it is not recommended for the genital region because the skin may be darker, absorbing more light energy and perhaps causing discomfort.
Does IPL cause ingrown hair?
No, IPL does not cause ingrown hair. Rather, IPL is the only hair removal procedure that entirely prevents ingrown hairs from occurring.
What should I not do before the IPL?
Here's what we should not do before the IPL.
• Avoid applying makeup before your treatment.
• Refrain from using any products that may irritate your skin, such as retin-A, retinol, benzoyl peroxide, glycolic or salicylic acids, astringents, or vitamin C.
• Refrain from waxing or using a depilatory on the treatment areas.
• Inform if you are taking any new antibiotics or drugs
• Sunburns and suntans should not be present on the skin.

Recommended Articles