The 10 Best Irons For Clothes – Reviews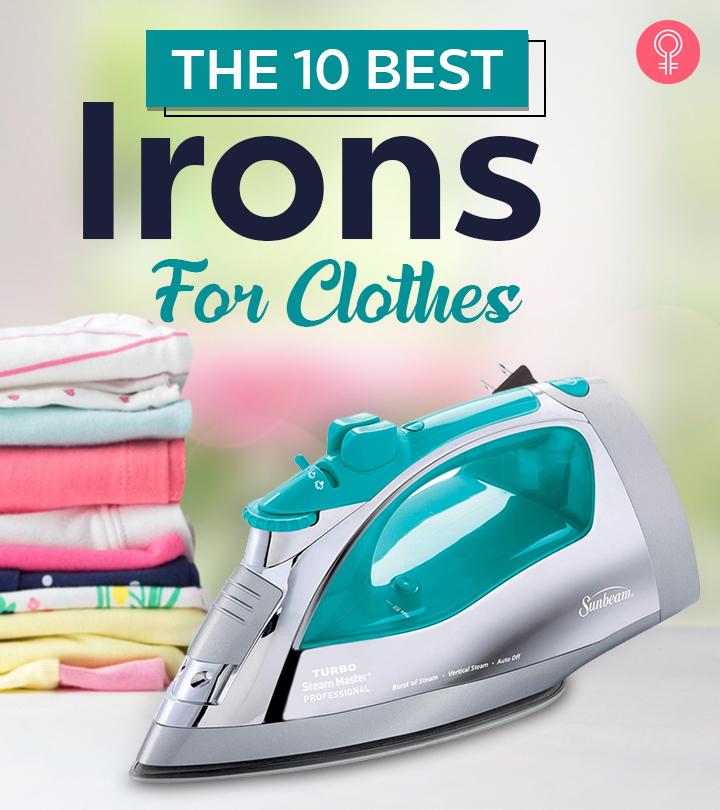 If you want crisp and wrinkle-free clothe sat home, invest in a good clothing iron. This device uses heat energy to loosen the bonds between long-chain polymer molecules in your clothes. When the bond is loosened, the weight of the iron straightens the cloth fibers. The polymer molecules maintain the new form, and you get crease-free clothes. In this article, we have listed the 10 best irons for clothes available online. Scroll down to check them out!
The 10 Best Irons For Clothes
The Rowenta DW5080 Micro Steam Iron is a German product with an auto-cleaning facility and an anti-calcium system for tap water use. It has a sole plate built of super smooth stainless steel, with 400 steam holes to ensure thorough distribution of steam. The angled precision tip navigates hard-to-reach areas like collars, edges, and around the buttons.
This iron also comes with a thermostat knob for controlling the steam function based on fabric. It also has an automatic 3-way shut off system in case of accidents or emergencies. The translucent water tank helps monitor the water level, and easy fill holes and anti-drip lid ensures spill-free ironing experience.
Specifications
Dimensions:11 x 5 x 6 inches
Weight:4 pounds
Material: Stainless steel
Pros
Auto-shutoff
Anti-calcium system
Anti-drip lid
Thermostat knob
400 steam holes
Easy to refill
Auto-cleaning
Durable 
Cons
Price at the time of publication: $65.85
The Black+Decker Digital Advantage Professional Steam Iron has an inbuilt LED screen that helps the users adjust the steam settings as per fabric type. The screen indicates "READY" once the iron is pre-heated to the selected temperature. Its heavy-duty and durable, stainless steel soleplate glides smoothly over all fabrics and removes the wrinkles quickly. It can also be used vertically with clothes on the hangar, drapes, and upholstery.
This steam iron is equipped with a 3-way auto-shutoff system when left unattended for 30 seconds on its side or soleplate, and after 8 minutes on the heel rest. The auto-clean system flushes out mineral deposits, and the ergonomic handle relieves stress on the hand and wrist. This iron also prevents dripping by regulating water temperatures. The side-by-side buttons control moisture output with a burst of steam and gentle spray mist to tackle deep wrinkles.
Specifications
Dimensions: 11 x 4.6 x 5.58 inches
Weight: 31 pounds
Material: Stainless steel
Pros
Digital temperature control
Auto-shutoff
Durable
LED screen
Cons
The Sunbeam Steam Master Iron comes with a wrinkle blasting power and an output of 1400 watts. Its non-stick, stainless steel soleplate with macro-sized steam holes makes the ironing process very easy. The non-stick coating helps the iron glide on the clothes without resistance. Its professional-style pointed tip enables more detailed pressing – ironing pleats and around buttons. This iron comes with a vertical Shot of Steam feature, which helps to freshen up hanging clothes, upholstery, or drapery.
The dual spray mist dampens fabric with a double output of water mist for extra-stubborn wrinkles. The 3-way motion smart technology shuts off the iron automatically if left unattended or set in an improper position. It shuts off after 30 seconds of inactivity when in a horizontal position and after 15 minutes of inactivity in a vertical position. The eight-foot cord retracts with just a quick press, ensuring neat and hassle-free storage. The self-clean system prevents mineral deposits, while the large water tank and the anti-drip system prevents water leakage at any temperature. 
Specifications
Dimensions: 14 x 6.2 x 6.3 inches
Weight:95 pounds
Material: Stainless steel
Pros
Retractable cord
3-way smart auto-off
Leak-proof
Cons
None
The T–fal Ultra glide Steam Iron has a scratch-resistant,non-sticky ceramic soleplate that ensures smooth glide and durability. The micro-holes enable even steam distribution, and the 1725 watts power provides a powerful burst of steam. Its 3-way auto-off feature shuts off the iron automatically after 8 minutes of inactivity on the heel and 30 seconds on the soleplate or tipped over on its side.
The easy cord exit system keeps the 12 feet cord out of the way when ironing.Its extra-large water inlet reduces spilling and ensures fewer refills. This iron is also equipped with dual self-cleaning technology, calc-recollecting valve and anti-scale, and anti-drip systems.
Specifications
Dimensions: 1 x 5.3 x 5.9 inches
Weight:3 pounds
Material: Ceramic
Pros
Auto shut-off
Lifetime warranty
Dual self-cleaning technology
Calc-recollecting valve
Anti-scale and anti-drip systems
Scratch-resistant
Cons
None
The Hamilton Beach Durathon Steam Iron provides 80% more steam output than other steam irons. It has a Durathon non-stick soleplate, which is 10 times more durable than other non-stick sole plates. The digital panel has five fabric presets, including linen, cotton, wool, silk, and synthetic. You can also use it as a vertical steamer for clothes in the hangar, drapes, and upholstery.
The 3-way auto-shutoff feature power off the device automatically after 30 seconds when placed on its sole plate and after 15 minutes when on its heel. This steam iron comes with 1700 watts output and a retractable cord. The anti-drip and self-clean technology handle any tough ironing jobs.
Specifications
Dimensions: 01 x 5.04 x 6.02 inches
Weight:5 pounds
Material: Ceramic
Pros
3-way auto-shutoff
Anti-drip system
Self-cleaning technology
Retractable cord
Digital control panel
Scratch-resistant
10-year limited soleplate warranty
Cons
The Rowenta DW9280 Steam Force Steam Iron with an output of 1800 watts and 400 steam holes removes wrinkles easily, even from thick garments and household fabrics like curtains and blankets. The laser stainless steel sole plate is durable, scratch-resistant, and maneuvers through the fabric easily. It is equipped with a 3-way auto safety shutoff to prevent accidents.
This steam iron also features an easy-to-use LED ready indicator, smart steam motion sensor, anti-calcium, and self-clean systems, and a large 350 ml water tank. The pump injection technology provides 30% more steam into fabrics for quick wrinkle removal. It's angled precision- tip navigates hard-to-reach areas like collars, buttons, and edges.
Specifications
Dimensions: 4 x 4.9 x 6 inches
Weight:85 pounds
Material: Stainless steel
Pros
Durable
Scratch-resistant
Smart motion sensor
LED display
Pump injection technology
Self-cleaning system 
Cons
The Shark Professional Steam Iron features a premium 8.5 inches stainless steel sole plate with smooth glide technology that keeps your fabrics professionally-pressed. The steam holes ensure and even distribution of steam. It has an output of 1500 watts and can be used to iron drapes, upholstery, and hanging garments. This steam iron also features a multi-position auto- shutoff, an anti-drip system, a 260 ml water tank with an easy-fill door, and a button fit tip.
Specifications
Dimensions: 8 x 5.4 x 6.4 inches
Weight: 2 pounds
Material: Stainless steel
Pros
Multi-position auto-shutoff
Anti-drip system
Easy fill door
Button-fit tip
Cons
The Panasonic NI-L70SRW Cordless Iron is ideal for quilting, sewing, and crafting. It comes with a contoured, super-smooth, stainless steel sole plate heats quickly and glides seamlessly around buttons, along with collars, and oversleeves, cuffs, and tablecloths without tugging. It can be used both as a dry and steam iron. It has 1500 watts power output, and the vertical steam feature enables ironing the hanging drapes, curtains, and clothes. The electronic temperature controls come with adjustable steam settings for a variety of fabric. The cordless feature ensures hassle-free ironing, eliminating the mess and inconvenience of tangled cords and ironing board snags.
When you pause to shift garments, just place the iron in the base to maintain optimum temperature. The detachable water tank prevents spills and can be filled at the sink without bringing the whole iron with you. The anti-calcium system prevents clogged steam vents automatically by reducing sediment buildup in the vaporizing chamber. The anti-drip system with a water seal prevents water leakage and protects your clothes from water spots. This device turns off automatically after 10 minutes of no operation. It also includes a heat-resistant, see-through carrying case for easy portability and storage.
Specifications
Dimensions: 7 x 11.94 x 9.31 inches
Weight:5 pounds
Material: Stainless steel
Pros
Cordless
No-spill refills
Auto safety shutoff
Easy to store
Includes a carrying case
Detachable water tank
Anti-drip system 
Cons
The plastic stand may give a burning smell. 
The Oliso TGI600 Pro Iron features iTouch Technology, where the scorch guards lower with your hand and lift when not ironing to prevent burns, scorching, and tipping. The pro-press stainless steel soleplate is scratch-resistant, durable, glides smoothly, and has a thick chromium finish. Its special steam distribution system is ideal for sewers, quilters, and crafters.
This iron is equipped with an auto-shutoff safety feature and a high power output of 1800 watts, which helps in quick healing. Its triple play xtremesteam and 1.5-inch detailer tip feature provide three steam settings – continuous, horizontal, and vertical burst – with three steam levels(low, medium, and high). The 2-inch detailed tip reaches between layers and creates crisp pleats, pockets, and cuffs.
Specifications
Dimensions: 1 x 1 x 1 inches
Weight: 1 pound
Material: Stainless steel
Pros
Lightweight
Ergonomic design
Auto-shutoff
Scratch-resistant
Cons
The CHI Steam Iron is made with Chi Flat iron and titanium-infused ceramic soleplate technology that is ultra-strong and scratch-resistant. The 300 steam holes deliver powerful steam and ease the ironing process. It sets the temperature automatically as per your fabric type. The steam lever is adjustable, and you can go from zero steam to full steam with a quick slide. Its sleek handle with textured grip ensures secure control and comfort.
Specifications
Dimensions: 7 x 11.5 x 9 inches
Weight: 9 pounds
Material: Ceramic 
Pros
3-way auto-shutoff
Anti-drip steam
Durable
Scratch-resistant
2-year warranty
Adjustable steam lever
Sleek handle 
Now that we have seen the 10 best irons, let's go through the factors to consider before choosing an iron for clothes.
Factors And Features To Consider When Buying A Clothing Iron
There are two types of irons – dry and steam irons. Steam irons are expensive and more effective in removing wrinkles than dry irons. Dry iron stake some time to remove wrinkles if the fabrics are roughly folded. If you are buying an iron for occasional usage, choose dry irons. But for professionally-ironed clothes, go for steam irons.
The soleplate of iron plays an important role. It transfers the heat energy from the iron to the fabric. If the soleplate is unable to withhold the heat or heat up rapidly, the ironing process gets slow and difficult. The best kind of soleplate is the nonstick stainless steel soleplate, which makes the ironing process easy.
Another important factor while purchasing an iron is the auto-shutoff feature that prevents overheating and ensures user safety. It prevents accidents if the user forgets to turn off the iron.
As the size of the soleplate increases, the area covered by the iron also increases. Therefore, you can save time by ironing your clothes easily with iron having a large soleplate.
A higher wattage means the heating element is heated quickly, which, in turn, heats the soleplate and completes your ironing process easily. Thus, choose an iron with a high wattage.
There are mainly two types of irons – dry irons and steam irons. Scroll down to the next section for more information.
Types Of Clothing Irons
A dry iron removes the wrinkles from fabrics by applying heat and pressure. It consists of a heating coil and a soleplate. When electricity is passed through the heating element, it produces heat energy, which is transferred to the soleplate. The soleplate is pressed against the cloth and glided to iron. Dry irons are usually used to iron simple fabric materials as the ironing is time-consuming.
Steam irons are more advanced than dry irons. A steam iron can also be used as a dry iron. The ironing process of a steam iron is the same as that of dry irons. But steam irons use water to moisten the fabric before ironing. The water stored in the iron converts to steam once the coil is heated. This steam is released on the fabric through the vents in the soleplate. It makes the ironing process easy and is less time-consuming.
Iron is an indispensable tool in your laundry arsenal. The above-listed products are affordable and user-friendly. Pick your favorite clothing iron from our list and make your garments wrinkle-free!
Recommended Articles